It's been a while since we heard anything from former Washington Wizards point guard and noted handgun owner Gilbert Arenas, but the onetime NBA star popped back into the local scene last week when he finally unloaded his seven-bedroom mansion in Great Falls for $2.5 million, according to real-estate listing service Redfin.
The palatial spread, set on a 1.2-acre plot in a gated community on Georgetown Pike, includes eight and a half bathrooms, a two-story entrance, a massive black-crystal chandelier, and a pool area that features a grotto and a bar. Arenas, who played with the Wizards from 2003 to 2010, bought the house for $2.875 million during his first season in Washington.
Arenas, 32, last played professionally for the Shanghai Sharks of the Chinese Basketball Association during the 2012-13 season. He averaged 25 points and 4.2 rebounds per game over seven-plus seasons with the Wizards, a stint that was interrupted after December 2009, when he admitted to storing unloaded guns in his Verizon Center locker, violating both NBA rules and the District's stringent firearm laws. Arenas eventually pleaded guilty to one felony count of carrying an unlicensed pistol into a workplace and was sentenced to two years of probation plus 30 days in a halfway house, while the NBA suspended him for the remainder of the season. Arenas's time in Washington ended in late 2010 when he was traded to the Orlando Magic.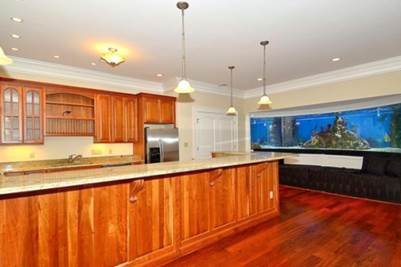 Arenas is selling his home for double Great Falls's 90-day median sale price of $1.25 million, but it's still far less than the $3.5 million he originally asked for when he listed it in 2012. Besides the high asking price, another possible reason it lingered on the market for so long is that prospective buyers were turned off by one of its defining architectural features: a huge shark tank built into a kitchen wall. As much as everyone loves sharks, aquarium maintenance can really spike one's water bill. The shark tank appears to have been removed.
Find Benjamin Freed on Twitter at @brfreed.