Somerset (above) is a beautiful six-year-old cat in search of her new family. While she waits to be adopted, this social and affectionate girl is entertaining staff and volunteers at the Washington Animal Rescue League with her unique, chirp-like purr. Somerset has a slight heart murmur that has been evaluated by a cardiologist and won't interfere with her quality of life. You can meet her at the Washington Animal Rescue League.
Charlotte is a chocolate Lab mix who arrived at the Washington Animal Rescue League with her puppies. At just a year old, she's not much more than a puppy herself, but without all the annoying behaviors. Charlotte is very sweet and a bit timid with new people and in new environments. But it's obvious that she wants human companionship; if you sit, talk sweetly, and scratch her neck, she'll encourage your attention with a gentle swat of her paw or a kiss. Charlotte is looking for a loving adults-only home with someone who will help build her self-confidence and shower her with the affection she deserves. You can meet her at the Washington Animal Rescue League.
Thelma is a one-year-old, 35-pound, American Staffordshire terrier mix. Thelma was surrendered to the Washington Humane Society on December 23, 2014, after her owner's landlord said dogs were not allowed in the residence. She is active and loves to play, but is also well-behaved. Though she knows how to keep herself entertained when she is alone, she really loves spending time with friends, including dogs, people, and children. Really, she considers anyone who is willing to play and snuggle a new best buddy. You can meet Thelma at the Washington Humane Society's New York Avenue shelter.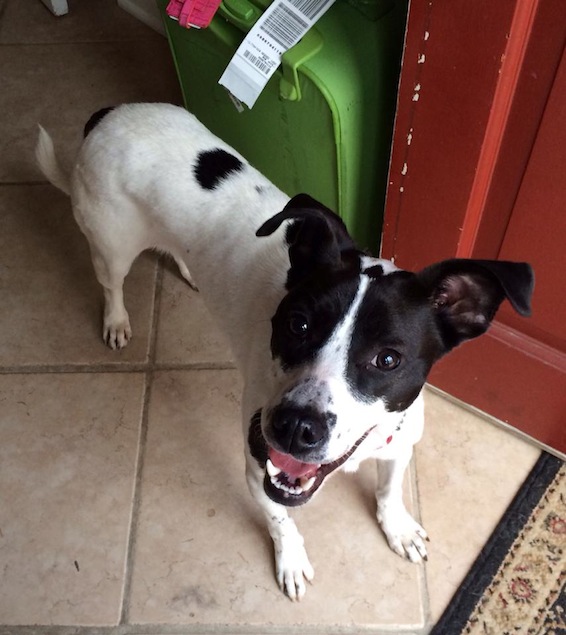 Wendy is a sweet pointer mix, currently in foster care. She loves her foster doggy and kitty brothers. She's very active and goes on runs with her foster mom. Wendy loves people and immediately rolls over for belly rubs when you pet her. She would make a wonderful addition to any active family. If you're interested in Wendy, please visit the Rural Dog Rescue website.
Holly is a sweet black Lab mix looking for a forever or foster home. She gets along well with other dogs and loves people too. Holly weighs about 40 pounds and is between one and two years old. She's a silly girl (look at that sitting position!), and wants nothing more than a family to love her. If you're interested in Holly, please visit the Rural Dog Rescue website.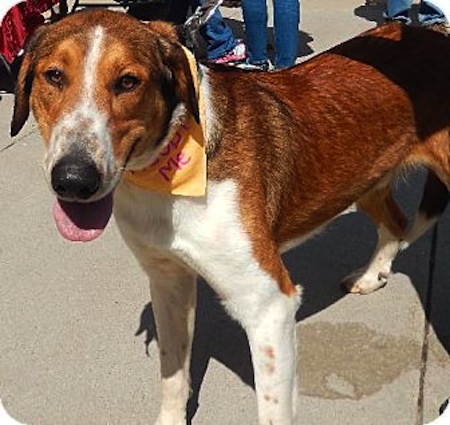 Sammie is a one-year-old collie mix, weighing about 70 pounds. Sammie has plenty of energy and likes to play, cuddle, and go on walks. Though he's big, he would do well in both a home with a backyard or in an apartment with an owner who likes to walk twice a day. He has some fear of unfamiliar men, but has made lots of progress with his amazing foster family. The thing he wants most in his forever home is another dog—he loves other dogs and take so many cues from his four-legged foster sister. He is perfectly house trained and crate trained. You can meet him through K-9 Lifesavers.
Lenny is a seven- to eight-year-old basset hound/beagle mix who weighs about 40 pounds. He is very cute and gentle. He's clearly had a hard life—he has some broken teeth and a shy personality—but that hasn't hampered his spirit or gentle nature. He's very sociable and gets along with both animals and people. His preferred activities are sleeping and eating, so he's a bit overweight, but he's also happy to play in the park. He's not the fastest walker, so he would not be a good dog for those who like to run alongside their animal. Lenny doesn't like to be left alone for long periods of time, so he would prefer a home where he has other animal or human friends around most of the time. He likes to sit in the window when alone and shows his enthusiasm when reunited with his owner with a display of beagle-style baying and acrobatic leaps. He loves a good belly rub and though he prefers to sleep in human beds, he won't insist you invite him in if you don't want to. You can meet him through K-9 Lifesavers.