The quiet block of Hampden Lane, between Arlington Road and Woodmont Avenue in downtown Bethesda, will eventually look as posh as its name sounds. But for now—like much of the neighborhood, in the throes of a luxury apartment/condo boom—it's pocked by big dirt holes.
The first one, near the Woodmont end, will become the much buzzed-about, über-exclusive Lauren Residences, slated to open in early 2016. The second will be the less hyped but similarly high-end Hampden Row condos, scheduled for completion later next year.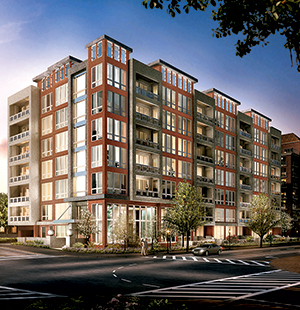 You've probably heard about the Lauren's 7,300-square-foot penthouse, a record-setting $10.5 million (developer Larry Goodwin says whoever buys it will get a bargain—he wanted to list it for more than $12.5 million). The building's other 34 residences—with the exception of the six affordable ones mandated by Montgomery County zoning rules—are in the millions, too. Hampden Row hasn't released pricing yet, but its developer, Toll Brothers City Living, plans to compete for the same buyers as the Lauren.
So that's two really expensive new buildings on one short block, which raises some questions as gaping as the holes in the ground. First, does Washington—or more to the point, Bethesda—have the kind of buyer pool that justifies the advent of $10-million properties that aren't freestanding? Our area is wealthy, but it's lawyer-and-government-contractor-wealthy, not Mark Zuckerberg—or Lloyd Blankfein—wealthy. Condos in the tens of millions are nothing new in San Francisco, New York, LA, or Miami, but do they really make sense here, where elites have never chosen apartment living in large numbers?
Second, given that Washington's housing prices are already among the highest in the nation, is it a good thing that so much luxury development is under way?
Goodwin, head of 1788 Holdings, the firm building the Lauren, admits even he can't answer the first question: "I can only tell you I know what we're selling. I know it's exceptional. There's nothing that has supported these price points. You're investing with your gut."
Before founding 1788 Holdings in 2010, Goodwin spent 12 years as an executive in the real-estate arm of Goldman Sachs. That's also where 1788's managing director of development, John Fitzgerald, came from. When they set out on their own in Washington, they found quickly that even the area's highest high end didn't touch the luxury buildings they'd worked on for Goldman in places like Manhattan and Miami's South Beach. The Lauren, along with their other project under construction, the Estate Condominiums at Quarry Springs in Potomac, are their attempts to remedy that.
Architect Robert Swedroe— known for pioneering condos with "direct entry" elevators—is designing the Lauren. He's based in Miami, but to lure more conservative Washington, Goodwin says Swedroe's mission was "understated, timeless elegance." In other words, less white Ferrari, more beige Benz.
For buyers, 1788 Holdings is betting mostly on Montgomery County empty-nesters ready to ditch their 9,000-square-foot mansions for a more walkable lifestyle but who don't want to sacrifice the familiarity of the burbs completely. Its confidence in the demographic explains the choice of Montgomery County over DC for its projects.
The approach seems to be working so far. David DeSantis, partner and managing broker at TTR Sotheby's International Realty, which is selling the Lauren, says about 25 percent of the units have committed buyers, most of whom intend to move from large, single-family homes nearby. Sotheby's has also been shopping the project in China, but not surprisingly, its location doesn't appeal to the international crowd as much as downtown DC does. "The question inevitably comes up: 'What is Bethesda?' " says DeSantis.
The strategy is largely the same nearby at 55-unit Hampden Row. Stephen Alfandre, director of acquisitions and development for Toll Brothers City Living, says the target demographic for the building's largest units (up to about 3,000 square feet) will be baby boomers who "want a more urban experience but don't want to get too far from what they know." One difference: Hampden Row will include some units as small as 800 square feet, geared toward younger buyers.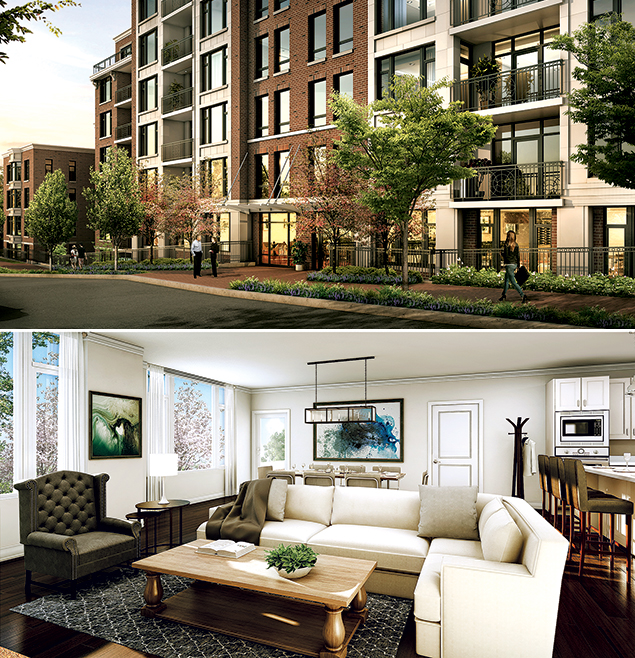 Though Toll Brothers, one of the nation's largest builders, dwarfs five-person 1788 Holdings in size, its City Living division is a newbie to Washington. While the division is on its 21st condo project in New York, Hampden Row is its first in our area. Alfandre says sales will begin this winter.
How quickly either project on Hampden Lane sells out, though, hinges in part on rich boomers being able to unload their houses. In places such as Potomac—where homes priced between $2.5 million and $5 million spent a median of 290 days on the market last year—that's not an easy task. And it will only get harder due to the same trend 1788 and Toll Brothers are counting on for their condos to succeed: the desire even among older generations to live in urban areas.
But if our market indeed proves that Larry Goodwin's "gut" was right, the answer to the second question—whether all this development is a good thing—is yes. Though the arrival of a $10.5-million condo understandably distresses affordable-housing advocates, the larger shift it signals has positive implications across socioeconomic strata.
As Chris Leinberger, chair of the Center for Real Estate and Urban Analysis at George Washington University, points out, it wasn't until the emergence of suburbs in the mid-20th century that Americans really started to live segregated by income. It was previously conceivable, he says, that carpenters could walk across the street from their own modest homes to build mansions for wealthy clients.
Attaining that ideal will, of course, require time—and a conscious affordable-housing strategy—but the fact that urban environments are again preferable to suburban living is a move in the right direction. If millionaire sixtysomethings who clamored for car-dependent sprawl now want more walkable communities—also key to slowing climate change—the benefits are far-reaching.
"Now that we're back to building walkable, urban [areas] again, there is no social reason that we can't have income-integrated places," says Leinberger.
Montgomery County has a prime opportunity to get started, because it's in the midst of finalizing a new plan for downtown Bethesda. (It created the last one in 1994, then updated it in 2006.)
The county currently requires any development with 20 or more new units to make 12.5 to 15 percent of them affordable for people making 70 percent or less of the median income in the area. As Maureen McAvey, a senior fellow at the Urban Land Institute, says: "It's a drop in the bucket."
Robert Kronenberg, the county's Parks and Planning Department chief who oversees Bethesda, says the new plan will focus on creating additional affordable housing and preserving buildings with lower living costs. In the meantime, Sotheby's David DeSantis offers a prediction: "When we sell that condo for the highest price ever in the Washington market, that record will be broken not long thereafter."
This article appears in the February 2015 issue of Washingtonian.