Angelika Film Center
2911 District Ave., Fairfax; 571-512-3301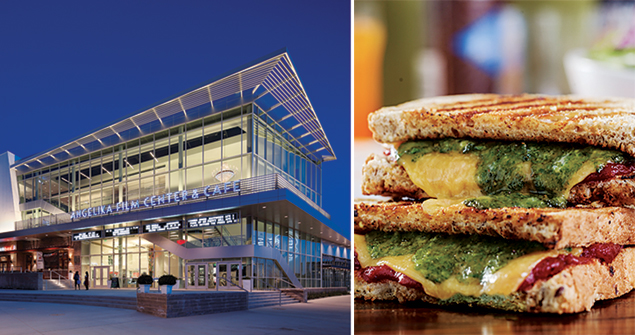 A gleaming-white, three-level spinoff of Manhattan's cinephile mecca in Fairfax's boutiquey Mosaic district.
Film fare: A movie geek's dream mix of critics' favorites, local films, vintage Oscar winners, and the occasional popcorn flick, on eight screens.
Food: All items from Angelika's cafe can be taken into the theater—it even furnishes a recyclable tote bag. An upscale concession stand fills any yen for mid-show snacks, and you can discuss what you've seen in the third-floor bar/lounge.
Top dollar: $12.50 for the cheese plate.
Best eats: Mac and cheese with lemon olive oil; cheese plate; Jeni's ice-cream cups.
Drinks: A beer nerd's oasis, chock-full of esoteric craft brews.
Popcorn: Excellent, with toppings like beer-and-cheddar and an addictive tandoori yogurt.
Admission: $13.
What we spent for two: $84.
iPicTheaters
11830 Grand Park Ave., North Bethesda; 301-231-2300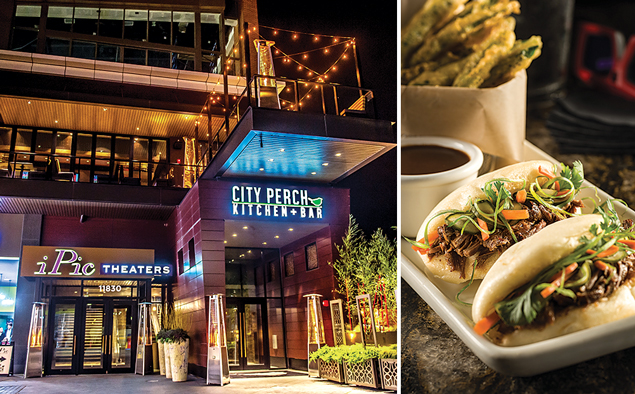 Dinner and movie? It all happens at once at this clubby, eight-screen cinema with low-lit table service and food that surpasses anything we've eaten at a movie theater, but doesn't live up to the trendy-bistro prices.
Film fare: Action hits, thrillers, comedies, and kids' movies with no pre-movie ads, probably due to pricey admission (which also tends to eliminate chatty teens).
Food: An ambitious menu overseen by former Wolfgang Puck pastry chef Sherry Yard and delivered by black-clad "ninja" servers.
Top dollar: $25 potato boats with smoked salmon and caviar.
Best eats: Steamed bao buns with short rib; tempura-fried green beans with hoisin.
Drinks: The perfectly tangy Augustine Sour (cherry-infused bourbon, lemon, maple syrup) leads a top-quality cocktail menu.
Popcorn: Nicely buttery and extra-salty.
Admission: $22 for table-service seating, including free popcorn and a reclining seat with pillow and blanket; regular admission is $13.
What we spent for two: $133.
ArcLight Cinemas
7101 Democracy Blvd., Bethesda; 240-762-4000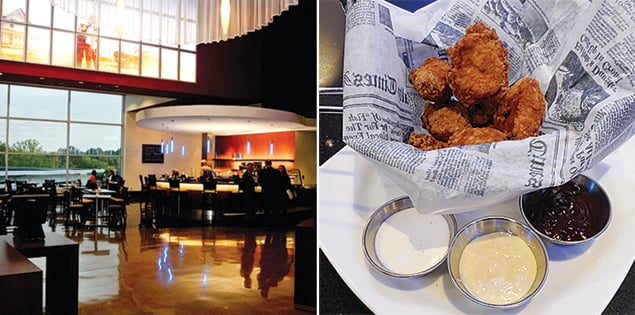 This soaring, 16-screen multiplex in Westfield Montgomery mall has a Hard Rock feel, thanks to walls studded with glass-encased artifacts like Natalie Portman's tutu from Black Swan. Discerning cineastes will appreciate the top-of-the-line Dolby Atmos sound system. If you plan on arriving hungry, arrive early. Service at the bar was so slow we missed the start of our movie.
Film fare: A wide array of slow-paced indies, 3-D fantasy films, and box-office chart toppers.
Food: The small bar has a cafe menu—you can take drinks but not plates into the theater; there's also a well-stocked concession stand.
Top dollar: $15 for the lobster roll, charcuterie board, or cheese plate.
Best eats: Popcorn chicken with Buffalo and ranch sauces.
Drinks: The supermarket wine selection had us reaching for a big, icy Coke.
Popcorn: Better than average, thanks to toppings such as real butter and olive oil.
Admission: $13.75.
What we spent for two: $113.50.