Who: Laura Ritchie, 31, and Megan Pollard, 34
Principal designers, Events in the City
What we do: "Our day-to-day work life is flexible and jam-packed all at the same time. We can be sitting behind a desk for eight hours answering e-mails, doing research, making calls, and requesting contracts—or we could be out on the town driving between site visits and lunch meetings, and then getting dolled up for a networking event. The majority of our events are held on the weekends, and they can be ten-plus-hour days with little downtime. Saturdays are our Mondays, and Mondays are our Mondays too!"
Our work style: "Having personal style that makes us feel confident and that represents us both as individuals and as a company is über-important. Megan has a boho-vintage twist to her classic separates, and she isn't afraid of a red lip or a good hat. Laura opts for more daring and wild patterned pieces mixed in with a great blazer and a statement necklace. Knowing that we will be photographed together or even looked at as a pair, its important to not match but at least complement each other. If one of us is in neon, the other might do a neutral with a neon accent. If one of us is doing a bright lip, the other may stray away from it that night."
In our closet: "Being on our feet a lot has also made us major shoe hoarders. It's not uncommon for us to start an event in slip-on metallic Vans, change to high heels for the ceremony and reception, and then end the night in hightop sneakers. I've even worn a bride's emerald green Louboutins because she was eyeing my black Ash sneakers and I could tell she was in major pain. Anything to make our clients happy!"
Meeting a Client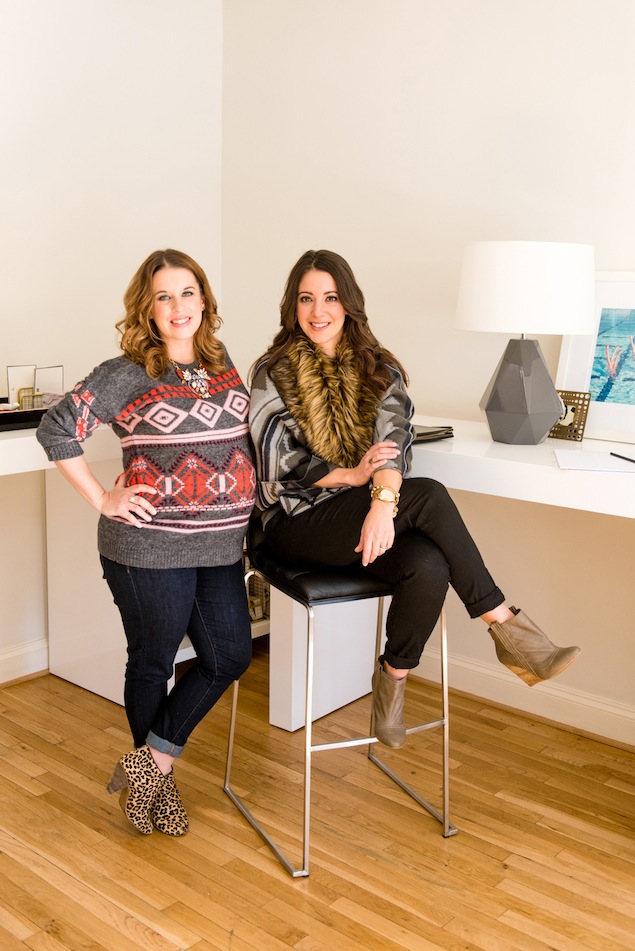 "We want to remain true to ourselves and comfortable while we are whipping up clever ideas and running between meetings with clients. Jeans, a great sweater, fun shoes, and a pop element like a statement necklace or big scarf totally do the trick here in DC."
Laura (left) wears a J.Crew sweater and statement necklace, Gap maternity jeans, and Urban Outfitters leopard-print booties. Megan is in a Target poncho, a fur stole she bought on eBay, Gap jeans, and Zara booties.
Networking Over Cocktails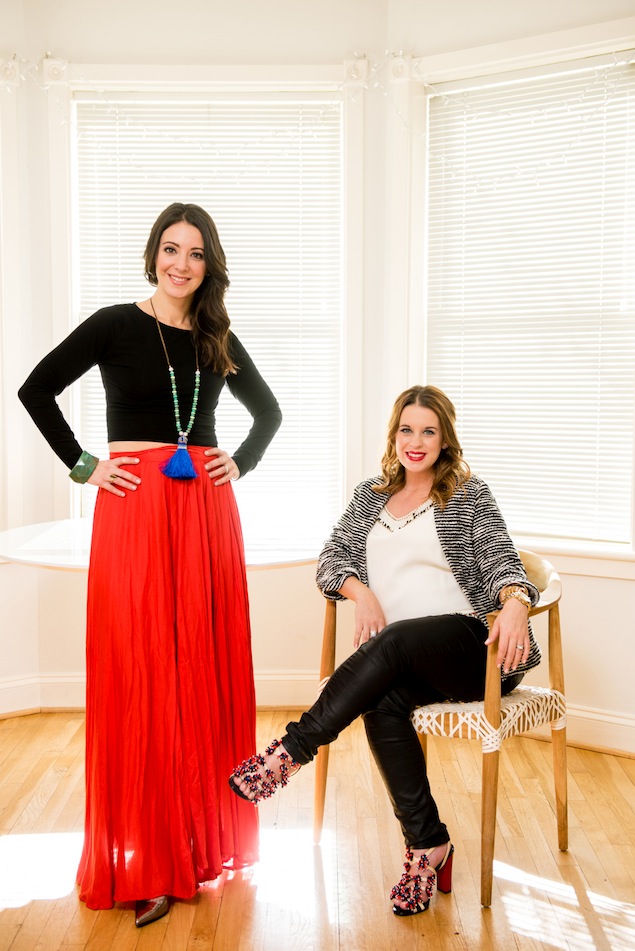 "Knowing that we are viewed as a team, we do try to complement each other when we go out on the town for networking or social events. We often get photographed together, so we try to coordinate but not necessarily match. Megan errs on the side of a vintage boho vibe, while Laura maintains a more fashion-forward feel that incorporates talking pieces like these shoes."
Laura wears a Tory Burch blouse and heels, skinny leather pants from Zara, and an H&M cardigan. Megan is in an H&M crop top, Free People skirt, necklace by Rachel Mulherin, Target pumps, and a Jade cuff from Forever 21.
Running an Event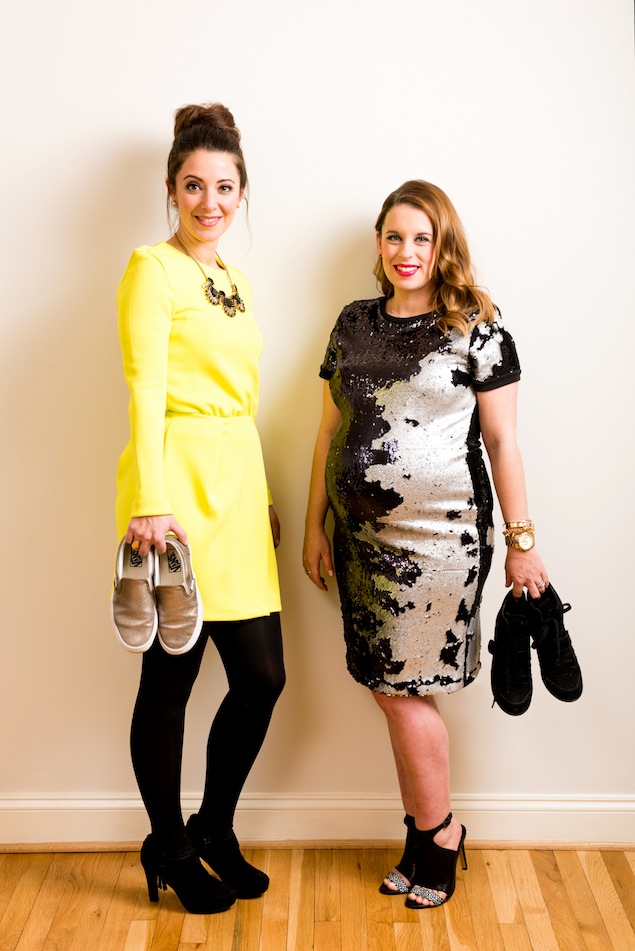 "We strive to blend in with the guests but also stand out with authority. This fine line has us reaching for bright shirt dresses with dark tights or even reversible sequins with a blazer for black-tie affairs. We have a saying around our office that 'bun means boss,' so it's not uncommon you will find us with a bright lip or a topknot at our events. Don't be fooled though, we end up being on our feet for 12-plus hours onsite and happily change into hightop sneakers or metallic Vans after dinner is served to the guests and the lights go low."
Laura wears a sequin maternity dress from ASOS, BCBG heels, and Ash high-top sneakers. Megan is in an H&M dress, black booties, and a statement necklace from Altered State.
The Details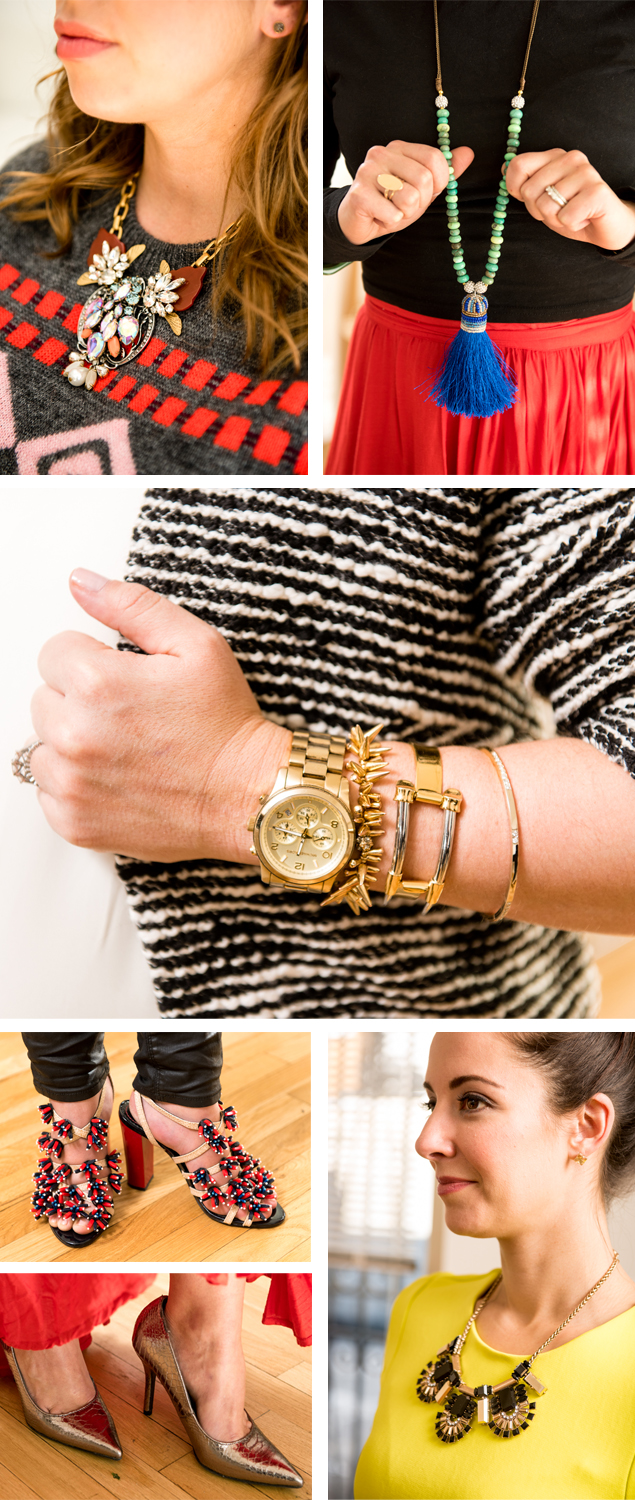 Think you know someone who deserves the What I Wear to Work spotlight? E-mail ccunningham@washingtonian.com with photos and a job description for consideration.