Taste of History in Charleston
Charleston, South Carolina, is turning out some of the country's best new chefs—Aaron Silverman of Rose's Luxury, on Capitol Hill, among them. For all the town's historic allure, with its cobblestone streets, horse-drawn carriage tours, and stately homes, there's innovation in the air—and on the plate. The dining scene is one of the most exciting in the region, with 11 James Beard Award semifinalists this year.
Creativity here doesn't mean eschewing the past. Chefs such as Sean Brock of the much-lauded McCrady's (2 Unity Alley; 843-577-0025) and Husk (76 Queen St.; 843-577-2500) helped put South Carolina's oldest city on the modern food map through his exploration of low-country traditions—a blend of European, Native American, and Afro-Caribbean influences—and dedication to regional ingredients. Menus across town read like guidebooks to a Southern larder, rich with Carolina gold rice, Edisto Island grits, and sesame-like benne seeds, not to mention heirloom pork and pristine seafood from the waters surrounding the port city.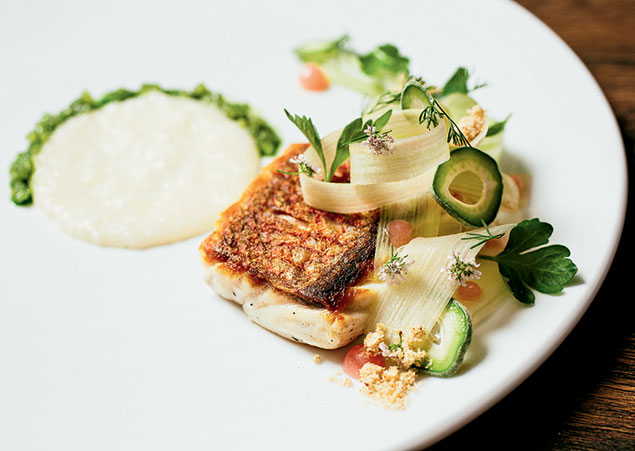 This effort both to preserve and to evolve Charleston's culinary heritage isn't exactly new. Chef Mike Lata's can't-miss FIG (232 Meeting St.; 843-805-5900) is still packed 12 years after opening, thanks to innovation done well—buttermilk-marinated razor clams, lamb neck over blackened pea ragoût. The next generation of chefs is pushing the boundaries even further. Husband-and-wife team Joshua Walker, a fifth-generation Charlestonian, and Duolan Li serve Asian soul food at Xiao Bao Biscuit (224 Rutledge Avenue), housed in an old gas station.
In the historic part of town, Brock recently debuted a casual taqueria, Minero, that melds flavors of Mexico and Carolina—crispy catfish tacos with pickled green tomato; shrimp and chorizo with masa grits. A car isn't necessary in the foot- and cab-friendly town, unless you want to explore the beach communities a short drive away. If you do, drop by Page's Okra Grill (302 Coleman Blvd., Mt Pleasant; 843-881-3333) in funky Mount Pleasant for a more traditional taste of the South, especially the P.B.T. sandwich stuffed with pimiento cheese, bacon, and fried green tomatoes.
Where to eat now:
While King Street is known for shops and college bars, the northern end is a culinary destination. FIG's sister restaurant, the Ordinary (544 King St.; 843-414-7060), dishes up addictive crispy oyster sliders and showstopping shellfish platters, all in a lofty former bank. A few steps away, locals share small plates of pigskin pad Thai or tuck into cauldrons of low-country seafood pilau at the Grocery (4 Cannon St.; 843-302-8825). James Beard Award semifinalist Jeremiah Bacon's restaurant, the Macintosh (479 King St.; 843-789-4299), draws crowds with plates both elegant and robust, plus knockout brunch. Grab a nightcap at the warehouse-like speakeasy Cocktail Club (479 King St #200; 843-724-9411), a floor above.
Best celeb-chef spotting:
On our last visit, Daniel Boulud dropped in to order lunch from the chalkboard menu of no-frills Butcher & Bee (654 King St.; 843-619-0202), a BYO sandwich shop. You might spot the next generation of culinary stars chowing down on chicken bánh mì from the late-night menu at 2 am.
Best reason to wake up, at any hour:
"Everything 'til 10 pm" is the motto of Two Boroughs Larder (186 Coming St.; 843-637-372), a market/restaurant where fresh-shucked Carolina oysters are served alongside breakfast sandwiches and a ramen-esque "bowl-o-noodle" all day long.
Best way to start the night:
Pick any two words ("strong," "spicy") from the Bartender's Choice list for creative, made-to-taste drinks at the Gin Joint (182 E Bay St.; 843-577-6111). Too fancy? The Griffon (18 Vendue Range; 843-723-1700) is the kind of dive where dollar bills paper the walls.
Best break for the stomach:
Charleston is known for its elegant historic homes; the Festival of Houses and Gardens (March 19 through April 19) is a chance to peek inside. Don't miss the Nathaniel Russell House Museum ($12 adults, $5 children) any time of year, a magnificently restored 1808 mansion built by a wealthy trader.
Best place to stay:
A newly renovated boutique hotel in the French Quarter, the Vendue, boasts rooms in two historic buildings, some with gas fireplaces. Guests can explore the city on free bicycles or relax at the Rooftop (19 Vendue Range St. 800-845-7900), one of the town's best outdoor bars, overlooking the harbor.
Richmond Rises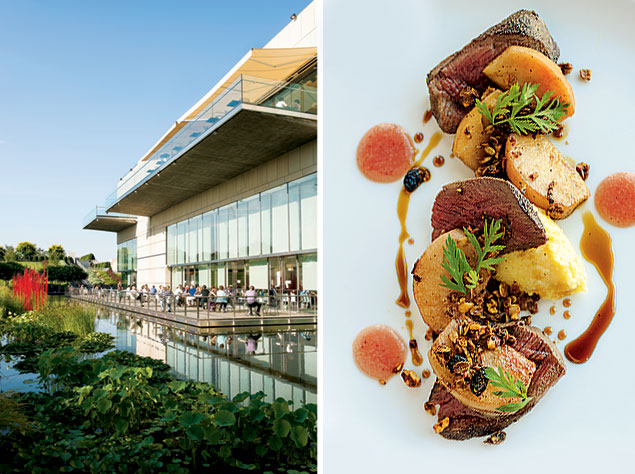 The onetime capital of the Confederacy, two hours south of DC, has long burnished its image as a charming, slow-paced town built upon propriety, conservative politics, and old ways that endure. But as its recent evolution into one of the South's premier food destinations has shown, there is another Richmond.
As in many small cities with a rich and thriving scene, the transformation is driven by a group of artisans, bakers, baristas, and brewers. But these local-loving chefs and restaurateurs have nurtured a homegrown aesthetic rather than looking to other cities for inspiration.
Washington has more variety and more options at the high end, but it lacks the unself-conscious liveliness of the better restaurants in Richmond, from the quirky Belmont Food Shop (chef Mike Yavorsky, a Daniel Boulud alum, makes do with just five tables) to the Magpie (1301 W. Leigh St.; 804-269-0023), a bordello-channeling gastropub (helmed by chef Owen Lane) to Ed Vasaio's quintessential red-sauce Italian joint, Edo's Squid (and his petite and equally wonderful trattoria/deli, Dinamo).
The city's national profile has risen with the emergence of native son Travis Croxton, who, with cousin Ryan Croxton, opened the Rappahannock at DC's Union Market and operates a larger version of that classic oyster bar in Richmond, and the recent arrival of Mike Isabella, the Top Chef contestant who brought Graffiato to the city last summer.
Still, it's the stubborn communal refusal to look elsewhere for assistance—or validation—that keeps things interesting.
Can't-miss cocktails:
John Maher at the Rogue Gentlemen (618 N. First St.; 804-477-3456) is so serious about his drinks that he printed up a book, handsomely bound, for his menu. A Maher drink is both bracingly stiff (shades of the great bartenders of yore) and supremely balanced (in keeping with the tenets of the mixological moment). Sip and savor his Bear Hug, made with ten-year bourbon, Fernet-Branca, Cynar, and Becherovka, and halfway through, your tongue will undoubtedly be looser.
Best breakfast:
Get to Perly's (111 E. Grace St.; 804-332-6434), park yourself on one of the mint-green stools facing the old-fashioned bar, and take in the buzzy scene: hipsters and families with young kids all cramming in to experience a newfangled, artisan-driven deli that would rather you experience it as old-fangled and unassuming. The good mood only gets better with a smoked-whitefish platter, a cup of good strong coffee, and—we can't resist—an egg cream.
Afternoon pit stop:
A brother-and-sister tandem from Reston, Evrim and Evin Dogu—their father operates the small Washington chain Rosemary's Thyme Bistro—runs Richmond's best bakery: Sub Rosa (620 N. 25th St.; 804-788-7672), which features wonderfully rustic, hearth-baked breads in addition to croissants, tarts, and Turkish treats. Any item on the menu, plus a cup of rich, dark coffee from the excellent Richmond roaster Lamplighter (116 S Addison St.; 804-728-2292), provides an oasis in the day.
Distinctly un-DC dinner:
Edo's Squid (411 N. Harrison St.; 804-864-5488) is the kind of place you find in a city with a thriving Little Italy—a bit worn around the edges but big-hearted and impossible not to love, even when you have to wait 40 minutes for a table. The dish that speaks to the place's quiet magic sounds so simple as to be unremarkable: braised fennel. It melts in your mouth like butter, while the warm nutmeg cream sauce coats your tongue like fondue. Pay close attention to the list of specials, scrawled on a chalkboard in the bare-bones dining room: A recent special of deep-fried sugar toads (also known as northern puffers) was polished off quickly.
What to do when you're not eating:
The Virginia Museum of Fine Arts is excellent, and small enough that you can explore most of the collection in one afternoon. The Museum of the Confederacy—next to the Confederate White House, where Jefferson Davis lived and directed operations throughout the Civil War—is eye-opening. Shockoe Hill Cemetery houses the remains of John Marshall, the fourth US chief justice, and Daniel Norton, creator of the first great wine grape in America.
Where to stay:
The Jefferson isn't just the most elegant hotel in the city but also one of the most convenient to restaurants and shopping.
New Energy in New Orleans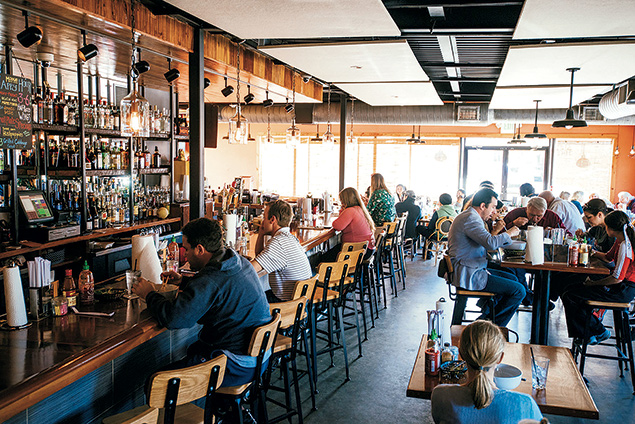 New Orleans once was a city that knew exactly what it was. The elite assembled at Galatoire's (209 Bourbon St.; 504-525-2021) for three-hour drunken lunches of soufflé potatoes dipped in béarnaise or trout amandine drowned in butter. Everyone else went to joints like Domilise's (5240 Annunciation St.; 504-899-9126) or Parkway Bakery & Tavern (538 Hagan Ave.; 504-482-3047) for po' boys—crusty French loaves filled with hot sausage, fried shrimp, or roast beef in gravy. On weekends, families lined up at Angelo Brocato (214 N. Carrollton Ave.; 504-486-0078), founded in 1905, for cups of lemon ice or cannoli filled to order.
Those edible pleasures still survive in New Orleans. They couldn't be dislodged by fads or floodwaters. But as the city edges toward its 300th anniversary in 2018, the restaurant scene, humming with renewed energy, is quickly evolving.
Marquee chefs such as Donald Link, with his modern bistro, Herbsaint (701 St. Charles Ave.; 504-524-4114), and his stylish Cajun eatery, Cochon (930 Tchoupitoulas St.; 504-588-2123), are building empires. Brennan's (417 Royal St.; 504-525-9711), the formerly creaky French Quarter stalwart, reopened after a $20-million renovation with a chef who makes flawless eggs Benedict in the morning and palm-sugar-roasted duck with rutabaga cakes at night.
Recent arrivals and upstart young cooks are adding new flavors to this Creole city. The internationally revered tiki expert Jeff "Beachbum" Berry came to town and opened a restaurant and bar called Latitude 29. Native son Michael Gulotta, after rising to the helm of John Besh's flagship restaurant, August, unexpectedly embraced Southeast Asian cuisine when he struck out on his own with MoPho (514 City Park Ave.; 504-482-6845). And in and around the rapidly gentrifying Bywater neighborhood, you'll find New York-style pies at Pizza Delicious (617 Piety St.; 504-676-8482), falafels and Belgian fries at Kebab (2315 St. Claude Ave.; 504-383-4328), and unhinged creativity from a vet of New York's Mission Chinese Food at Red's Chinese (3048 St. Claude Ave.; 504-304-6030).
Where to eat now:
Restaurants are complicated animals with a hundred moving parts. At this moment, Coquette (2800 Magazine St.; 504-265-0421) chef and owner Michael Stoltzfus has everything working in sync. This Modern American bistro in the Garden District is currently one of New Orleans's finest restaurants.
Dinner and a show:
In a city that loves its past, chef Phillip Lopez sees only the future. Root (200 Julia St.; 504-252-9480), his first restaurant, was equal parts science experiment and whimsy, with foie gras cotton candy and scallops smoked with Cohiba cigars. At Square Root (1800 Magazine St.; 504-309-7800), a tasting-menu-only place, he adds to the complexity (and the price). Stationed behind a wide counter wrapped around the open kitchen, Lopez himself serves the 12 to 15 courses, which despite the avant-garde techniques often draw soulfully on the chef's Mexican-American heritage.
Isn't it romantic?
Loyal regulars claim most tables at Gautreau's (1728 Soniat St.; 504-899-7397), an elegant bistro tucked into an upscale Uptown neighborhood. Owner Patrick Singley, a consummate host, oversees the dining room while budding celebrity chef Sue Zemanick runs the kitchen. Make reservations well in advance.
Fish meets fire:
Pêche Seafood Grill (800 Magazine St.; 504-522-1744), the latest venture from Donald Link in partnership with chef Ryan Prewitt, is unlike any other seafood restaurant you'll encounter in Louisiana. Fish from the Gulf of Mexico is mainly cooked in a large open-fire grill. Dishes such as grilled tuna with olive salad and catfish with chili broth won Pêche the 2014 James Beard Award for best new restaurant in America and Prewitt the prize for best chef in the South (shared with Gautreau's Sue Zemanick).
Beer from here and beyond:
Craft beer has finally taken off in Louisiana. At Avenue Pub (1732 St. Charles Ave.; 504-586-9243), a 24-hour bar with a balcony overlooking the streetcars of St. Charles Avenue, you can sample a large selection of regional brews along with impressive collections of Belgian beers and American whiskeys.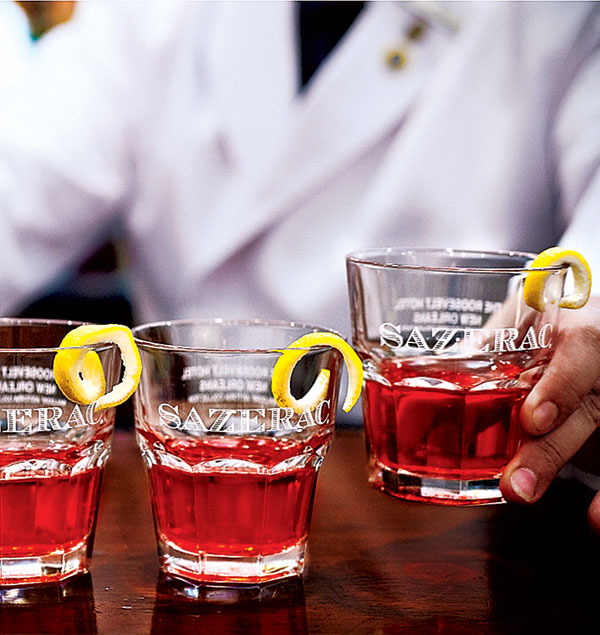 Rest easy in the Big Easy:
Populist governor Huey P. Long preferred to sip his Ramos gin fizzes at the Sazerac Bar of the Art Deco Roosevelt (130 Roosevelt Way; 504-648-1200) hotel. Opened in 1893, it underwent a major renovation in 2009 and became a Waldorf Astoria property.
Museum-quality bar:
The stately, 19th-century wooden bar at Purloo, a restaurant in the new Southern Food & Beverage Museum, once stood in a waterfront seafood joint, before Hurricane Katrina pushed it into the water in 2005. A decade later, you can again belly up to the Brunswick bar and sip a Sazerac. You're encouraged to carry your cocktail through the museum's exhibits on Southern foodways.
Walk on water:
A half-hour drive from the French Quarter, the boardwalks winding through the swamps of the Barataria Preserve—part of the Jean Lafitte National Historical Park and Preserve—make for good hiking. The visitor center offers helpful tips on what to do if you encounter an alligator (clap and stomp).
What's Brewing in Asheville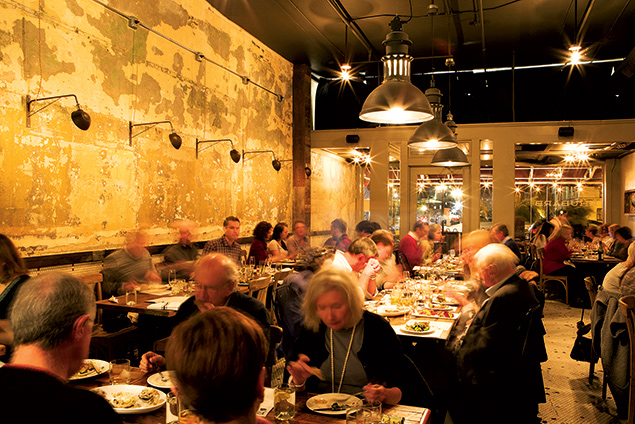 Asheville is having a moment.
New Orleans has soulful history. Charleston's roster of chefs is full of attention-grabbing talent. But this scenic North Carolina city is making a lot of noise as of late.
That's the sound of Asheville beating the local-food drum, surrounded as it is by farm-rich countryside. The cheesemakers are prolific enough for a Western North Carolina Cheese Trail. And chefs such as James Beard semifinalist Jacob Sessoms of Table (48 College St.; 828-254-8980) take full advantage of the abundance in a way that's strictly Asheville.
"Asheville has the unique quality of being in the South without being Southern," Sessoms says. Settled by Scotch-Irish isolationists, the city was exposed to little of the outside culture that influenced much of the South's culinary style. "These factors have led us to a place where we, as Asheville chefs, don't really have an original food culture as a touchstone with which to start—or to which we must be held accountable."
Asheville has taken that pioneering spirit to brewing. It lays claim to more breweries per capita than any other US city. People barhop the vibrant downtown in hiking boots and duck into breweries in the rehabbed South Slope, which includes Wicked Weed's newest tasting room, the Funkatorium.
"When we began discussing where to launch Wicked Weed Brewing, Asheville was the only logical choice for all of us," says owner Rick Guthy, who came to the city from Los Angeles in the '80s. "Not only because it's a place we enjoy so much but because Asheville is America's craft-beer capital."
There are other reasons to visit. Asheville is surrounded by bike trails and kayak-friendly waterways. The nearby Blue Ridge Parkway travels the spine of the mountains, offering sweeping views of Carolina high country and access to nature that draws millions of tourists each year
Where to eat now:
James Beard-nominated John Fleer steered Tennessee's Blackberry Farm toward its hyper-local ethos. Now he takes a similar approach at Asheville's Rhubarb (7 SW Pack Square; 828-785-1503). Try the Mongolian lamb ribs with collard kimchee, or wood-roasted trout from nearby Sunburst Farms. Meanwhile, another Beard-nominated chef, Katie Button, a protégée of Ferran Adrià and José Andrés, also took a chance with Asheville—her family's tapas restaurant, Cúrate (11 Biltmore Ave.; 828-239-2946), is booming. Book a table in advance.
How sweet it is:
The French Broad Chocolate Lounge (10 S. Pack Square; 828-252-4181) is a 4,200-square-foot temple of bean-to-bar chocolate, with handmade truffles, sipping chocolates, and other artisanal sweets.
Drink up:
Wicked Weed Brewing (91 Biltmore Ave.; 828-575-9599) opened its immensely popular two-level downtown pub in 2012. The more intimate Funkatorium nearby specializes in barrel-aged wild and sour brews. Try the Black Angel Cherry Sour, black ale brewed with cherries and aged in bourbon barrels. Locals also head to eccentric West Asheville to barhop, as well as to the River Arts District, where Wedge Brewing Company (37 Paynes Way; 828-505-2792) turned one side of a former 19th-century warehouse and its railroad stockyard into a charmingly gritty adult playground. On the other side is the Bull and Beggar (37 Paynes Way; 828-575-9443), a rustic-mod restaurant where you can sip craft cocktails, eat oysters, and watch the trains go by.
Unwind:
Catch live bluegrass or folk at Jack of the Wood (95 Patton Ave.; 828-252-5445), which has pub fare and—of course—local beer. Tired of beer? Find craft cocktails at MG Road (19 Wall St.; 828-254-4363) or the Imperial Life.
Sleep easy:
The Aloft hotel has a stylish, modern vibe in the heart of downtown. For more glamorous digs, the Inn on Biltmore Estate offers plenty of luxury on 8,000 acres.
Best way to wake up:
Head to Early Girl Eatery (8 Wall St.; 828-259-9292) for a taste of the South. Try the Porky Breakfast Bowl, with farm eggs, local cheese curd, and pulled pork in smoky Benton's-bacon gravy. Or pop into Vortex Doughnuts (32 Banks Ave., Suite 106; 828-552-3010) for first-rate coffee and doughnuts with ingredients like bacon and beer caramel.
Anna Spiegel is associate food editor; Todd Kliman is a food and wine editor. Todd Price is a dining writer for the Times-Picayune in New Orleans. Mackensy Lunsford covers food for the Asheville Citizen-Times.
This article appears in our April 2015 issue of Washingtonian.