A tax accountant by day and an NFL cheerleader captain for the Redskins by night, and Charo Bishop has somehow found the time to launch an online store, & Such Shop. It went live on April 13, and Bishop has already packed her first order shipment.
A native of Columbia, Bishop began her intensive dance training at the age of five, attending the Ballet Royale Institute of Maryland and studying ballet, jazz, tap, and hip hop, building the foundation for her cheerleading moves in the years to come. She then enrolled at the University of Maryland College Park, earning her bachelor's degree in accounting.
Now, when Bishop isn't filing tax returns or cheering on the Redskins, she's pouring her creative energy into & Such Shop. To find out how she does it all, Shop Around got in touch for an interview.
What inspired you to open an online store?
This idea has been swimming in the back of my head for years now, but I was never quite sure what route to take. In stereotypical candor, I read the book #Girlboss by Sophia Amoruso in February and it jettisoned me into the free fall of e-commerce. While I enjoy my career as a tax accountant, it is just that much more fulfilling to be working on something that I have built entirely myself, and that allows me to use a mix of my business and creative skills.
Have you always been interested in fashion?
To be honest, I have always been intimidated by high fashion, in the same way that I love math, but am intimidated of higher mathematics: there's just so much unattainable out there. I admire women who are able to put themselves together so meticulously and flawlessly every single day and who are always right on trend. However, the majority of women are not those people, nor can we afford to be. Style is what is important. Like art, style is a true expression of self; it takes self-awareness and confidence—that's what ultimately drew me to clothes. I really just want a woman to feel as comfortable and confident in her clothes as she is in her own skin.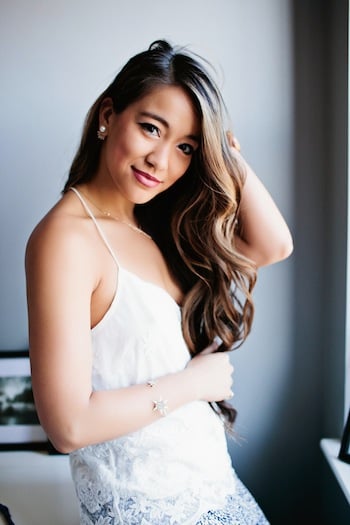 What kind of woman do you envision shopping at your store?
My target customer is a woman who realizes she is unique, yet also recognizes the uniqueness of others. She is economically savvy, coy, quick-witted, imperfect, and appreciates the unexpected. There are not many basics sold in my shop, so women who understand that there's no reason to go through life unnoticed will be more likely to shop & Such.
What's your process for curating the pieces you sell in your shop?
I choose the pieces for & Such essentially in the same way that I choose the clothes I purchase for myself, but with an even broader taste. I go for comfortable pieces that have an unexpected "wink"—meaning maybe an open back, a near-hidden slit, an interesting but not overwhelming print, a dramatic high-low hemline. I want the pieces to be memorable, but I also want women to be able to wear it more than once, so choosing pieces that have longevity and that surpass fads is also important.
So you're an NFL Cheerleader and a professional accountant and you decided to launch your own online shop. How do you do it all?
It most definitely involves an IV of coffee, endorphins, and extreme time management. Surrounding myself with positive people is also so incredibly important in feeling balanced and focused. I make to-do lists and check them off obsessively. Last night, after our first Redskins Cheerleader practice of the season (which was after a full day of my accounting job), I stayed up until 2 AM packaging my very first shipment. It was exciting. I really love all of the things I'm doing with my day, so it's easy to succumb to the adrenaline.
What's your favorite thing you're selling on & Such Shop right now?
I absolutely love all of the Hanuel jewelry that I'm selling, but my favorite clothing piece is probably the Terez Playsuit. It has this wide-open back with a subtle pink and grey snakeskin print—one-pieces are making a strong and comfortable comeback.
Why the name "& Such Shop"?
I'm a huge word-nerd, so first off, the word "such" is a determiner. In other words, it doesn't mean anything—you define it by whatever is proceeding or preceding it. I want the & Such Shop customer to do the same with herself and with her style. The possibilities are limitless, just like her.