Sona Sut had worked for eight years at the front desk of her husband's Georgetown salon, when during one rare moment of peace, she looked around the room at all the women getting blowouts. She thought to herself, "I work at a salon and I don't have time to do my hair!"
To help other women juggling their careers, families, and need to be presentable, Sut launched Blowdry Taxi in June 2014, with the accompanying app out the following fall. The "taxi" part of the name refers to the team of stylists that will meet women wherever they are in the DMV—an accessible power outlet being the only stipulation.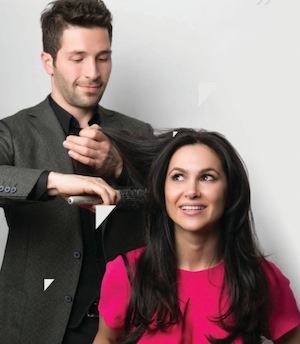 "We are designed for the professional woman who wants to squeeze in that morning jog before heading to the office and needs a good blowout that will last all day," says Sut. "A lot of our clients are busy reporters and policy officials who appear on morning television."
Many clients also book the stylists to meet them at home after work, making sure that they're appropriately done up for their evening networking events and galas around town—whether that means getting a full face of makeup, a blowout, or a glam updo. Since many Washington women are constantly making the transition from home to work to evenings out, Shop Around got in touch with Sut to get her best tips on getting ready on the run.
1. Keep heels on hand. "Investing in a great pair of comfortable heels is a simple way to liven up any look for an evening," says Sut. Can't handle wearing heels all day? Pack them, or leave a spare pair in your office for nights out.
2. Don't start from scratch on your makeup. "Instead of redoing all your makeup, just add mascara, some fresh powder, and gloss," says Sut. Keep these three items in your bag, rather than your whole makeup kit, to cut down on how much you're lugging around town.
3. Blowouts aren't the only option. "If you didn't use Blowdry Taxi to get your hair event-ready, slick back your hair with a little water and wear a sleek ponytail," says Sut. If Katy Perry can rock it on the red carpet, it can work for your rooftop cocktails.
4. Accessorize, accessorize, accessorize. Want to distract from the dark circles under your eyes or the fact that you've only washed your hair once this week? Do it with something sparkly. "There are great, reasonably-priced statement pieces almost everywhere these days," says Sut.
5. Fake it 'til you make it. "Put a smile on and have some fun," says Sut. "Even if it's a stuffy work obligation, enjoy yourself—that always looks great."