Debra Eschmeyer has her own farm in western Ohio, less than a mile from the dairy farm where she grew up. Running a farm is a normal outcome for someone in that part of the country. The rest of her résumé is somewhat more improbable: Over the past decade, Eschmeyer has traveled the world as a program director for a variety of NGOs, grappled with farm politics as an advocate in Washington, and become an authority on food policy. In January, she was tapped to head the White House's "Let's Move!" campaign, succeeding the First Family's former chef Sam Kass.
Eschmeyer's trek to the White House post began in Asia, where she went after college to work for Rotary International and Conservation International. A close-up view of the struggles of subsistence farmers in China and the Philippines, she says, inspired her to take up the cause of stateside family farms like the one where she grew up. In 2010, after stints at a couple of advocacy groups, she cofounded FoodCorps, a partnership with AmeriCorps that sends volunteers to underserved school districts to plant gardens and improve school lunches.
Her work introduced her to Michelle Obama, who had made nutrition a signature cause as First Lady—and turned Kass into perhaps the first White House chef with a policy portfolio.
Like many second-term appointees, Eschmeyer may find herself playing a lot more defense than her celebrated predecessor. Last year, as Republicans tried to roll back strengthened nutrition requirements mandated by the 2010 school-nutrition law, the First Lady vowed to fight until "the bitter end."
Here Eschmeyer talks about the looming battles.
How do you get people to care about food production or farming?
When I was a kid, the youngest of seven, my family used to host farm tours, and at one point there would be fourth- or sixth-graders and we'd try to show them where their food came from. They didn't know chocolate milk didn't come from a cow. With something as little as a farm tour, you get it. It's why the White House kitchen garden has become a symbol. Little things like that can make a huge difference. You get people excited to be outside, able to cook using solid ingredients with their families.
Is your experience with farm tours what drew you to food policy?
Growing up in rural Ohio, we weren't a political family at all, but we were involved in church and school. If you're deeply engaged in what your community needs, that's good governance. Seeing the improvements—that made an incredible difference. But I had the practical experience to know that what's good on paper isn't always good in practice. When I'm trying to translate someone's needs—whether it's a food-service director or a farmer or a kid in school—I always make sure that what I'm doing is benefiting people on the ground.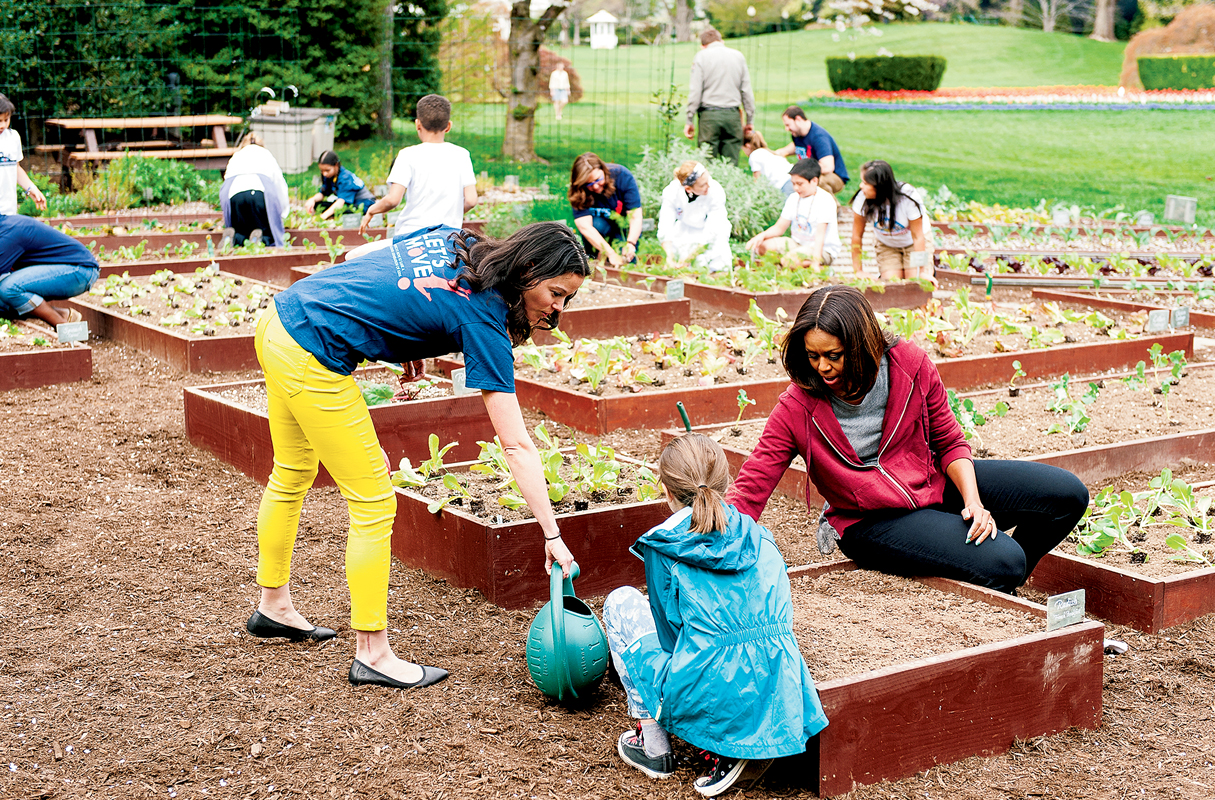 Did you have any idea that you were in line for this job? How did it happen?
All of this work we do is across partnerships and foundations and nonprofits and corporations. I've known Sam since the administration began in 2009. He'd gotten married, and I knew he was looking to move on. I was thrilled to serve.
How are you different from Sam?
We don't have enough time for that. Obviously, he was beloved. But I'm not a cook; I'm a farmer.
What has "Let's Move!" accomplished, as you see it, and what's left to do?
The First Lady is one of the most transformational champions around childhood health. More than 1.6 million kids have access to healthier daycare now, 30 million kids are eating healthier lunches, 9 million are in the Active Schools program [promoting physical activity]. All of that has been created through "Let's Move!" Those numbers are insane. But where can we do more? We're constantly trying to push others to show what they can do. We also have to think about the Healthy, Hunger-Free Kids Act, making sure we don't roll back the standards.
The School Nutrition Association, which represents food-service directors around the country, has fought against the more stringent nutrition standards for school lunches mandated by that act. How do you handle the criticism?
Ninety-three percent of schools are meeting the healthier nutrition standards, which is incredible. Those stats are what we need to be seeing. We're fully aware that change takes time. When I hear stories from food-service directors on the ground, I hear what's working. They're working hard, meeting the requirements.
So I listen to the various stakeholders to figure out what their priorities are. But I have to say we won. This is a bipartisan bill that passed in 2010. We don't need to be having this conversation in 2015.
So what will you focus on in the time the administration has left?
This is not the First Lady's end-of-term issue. It's something she's committing her life to. We're making progress. But what can we be doing different to really break through in innovative and creative ways?
I like to spend my time thinking of the other wonderful things we can do to make sure our kids grow up healthy. Let's think about the new partnerships out there. The theme for this year is "Celebrate, Challenge, Champion," making sure we reflect on our success. The challenge is making sure we do more.
How do you manage both working in DC and looking out for your farm back in Ohio?
The farm is only a quarter of a mile from the family farm and my siblings. Over the last five years, we've had a community-supported agriculture (CSA) program, with over a hundred families coming to the farm, and we've also sold produce at a farmers market in Columbus. We grow 35 vegetables and fruits. You should see our spreadsheets; they are quite intense—with succession planting, planting at just the right time, with 35 different vegetables. Right now, our garlic is growing, we're planting berries and taking care of the orchard. We're basically just planting cover crops and nurturing the soil.
What's happening with FoodCorps now that you're gone?
It was difficult to leave an organization I cofounded, but it's in amazing and capable hands—25 staff, over 180 service members and statewide fellows in 16 states and DC, and we're looking to expand into New York City. FoodCorps is doing great.
What do you say to those who believe the government shouldn't be involved in telling schools what kids and other people should eat?
I actually don't think we're telling people what to eat. Everything this administration has done has been based on scientific recommendations. The Healthy, Hunger-Free Kids Act was based on Institute of Medicine guidelines for 2007, and that was during a Republican administration. This is just science, and this is how we're supposed to feed our kids right to be healthy. That's what it comes down to. We hear from parents and teachers and families that this is what they want. They're looking for tools to make it easier.
What about the criticism of elitism—that good, local produce is expensive and accessible only to people with means, while poorer Americans can afford mostly cheaper, processed foods? How do you make fresh food more accessible?
It's tough. There's not really an easy answer. More than 30 million people in the United States live in food deserts—they don't have access to fresh food. But the administration has made aggressive strides, with the USDA's Food Insecurity Nutrition Incentive Grant Program, to help get people access to fresh food. The Healthy Food Financing Initiative has provided over $140 million in grants. With all of that, though, we still have one in three kids who are overweight or obese.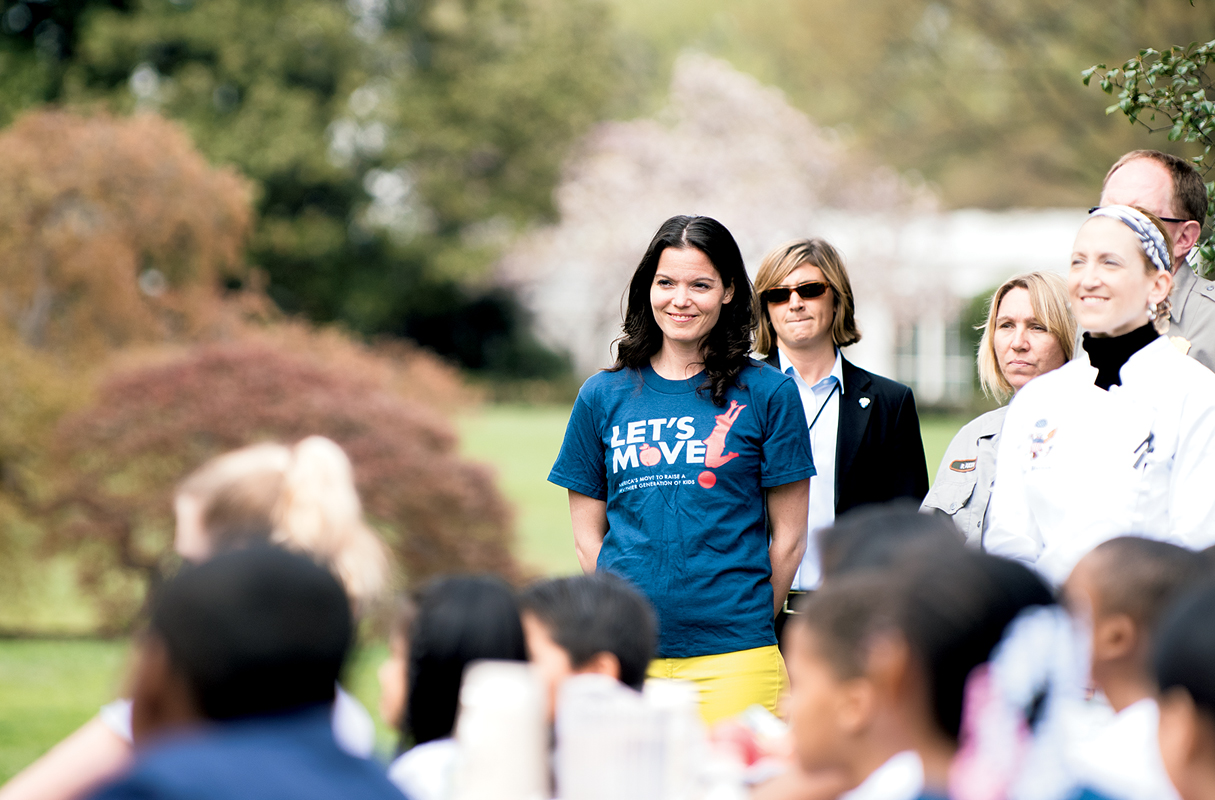 The White House is always called the bully pulpit because of its big platform. Do you feel that in your new role? Or have you traded a boots-on-the-ground kind of role for a more symbolic one?
It's a really good question. When I was at FoodCorps, I used to tell the AmeriCorps service members that my job was to serve them so they had all the tools at their disposal to help kids have an enduring, healthy relationship with food.
In many ways, that's what my job is now. It's just that now it's the entire American public. The scale has increased. Everything the First Lady is doing is both symbolic and action-oriented. When she planted the White House vegetable garden, it really did start this national conversation around health and well-being, and it evolved into the "Let's Move!" initiative.
When we were planting the White House garden [in April], this little boy was eating an apple, and when he was finished, he came up to me and asked where the compost pile was. I could actually walk over to the first White House compost pile. We have the first White House beehive. A lot of the firsts are incredibly symbolic.
At the same time, it's resulting in changes in behaviors, so the next generation is truly living healthier lives, and the conversation has changed around food in America.
This article appears in our June 2015 issue of Washingtonian.