Washington's love affair with healthy organic food may be why Whole Foods' retail square footage is climbing, and by the looks of it, DC's love of healthy and organic doesn't end with food. In the last year, Lather, Follain, and Florescent—all body and beauty brands marketed as all-natural and lacking in toxic chemicals—have opened up shop in Washington.
Now open at 52 O Street Artist Studios, skincare store Be Clean has a similar mission. Becky Waddell, a self-described "ingredient label purist," decided to leave her career in policy to stock her own small-batch natural skincare shop, filled with products that had passed her scrutiny and merited her stamp of approval.
"I wanted to create a haven where folks could trust that the ingredients in the products we carry are safe and effective, and what they're paying for is quality and character—no fillers," says Waddell.
In September, she launched an online store, with her studio space open to the public in May. Everything for sale is American-made and handmade, including the vegan jewelry by Baltimore-based Twisted Whimsy and reclaimed wood bathroom accessories by Philadelphia's Peg and Awl. To curate the body product side of her store, she has a specific set of criteria.
To start, she evaluates the overall brand. "When searching for new lines, I usually look for uniqueness of the formulation, organic ingredients, and overall purity, in addition to aesthetic and company culture," says Waddell. When evaluating ingredients, Waddell eliminates any products that include parabens, synthetic fragrances, dyes, and thickeners. Even "natural" preservatives, thickeners, or fragrances don't make the cut–Waddell instead looks for products scented with essential oils, absolutes, and extracts.
"We avoid them mainly due to cancer concerns and irritation to the skin, respiratory system, and eyes," she says. "But we also avoid them simply because they're entirely unnecessary, and when you pay for skincare, you should be getting active or helpful ingredients."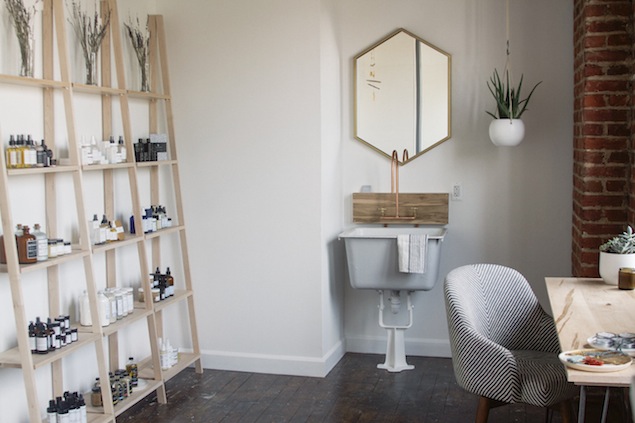 For brands that Waddell wants to work with but don't supply vegan versions of their products, she's come up with custom solutions. A body balm by Captain Blankenship contained the non-vegan-friendly ingredient beeswax, but Waddell was able to order up a vegan batch made just for Be Clean. She also collaborated with Soul Sunday to craft an organic sugar scrub, scented with vanilla and rose essential oils that met her ingredient criteria.
As much care as Waddell puts into making sure she knows what's in every bottle on her shelves, she puts into communicating with her customers, listing individual ingredients in the product description on Be Clean's online store and noting which are certified organic or naturally sourced. But rather than defining her brand around avoiding toxic chemicals, she wants it to be a celebration of good, natural ingredients.
"Instead of thinking about small batch natural skincare as a 'replacement' for toxic products, I think of them as opportunities for encouraging overall wellbeing," she says. "Not only are they simple and effective, they are also made with love and intention by the brand founders themselves (usually), and that encourages me to slow down as I engage in my daily cleansing routine and really indulge in a moment of relaxation and wellness."