On a warm weekday night, the dining room at Preserve is at near capacity, but you wouldn't know it to look at the T-shirted dudes behind the bar. They stir the booze in their beakers with the grave mien of technicians restoring a fresco. The small team of cooks working next to them in the open kitchen are their swaggering opposite, cranking out dishes as if engaged in contact sport. The testosterone is so thick you could cut it with a swizzle stick.
Low-affect nerds and high-octane bros: From one angle, the new Annapolis restaurant looks just like every other big-city kitchen these days.
But turn to the near wall and it's another story. It is so much another story, in fact, that it's almost as if one restaurant has been welded to another.
Note the jars of preserved fruits and vegetables, gleaming and arranged just so, as if awaiting a Pottery Barn photo shoot. In another context, they might come across self-consciously—an attempt at stylized earnestness. Here, they seem genuinely earnest.
Note the lighting in the room: soft, subdued, adult. Any lighter and you'd have Applebee's. Darker and it would be a speakeasy.
Finally, note the mix of ages. At most new restaurants bidding for the big time, you can feel like you're trying to crash a party if you show up over the age of 35. The patrons, this night, include a family whose two small boys are working over the management-supplied coloring books; a tousle-haired teenager who has come to dinner with his preoccupied parents and is looking about as thrilled as if he's just plunked himself down in the chair for a root canal (until he sneaks a sip of his mother's rum cocktail while they consult their smartphones); and a couple of silver-haired men in shiny polo shirts who could have just stepped off a houseboat, tanned, grinning, ferocious in their good health.
The most coveted tables are in the front window, which has a view of Chick & Ruth's Delly (where, as they have every weekday morning since 1989, patrons stand at attention for the Pledge of Allegiance) and the passing parade on Main Street: fanny-packed tourists, straight-backed midshipmen from the Academy, and strolling couples on dates, most with ice-cream cones.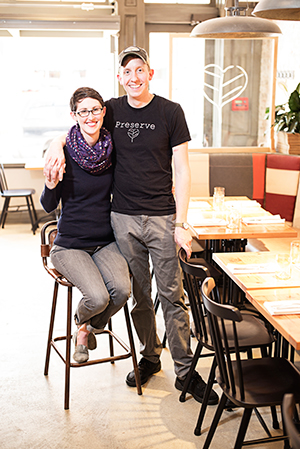 If Preserve were a lesser restaurant, it would be easy to zero in on this dichotomy and say it's incongruous, the two halves not quite jelling. Instead, it feels like an animating tension, the earnest homeyness anchoring the place and giving it a core, the attitude and ambition keeping the whole thing sharp and on edge.
Jeremy and Michelle Hoffman—chef and general manager, husband and wife—are restaurant lifers in spite of their relative youth; both are 31. Jeremy worked in New York at Thomas Keller's Per Se, one of the most celebrated kitchens in the country, and at Nobu 57, a standard-setter for sushi in the US. Michelle was maître d' at Danny Meyer's Union Square Cafe, a restaurant that helped rewrite the rules for service in the relaxed, modern age. The couple arrived in this area with dual offers from Restaurant Eve in Alexandria; five years later, they decided to gamble and open a place of their own.
Michelle directs the pace and flow without diners ever being aware of it, and her cheer and sincerity convey just the right welcome. Equally seamlessly, Jeremy has made bedfellows of two styles that hitherto never looked at each other—the Pennsylvania Dutch tradition he grew up on and the global-minded culinary fusion he was educated in—while crafting a menu that appeals to a wide variety of dining needs: omnivores to vegetarians, those looking for a light bite to those who want a full meal.
One night a friend and I began in the global vein, with lettuce wraps from Vietnam, then moved on to cumin-dusted baby carrots roasted slowly, the spice and heat combining to tease out the vegetable's sweet meatiness, and concluding with a take on shrimp toast that was more delicate than the dish kids clamor for at Chinese restaurants. Another night, a plate of exceptionally fresh asparagus arrived gently charred and bundled atop a thick smear of scallion-flecked feta, with a smoked-mustard vinaigrette. For such a technically simple dish, the push-pull was remarkable: fresh and smoky, rich and light, milky and herbaceous.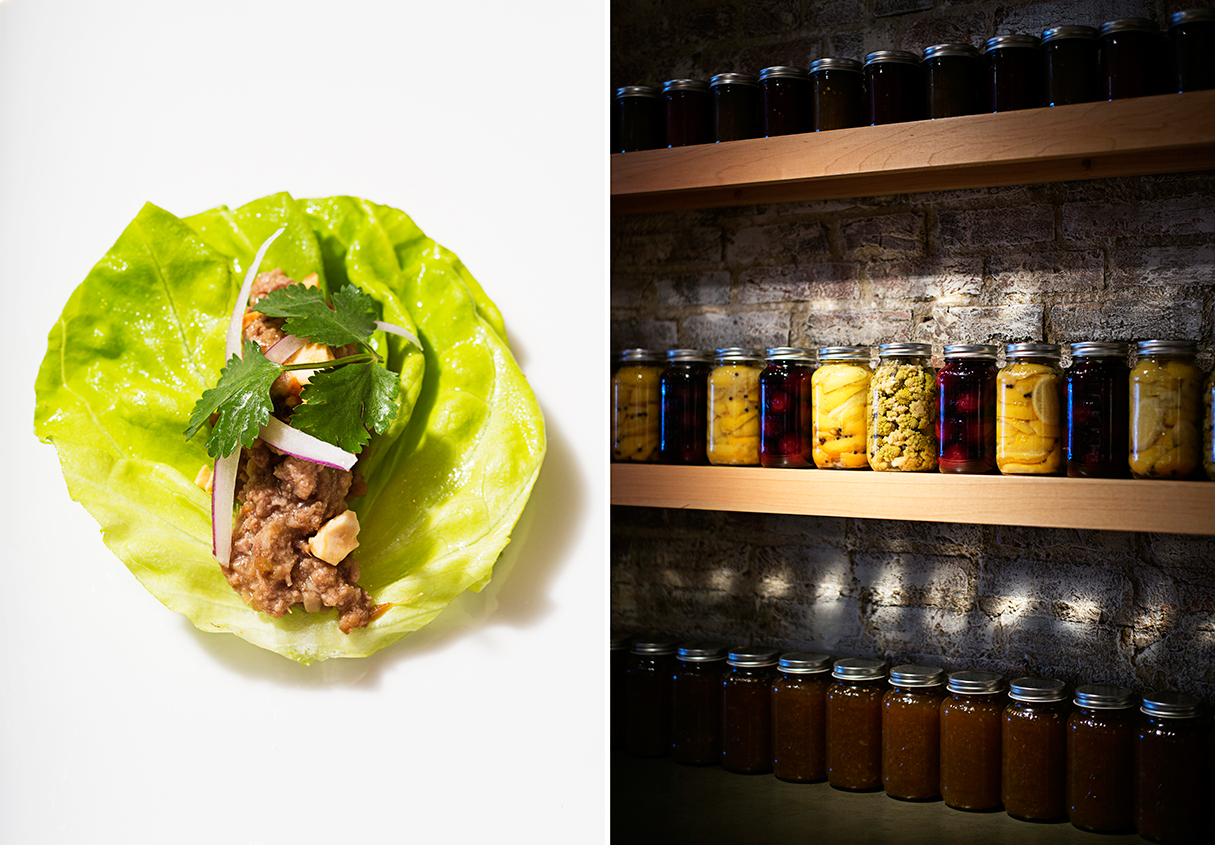 Hoffman isn't afraid of vegetables, or of cooking meatlessly. One of the best dishes is a plate billed as "griddled rice cakes," one of two vegetarian main courses (and by far the better one, compared with an ill-conceived dish of gnocchi in an intense, salty chickpea broth). The centerpiece is not the tender squares of risotto but the sunchokes. Hoffman lightly fries them, producing an unusual, almost meaty chew, and tosses them with harissa. The effect is uncannily like barbecue. The dollop of whipped yogurt makes for an ideal sauce, cooling and creamy.
This kind of cooking is harder to pull off than it looks. The fewer the ingredients, the easier it is for a dish to drift into austerity. You have to have great technical ability, a sharp palate, and an eye for coherence. Hoffman has all three.
The dishes at the other end of the spectrum, that draw on Hoffman's background in Pennsylvania Dutch country, present the opposite challenge: how to make the rib-sticking not stick? But he finds a way. The wonder of his pierogi is that a dish of dough, potato, and sour cream could be so elegant while retaining its essential rusticity. His pork and sauerkraut looks like the savory counterpart of one of those towering desserts at the Cheesecake Factory, but the detail work is impressive. The kraut is bracing in its vinegary bite, with considerably more crunch than the slop that goes atop a dog at the ballpark. The sour pork flakes with a fork. The last night I was in, one of the bartenders seemed reluctant to recommend the dish. No doubt this caution is a function of being on Main Street, but it's a shame the servers haven't been instructed to push what's most exciting. It's hard not to feel that the restaurant wants to hide, at times, from its ambition.
Another function, perhaps, of Main Street: the high price of the rib eye. The only explanation I can come up with for charging $29 for four slices of meat (good meat, yes, from locally raised beef, along with German-style potatoes and a salad) is that the dish—probably the least interesting preparation here and a clear slot-filler meant to satisfy less intrepid diners—is intended to subsidize the rest of the menu. A better investment: the blue catfish, which isn't fried but pan-roasted, the better to emphasize its freshness and sweetness, and which comes with a trio of accents that neither undermine nor overwhelm the mild fish: grilled celeriac for smoke and crunch, pickled-jalapeño relish for gentle heat and tang, pea shoots for brightness.
Tandy cakes aren't a specialty of the Pennsylvania Dutch—actually, they're the spiritual opposite, machine-made and mass-market—but anyone with a sweet tooth who grew up around Philadelphia (Hoffman is one) has an attachment to this classic Tastykake snack. His version of the chocolate/peanut-butter cake looks a lot like something Michel Richard might have come up with—dense milk cake served in a large square with perfect razored edges, the top layer of chocolate torched so that it glistens like polished wood.
It'd be great with a tall glass of milk. Sourced from Lancaster County and presented in an old-fashioned jug. Can't get much more earnest and homey than that.
This article appears in our July 2015 issue of Washingtonian.
---