Grilling always feels like it belongs to the realm of the suburbanites. As if by opting for city-living we give up the priviledge of blackening our own franks. In some part, that's due to the fact that grill equipment seems so hulking and permanent. Where on earth would an apartment-sweller even keep one of those massive chrome fireburners? But there are actually plenty of options for spaces as tiny as a ten square foot patio. (Unless all you have is a fire escape; then you'll have to mooch.) The best part is they're all beautiful and functional, so feel free to invite over some friends.
When you're working in a teeny space, it's best to focus on the essentials. And because grilling in the DC region is really only possible about six months a year (unless you're one of those brave, slightly unhinged year-round grillers) all your tools should stow away easily. In this case, the grill folds up (and then slides into a case) so you can store it in a closet or under a bed during the colder months. Same with the grill tools. The rail planter takes up virtually no floor space on your balcony but lets you pick fresh herbs for your side dishes, and the platters work year-round. And everyone needs a little bottle opener for a light refreshment while you stoke the flames; this one also reseals a half-drank beer bottle.
(1.) Oscar rectangular rail planter, $21.95 from CB2 (2.) Folding BBQ grill set, $29.99 from Williams Sonoma (3.) Picnic Time X-Grill Portable Folding Charcoal Grill, $55.95 from BBQGuys.com (4.) SAIC origin cuatro platters, $3.50-$21.95 from CB2 (5.) Hermetus bottle opener and resealer, $9 from Kaufman Mercantile
The consumer research monolith Sweethome loves this Weber tabletop grill, and it's the perfect size for a few burgers or dogs. The pizza peel, a fun extra for those with a bit more space, folds up for the off months. A crisp, dark-colored apron keeps grease and food oils off your pretty summer whites, while the tray pops off the top of the table to make serving and carrying a simpler task.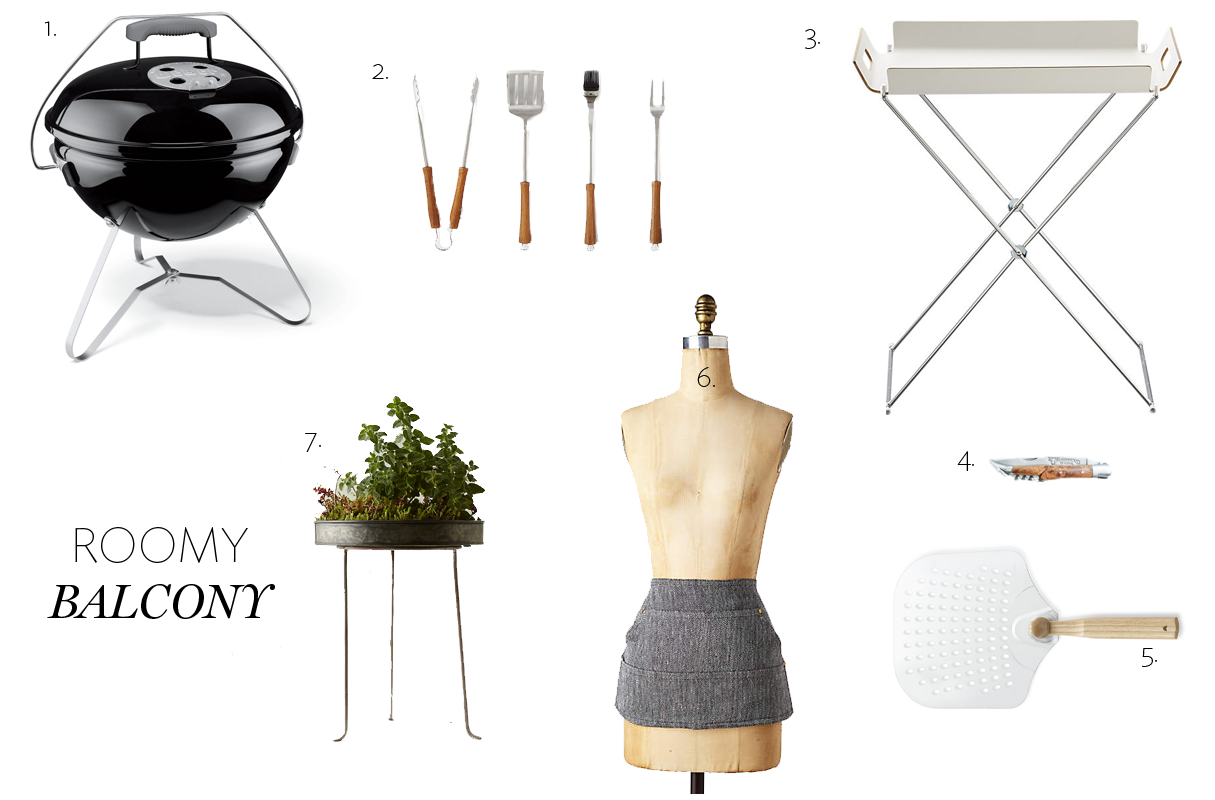 (1.) Weber 40020 Smokey Joe Gold Charcoal Grill, $39.99 from Amazon (2.) Schmidt Bros. BBQ tool set, $47 from West Elm (3.) Formosa white tray table, $59.95 from CB2 (4.) Laguiole picnic knife, $150 from Spartan Shop (5.) Collapsible perforated pizza peel, $17.97 from Williams Sonoma (6.) Task apron, $68 from Anthropologie (7.) Silver footed medium plant stand, $14 from Terrain
If you're lucky enough to have a yard in this city (invite us over, please?) then you can really do it up. The Big Green Egg series produce some of the richest, smokiest, most delightful burgers I've ever tasted. They're a splurge, but definitely worth it if you love to grill. If you plan on standing there for a few hours, you'll need a long, sturdy apron and something to open up your drink. The Pit Mitt glove keeps hands cool while rotating dozens of wieners, while the corn basket keeps your starches from rolling around and burning on one side. A convenient camp stool gives tired legs a break after hours at the helm, and a beautiful bar cart does double duty as a countertop and prep station.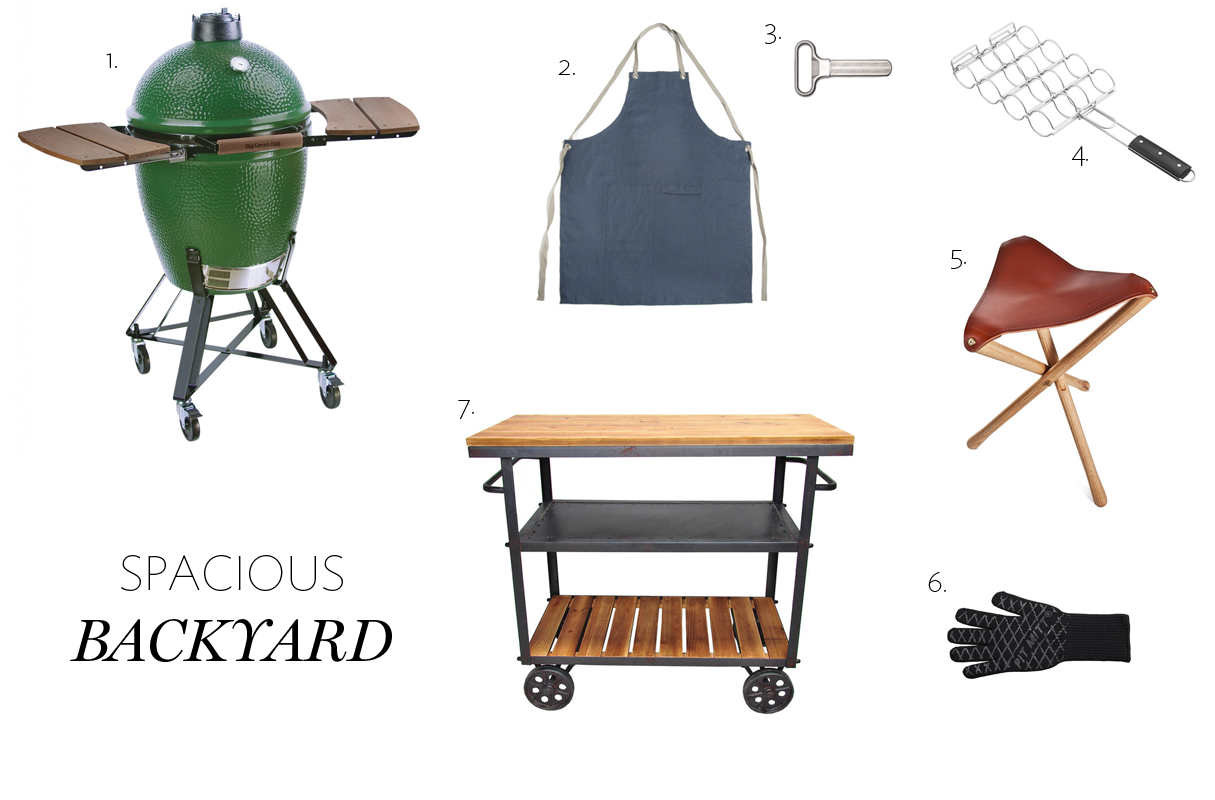 (1.) XL Big Green Egg, $1,199 from Abt (2.) Linen cross-back apron, $69 from Kaufman Mercantile (3.) German-made bottle opener & corker, $19 from Kaufman Mercantile (4.) Corn griller basket, $16.95 from Crate & Barrel (5.) Wood & leather camp stool, $169 from Kaufman Mercantile (6.) Pit Mitt grilling glove-oven mitt, $15.95 from Crate & Barrel (7.) Don Bar Cart, $359 from Gilt