During the warm months, you could probably find a local yard sale every weekend to dig up some discarded treasures. But most yard sales aren't run by a fashion stylist who's been in the business for over 20 years and is cleaning out her closets.
Washingtonian has worked with Pascale Lemaire, a stylist based in Silver Spring, on numerous photo shoots over the years–whether it be a glam bridal gown shoot or day with an impressive local family–and she always brings the designer shoes, apparel, and baubles that help make our models shine. The former fashion editor for Baltimore Magazine, Lemaire is now a full-time stylist with T.H.E. Artist Agency, and she even appeared on WE network's reality TV show for up and coming stylists, "Style Me."
Next weekend, Lemaire is hosting a "Haute Yard Sale" to clear out some of the goodies she's collected over the years of styling for fashion shoots. Erase from your mind memories of yard sales past–board games with missing pieces and old tennis rackets. This couture yard sale will include designer shoes, costume jewelry, vintage perfume bottles, designer vintage clothing, vintage lusterware, Delft china, and photo shoot samples.
To give you a taste, here's some of the items that will be up for grabs.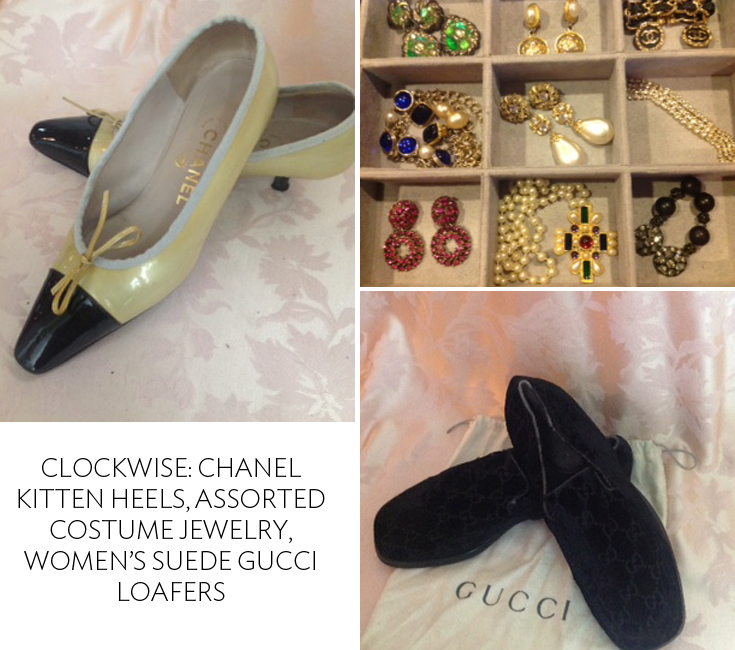 The sale will take place at 8509 Cloverfield Rd., Silver Spring, on August 29 from 9 AM to 4 PM and August 30 from 9 AM to 3 PM. No early birds will be welcome.