Longtime DC native Elaine Mensah has been on the fashion scene for years. Though she studied law and society for her undergrad degree from American University and has a masters in communications, culture, and technology from Georgetown, she transitioned away from her career in management consulting to fashion in 2006. In 2007, she launched a fashion consulting business, including Svelt TV, a Youtube channel she intended to be the E! News of DC fashion coverage.
But even while in the realm of fashion media, Mensah felt she hadn't quite found her niche. She was more interested in the world of fashion in DC as a money-making, economy-boosting industry. So in 2011, she launched All Things Fashion DC, a website that reported on the comings and goings of brands and retailers in Washington. This endeavor led her to produce a documentary on the DC fashion scene, "The Politics of Fashion: DC Unboxed," in 2012.
On Wednesday, September 9, Mensah will launch the next chapter of her life on DC's fashion scene: her print publication, "The Fashion Source." The book is filled with 1,150 listings, including retailers broken down by neighborhood, DC-based brands, fashion institutions, and fashion services. Throughout the book, mini profiles of the area's creatives give a face to the world of fashion in DC–from the First Lady's makeup artist Carl Ray to jewelry designer Erika Schrieber. To find out what it was like creating this manual for navigating DC's style scene, Shop Around got in touch for an interview.
Who did you write "The Fashion Source" for? Anyone who's interested in fashion, the media, those thinking about opening a fashion-based brand in DC?
All of the above. My goal with "The Fashion Source" is that if you were an entrepreneur and you wanted to figure out who's your network, what are other businesses you can partner with; or if you're a student and you're interested in fashion, want to intern, want to learn more; or if you're a writer and you want to better understand what fashion in DC is and who's legitimate and who's not–that's "The Fashion Source." Or if you're just an enthusiast or you just like to be in the know, this is something for you. It was important to me that it didn't just cater to one group.
How do you define fashion in DC?
As of right now, fashion in DC for me is as yet to be determined. Currently, it's defined a lot by retail. But fashion from an industry perspective, I think we still have a long way to go–particularly around production and development and some of the more industry specific skills.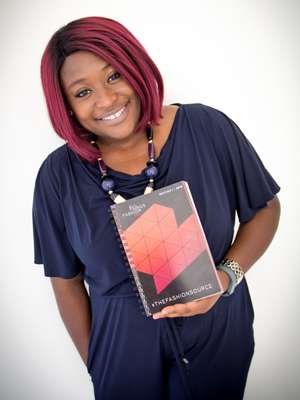 What do you mean by "a long way to go"?
If you look in New York or major cities like London, their government understands the power and necessity of the creative economy. I always say that fashion is a vehicle for economic development. Fashion is a multibillion-dollar industry if you look at the entire supply chain from production all the way down to vintage or consignment. Once we get the powers that be to see fashion as a vehicle for economic development and really build around that and corral the folks who are interested in this development, then I think we will take it to the next step.
Do you ever wish you were participating in the fashion scene in New York instead of DC?
I don't regret not moving to New York or any other fashion city. I feel like all of the things I've been able to do here in this market I never would've had the opportunity to do or look at it from that perspective had I been in any other city. And unlike other places, it's one of the few cities I think where if you are truly interested in fashion, you can make it happen. You don't necessarily have to have a best friend's mom who worked at Vogue who can get you an internship or have gone to FIT. There's not cookie cutter mold in DC for the fashion business.
When looking at all that DC has to offer the fashion world, how did you decided what industry folks and brands made the cut?
That was a major challenge I have to say, and even now I kind of cringe when I think about it because I'm sure there are brands that I've missed–it's my worst nightmare. My primary indicator was that you were a legitimate business, and by legitimate business I meant that you either attempted to make a living doing this–you may or may not get paid what you're worth–but there's a business model that goes with it and it was not a hobby.
You seem to always have another project on the back burner. What's next for you?
[In "The Fashion Source"] there's a big segment of beauty that's missing, and by beauty I mean salons, nail shops, barber shops, etc. And that was done on purpose because by the time I got through the fashion component, the book was 158 pages. As I looked at the database, I realized that beauty is its own beast. So I'm actually looking forward to the next iteration of this, which is "The Beauty Source." Beauty is significant in this region, and I just thought there is no way this can fit into one publication.
The book launch party is set for Wednesday, September 9, from 6 to 9 PM at Renaissance Dupont Hotel, 1143 New Hampshire Ave., NW.
RSVP to attend
.