1515 N. Courthouse Rd., Arlington; 901 Pennsylvania Ave., SE
Fresh beignets and chicory coffee can fuel your workday at chef David Guas' New Orleans-style cafes in Arlington and Capitol Hill. Grab an Abita and a plate of boudin balls when it's quitting time.
1700 First St., NW
Doors open at 7 at this all-day cafe, where you can post up on the ivy-ensconsed outdoor patio in the morning with coffee and bagels, and continue on with beer and grilled cheese come lunchtime. Note that wifi is cut off in the evenings for dinner.
944 Florida Ave., NW
This pop-up coffee shop is the daytime tenant of Darnell's bar, and offers free wifi and excellent coffee drinks starting at 7:30 am on weekdays. Try a cold-brewed iced coffee made with blends from Kansas's great PT's Coffee Roasting Co., and fuel up with breakfast or lunchtime sandwiches, and crave-inducing chocolate-chip cookies.
116 Rhode Island Ave., NW
Brunch is served every day at this neighborhood bar, so you can work hard and play hard with bottomless mimosas ($12) and a fried egg sandwich. The pub opens at 11 daily and serves throughout the afternoon and evening.
1101 K St., NW
Chef Robert Wiedmaier's Belgian spot is as far from a Starbucks as one can get, which is why we like it—who says working over mussels and Belgian beer is a bad thing, especially if you need to conduct a casual business meeting? Note the wifi doesn't extend to the outdoor patio.
Multiple area locations in DC, VA, MD
In 2005, owner Andy Shallal opened the first of his lively cafe/cultural centers just off DC's U Street. Today six Busboys operate throughout Washington, and can double as social spots or an office-away-from-the-office. The kitchens serve wallet-friendly dishes for breakfast, lunch, and dinner—including many vegetarian/vegan and gluten-free options—as well as strong Fair Trade Coffee, and drinks from a full bar (try the boozy DC Tap Water).
Bullfrog Bagels inside Star & Shamrock
1341 H St., NE
This bagel shop and Jewish deli within an Irish pub may be one of the most fun places to eat, drink, and work (wifi extends throughout both spaces). Mornings bring stellar bagel sandwiches from Bullfrog and strong coffee, whereas the bar portion opens at 11 am with more food and drinks. Don't skip an order of the Reuben egg rolls.
475 H St., NW
Out-of-towners often bypass this Penn Quarter gem, hidden among the short stretch of Chinese-owned businesses remaining in one of the District's most touristy neighborhoods—but in-the-know locals pack in. The noisy, narrow cafe serves some of the best espresso in town—made with beans from Intelligentsia in Chicago—but sparse seating means this isn't the spot for quiet meetings.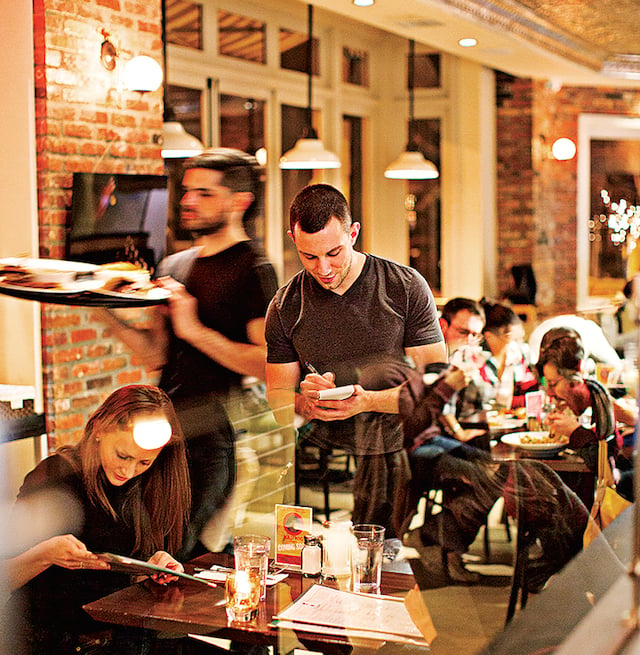 Multiple area locations in DC, MD, VA
You'll find the best of both energizing worlds—sugar and caffeine—at these local gelato shops that double as coffee bars. Robust Stumptown Coffee drinks and divine gelatos and sorbets are found at all; seating capacity varies.
Filter Coffeehouse and Espresso Bar
1720 20th St., NW
Hide out in this rowhouse basement in Dupont if you really need to focus. The specialty shop serves single-origin, pour-overs, and espressos from Annapolis-based Ceremony Coffee Roasters. There's a Foggy Bottom location as well, but beware: no laptops are allowed.
3064 Mt. Pleasant St., NW
This Mount Vernon spot opens the early at 6:30 a.m. with free wifi, espressos, pour-overs and pastries. The shop also sells some pretty nifty swag, and great iced coffee growlers ($10) for getting a caffeine buzz on at home.
1351 H St., NE
We've been dreaming about a "work from Maketto day" since this summer, and the Pope's visit may be the perfect opportunity. Wifi extends throughout the indoor/outdoor space, meaning you can lounge in the beautiful courtyard with a laptop and Frenchie's pastry in the morning, or a Cambodian sandwich and hibiscus sipping vinegar in the afternoon. Chances are you won't be typing come dinner–all the better for feasting on spicy fried chicken.
Northside Social Coffee & Wine
3211 Wilson Blvd., Arlington
Latte art isn't the only reason to visit this cozy cafe and wine bar, which also offers wifi on the outdoor patio. Guests can make a day of it starting at 6 am, and continue upstairs with a glass of wine at 5. Breakfast sandwiches are served until 3 for late-risers, though it's tough to pass up Northside's insanely good chicken salad.
660 Pennsylvania Ave., SE; 1718 14th St., NW; 1309 5th St., NE
Opt for a specialty espresso or fresh, filter-drip coffee at these local coffee shops. Pastries and desserts are on hand to keep you focused throughout the day.
501 Florida Ave., NW
The new neighborhood spot from the Vinoteca owners opens at 7 on weekdays with wifi, espresso drinks, and an eclectic menu that includes bagels, breakfast areas, and baked goods like plantain bread. An all-day menu and full bar takes over in the afternoon.
1702 G St., NW; 501 E. Monroe Ave., Alexandria
Swing's may seem to be part of the micro-roasting renaissance sweeping cities like San Francisco and Portland, Oregon, but the DC coffeemaker has been in business since 1916. Modernized by current owner Mark Warmuth, it boasts a cafe and roasting facility in Alexandria's Del Ray neighborhood—complete with a cupping lab, communal seating at reclaimed-wood tables, and perfectly executed pour-over drinks. There's also a cool little coffeehouse in Foggy Bottom. Both locations offer free wifi.
Tryst/The Diner/The Coupe/Open City
Multiple area locations
Owner Constantine Stavropoulos's string of cafes around DC are prime places to spend a few hours—or a whole 24, as is the case with The Diner in Adams Morgan, open 24/7. Each concept varies slightly, but expect homey eats, strong coffee, full bars, and free wifi at all.
1309 Fifth St., NE
We could already spend a day at Union Market, laptops aside. Customers can access wifi throughout the market–tables are peppered throughout the interior–and stop for a plethora of snacks and drinks at the various food stalls, bars, and restaurants between assignments. Peregrine Espresso pours strong coffee drinks to keep the wheels turning.