Del Ray isn't much of a tourist destination, but like the yoga skirts and cargo shorts you see on residents well into autumn, it's shamefully comfortable once you're there. The Alexandria neighborhood, a former streetcar suburb of DC, feels a little like an idealized small town: Most businesses are independent, and they're situated along a 1½-mile-long stretch of Mount Vernon Avenue whose sidewalks are often full of people, all of whom seem to know one another, walking between errands, dinner dates, and coffee runs.
Start with breakfast at Stomping Ground (2309 Mount Vernon Ave.; 703-567-6616), which has some of the best biscuits in Washington. Stomping Ground makes everything from scratch except its mayonnaise, because, the website says, Duke's "cannot be improved upon." The Classic biscuit features fried chicken, pickles, and pimiento cheese. Don't sweat the carbs, because you'll need the calories for all the walking you're about to do.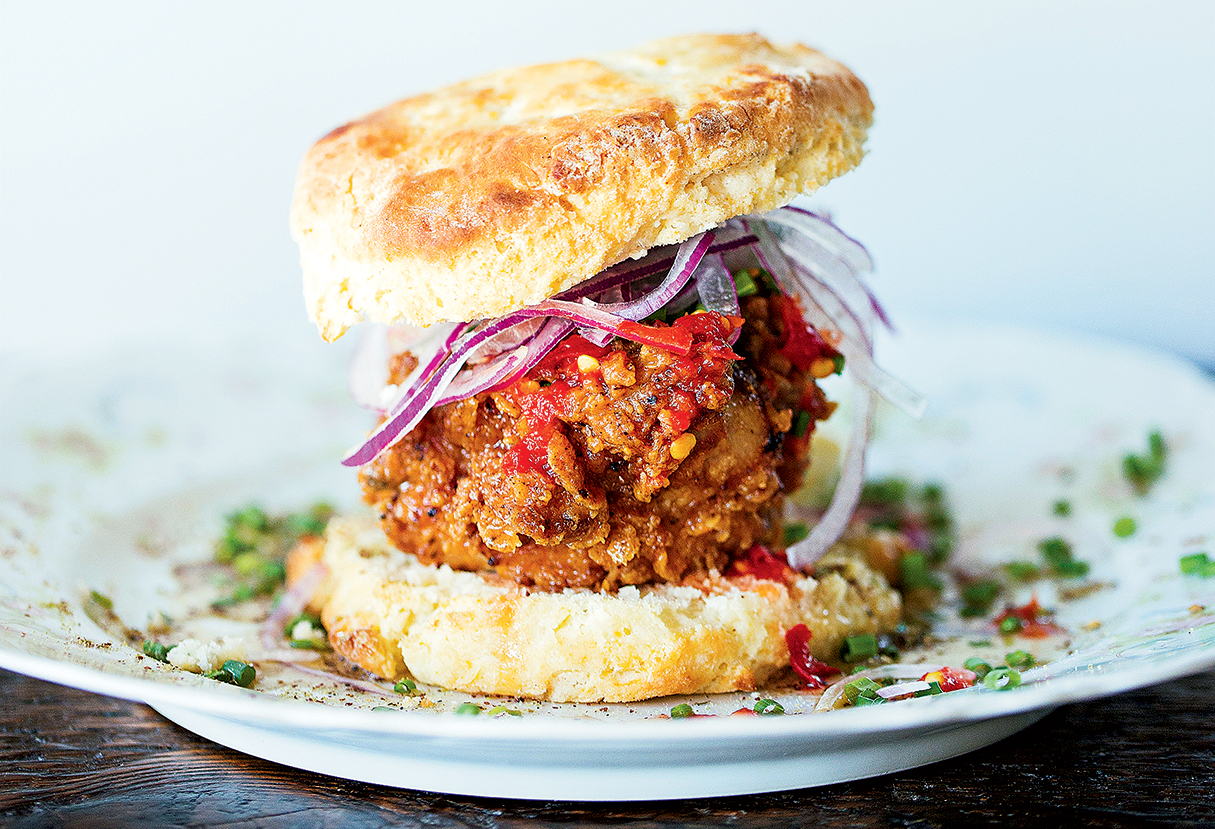 Retail in this nabe is appropriately quirky. The Dog Store (2301 Mount Vernon Ave.; 703-685-9166) offers offbeat canine toys. Tops of Old Town (2400 Mount Vernon Ave.; 703-836-4511) sells a bewildering array of showy hats. The Exotic Planterium and Card & Comic Collectorama (2008 Mount Vernon Ave.; 703-548-3466)—whose name accurately describes the je ne sais quoi of the terrarium/comics shop's business model—is one of the last vestiges of the old, weird Del Ray, where bikers, railroad workers, and artists once outnumbered lawyers, government contractors, and journalists.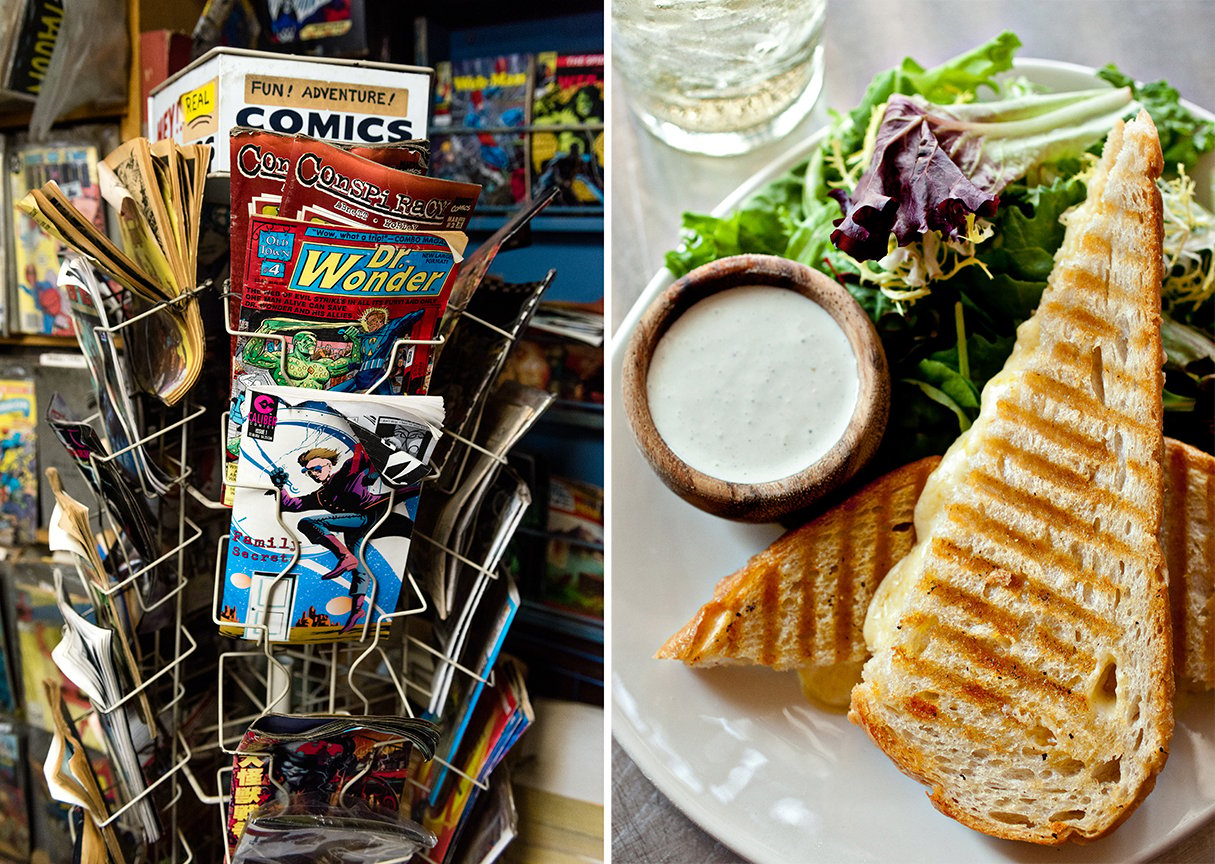 Dwelling on the past is thirsty work. Fortunately, you have your choice of fine wines and craft beers at Planet Wine (2004 Mount Vernon Ave.; 703-549-3444), the gourmet cheesemonger Cheesetique (2411 Mount Vernon Ave.; 703-706-5300), and the upscale deli Market 2 Market (116 E. Del Ray Ave.; 571-312-3010). A sandwich from Market 2 Market would make a fine picnic at Charles W. Hill Park (E. Mount Ida and DeWitt aves.), once on the edge of the St. Asaph Racetrack, a den of gambling and corruption in the early 20th century. So it's fitting that the land is now named for a police officer who died in the line of duty in 1989. (If you're eating in the park, choose your beverage carefully.)
Sometimes there are things to do in Del Ray other than eat, drink, and pity people who live in other neighborhoods: On the first Saturday of October, the Art on the Avenue festival glue-guns more than 300 arts-and-crafts vendors onto Mount Vernon Avenue, and every spring the MV Big Flea, a benefit for Mount Vernon Community School's PTA, is a good way to score furniture that doesn't fit into residents' relatively small houses.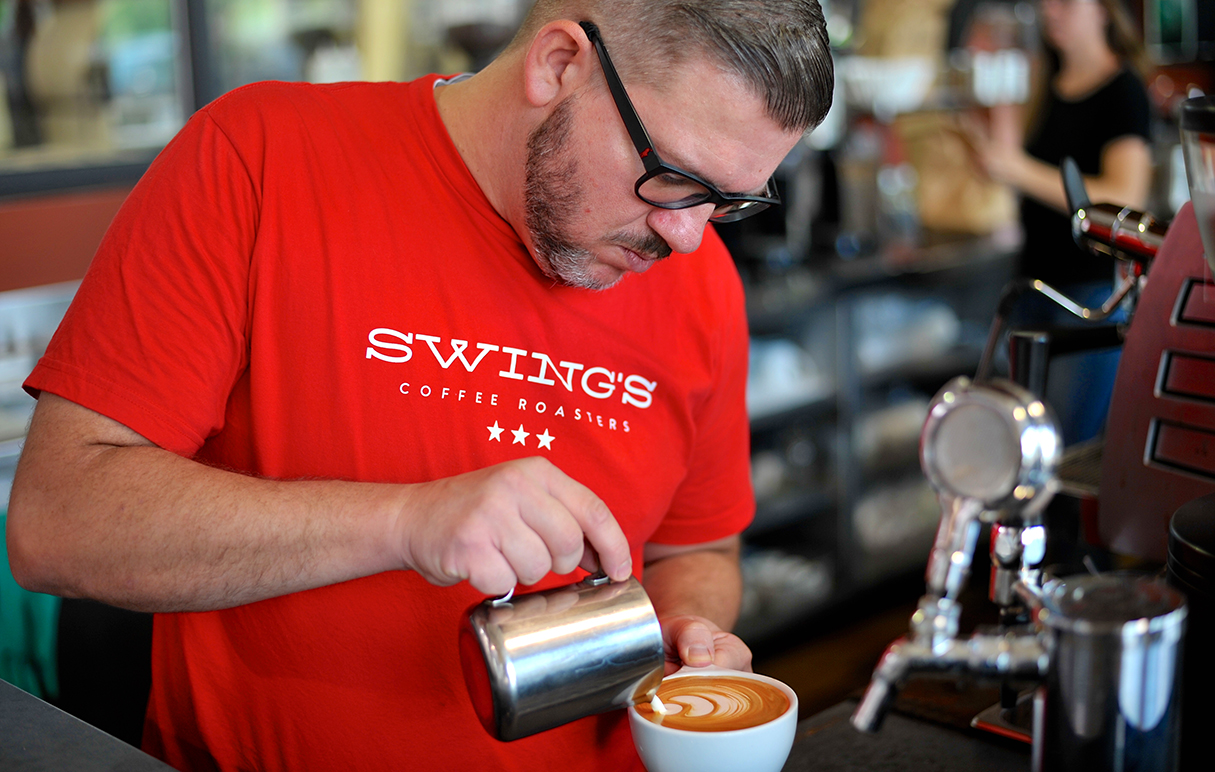 If you don't happen to land on those dates, get some coffee. Options were once more or less confined to St. Elmo's Coffee Pub (2300 Mount Vernon Ave.; 703-739-9268), but newcomers have broken its monopoly: Try Emma's (106 Hume Ave.; 571-431-6150), which has a lovely dining room with a blazing fireplace in cold months and happy-hour beer and wine specials year-round, or Swing's Del Ray Coffee Bar (501 E. Monroe Ave.; 571-385-0378), another terrific room with good pour-over coffee and a view of the roasting operations. In search of just a sugar hit? Seek refuge at gluten-free Happy Tart (2307-A Mount Vernon Ave.; 571-244-3662), whose macarons and tarts are delicious even if you're not gluten-sensitive.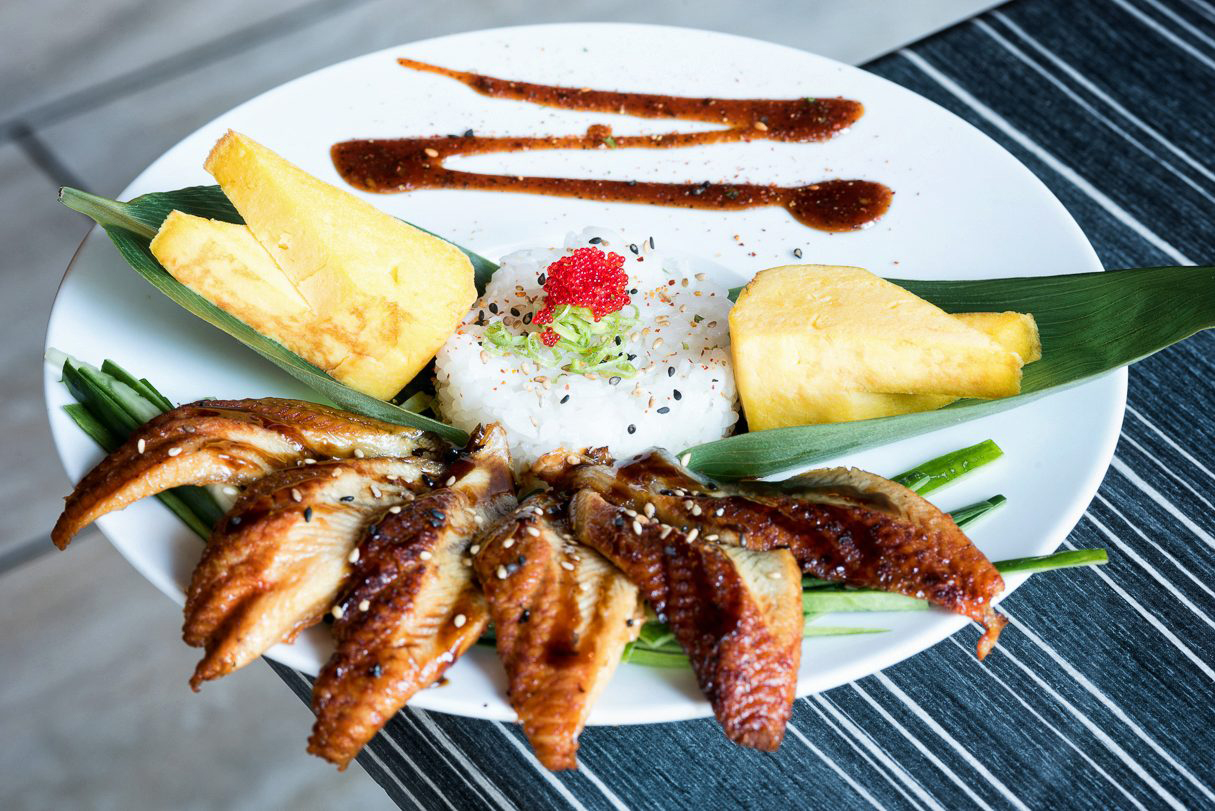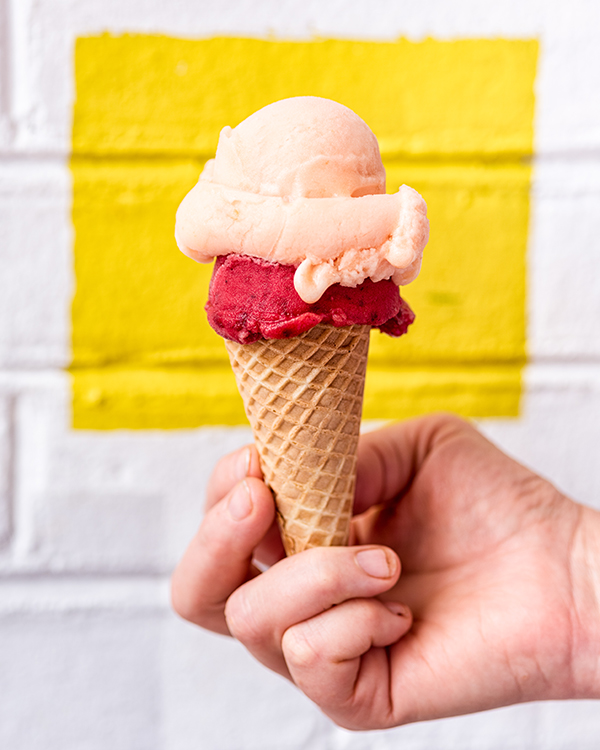 Dinner and drink options have also increased. Pork Barrel BBQ (2312 Mount Vernon Ave.; 703-822-5699) offers a tour of regional smoked-meat styles and a nice bar. It's connected to the burger joint Holy Cow as well as the Sushi Bar, where you can down hard-to-find Japanese craft beers alongside a barbecue eel bowl. If you don't like dining among children, the latter is pretty much your sole option in this kid-friendly neighborhood; it serves only ages 18 and up.
Parents are likelier anyway to get Tex-Mex—or, more accurately, Tex-Mex/Salvadoran—at the bustling Los Tios Grill (2615 Mount Vernon Ave.; 703-299-9290). The food's fine, but they're here for the enormous margaritas, especially the Baja—a sweet frozen concoction with a Corona hanging upside down in it.
The only acceptable option for dessert is the Dairy Godmother (2310 Mount Vernon Ave.; 703-683-7767). Owner Liz Davis has been faithfully teaching Mid-Atlantic residents about the superiority of Wisconsin-style frozen custard—denser, smoother, and seven times more delicious than soft-serve. Choices are chocolate, vanilla, and a daily flavor. Ice pops and sorbets are further insight into her culinary philosophy, with ingredients like Door County cherries and combinations including pineapple and cilantro.
That's one of three neighborhood joints President Obama has visited while in office—he's also popped into Del Ray Pizzeria (2218 Mount Vernon Ave.; 703-549-2999) and the comfort-food joint FireFlies (1501 Mount Vernon Ave.; 703-548-7200). Residents like to flatter themselves that he'd fit right in.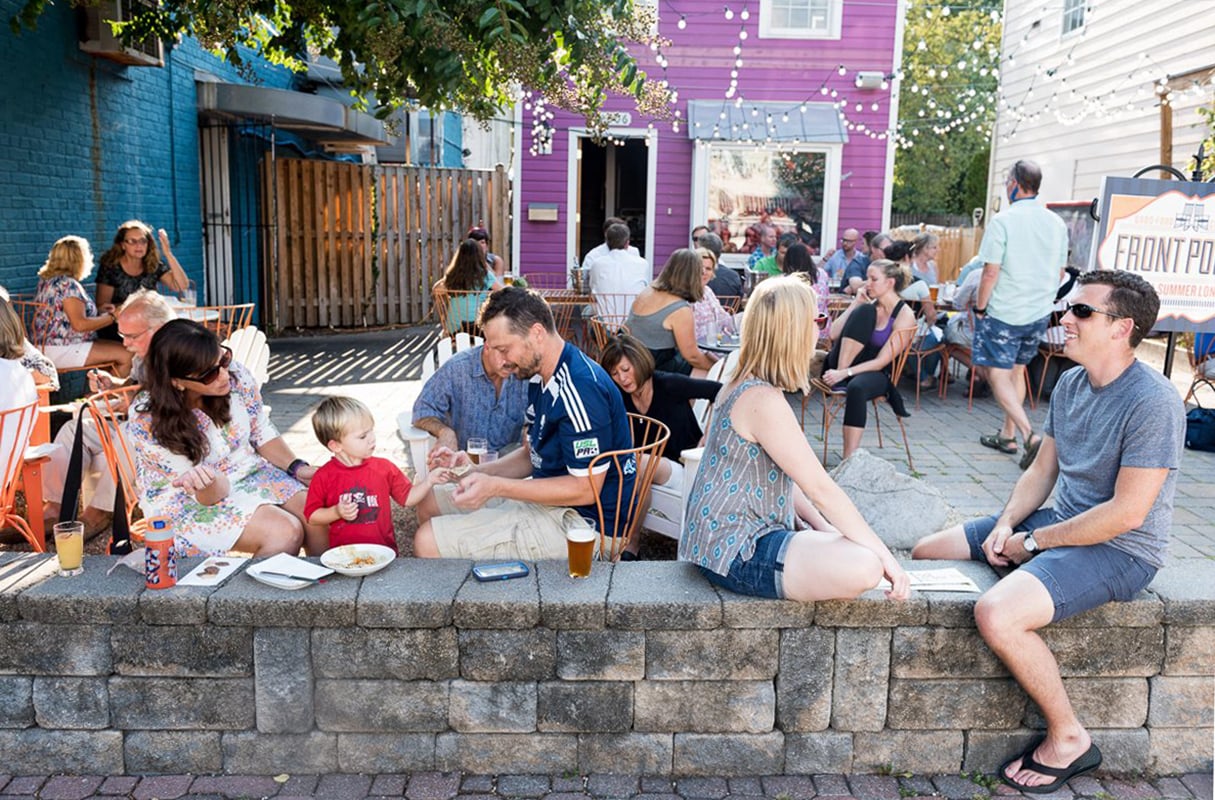 For those who can manage a nightcap, the seasonal Front Porch, attached to the venerable Evening Star (2000 Mount Vernon Ave.; 703-549-5051), is a splendid option in warm months. (It goes into hibernation in late October.) The Front Porch has a grand wine-and-beer selection and gussied-up bar food, but the Bourbon Slush—a generously spiked Slurpee—will have you pricing nearby bungalows, and perhaps closeout specials on cargo shorts, on your phone long into the night.
This article appears in our October 2015 issue of Washingtonian.