When Shinola and Filson announced plans to open DC storefronts, Washington thought it'd hit the American-made goods jackpot. But this weekend, locals can take an even deeper dive into products that are made in the United States and the craftsmen behind them. American Field, a traveling marketplace featuring over 40 American-made brands, will take over Georgetown Park this Saturday and Sunday.
The pop-up market launched in 2012 in Boston, and it currently tours just four cities: Boston, Atlanta, New York, and DC. Founded by Mark Bollman, who also runs his own brand of American-made outdoorsman apparel, Ball and Buck, the pop-up was created to connect the like-minded companies and to make for a one-stop shop for consumers interested in investing their dollars in the American economy.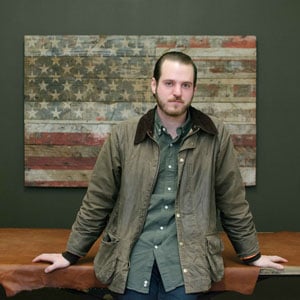 "I think it's really important for consumers to understand the impacts of their purchase decisions and (that) buying products in this country directly has an impact on jobs," says Bollman, in a Ball and Buck video. "And it's not just the job of the person who makes that good, it's the support network of the companies that supply the people making the good. The net impact of a single purchase made in America is, you know, exponentially higher than just the single dollar you're spending."
Brands involved in the Washington pop-up include Boldfoot Socks, a peppy stockings company that donates $1 to veterans for every pair purchased; Harrison and Pike, which produces nautical jewelry made from marine grade materials; The Brothers Crisp, a line of beautiful hand-sewn shoes; and Brothers Artisan Oil, which sells all-natural products, including beard oil and pomade for the well-groomed chin.
Take a peek at American Field's visit to Boston last year in the video below, then mark your calendar to visit Georgetown Park, 3276 M St., NW, on October 17 and 18 between 10 AM and 6 PM.
2014 American Field Boston Pop Up Market from Ball and Buck on Vimeo.