A star-studded team of local and national chefs, politicians and advocates gathered at Union Market's Dock 5 on Monday evening for the second annual Chef's Roast, an event to raise money and awareness for national food policy issues, and of course, grill a well-known food personality.
Celebrity chef and Food Policy Action co-founder Tom Colicchio took the stage as the roast's guest of honor, taking jabs from Top Chef alum Richard Blais and Kerry Heffernan (Top Chef Masters), along with his fellow host Padma Lakshmi. Senators Thad Cochran (R-MS) and Patrick Leahy (D-VT) each received awards for their leadership in childhood nutrition efforts.
The evening included a five-course meal with dishes prepared by Pig + Poet chef Sam Talbot, David Gaus (Bayou Bakery), Robb Duncan of Dolcezza, and Spike Mendelsohn. Proceeds from the event benefitted the Chef Action Network and Food Policy Action, two organizations advocating for food policy change and education across the country.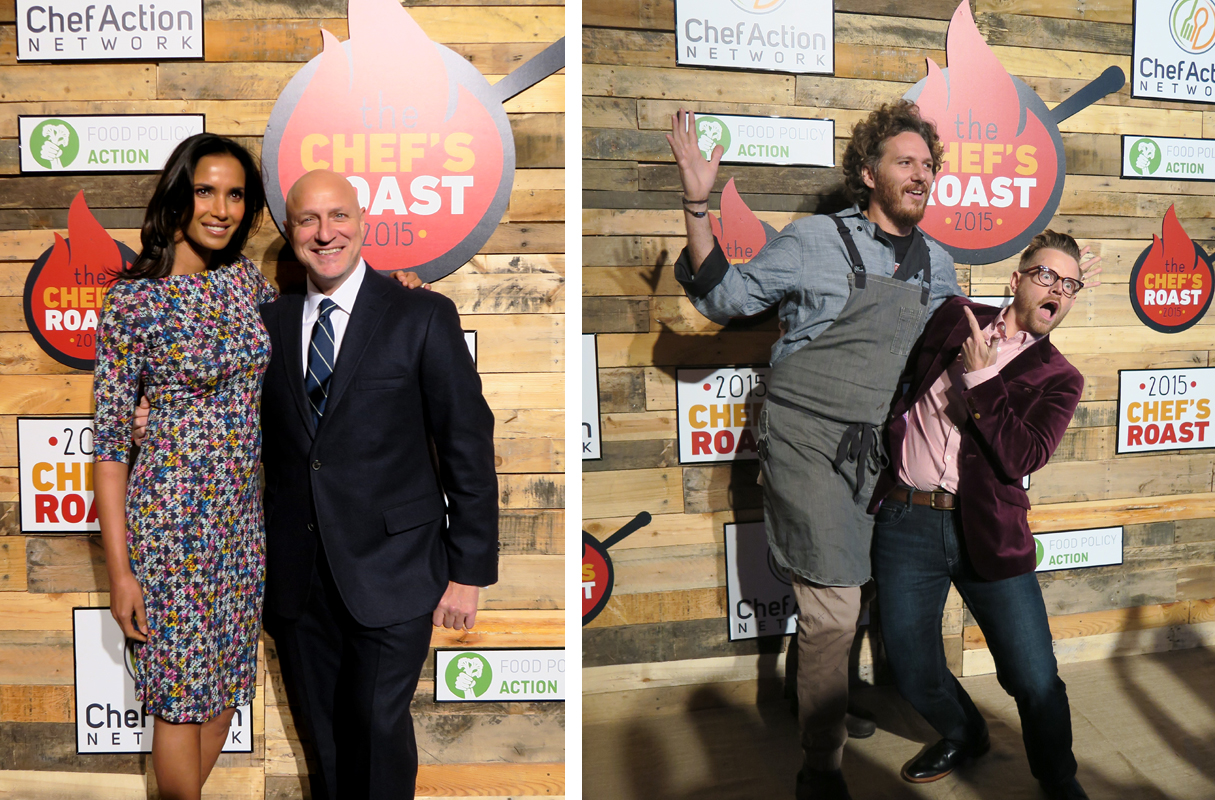 During the roast, Colicchio took hits on his grumpy demeanor and his frequent Top Chef eye-rolling.
"It's really simple," Blais said. "You do it right after Padma Lakshmi says anything." Heffernan, one of Tom's close friends and fishing buddies, praised Colicchio's surprisingly quick embrace of the "save our stripers" campaign–stripers, with one "p", he reminded the audience. The initiative aims to conserve wild striped bass by taking them off restaurant menus.
In one of the highlights of the night, Colicchio was needled for being named citizen of the year in his hometown of Elizabeth, New Jersey. "Citizen of the year in Elizabeth, New Jersey is like being named 'Healthiest Food at McDonald's,' or 'The Tallest Midget in the Circus'," Lakshmi said.
She also couldn't resist taking another shot at Colicchio about the eye-rolling "I can see you. I've always seen you. I have eyes in my ears. Plus there are 14 cameras rolling. You're not fooling anybody," she said. "But then I realized why he's rolling his eyes. It's the only way he knows how to fake that he's actually listening.
But all in all, Lakshmi argued, Colicchio is just a man of "simple" tastes. "He wakes up in the morning and he eats his eggs with the same spice-rubbed squash as you and me," she quipped.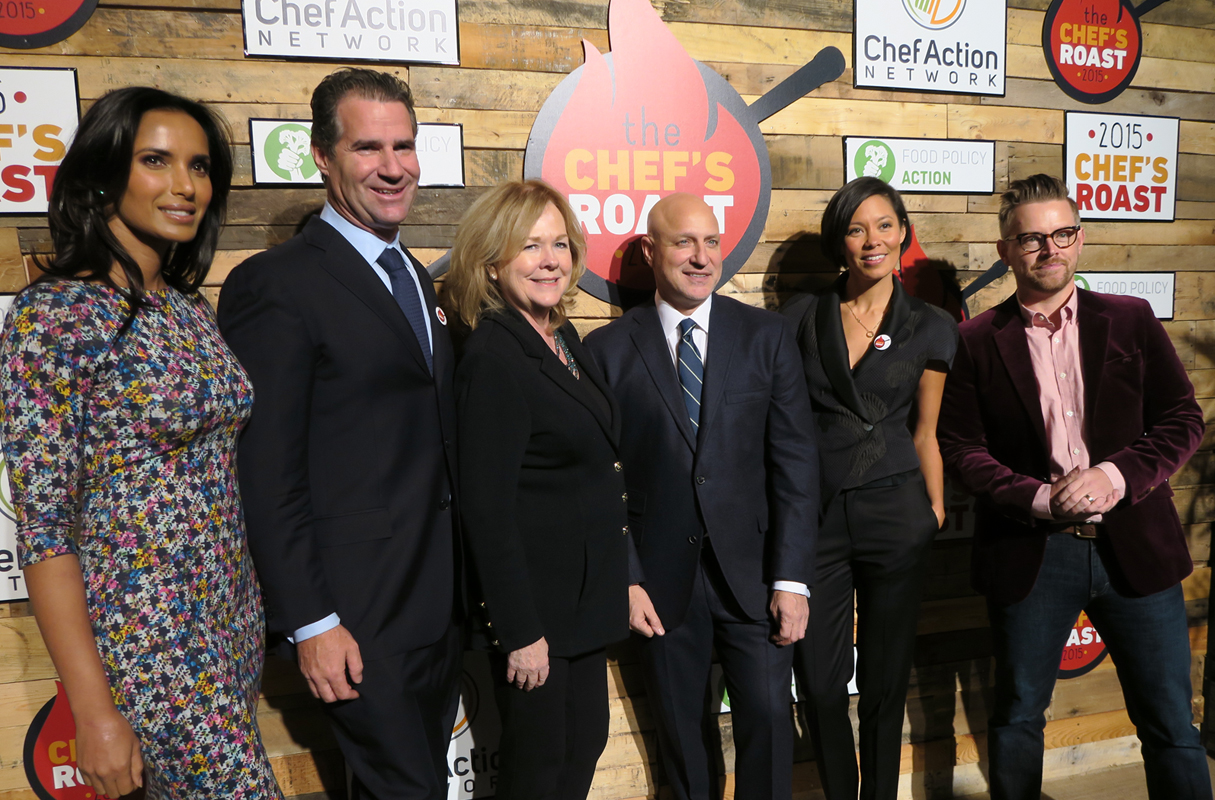 Jokes aside, the central message was the importance of food policy in Washington, and spreading the word across the country. Colicchio also emphasized the importance of making a difference on a smaller scale, such as shopping at farmers markets and buying organic vegetables and meats. Mendelsohn added that even if going organic in your budget, there are ways to make an impact.
"I don't think it has anything to do with income or money," said Mendelsohn, who also chairs the District's Food Policy Council. "I think anyone can be an advocate, whether you're a millionaire or not. Getting more educated about what you want to buy or what you think you want to buy is the first step."
The chefs put their words into action on Tuesday. Colicchio and 30 chefs representing 34 states visited Capitol Hill to meet with hundreds of members of Congress about the Child Nutrition Act, which is currently under consideration.
See more photos of the Chef's Roast below.