Chicken thighs fra diavolo from the Red Hen 
Chef Mike Friedman riffs on the Italian-American classic in this simple-yet-delicious recipe, which packs smoky heat from chili flakes and paprika.
We're addicted to the flavors in this Laotian soup: comforting yet invigorating thanks to bright bursts from Thai chilies and tamarind juice (ingredients that can often be found at Whole Foods).
Mike Isabella's lamb chili
Bacon, ground lamb, chilies, and local beer lend this creative stew tons of flavor. Don't skip the crunchy Sriracha pea topping, or a dollop of Greek yoghurt.
Healthy spaghetti squash-and-zucchini parmesan from True Food Kitchen
The low-carb crowd can indulge with this hearty vegetarian twist on a classic parm.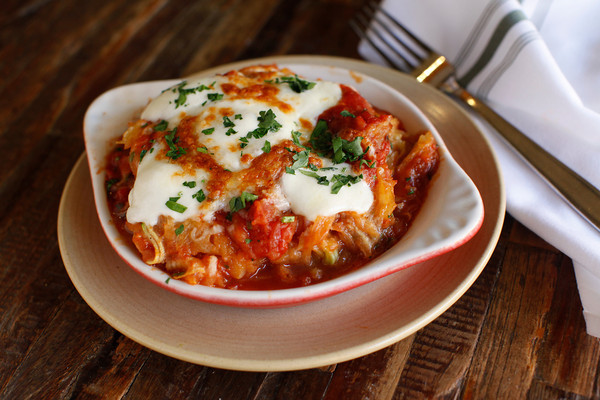 Ultra-luxe mac n' cheese from Vidalia
A rich mornay sauce makes this dish extra-decadent. The recipe calls for cave-aged goat cheddar and goat cheese curd, but we've substituted a mix of easy-to-find goat cheese and cheddar with equally  delicious results.
Dan O'Brien's spicy chicken breakfast loaf
This is one intense sandwich, especially if taken down in the morning. That being said, we can't imagine a better combination–Nashville-style hot chicken, a fried egg, melty cheese–on a cold day.
Carla Hall's hot chicken burger 
Frank's hot sauce and a crunchy blue cheese-celery slaw make this chicken patty taste like the best hot wings ever, no fryer needed.
Burger Américain from Le Diplomate
A hot griddle, not an outdoor grill, is key to this crave-inducing burger. Thin patties crisp around the edges, while a creamy Thousand Island-esque dressing, pickles, and American cheese make this the best riff on a Big Mac ever.
Thai red curry chicken from the Source
Chef Scott Drewno originally created this recipe for the kitchen's pre-shift family meal, and it became an instant hit. Thankfully it's also simple enough for curry-making novices.