We know the dilemma: you want to work out, you really do, but you hate lugging your ratty gym bag into the office. It's embarrassing, and smelly to boot. That's why we're thankful designers have recently taken it upon themselves to design gym and overnight bags that look nothing like the mesh-paneled duffel bags of yore. Here's 15 of our favorite bags that'll look right at home by your desk and in your gym locker.
A narrow design with enough room for your leggings, tank, shoes, and water bottle, with a side pocket for your phone. Windsor Wine Strand Duffel, $65 at Herschel Supply Co.
Sure, $300 may seem like a lot to spend on a gym bag, but this one will take you from the gym to the office to a weekend getaway, so you'll never stop using it–making your overall cost per use pretty low. This bag has a separate compartment on the bottom to store your stinky gym shoes, and if you only want to carry one bag to the office, there's a padded laptop pocket in the main section. The OG Overnight Bag, $295 at Lo & Sons.
Sturdy denim fabric that will hold up back and forth and back again to the gym. Large Denim Luggage Bag, $58 at H&M.
A roomy but narrow backpack that will fit your gym clothes and your work gear, with well-thought-out pockets for all your electronics. Beauchamp Backpack, $179 at Knomo.
An easy weekend bag in faux leather makes for a perfect gym bag that'll blend in next to your briefcase. Weekend Bag, $60 at H&M.
A petite duffel in a cheerful stripe that looks nothing like the nylon bags of your youth. Leighton Printed Medium Duffel, $65 at Sole Society.
We know you're a very serious, hard-working person–but that doesn't mean you can't have some fun with bright prints. The Getaway Duffel Bag in Mega Blooms, $54 at Ban.do.
This easy-to-carry quilted bag has backpack straps in addition to the handles on top, which will makes for easier transport on Metro. Pretty Nylon Knapsack, $198 at Nordstrom. 
The stain-resistant nylon will keep your bag looking fresh, even if the clothes inside aren't. MZ Wallace Large Sutton Satchel, $245 at Bloomingdale's.
A perfect pink as we approach peak cherry blossom season. LeSportsac Everyday Tote in Cherry Blossom, $115 at Lord & Taylor.
Tapered sides will cut down on bulk, while the slick nylon fabric won't get ruined by your damp gym clothes. Flynn Sidekick Tote Bag, $150 at Urban Outfitters.
Ever since Adidas teamed up with Stella McCartney, their gym bags have been totally on-point, especially when they come in embossed crocodile print. Essentials Small Bag, $170 at Adidas.
Nothing will go better with your sunrise yoga class than this ombre orange tote bag. Herschel Supply Co. Strand Carryall in Orange Ombre, $87 at Asos.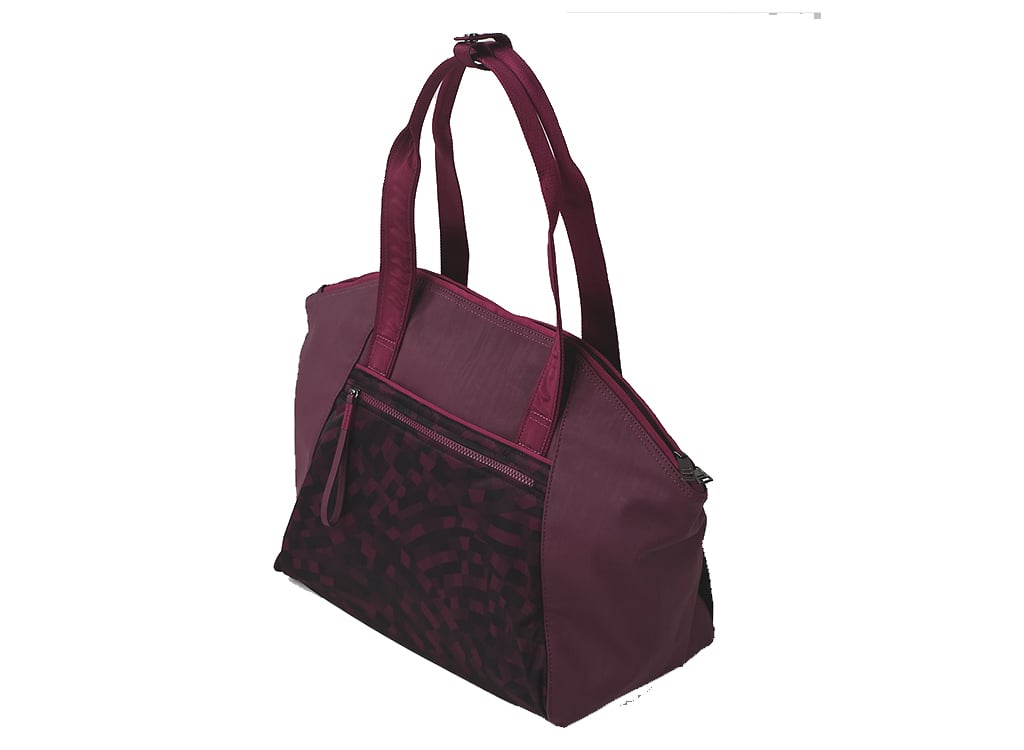 With straps on the outside to carry your yoga mat and a padded pocket on the inside to store your laptop, this bag was designed with the on-the-go woman in mind. Free to Be Bag, $128 at Lululemon.
Black, simple, and streamlined, this bag can take a beating on your bike to the gym and after, when you toss it under your desk. UA Neoprene North South Tote, $170 at Under Armour.