Washington is home to an eclectic new breed of restaurants and bars, but many of them have one thing in common: Their interiors seem transported from some of the nation's (only slightly) hipper cities. There's the Los Angeles–inspired invasion of graphic-patterned tile coating the floors of spots like Masseria. The moody, brass-sconce-lit cocktail bar has worked its way down from Brooklyn to places such as Denson Liquor Bar. And the kitschy mix-and-match quality of many low-key Nashville joints is popping up in emerging neighborhoods all over town—see Sally's Middle Name on H Street, Northeast.
Which is what makes the opening of Kinship (1015 Seventh St., NW; 202-737-7700), Eric Ziebold and wife Célia Laurent's Shaw restaurant, all the more satisfying. It feels resolutely DC—and even better, it does away with the stuffiness that abounds at many other local luxury dining rooms.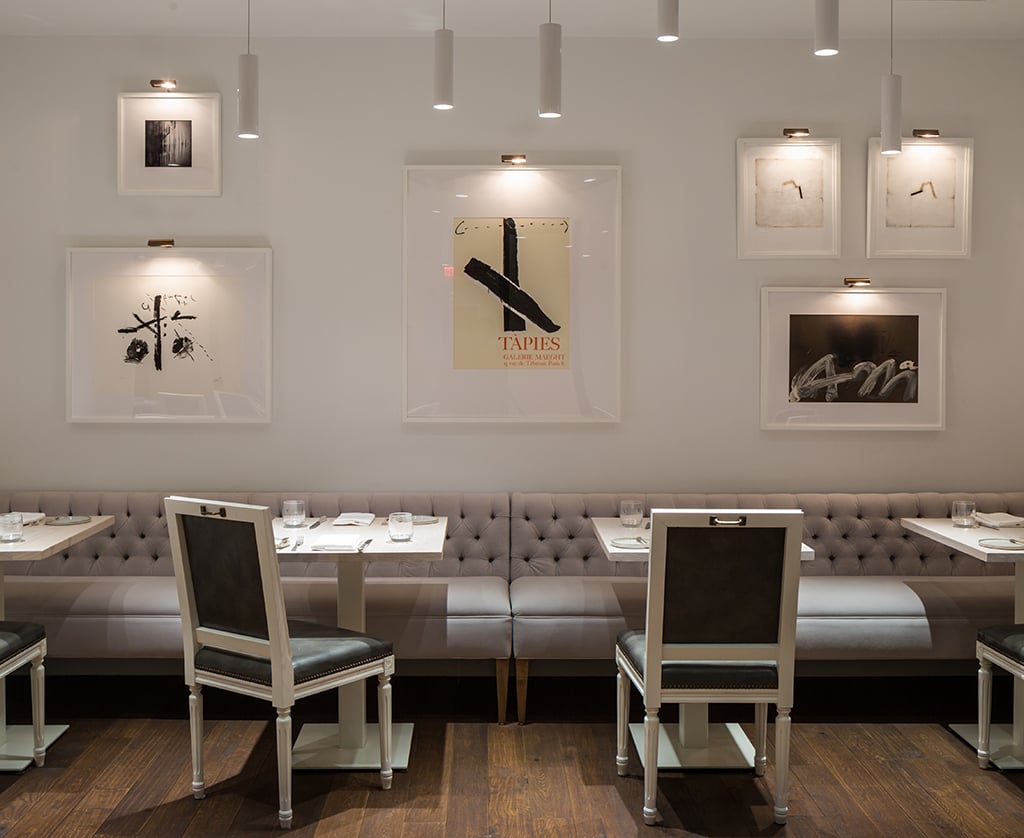 The man behind the design is Darryl Carter, best known for merging traditional architecture with warm but Zen touches. He's arguably Washington's most nationally acclaimed interior designer, with multiple Elle Decor covers and a coveted spot on Architectural Digest's AD 100 list. A DC native whose shop and studio sit just blocks away from Kinship, Carter had never designed a restaurant before. But for 18 months he and Ziebold, formerly chef at the late, lauded CityZen, worked together in what both describe as "complete harmony."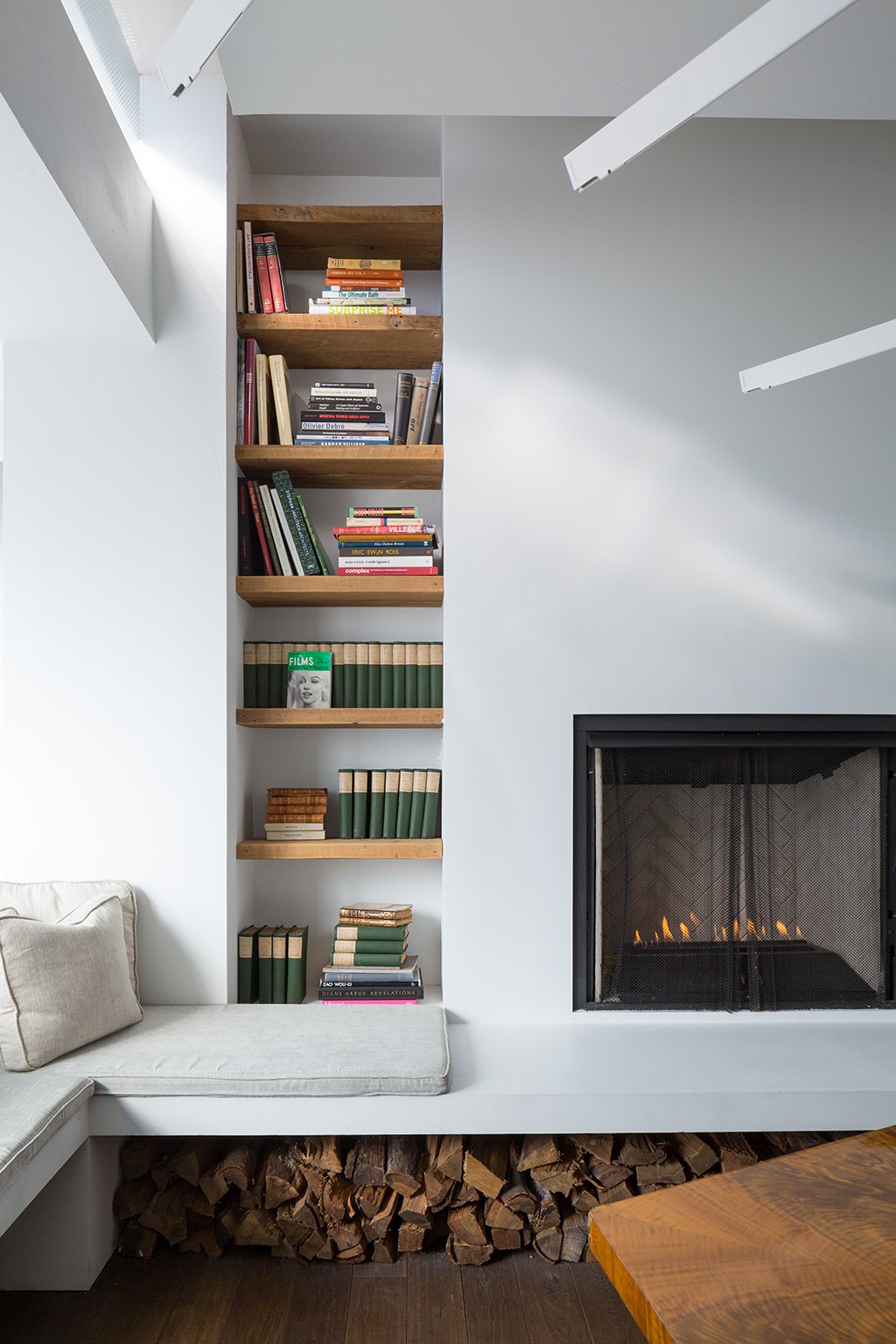 Ziebold and Laurent knew that the front, windowed section of the space was meant for pre-dinner gatherings and drinks. Carter designed the room around a spare white plaster fireplace, flanked by hand-hewn wooden bookshelves and anchored with a glossy burled-veneer table on a cowhide rug. It feels like a modern Swiss chalet, tucked just enough out of the way to keep things intimate—and prevent the bar area from overcrowding with waiting diners.
Throughout the space, Carter's knack for exposing Kinship's raw edges keeps out the fustiness of white-tablecloth establishments like 1789 or Marcel's. He retained brick walls revealed in the renovation but covered them in white paint. Modern ceiling installations intersect with salvaged wooden beams. Teeny abstract black-and-white photos of Carter's own studio renovation—taken by local interiors photographer Gordon Beall—are tucked into each banquette, the intimate "rooms within rooms" that he considers his favorite seats and that remind us of the snug alcoves at his favorite local haunts, Quill and the Tabard Inn.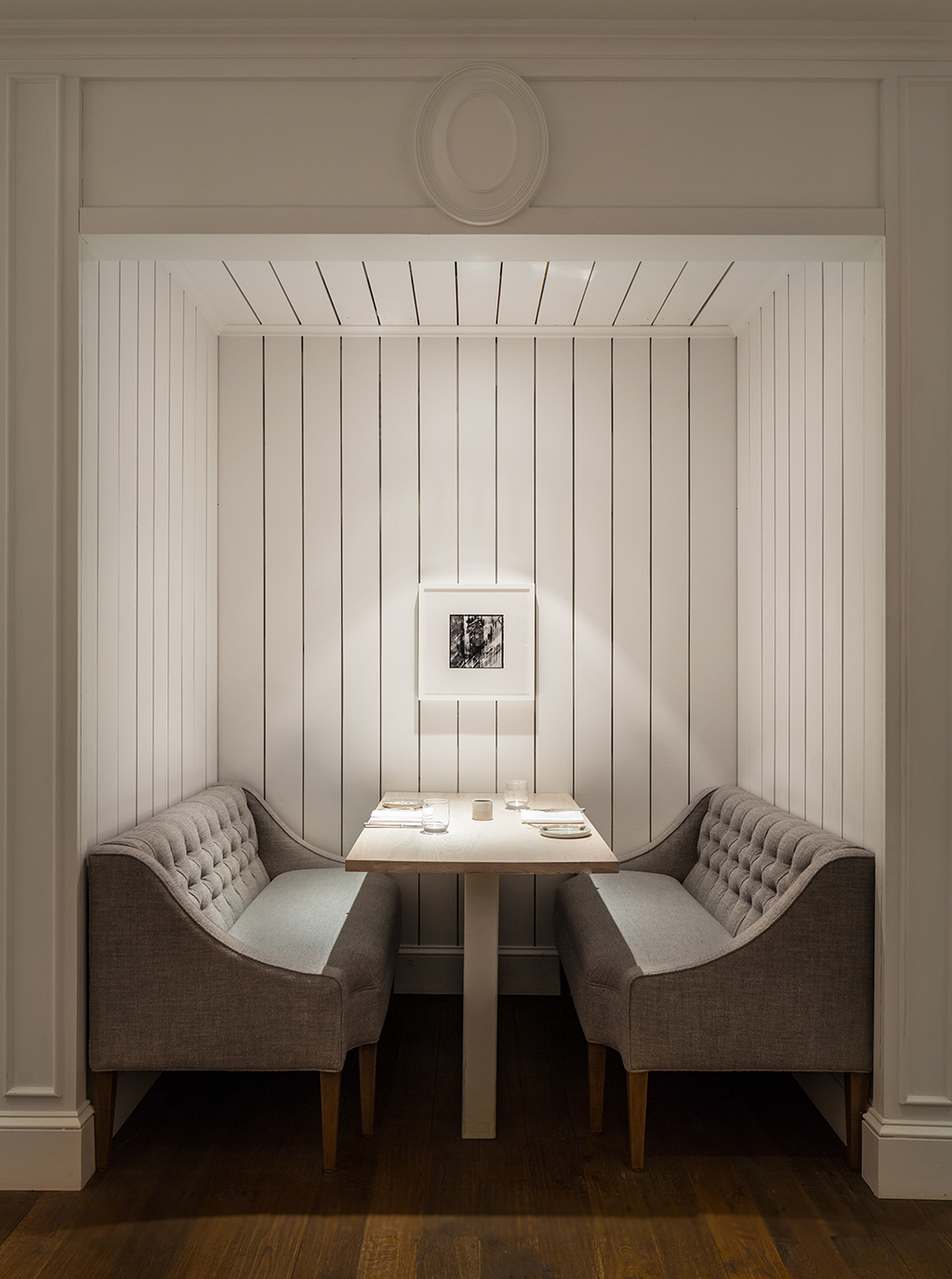 Over the past several years, "a lot in this city has been demolished," Carter says, "and these parts that are discarded maybe shouldn't have been." But he puts those discards to use—almost one in ten of his sentences involves the phrase "I found it in reclamation." Kinship is filled with small nods to classic Washington design and pieces rescued from local demolition: A wood-paneled wall behind the bar pays homage to DC's formal libraries. The brass lighting and Federal-style bull's-eye mirror hint at days of District yore. The black vestibule doors were found at a Maryland salvage shop.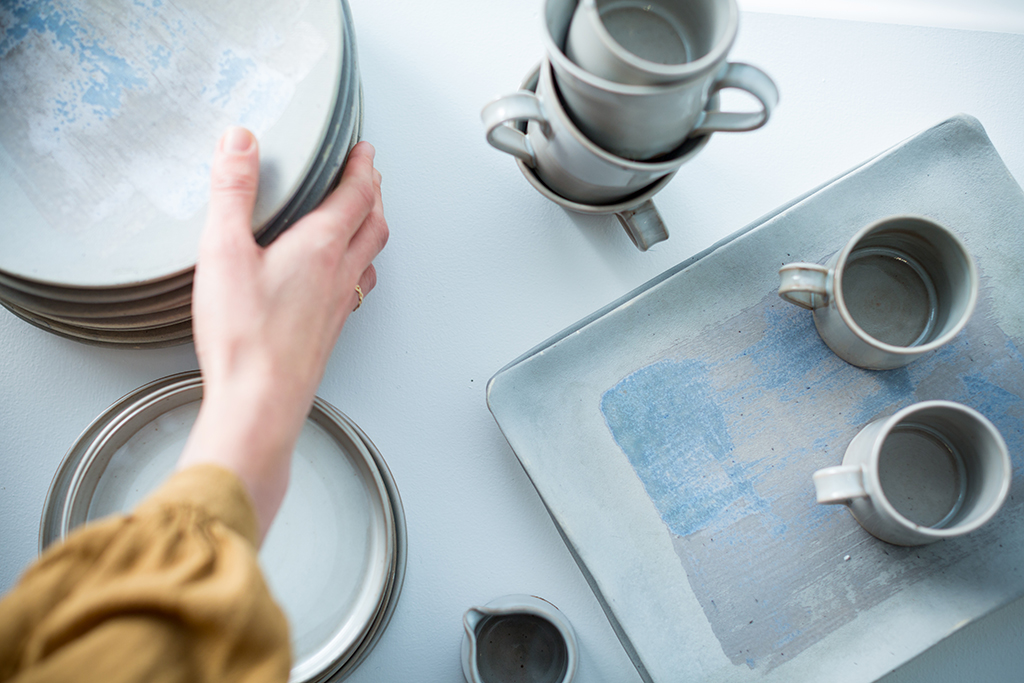 There's a warmth and serenity to Kinship, but it doesn't inspire tie-straightening or rigid posture. The goal, Ziebold says, is to make diners feel as if "they've passed away from the hubbub of the world and into the embrace of a familial environment. We're looking to calm but never stifle our guests."
This article appears in our March 2016 issue of Washingtonian.