When the lighting is good, it's good, and that was the case for Emily Ngo and Jimmy Chen's stunning golden-light-filled farm wedding. All the pretty was captured in the photos below by Michael O. Snyder and Barbara Oliveira.
Like B&G on Facebook | Follow B&G on Instagram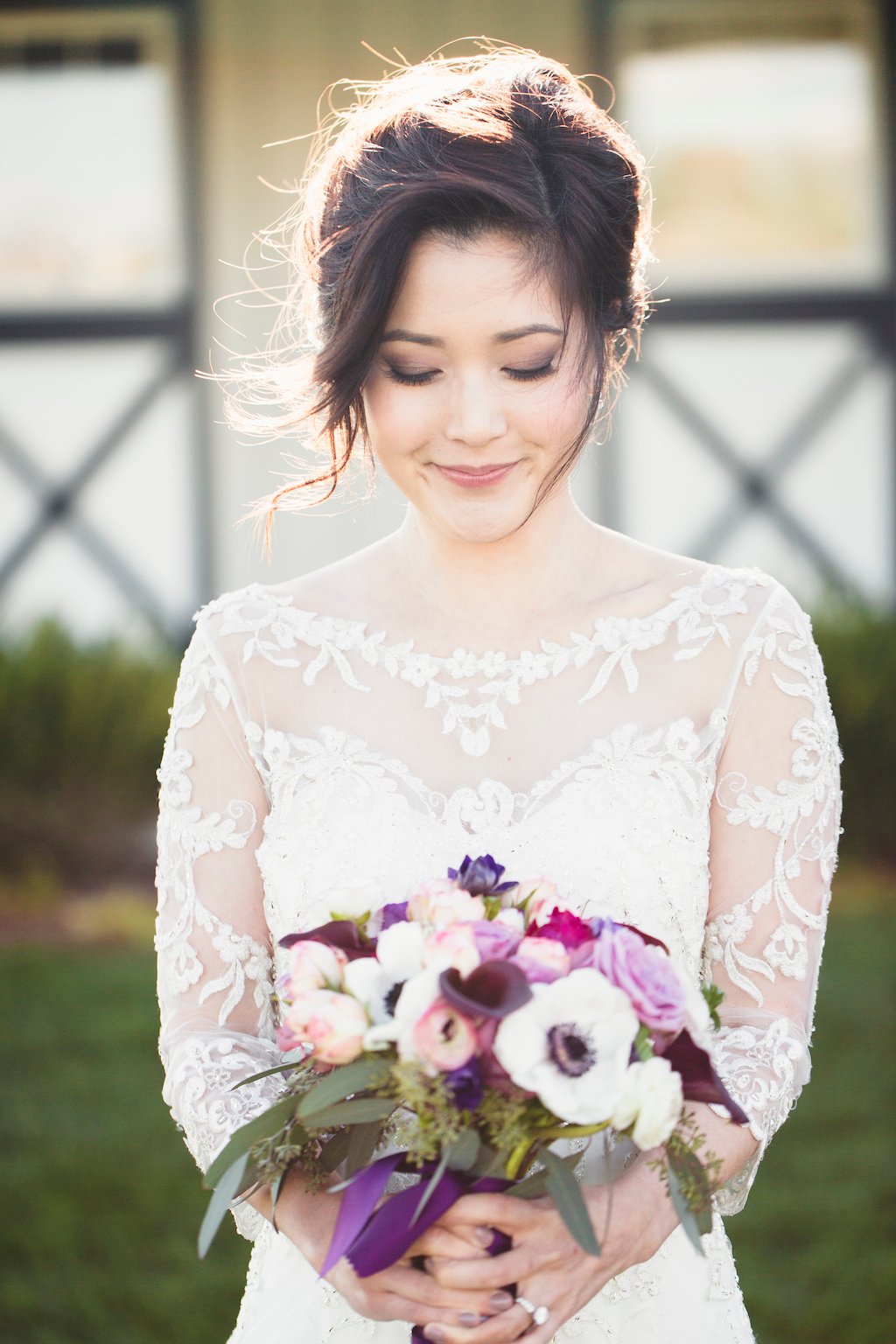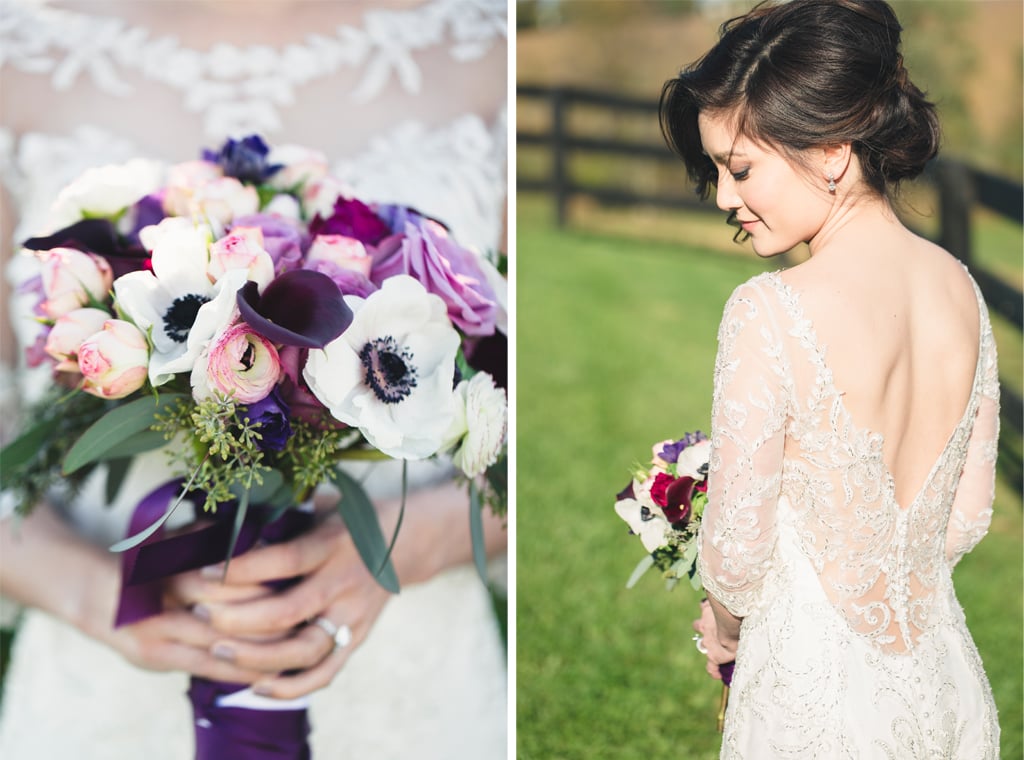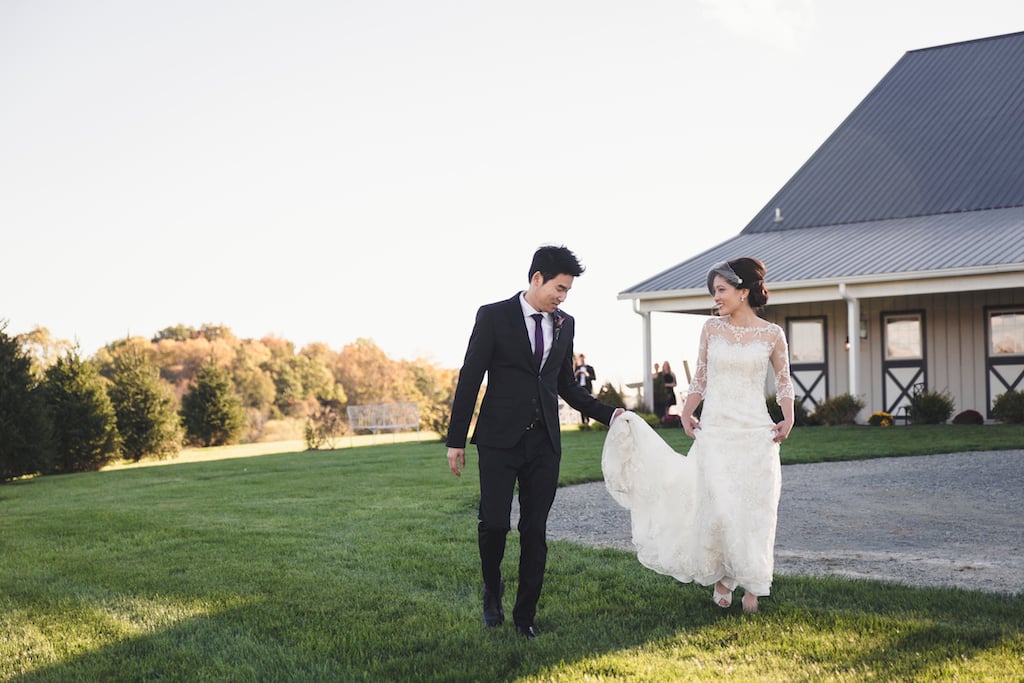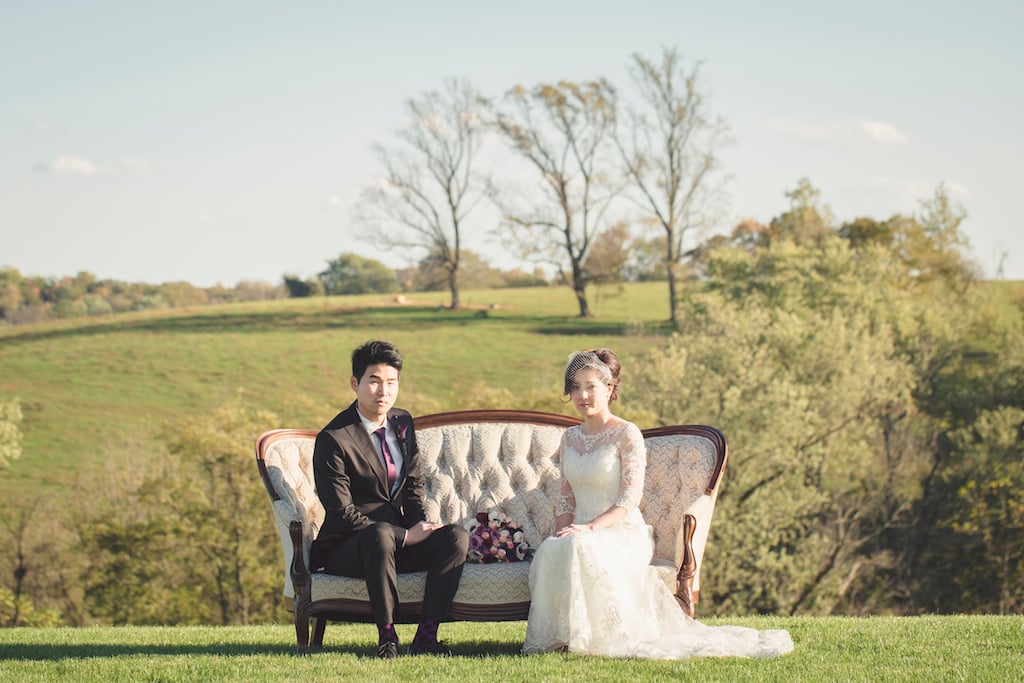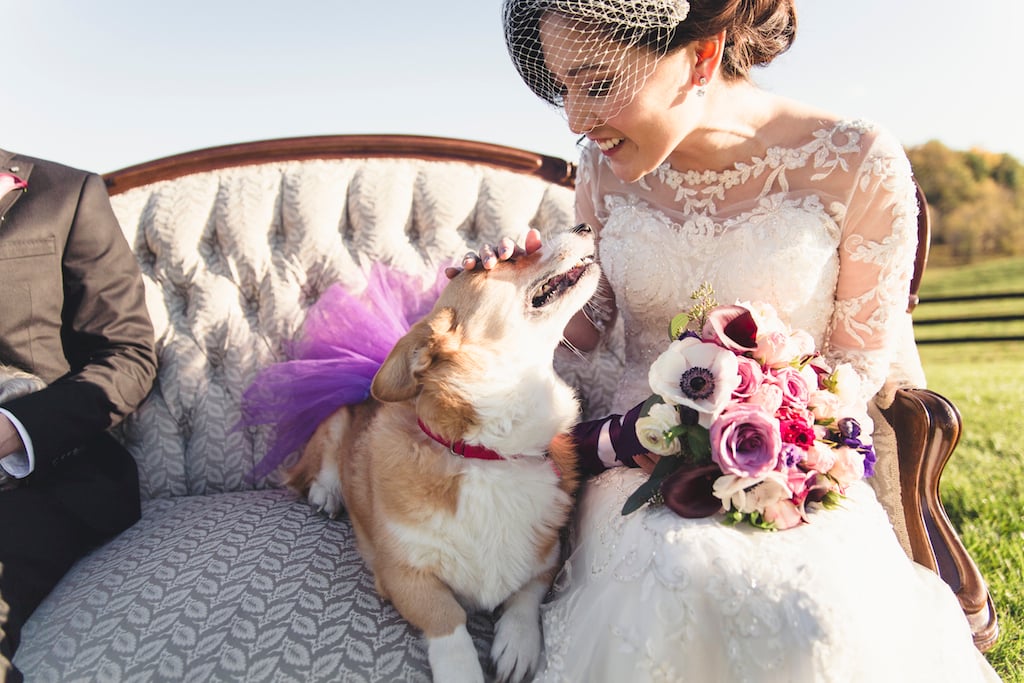 Though Emily's first impression of Jimmy wasn't entirely favorable–he was the know-it-all upperclassman giving her "advice" about college at an ice cream social–she still found him attractive. They began chatting online, and soon Jimmy–on a night both were home and bored–decided to make an impromptu trip to visit Emily in her hometown, two hours away. The pair started off the night at a retail shopping plaza before heading to see a scary movie, followed by milkshakes at Steak 'n Shake. Though their first date was a bit out of the ordinary (did we mention the scary movie?), it sparked a relationship that would last six years.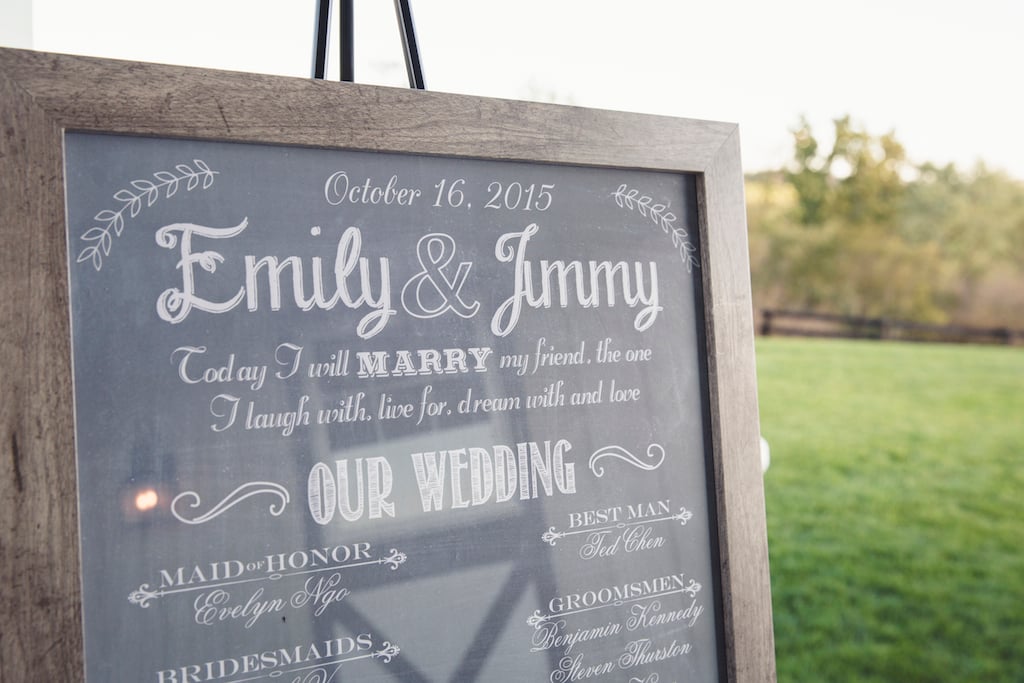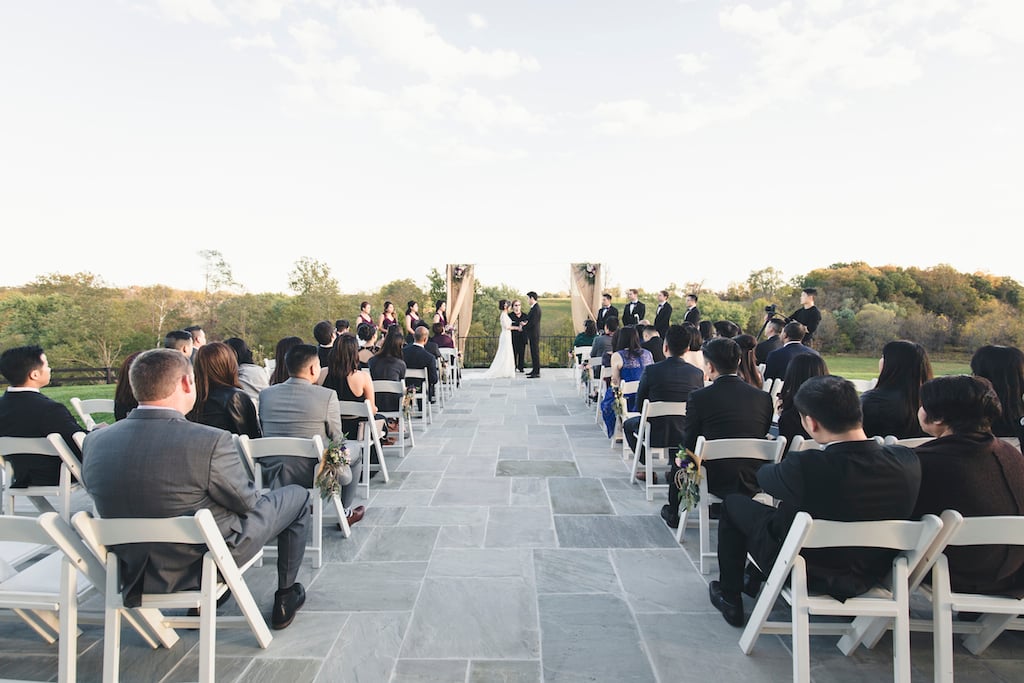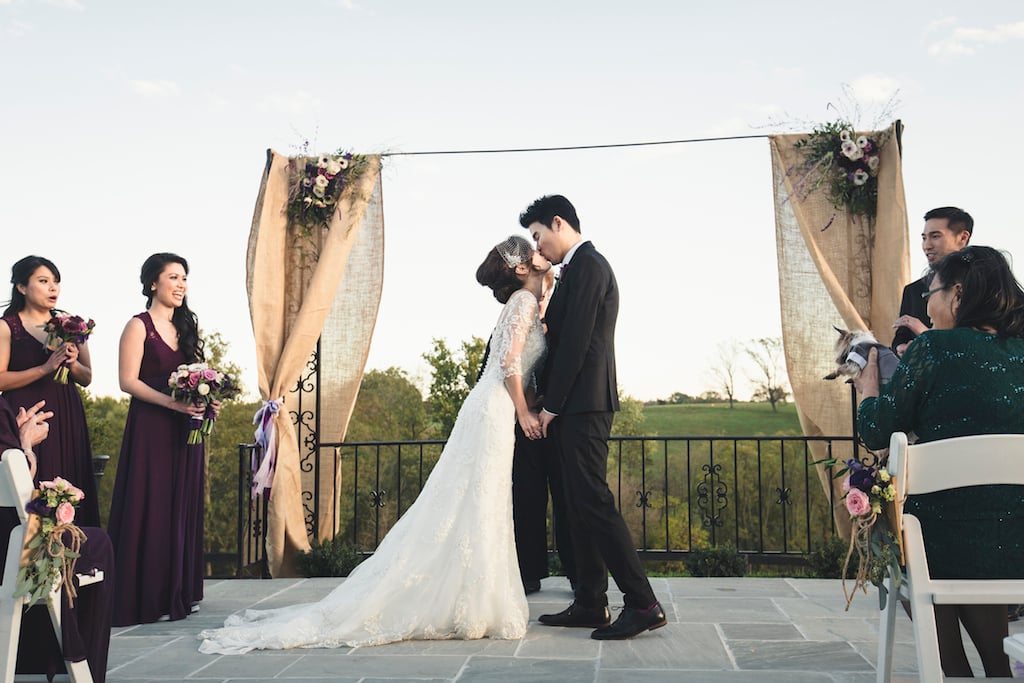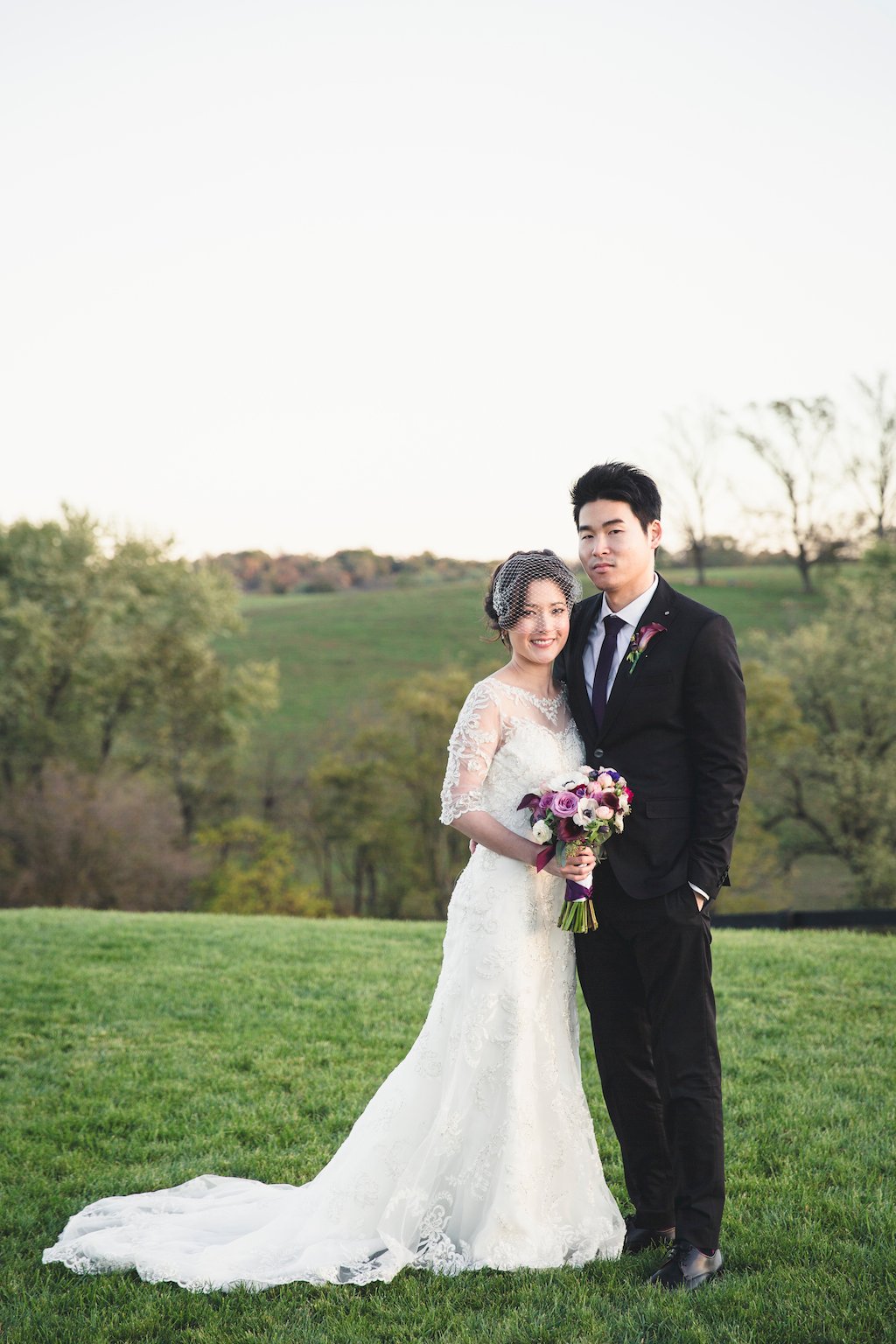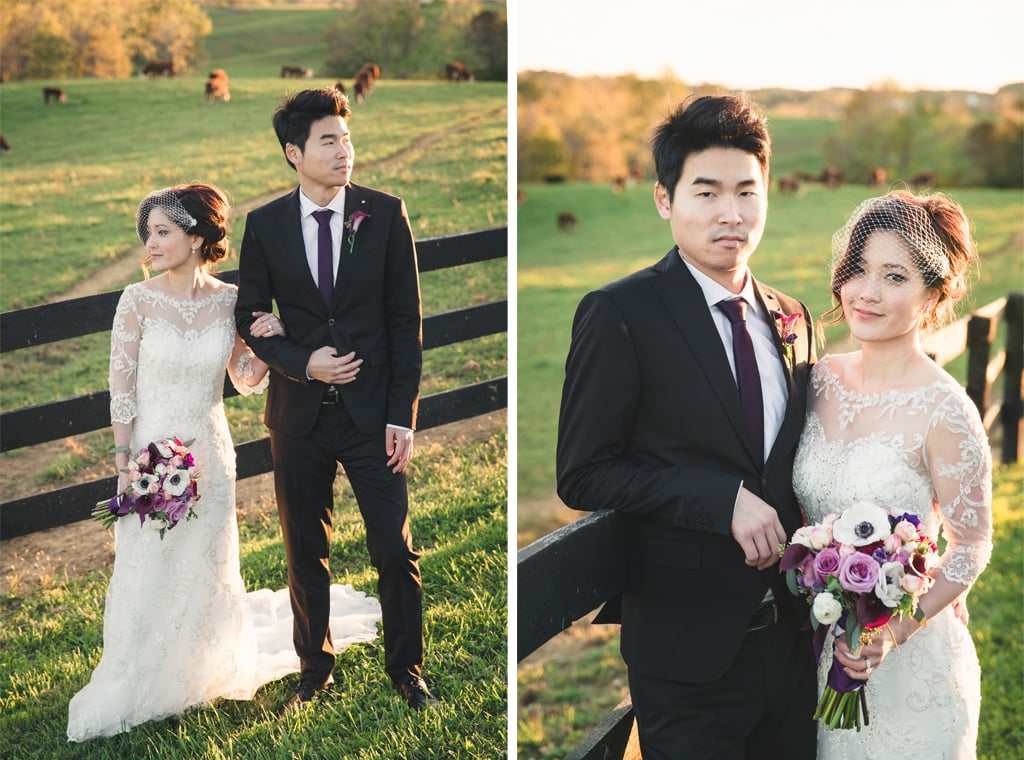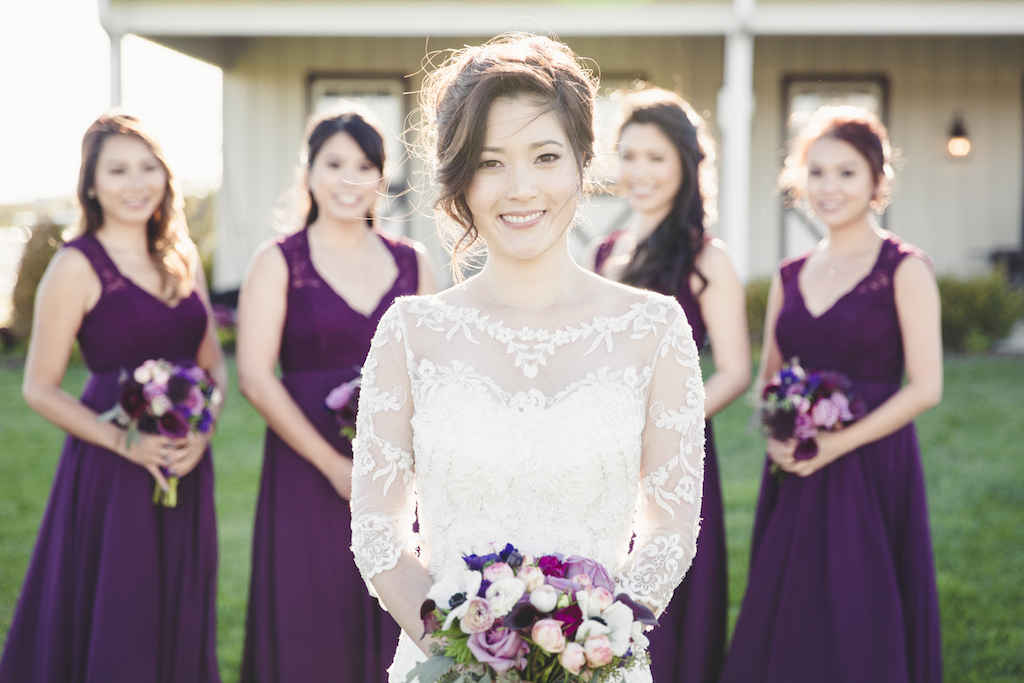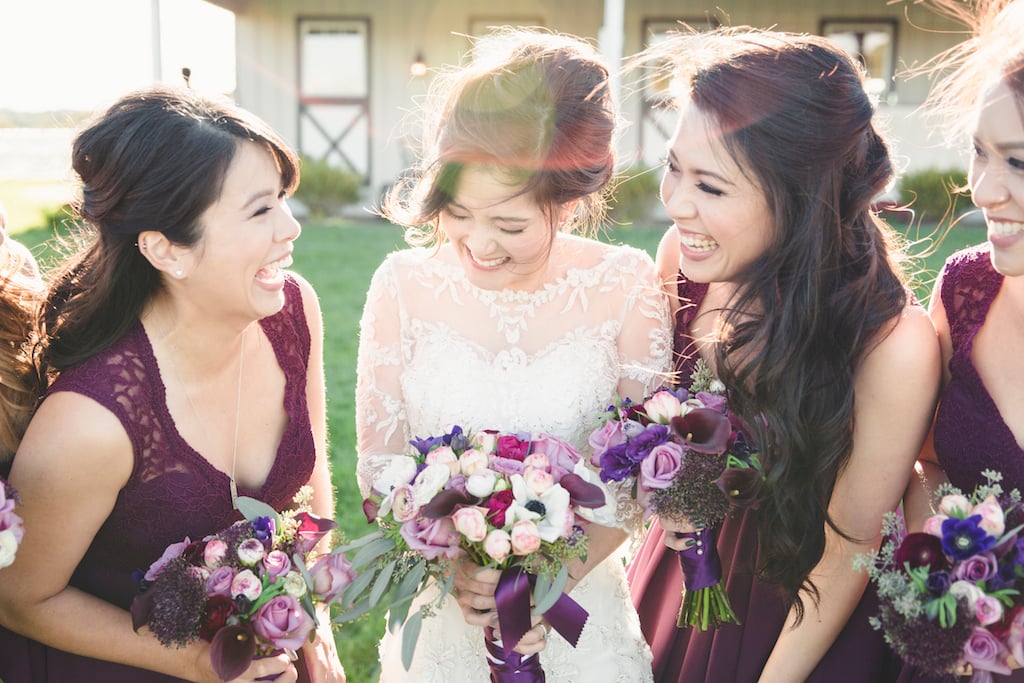 Jimmy's family had a tradition of going to a Disney park on Thanksgiving, which helped inspire his plan to propose on Splash Mountain. After convincing Emily's family to join his family for Thanksgiving at Disney, Jimmy assigned family members to hold signs that read "Will You Marry Me" as they descended the ride. The ride camera snapped a picture of their message, and when Emily went to check out the photo after disembarking the ride, Jimmy dropped down onto his knees and proposed.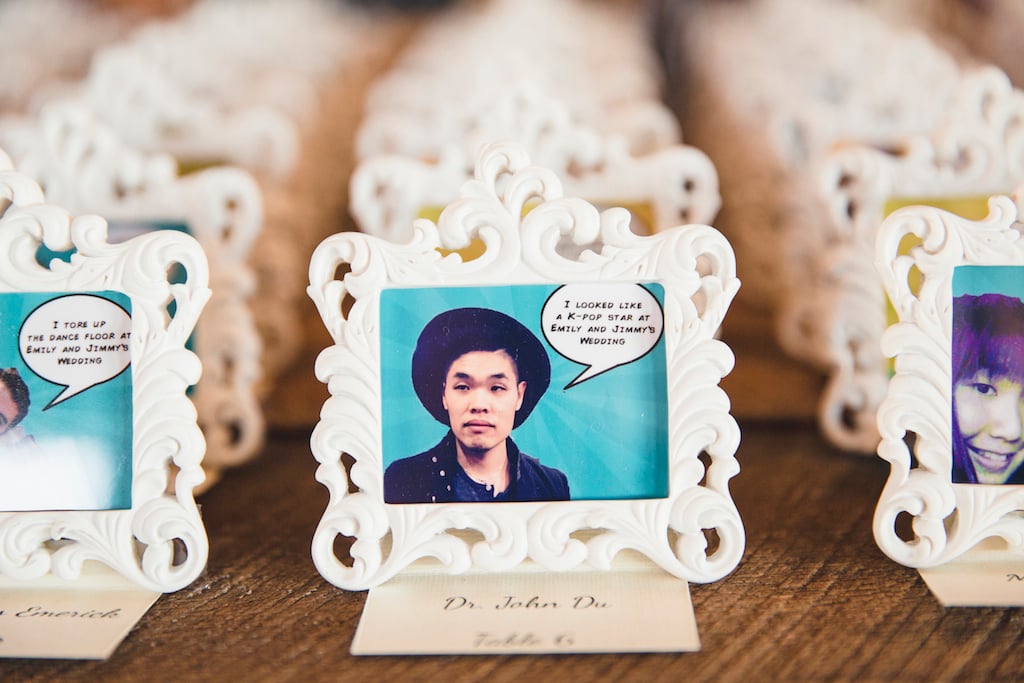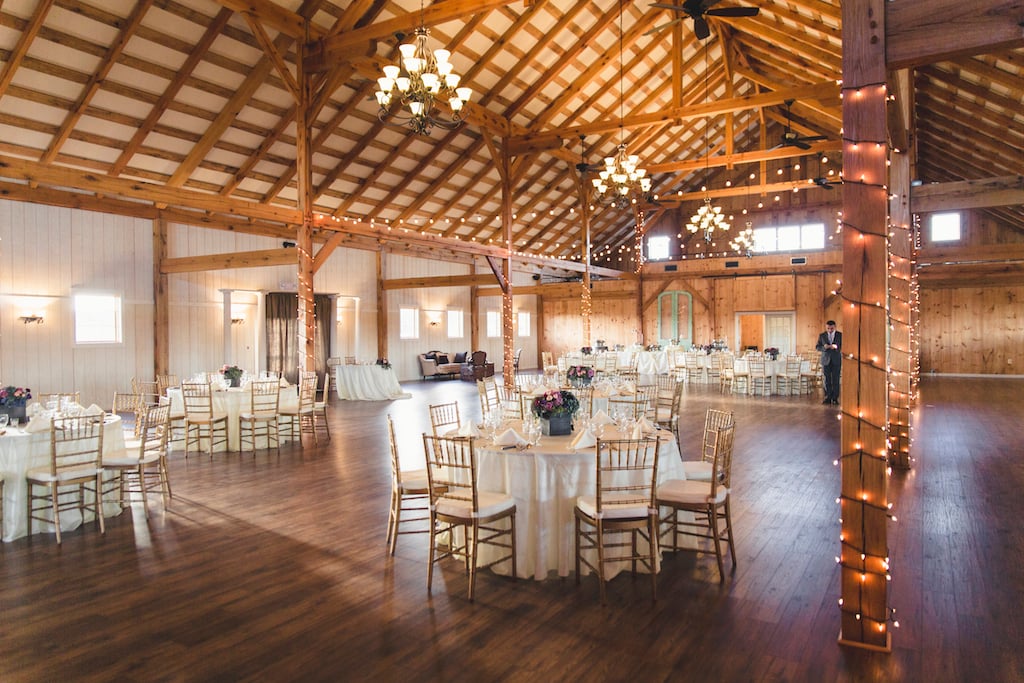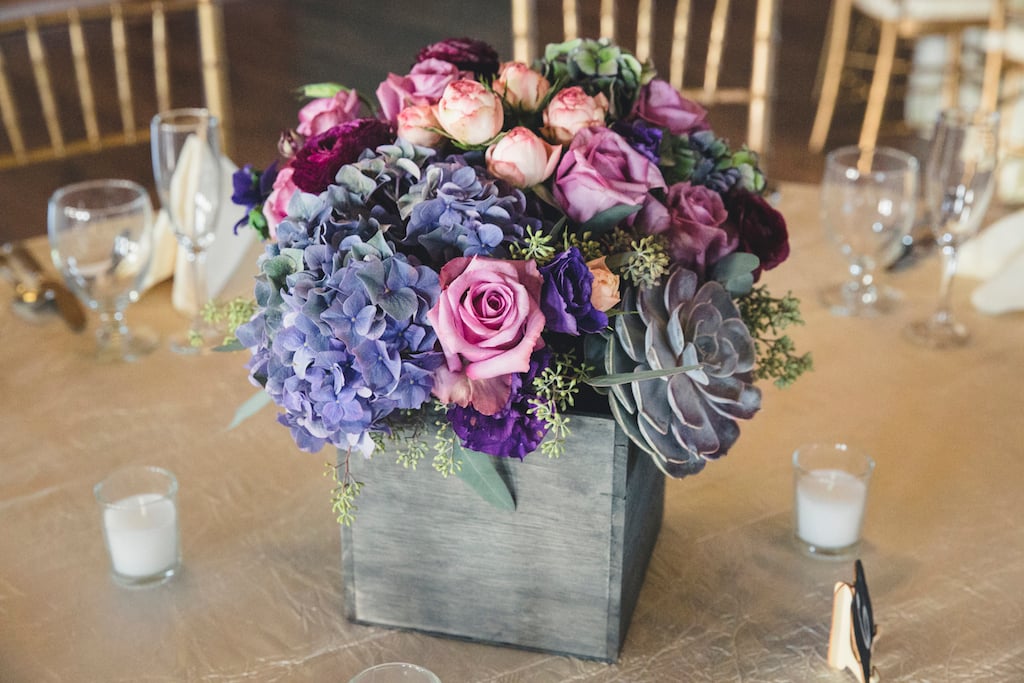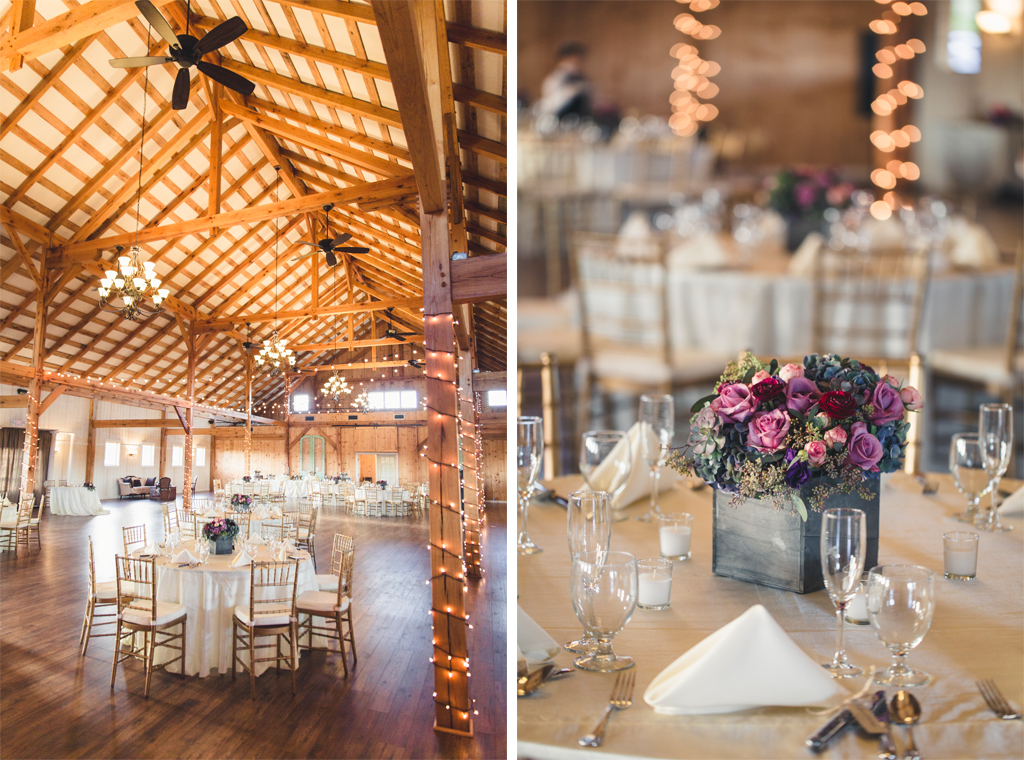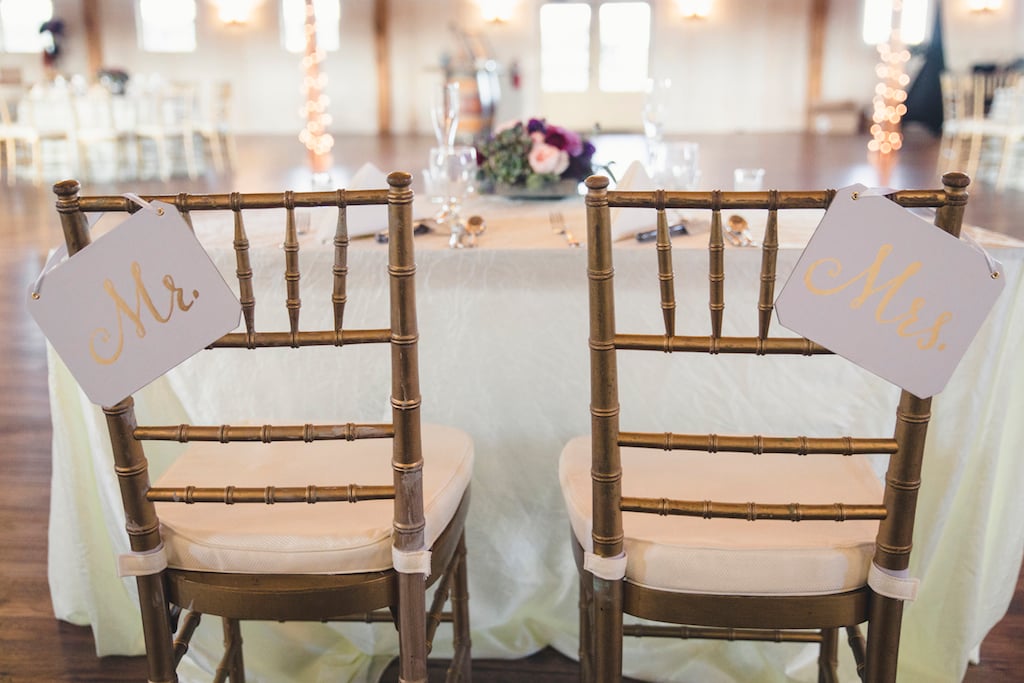 For their October wedding at Shadow Creek, they chose purple as the color scheme, which meant purple bridesmaid dresses, bouquets, and a purple tutu for their flower-girl doggy. One of the most touching moments of the wedding occurred when the maid of honor, Emily's sister, and the best man, Jimmy's brother, stood up to give their toasts. Given that both siblings were shy, Emily and Jimmy had let them off the hook for the speeches. Wanting to be prepared in case the couple changed their minds, however, both the maid of honor and best man had prepared toasts anyways, which made for a fun surprise for Emily and Jimmy.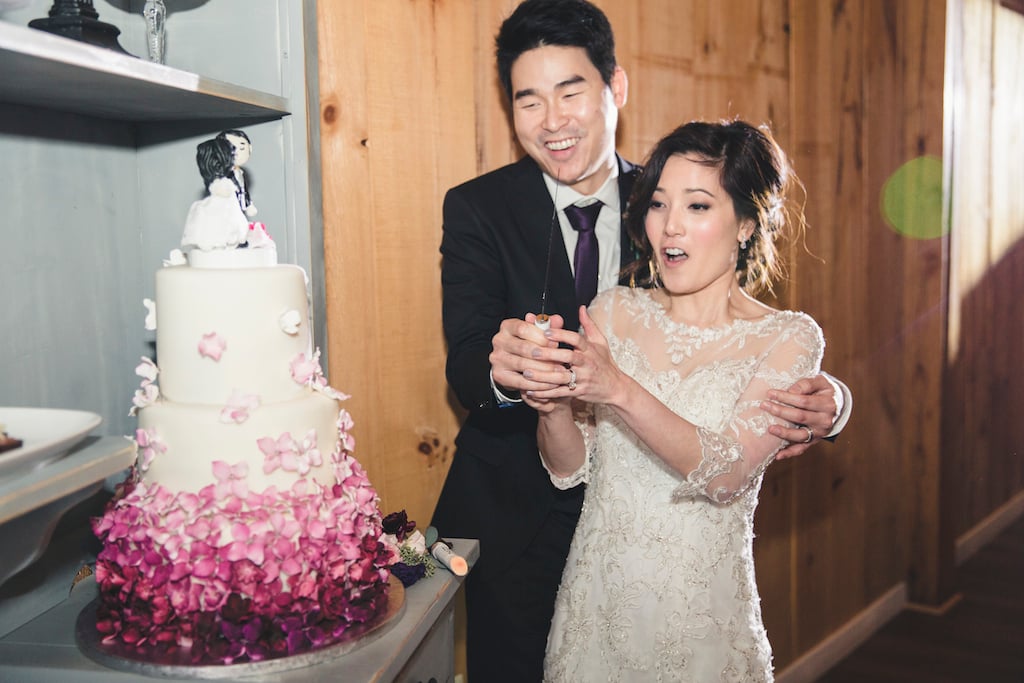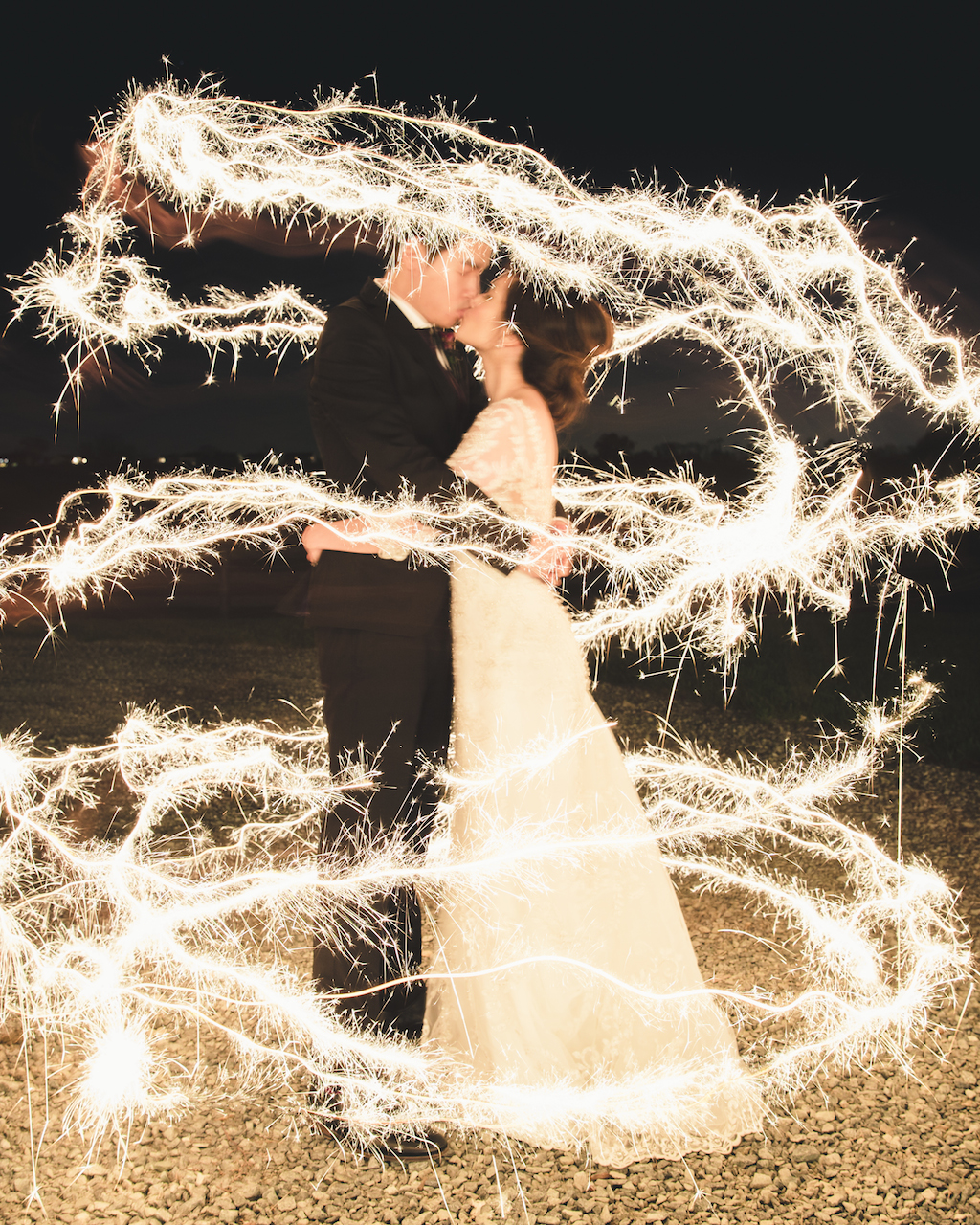 The indoor reception was filled with green and purple floral arrangements and lit with chandeliers and twinkle lights. For favors, each guest was given a miniature, framed portrait of themselves with a comic-book style quote bubble, along with a test tube filled with "love brew" tea leaves. After a night of celebrating with loved ones, Emily and Jimmy departed to begin their happily ever after with plans for a honeymoon in Taiwan, Japan, and Vietnam.
VENDORS
Venue: Shadow Creek | Photographer: Michael O. Snyder with second shooter Barbara Oliveira | Event Coordinator: Katie MacGregor of Rose Gold Events & Styling | Bride's Gown: Maggie Sottero, Happy Bride Couture | Groom's Tux: Zara | Hair Dresser: Joanne Chung | Makeup Artist: Suhreal Artistry by Christina Suh | Catering and Cake: IndAroma | Florist: Chic Floral Designs by Ellen Seagraves | Videographer: Paul Kwak Productions | Music/Entertainment: Black Tie Entertainment | Invitations: MDB Weddings on Etsy | Cake Topper: Made by groom's sister | Lighting and Photo Booth: Black Tie Entertainment
Looking for a beautiful reception space to host your wedding? Find the area's best right here.