In 2014, 4.5 million Americans watched the World Cup. English Premier League broadcasts average nearly 500,000 US viewers apiece. In contrast, broadcasts of our own league, Major League Soccer, grab only about 250,000 viewers.
There are many reasons why people don't tune in to our own domestic league; many are historical, but some are structural. Here are some problems to address.
1. We Keep Trying to Make Statistics Happen
The habit of turning players and games into collections of numbers that's so suited to baseball and basketball has zero predictive power in the beautiful game. One inexplicably popular statistic is possession–a subjective and murky way of measuring how long teams have the ball. US fans obsess over possession, uttering questions like, "Why can't DC United score with 62 percent possession?" Well, because possession doesn't mean points. Don't believe me? Here's a series of charts demonstrating the absence of almost any correlation.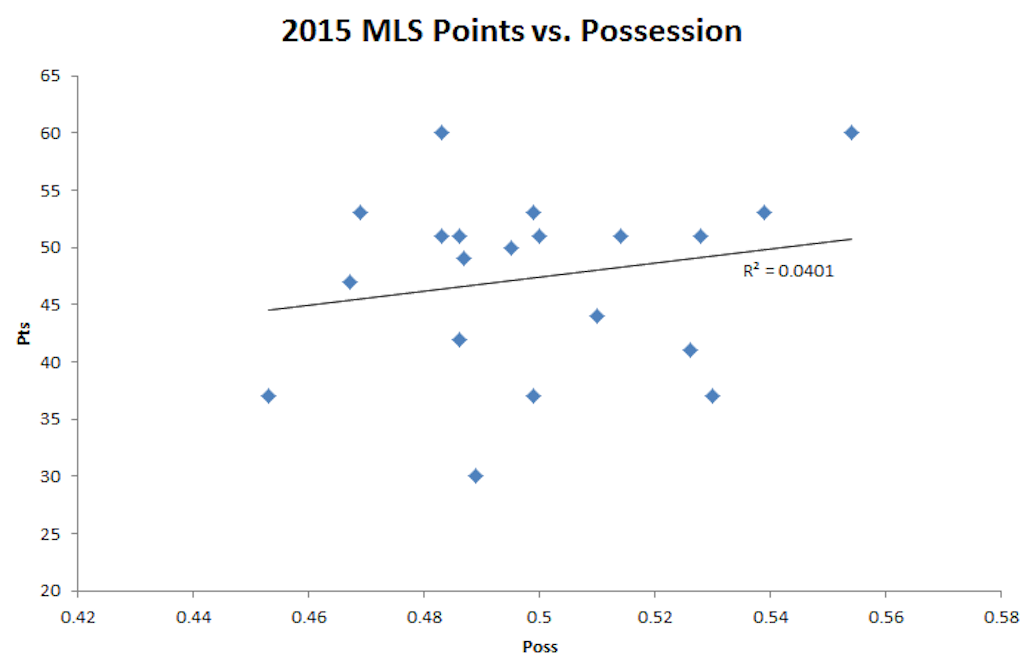 More of a bar graph fan? Me too. All those negative numbers on the X-axis represent occasions the game was won by a two goal differential by the team with less possession: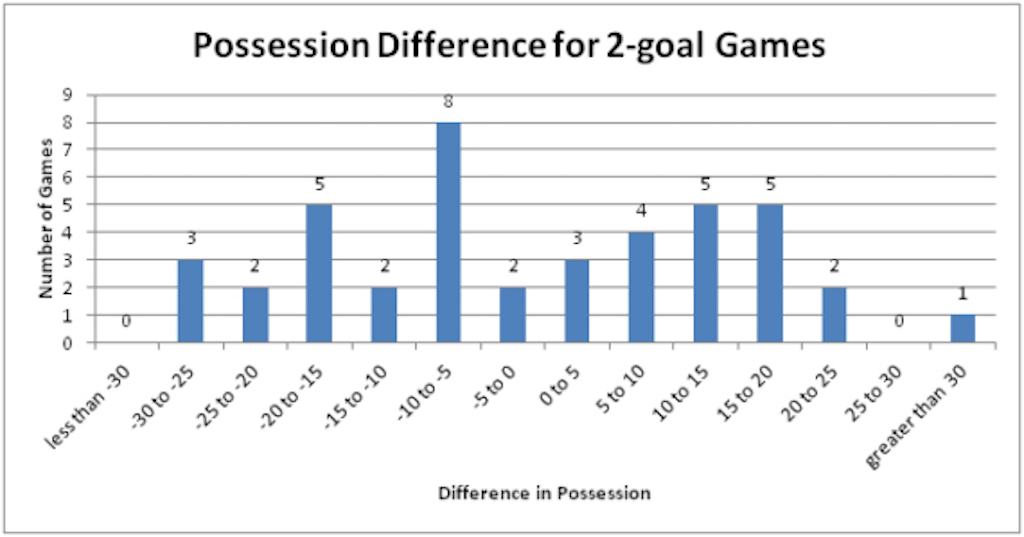 It pains me to say Jose Mourinho might not always be wrong. As the erstwhile Chelsea manager bleakly put it:
Whoever renounces possession reduces the possibility of making a mistake.
Whoever has the ball has fear.
Whoever does not have it is thereby stronger.
(From Mourinho's 7-point plan for winning big games, according to his biographer Diego Torres.)
2. We Have No Bogus Transfer Rumors
No, Man U is not selling Wayne Rooney to China and yes, it was naive to believe Cesc Fabregas would ever return to Arsenal, but there's a lot of fun to be had in the dysfunction around trading players. Just ask teenager Sam Gardiner, who amassed 25,000 followers on Twitter by sending out rumors he made up in his living room after school, before his account got suspended. A sampling of the internet's finest:
Friday's Daily Mirror back page:
Exclusive – £100m Roo bid#tomorrowspaperstoday #bbcpapers #mufc pic.twitter.com/I1677pcR3j

— Nick Sutton (@suttonnick) February 18, 2016
Chelsea have made a £10m bid for Liverpool target Mohamed Salah: http://t.co/9sfT3UnxHh #cfc #lfc

— Metro Sport (@Metro_Sport) January 22, 2014
Arsenal Transfer News: Cesc Fabregas And 3 Strikers Linked In Latest Rumors – International Business Times http://t.co/hvxfpz4nJA

— Arsenal Newsdaily (@ArsenalNewdaily) May 27, 2014
Morgan Schneiderlin agrees blockbuster deal with DC United for a fee rumoured to be £46.7m https://t.co/CtwRGm32wi #babb

— amanda m whiting (@amandamwhiting) April 5, 2016
From the top: Nick Sutton's tweet was real, but insane. Metro Sport's relied on the supposed intelligence of 17-year-old Gardiner. Arsenal Newsdaily's was based on collective dreaming. And my tweet about DC United actually using a designated player slot was created with the help of a transfer rumor generator.
3. We Insist on Playoffs
More civilized parts of the world don't expect teams to play until there's just a single team left standing. The champion is determined over the course of 38 games, each win and loss as important as any other. But apparently it's too ambitious to expect fans to devote that much attention, especially in a country where playoffs are a big part of sporting culture, and soccer is still a relatively small sport (plus, playoffs show advertisers where they should spend their money).
Once MLS teams have played 34 games, the results and the bottom 8 teams no longer matter. The postseason is a Tabula Rasa. Because, as March Madness reliably demonstrates, we are a culture fascinated by big second acts. Some recent headlines:
4. Our Bad Teams Don't Have to Worry About Relegation
MLS viewers think the only thing that matters is winning, but, in most soccer leagues, not losing is just as vital. There is a unique pain to watching your team fall so far it's no longer allowed to share the field with its rivals. On the upside, there's no satisfaction greater that seeing a team you hate go down. Like when Tottenham Hotspurs were relegated after 27 years in the top league:
1977 relegation #COYS pic.twitter.com/JDBFyegqZt

— Spurs Nostalgia (@thfcnostalgia) December 31, 2015
"We will return," fans chanted rebelliously. And they would climb back, just a year later. More typical is the relegation saga of Leeds–once a Premier League stalwart and championship team, demoted in 2004, then falling a flight lower in 2007, then becoming a verb ("doing a Leeds") meaning mismanaging to the point of collapse. Even their biggest fans are trolls.
For a quick example of how relegation might work, let's look at the Tennessee Titans. The worst team in professional (American) football this year, they won just 3 games. Consequently, they will be given the first shot at the best players in the draft. This is not justice. Demote them to the Arena Football League instead. (Ted Leonsis wouldn't mind.)
5. Good Minor-League Teams Have Nowhere to Go
The flipside of relegation. How much better would MLS be with a rotating series of plucky upstarts challenging the established order every year? Leicester City is probably going to win the Premier League. Seven years ago, they were playing in the third tier of English football, in front of as few as 7,000 people. Even at the beginning of this season, a $30 bet for Leicester to win the league would have netted a $150,000 return. That's the kind of fantastical rise-from-the-ashes story that promotion favors–imagine if teams from the United Soccer League had a shot at joining the MLS each year. Also, there are the ebullient melee videos promotion creates when fans inevitably invade the pitch (the good stuff, and maybe some minor cursing, starts about 25 seconds in):