1837 M St., NW
A roomy sidewalk patio is the perfect place to snack on tapas, or try Spanish sandwiches and salads. For a more leisurely lunch, a pitcher of sangria will do the trick.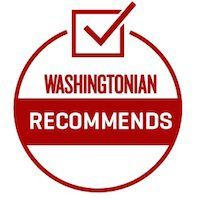 1666 Connecticut Ave., NW
Large umbrellas shade the patio dining area of this airy Italian restaurant, which serves a crowd-pleasing menu of wood-fired pizzas, homemade pastas, salads, and grilled meats and seafood. A cold glass of wine and tuna carpaccio are particularly good on a warm day.
1513 17th St., NW
Happy hour runs from noon to 7 pm on weekdays at this pub, which can make for a fun lunch if you're craving a $5 beer or wine with the addictive Proper Burger. A handful of picnic tables on the outdoor patio are the place to be in nice weather.
2001 S St., NW
Grab one of the shaded picnic tables outside this locavore market in north Dupont. The counter-order delis inside offer a range of tasty sandwiches, salad platters (pick four for $10), coffee drinks, and $4 local craft beers all day long.
1624 Q St., NW
Channel summers in Maine on Hank's tree-shaded patio, where you can order a delicious lobster roll and cold beer. The restaurant also serves a two-course lunch special for $13.99, with options like lobster bisque with green goddess grilled cheese.
1734 N St., NW
This atmospheric Mediterranean restaurant offers a pretty place to post, whether in the wisteria-lined courtyard, or tables in front of the carriageway entrance. Groups can share small plates like spanakopita arancini in addition to a handful of individual entrees such as an open-faced shrimp salad sandwich.
1205 19th St., NW
Looking for a quick-grab bite so you can enjoy more time in the sunshine? Try a shawarma sandwich or crispy falafel from this fast-casual Mediterranean spot, which also boasts a sizable patio. A toppings bar lets you load up on salads and sauces for your bowl or sandwich.
1612 20th St., NW
Order a tasty souvlaki and grab a table on the patio of this stalwart Greek spot near the Dupont Metro. Classic Greek salads and dips are also good options, not to mention wallet-friendly.