If you start at the very top of chef Matt Baker's forthcoming restaurant, Gravitas, you'll see the focus of his first solo venture, debuting in Ivy City this winter. The roof is split between a bar located in a working greenhouse, and a garden that will supply the restaurant with ingredients for its vegetable-driven menus.
Baker will preserve the exposed brick and bay windows of the space inside the former Pappas Tomato Factory building at 1401 Okie Street, Northeast, currently in the hands of Douglas Development—like many other buildings in the rapidly developing neighborhood. Together with designer Natalie Park, he'll use living green walls and climbing ivy to make the dining room, mezzanine level, and rooftop bar look as lush as Darcy's Estate in Pride & Prejudice.
"I told Natalie, forget about anything that has been done in DC, DC doesn't exist to us. Look at London, Sydney, look at places like Noma [in Copenhagen]."
The goal is to create a setting worthy of an ingredient-driven, fine dining menu that will fold in the 29-year-old chef's life experiences, starting with his first executive chef job in Singapore.
"The biggest thing about Singapore is that nothing grows there—everything they use is imported," Baker says. He grew weary of sourcing fish from the Mediterranean and New Zealand that would take days to arrive.  "You come here and you see beautiful rockfish, porgy, and perch coming from the Bay, and you get that within a day." His enthusiasm for local ingredients was solidified.
After Singapore, which allowed Baker to eat his way through Asia, the Houston-born chef moved to DC in 2011, encouraged by friend Dale LeFebvre, a food-loving investor and entrepreneur. Baker landed a gig at Minibar, and from there made stops at places like Marcel's, Occidental, and CityPerch in North Bethesda, all while working on Gravitas. After departing City Perch, he strove to introduce Washingtonians to his concept through a series of pop-ups at food incubator Mess Hall, the Source, and beyond.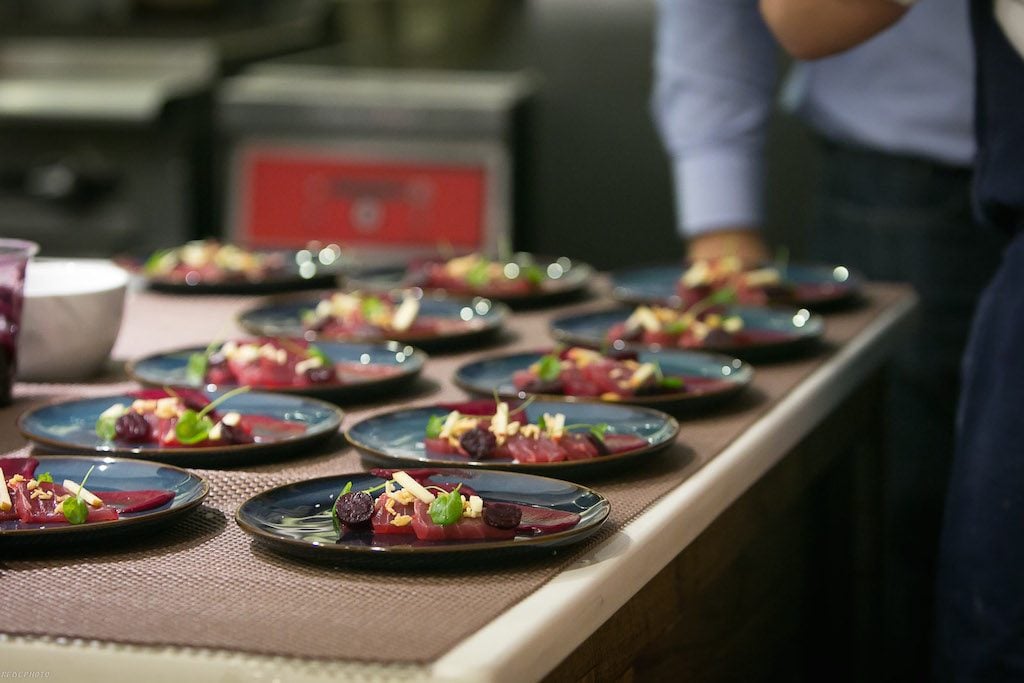 Though pop-up diners received a taste of what to expect at Gravitas, the whole picture will look different.  The eventual goal is to serve two tasting menus—one omnivorous, the other vegetarian—but he'll build gradually, opening with an à la carte menu that has a tasting option built-in. In all, vegetables will take center stage.
"If you look at the flavor profiles that are possible, the spectrum is so much larger and wider when it comes to vegetables, herbs, and lettuces," says Baker.
Other elements diners can look forward to are brunch with house-baked pastries, a two-seat chef's counter in the kitchen for an interactive experience, and a completely open floor plan so guests can watch the chefs at work. Baker also plans to host Sunday suppers, which will let the prince of pop-ups to pay it forward. The goal is to draw a range of visiting talent, from a young chef to a fisherman who could supply and discuss sustainable seafood. The gathering will occur around one long communal table, with bottles of wine and punch passed between diners. The idea of community is prominent in Baker's mind.
"I wanted to go to a neighborhood that wasn't overdeveloped yet, because I want to be the backbone—a catalyst for future businesses," he says. Baker even hopes to piggyback off the work he's done with local organizations like MicroGreens, and launch an after-school program in the garden that culminates with students cooking dinner for their parents.
"I have a six year old daughter, I know the importance of teaching them about food."
Gravitas. 1401 Okie Street, NE. Opening winter 2016.