Eleven years after the Nationals' first season, our town finally has its own baseball culture again. Who are the Nats legends (so far)? The goats? And is it ever acceptable to root for your old home team? Here's everything you need to know to fit in at Nats park:
The History of Baseball in Washington (Official Version)
How'd the Nats get here?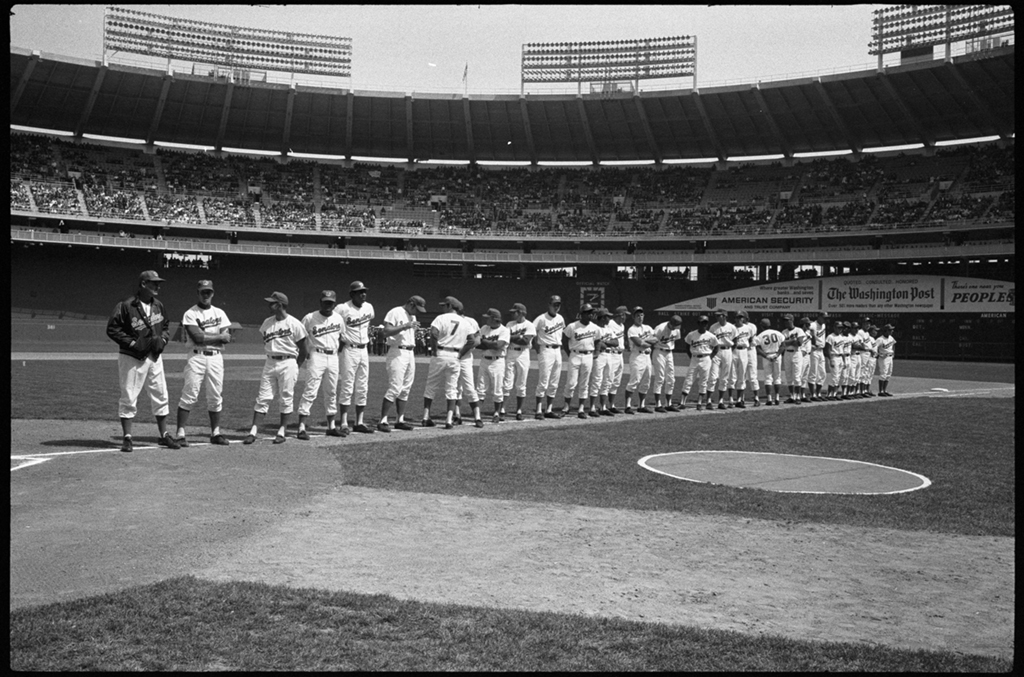 There used to be a team in DC called the Senators. They were pretty good for the first part of the 20th century.1 They played at a place called Griffith Stadium, where Presidents threw out first pitches2 and players became big-enough stars that schools got named after them. After that brief golden age, the Senators stank, then moved to Minnesota. A new team, also called the Senators, took their place. They stayed11 years. They were terrible.3 In 1971, they left for Texas.4 For 33 years, nobody swung a bat here, and that bummed a lot of people out.5 Then MLB had a flailing franchise to sell6 and a bunch of cities wanted it.7 DC beat them all.8 Ever since, it's been pretty fun to root for the Nats.
Footnotes
1. The only World Series title Washington has ever won was with the Senators in 1924. 2. William Howard Taft was the first to do so, in 1910. 3. "The only fans at Washington Senators games were the politicians and the pickpockets, and you couldn't tell the difference," the owner's son once told the Washington Post. 4. Where they became the Rangers. 5. In 1985, President Reagan told MLB that it should reinstate "a tradition which has long been absent from the city—the presidential privilege of throwing out the first ball." 6. The Montreal Expos. 7. Las Vegas; Portland, Oregon; Norfolk; San Juan, Puerto Rico; Monterrey, Mexico. 8. MLB later picked the Lerner real-estate family's $450-million offer for the team.
---
L'Histoire du Baseball à Washington (Version Non Officielle)
The Nats were Canadian for 35 years. Why do you never hear about it?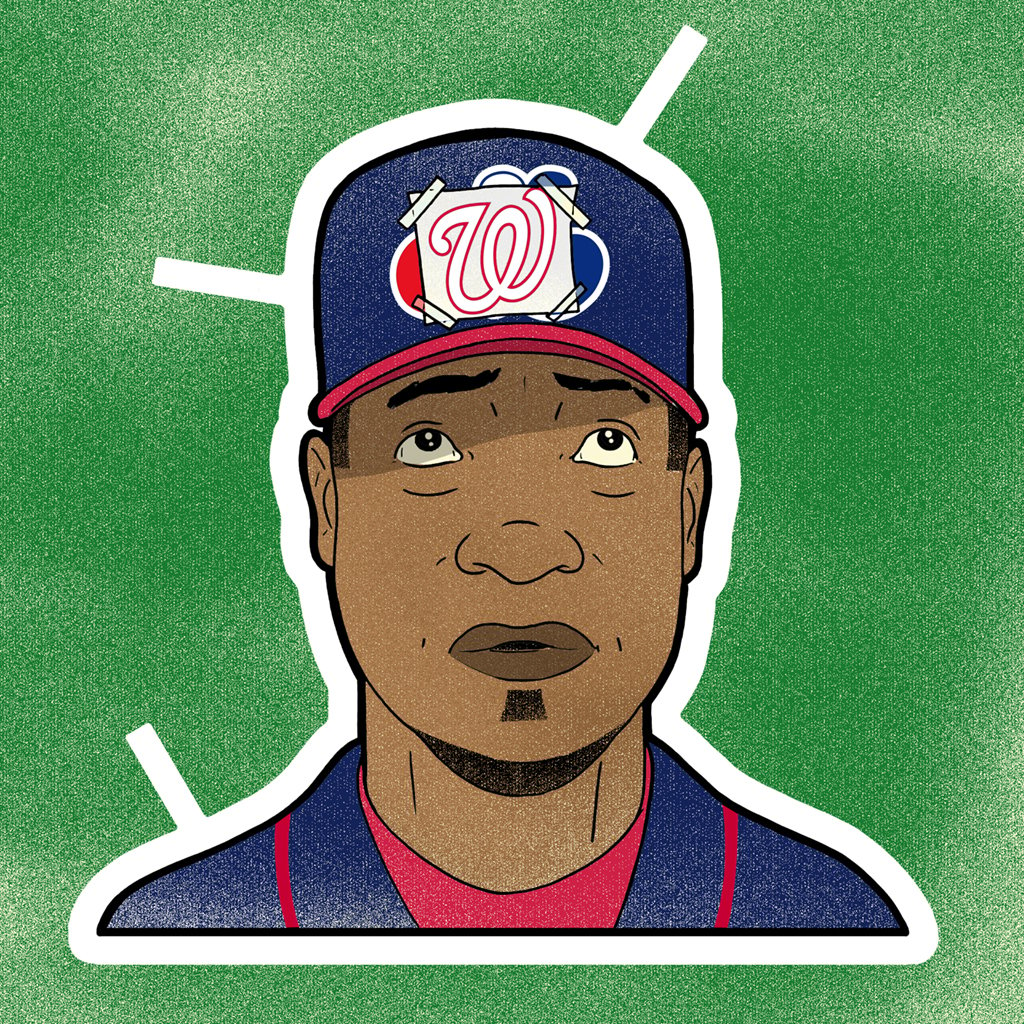 Never mind those nostalgic old pictures of Presidents tossing out first pitches to Washington's hometown baseball team. The Nats have a dark secret: Their roots aren't all-American at all. In fact, they're Canadian.
It's been little more than a decade, but today the Montreal Expos—which was the Nats' name from their birth through 2004—have been more or less erased from DC baseball history. The Expos had been the first major-league team in the Francophone world, and despite starting off as a lowly expansion squad, they developed a robust, bilingual fan base. In the '80s and early '90s, stars such as Andre Dawson and Gary Carter made them contenders, which is better than most Senators' squads could manage.
Alas, it wasn't enough: By the end of the 20th century, the team was in the cellar and its owner was demanding that Quebec build him a new stadium. The province balked, and in 2002 Jeffrey Loria sold the Expos to MLB, which began efforts to relocate them. At their final game in Montreal, the Expos lost 9–1, and the crowd showered them with litter and French-language jeers.
The treatment afforded the long-suffering équipe didn't get better once the squad was redomiciled. Though the Nats thoughtfully mounted the names of Dawson and other Expos greats below the broadcast booth, the bygone stars' numbers have been "un-retired" and given to current players. That's quite a contrast to the places of honor the Nats give to figures from the unrelated—and often unremarkable—squads that called DC home a half century ago.
So should Quebec-era stars join the likes of Senators great Frank Howard and Josh Gibson of the Negro Leagues' Homestead Grays in the statuary by the home-plate gate? Maybe. But fans of the Nats' true historical record might settle for something less. The great Tim Raines stole 808 bases in his career and narrowly missed the Hall of Fame last year. He and his Canadian comrades at least deserve a bobblehead doll.
---
Who's the New Manager?
Dusty Baker may be the most interesting man in baseball.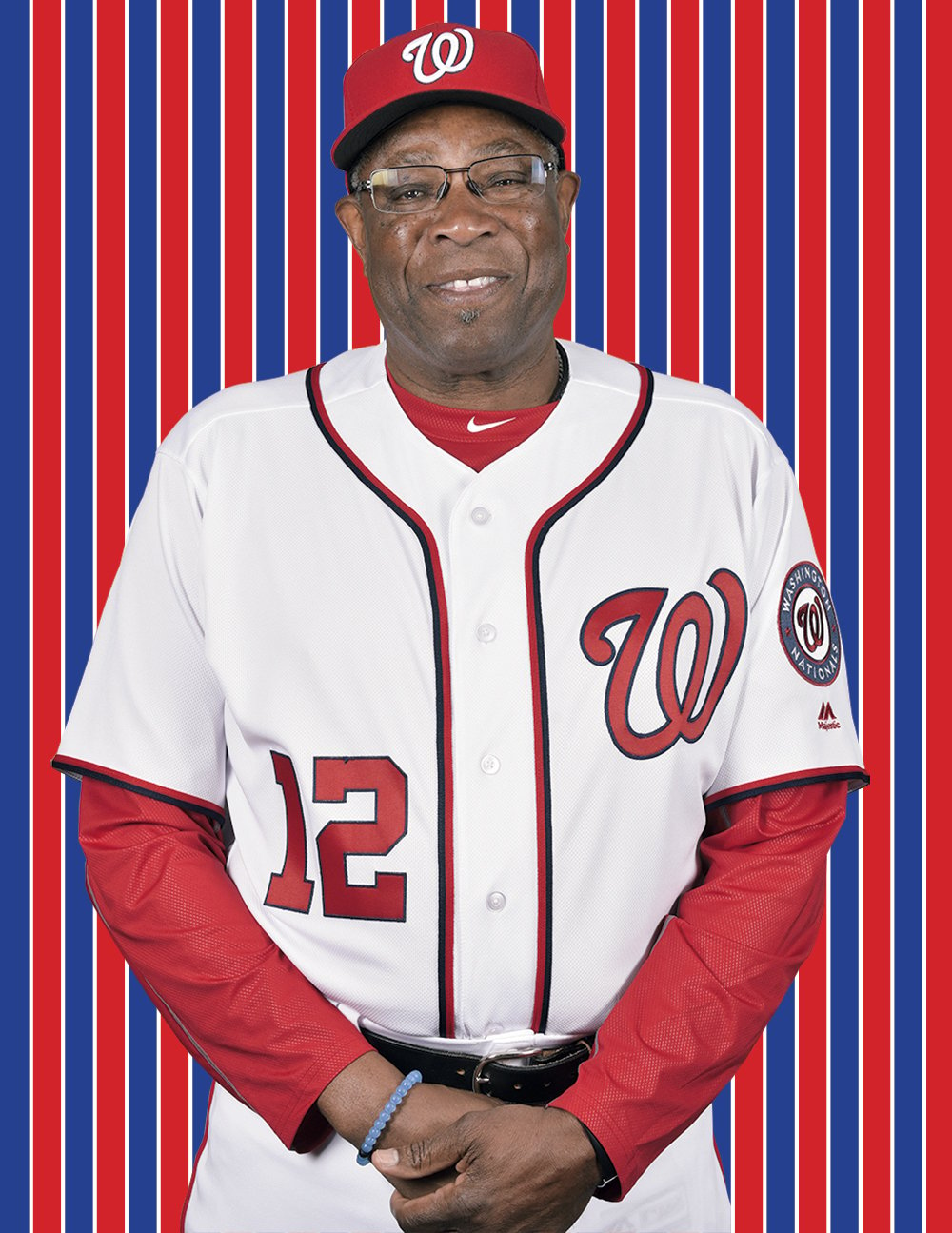 Birth name: Johnnie B. Baker Jr.
Age: 66.
How he got that nickname: Constantly playing in the dirt as a child.
Dubious career achievement: "Inventing" the high-five in 1977 when his LA Dodgers teammate greeted him at home plate after a home run.
Hardly dubious career achievement: Started this season with the second-most wins (1,671) among managers who have never won the World Series.
Friends in the Rock & Roll Hall of Fame: Buddy Guy, Carlos Santana, Elvin Bishop.
Once smoked a joint with: Jimi Hendrix.
Other ventures: Baker Family Wines, a winery in San Francisco; Baker Energy Team, an alternative-energy firm in Roseville, California.
What he'd be doing if he weren't in baseball: ". . . I'd have been an entertainer, a musician. One thing I've always liked about . . . sports in general is that they break down racial barriers—there's no white or black or yellow in the batter's box—but music does that even more." (From his Kiss the Sky: My Weekend in Monterey for the Greatest Rock Concert Ever.)
---
Who's the Guy in the Sequined Suit?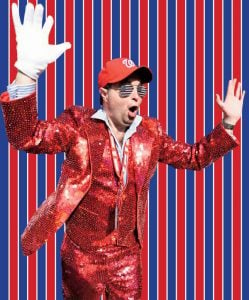 Tripp Whitbeck, a former college mascot, lives in Arlington and goes to 75 games a year—all of them in costume.
If you're anywhere near section 135, you'll see the Mayor of NatsTown, as the stadium's beer vendors call him, dancing in some red-white-and-blue getup and wig sourced from way beyond where Nats merch is usually sold.
Says Whitbeck: "It's amazing what you can get online from China."
---
Who's the Fastest Racing President?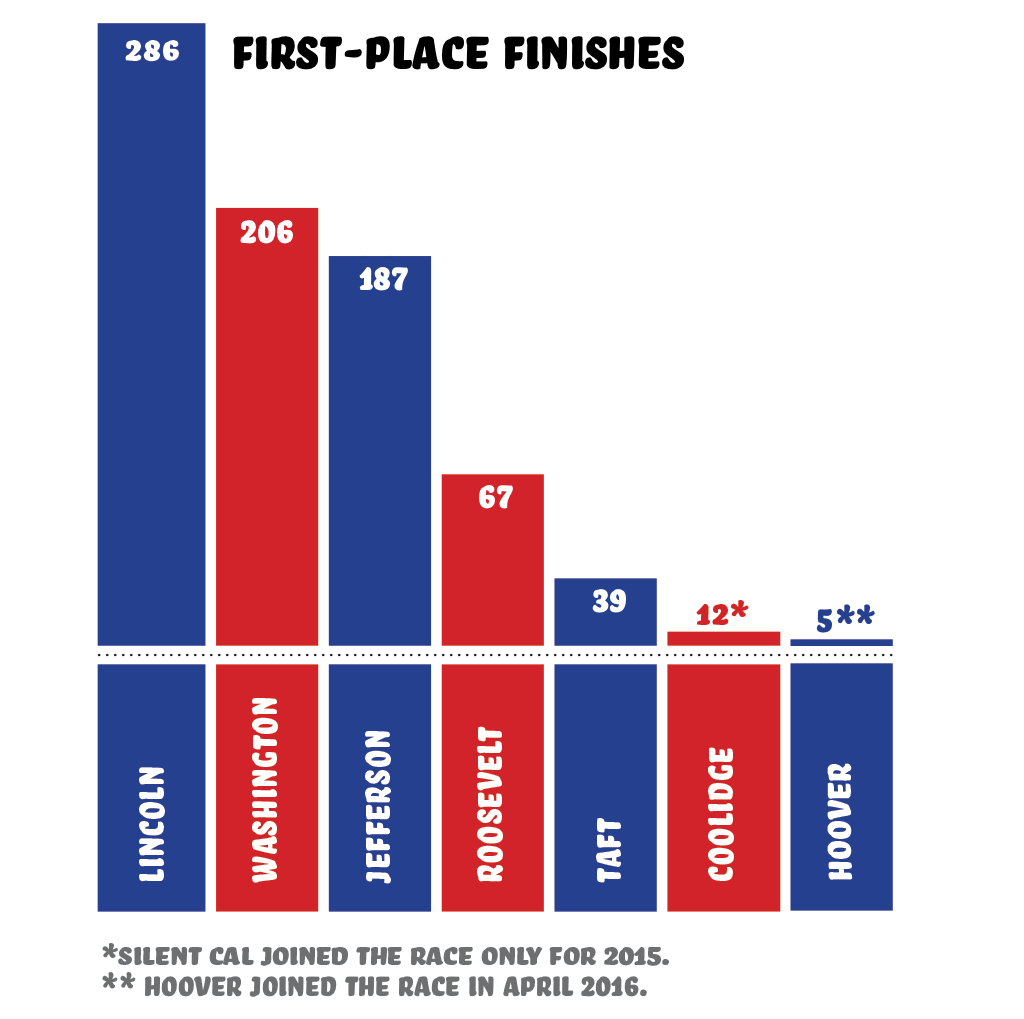 ---
First-Pitch Matrix
Some of the people who've thrown the first pitch at the 891 home games in Nats history would fit in at any stadium. Others are notables you'll find only inside the Beltway. Here's a sampling, along with our very subjective review of how they did, from George W. Bush's textbook strike to Mike Isabella's blooper that bounced in front of the plate.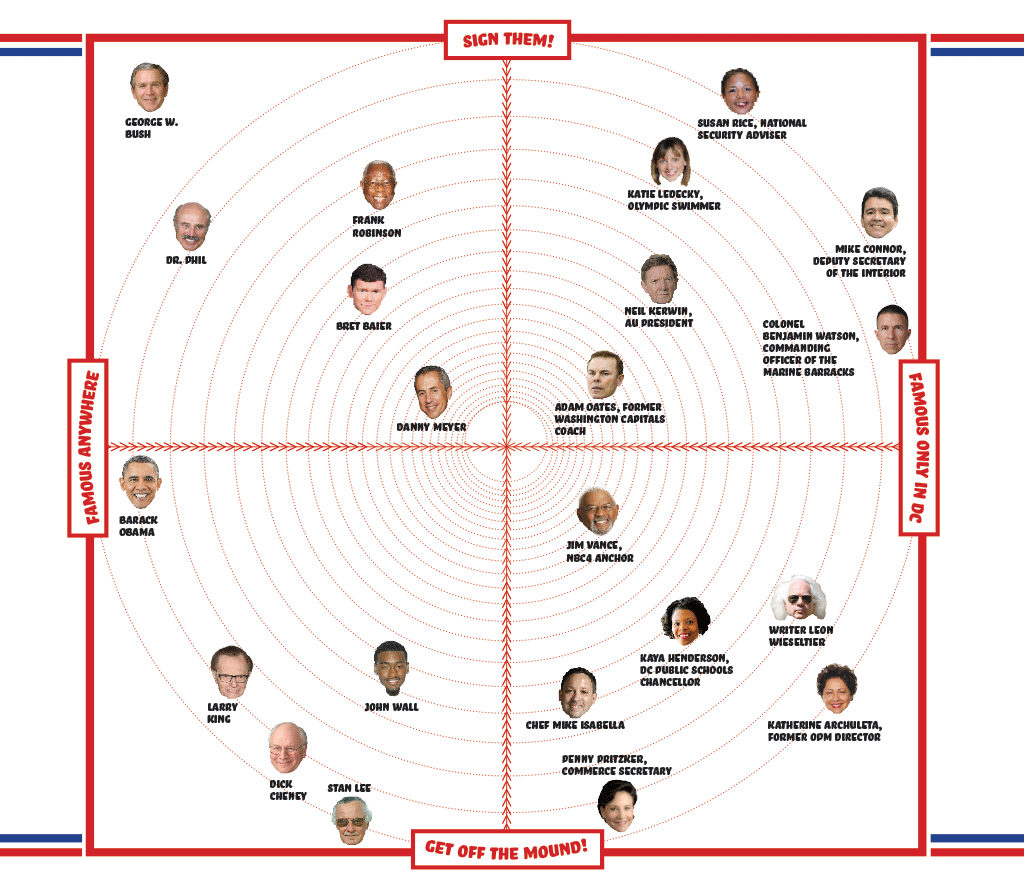 ---
Where Is Nats Country?
Looking at a map of Facebook users' favorite MLB teams shows that the Nats are the heavy favorites in DC and its nearest suburbs—but their reach mostly goes in one direction. Other than Montgomery, Prince George's, and Charles counties, nearly all of Maryland still belongs to the Orioles. The Nats' real stronghold is Northern Virginia, where they dominate more than halfway to Richmond. No wonder there's a theme night for UVA and Virginia Tech grads this season.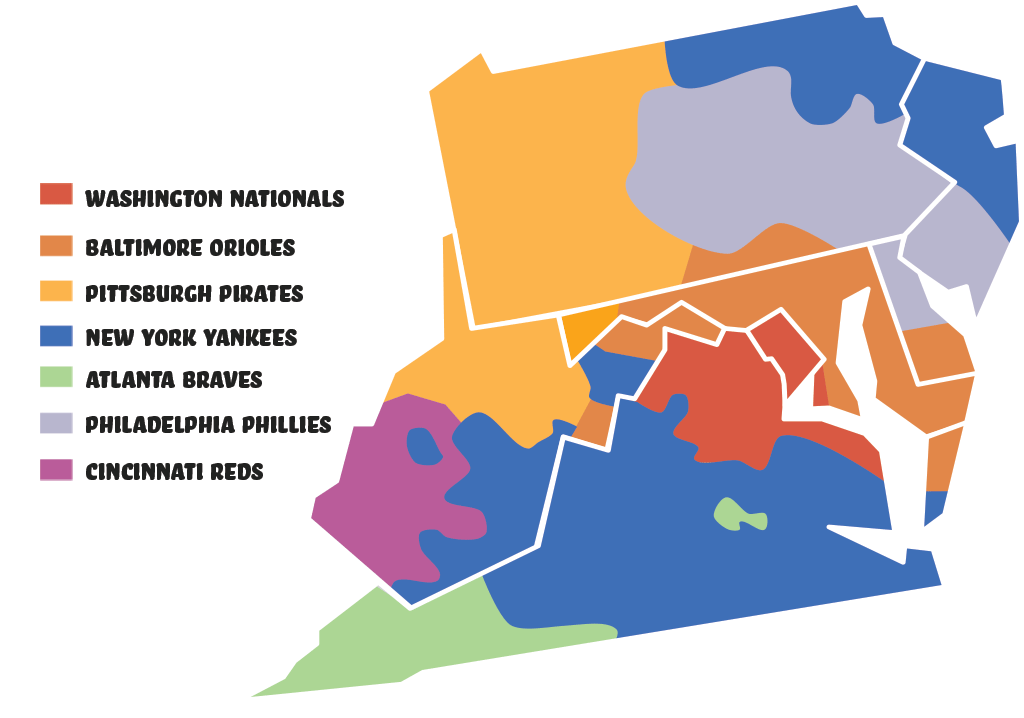 ---
Jeering Section: Who Should We Hate?
As a new team, the Nats don't have set rivals. Here are some candidates.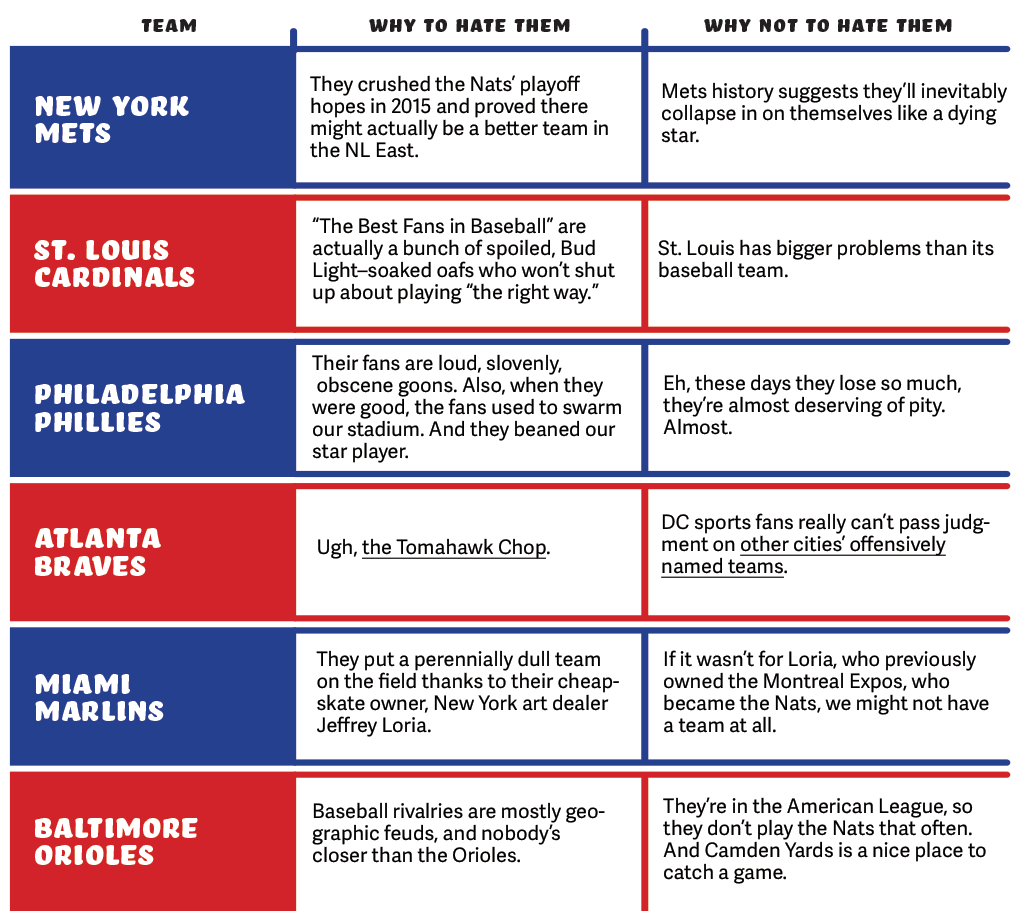 ---
Hall of Fame: Who Are the Best Nats Ever?
Michael Morse
2009–12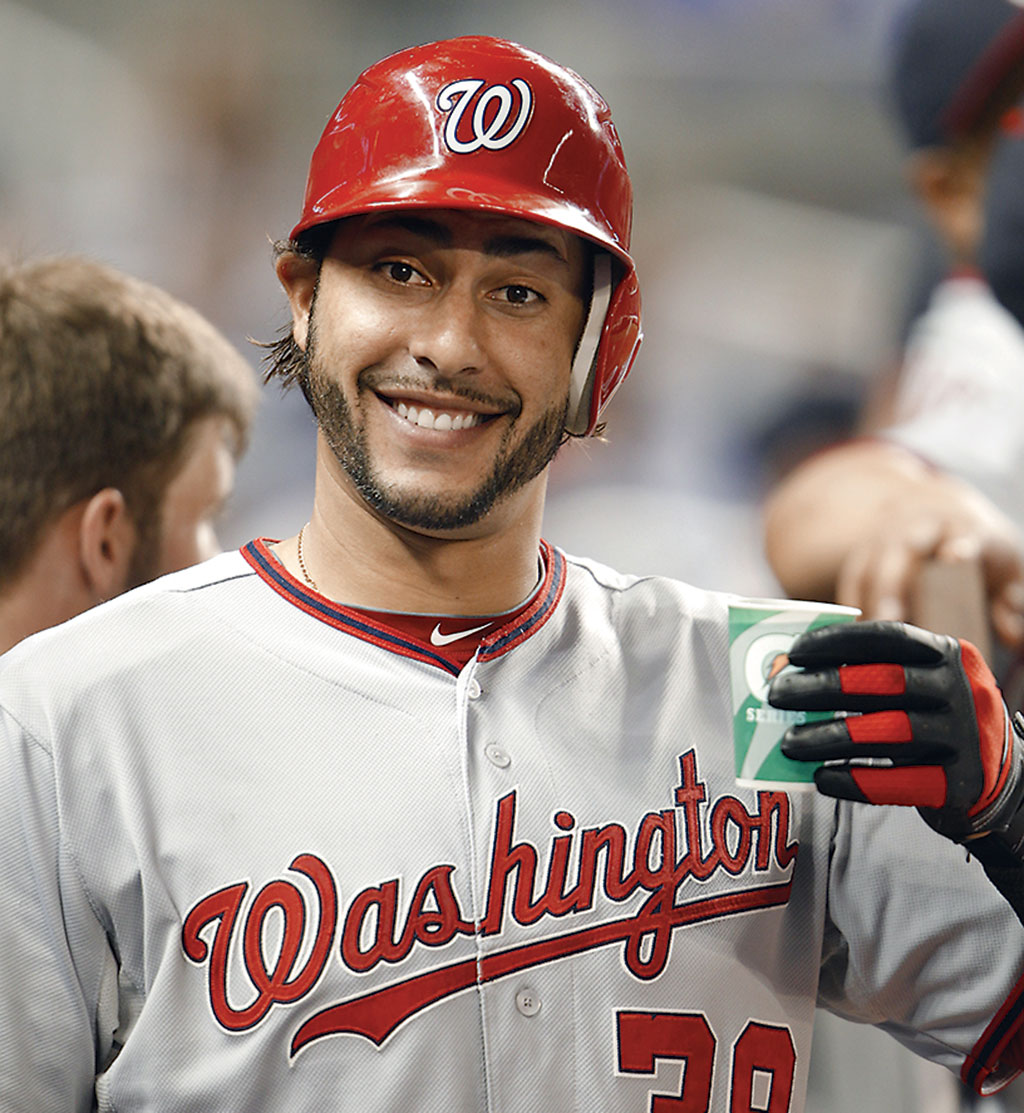 Statistically speaking, Morse was only a little better than average. But there's no stat that captures the genius of a guy who walks to the plate to the sound of A-ha's "Take On Me" (and gets crowds to sing along) or the way he consoled fans on Twitter after the brutal 2012 playoff exit.
Ryan Zimmerman
2005–present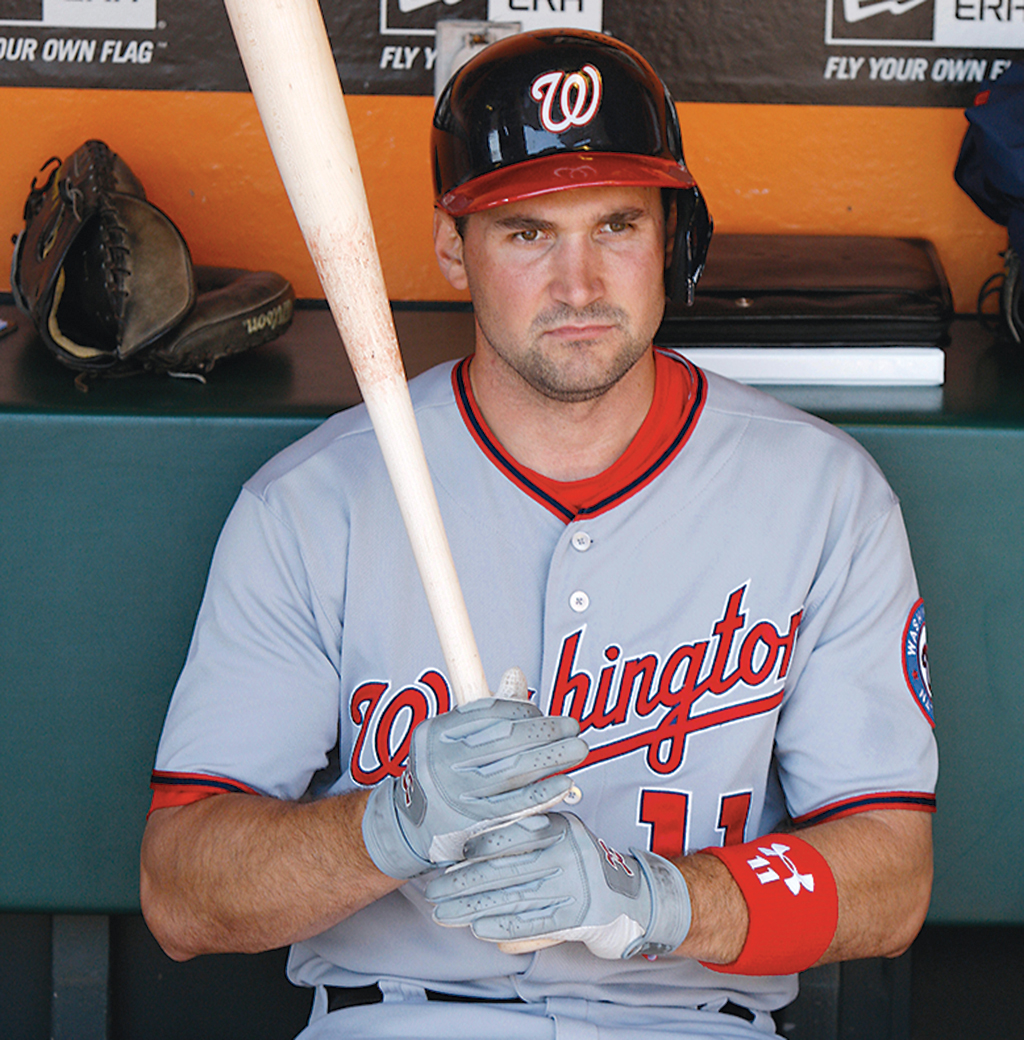 The third baseman turned first baseman has been in DC almost as long as the team itself—and actually lives here year-round. During the off-season, he can be found at the nonprofit Food & Friends packing up meals for needy families.
Jordan Zimmermann
2009–15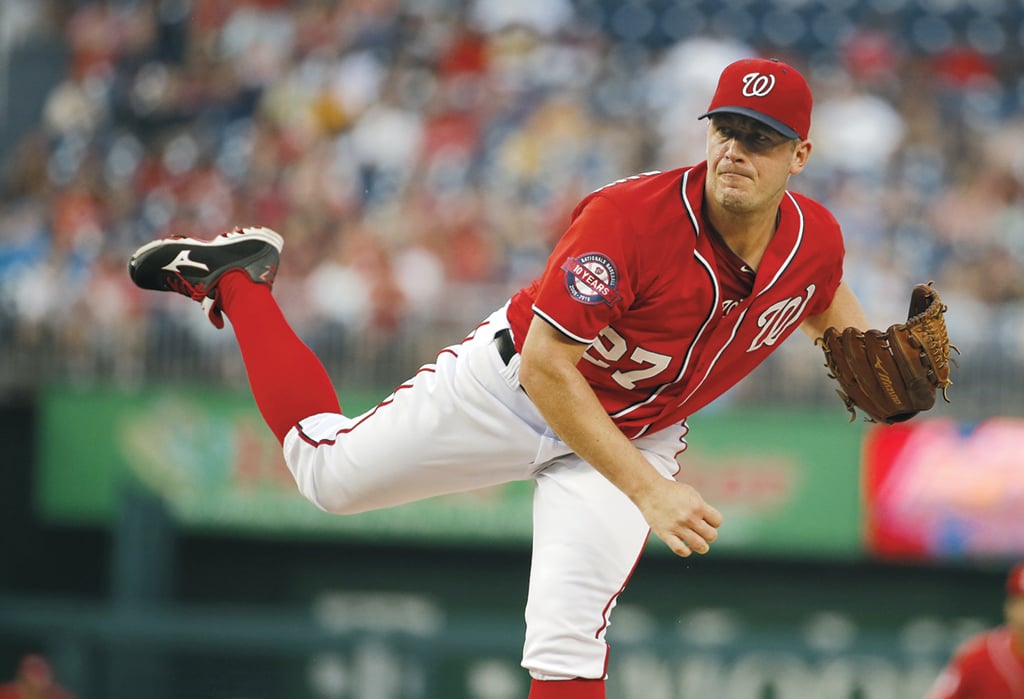 Stephen Strasburg was the more famous prospect, but it was Zimmermann who threw a no-hitter on the last day of the 2014 season. If only Matt Williams had trusted him to finish Game 2 of the NLDS a week later.
Max Scherzer
2015–present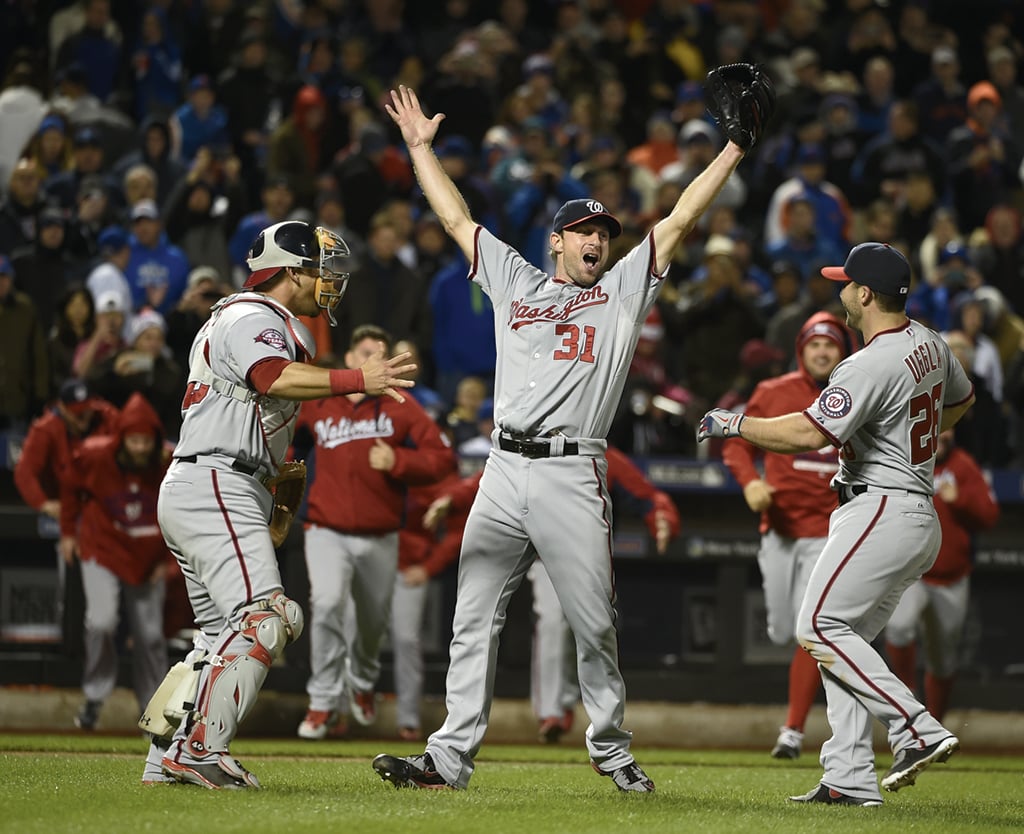 The Nationals have three no-hitters in their history. Scherzer pitched two of them—in his first year with the team. We should rename streets after this guy.
Bryce Harper
2012–present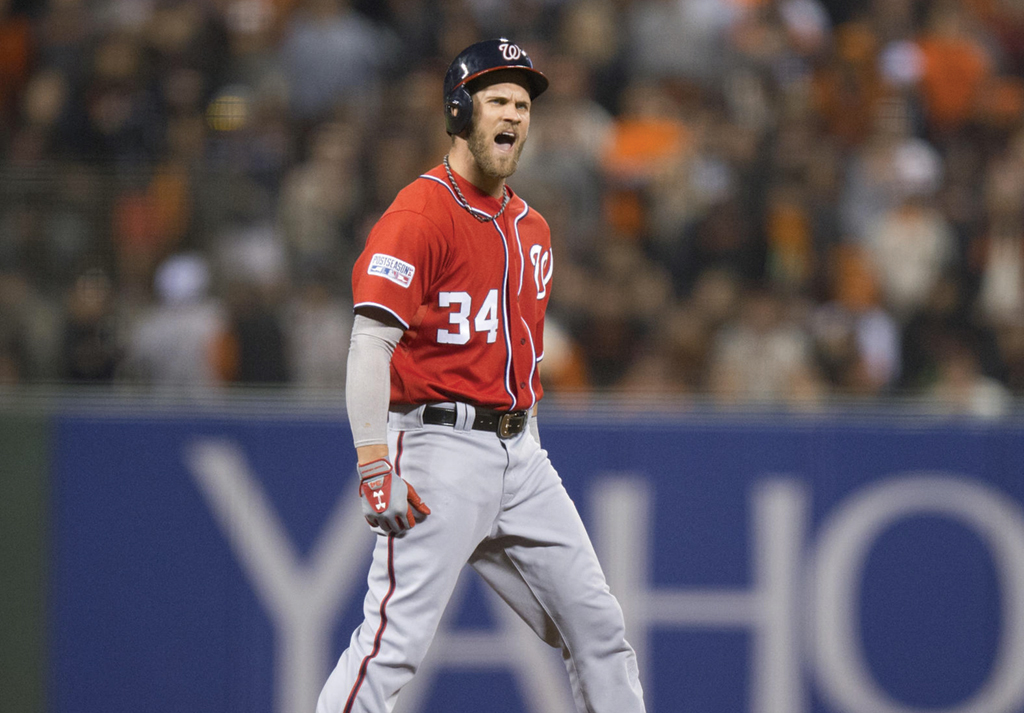 The average ballplayer has a personality about as lively as the wood in his bat. Harper is loud, flashy, and arrogant—and he should be now that he's emerged as maybe the best player in the game.
---
Is It Ever Okay to Cheer for the Other Team?
A baseball-loyalty ethics handbook.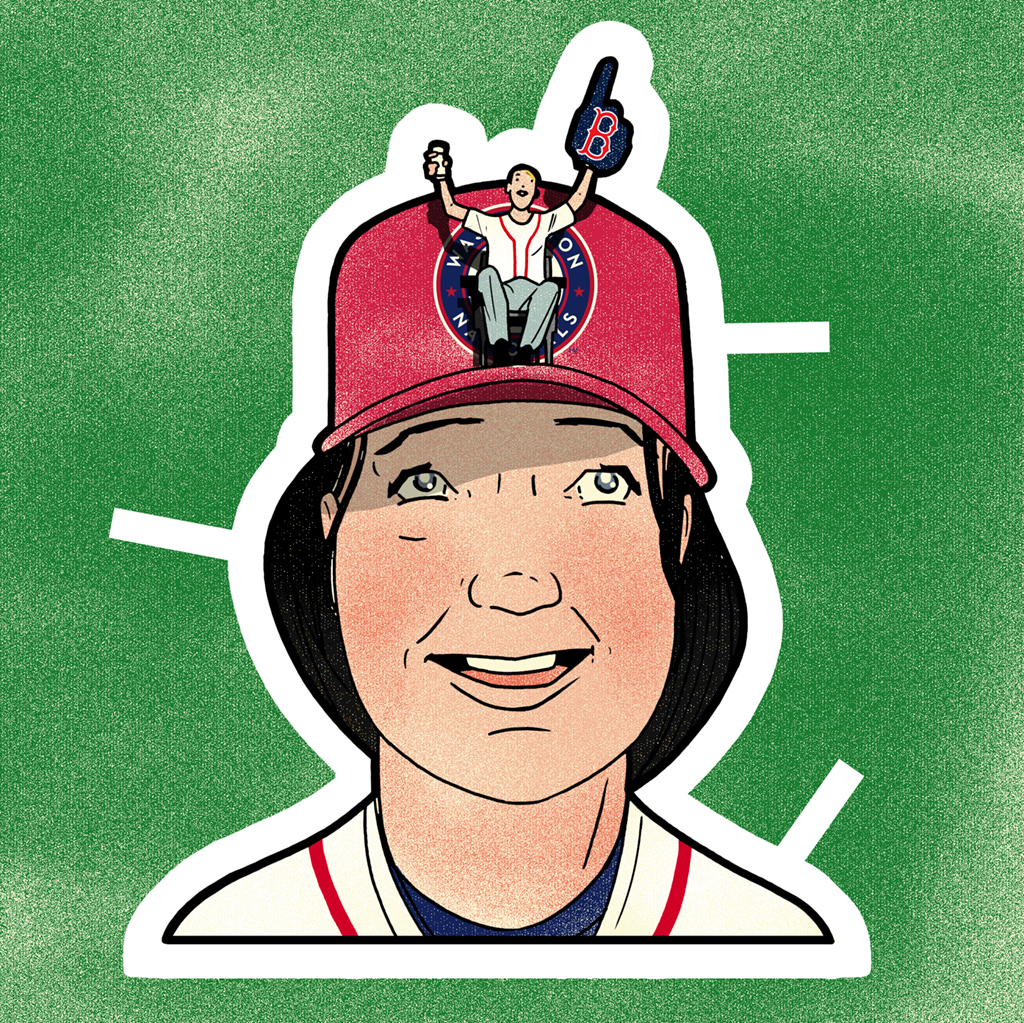 In some cities, the moral verdict on a local who cheers for another team is swift and certain. Just try wearing a Yankees cap in Boston and you'll get the picture very quickly.
In Washington, though, the calculation is more complicated. For one thing, it's a city that draws people from across the country, which gets in the way of the tribalism that defines older baseball towns. For another, it's a city that didn't have a ball club for three decades, which gives even longtime Washingtonians permission to bind themselves to teams elsewhere.
Should we expect folks to sever those ties now, or at least hide their visiting-team caps when they go to a game? Here's a quick guide to cheering ethics:
If you grew up elsewhere and retained your home-team loyalty, you're cleared to root against the Nats. It's in your blood, and switching might well be a sign of poor character. "There are some people—I'm one of them—who feel the team you grew up with is your team forever," says Fred Frommer, a baseball historian.
Things are more complicated, though, for longtime residents who fell for another team during DC's baseball drought. If you embraced another team in the National League East—the squads that play the Nats at least 18 times a year—you really should switch allegiance unless you have some connection to the other team's town. There's no way to be a fan of two division rivals. On the other hand, if your chosen team is outside the division, it's all right to have a kind of double loyalty. No one gets hurt in the process.
One exception to the rule: the Baltimore Orioles, DC's de facto hometown team until 2004. Here, Washingtonians have a stark choice—either keep loving them the way you did all those years or flat-out hate them because their owner conspired against our town's efforts to land a team. But don't oscillate based on which team is doing better. That's an ejectable offense.
---
Hall of Lame: Who Are the Worst Nats Ever?
Dan Haren
2013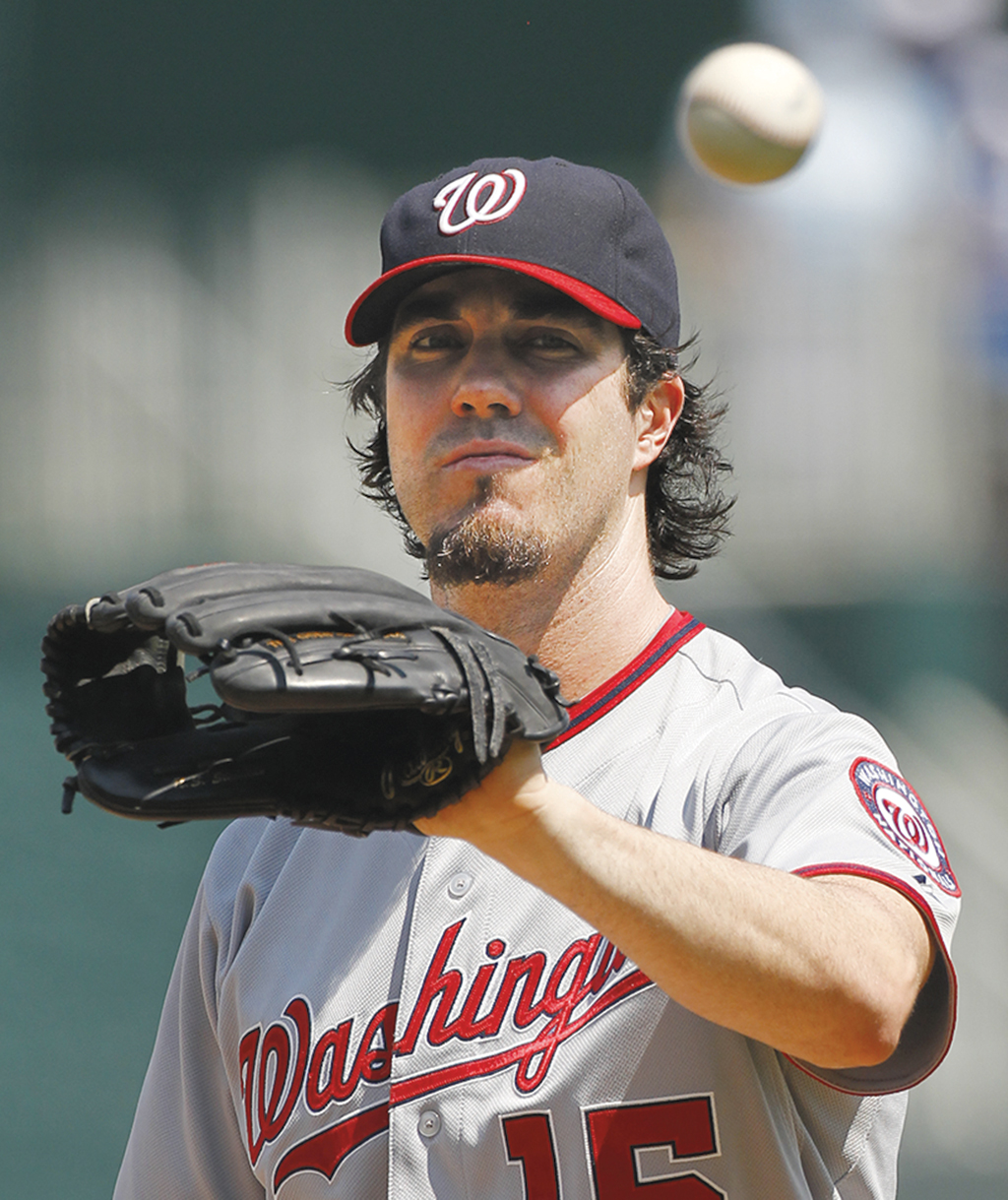 Signed to a one-year, $13-million contract, Haren started the season with a most unimpressive 4–14 record and 5.79 ERA. He blamed being away from his family in California.
Drew Storen
2010–15
Storen actually lived in town—Capitol Hill, Penn Quarter, Georgetown—which made him seem cool. Less cool: the infamous blown save in the 2012 playoffs that ended the Nats' season and broke fans' hearts.*
*Counterpoint: Storen was third in the league in saves as of last July, when his own team jobbed him out of the closer's role for Papelbon.
Scott Olsen
2009–10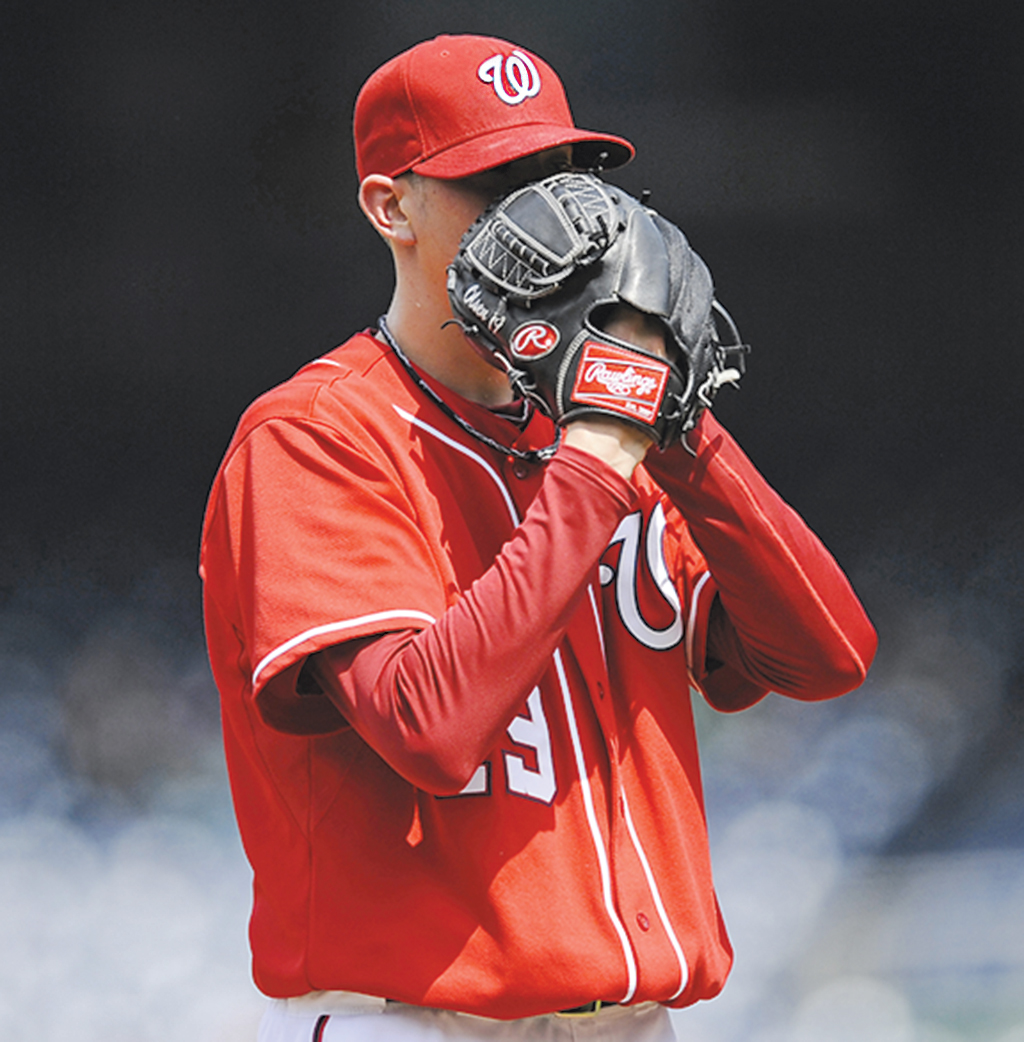 The Nats traded a trio of prospects to get this pitcher from the Marlins. His biggest accomplishment between his frequent injuries might have been his half-pack-a-day smoking habit.
Nyjer Morgan
2009–10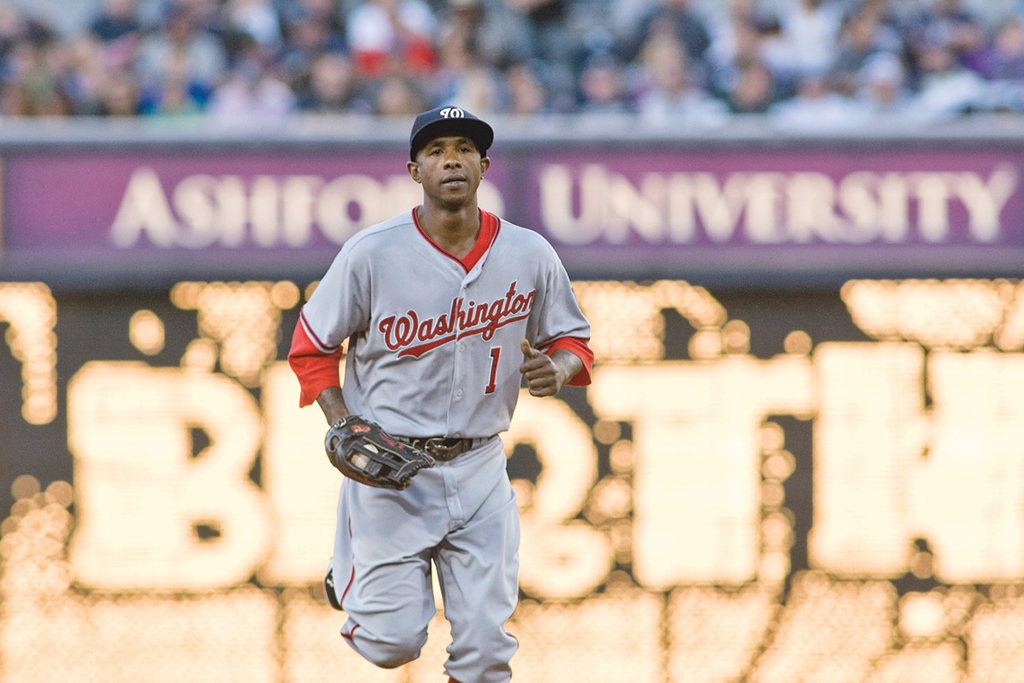 This hot-tempered outfielder was a decent-enough hitter and base-runner—but most of the time he was too busy stoking Tony Plush, his swaggering alter ego, who was better known for missing fly balls, starting brawls, and once beaning a fan with a ball to the head.
Jonathan Papelbon
2015–present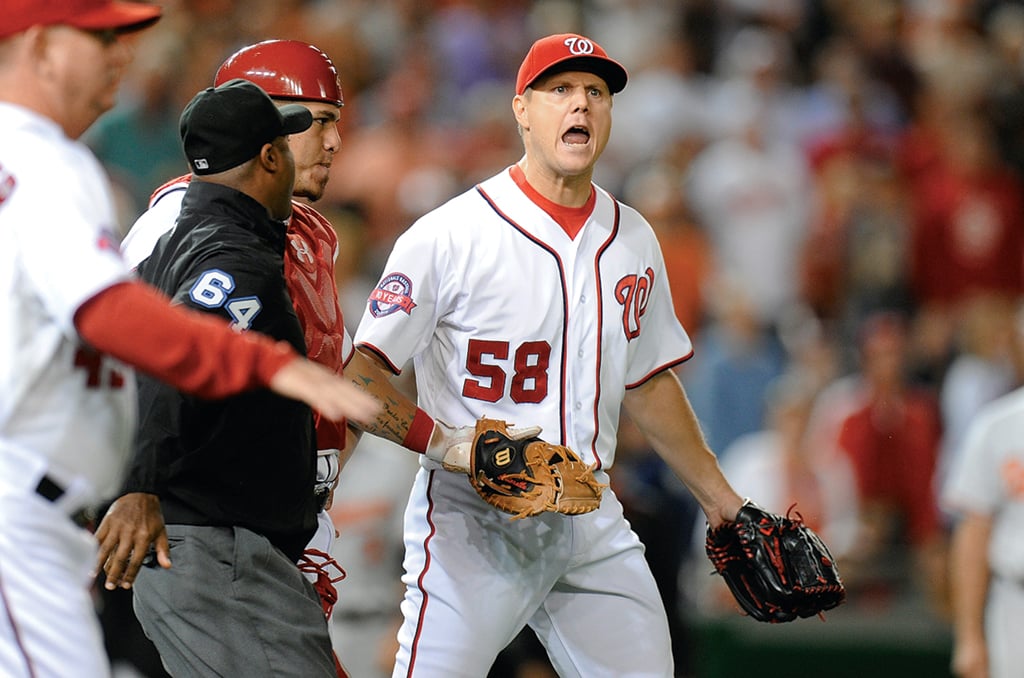 It doesn't matter if he saves 40 games this year. Or 50. He'll always be the chump who choked Harper. Also, what kind of lunkhead tries to show up to a press conference to apologize while wearing a muscle shirt that says "Obama can't ban these guns"? Papelbon.
This article appears in our May 2016 issue of Washingtonian.