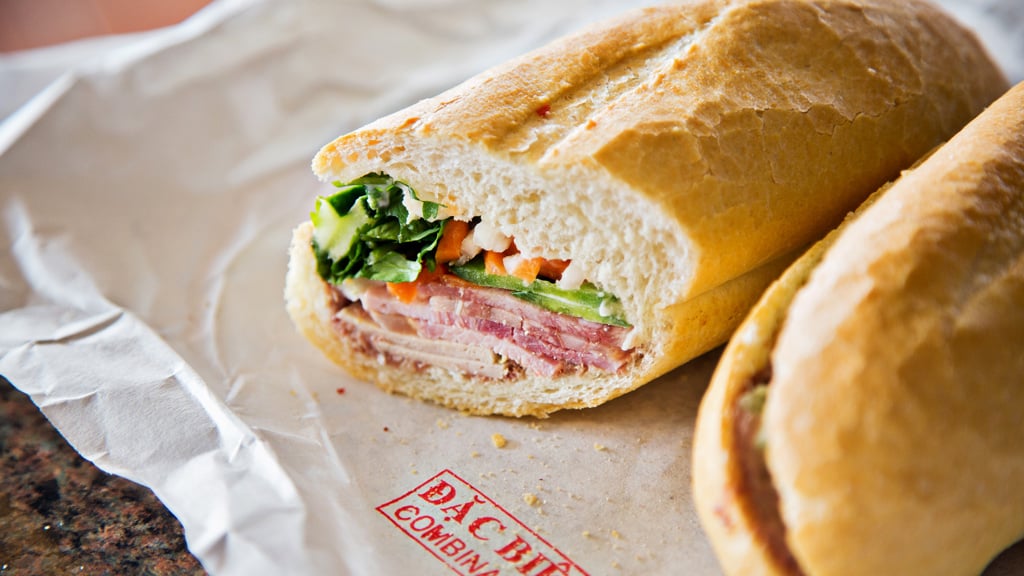 3103 Graham Rd., Falls Church; 703-205-9300
It's too bad there's no place to sit, because these sandwiches deserve to be lingered over—though just try not to down the whole thing in less than five minutes. The bánh mì, an ingenious mingling of East and West, takes as its starting point the baguettes and pâtés that are the basis of every French picnic, lightens them (the baguettes are made with rice flour, the pâtés thinly spread), and then piles on the ornamentation (cilantro for aromatics, pickled carrot and daikon for tang, chilies for heat). What makes these particular subs so good is that the baguette is as crunchy as it is light, and warmed before assembly. The embellishments are also unfailingly fresh and crisp.
Also good: Bánh mì #1 (cold cut); bánh mì #2 (roast pork).
6795 Wilson Blvd., Falls Church; 703-538-5289
With its looming flat-screen tuned to CNN and glaring fluorescents, this Vietnamese spot looks more like a mani-pedi joint than somewhere you'd want to have dinner. But bypass the place based on looks and you'll miss out on one of the best reasons to visit the restaurant-crammed Eden Center. Dishes arrive in rapid-fire succession, so you might find yourself juggling appetizers and entrées. Still, don't stint on either. This is a kitchen that handles so many things with skill—shattering-skinned spring rolls, tender nubs of shaky beef, a textbook bánh xèo crepe or gingery sauté of clams—that it'll likely take you as long to decide what to order as it will to eat.
Also good: Garden rolls; cha ca thang long (fish with turmeric and dill); bun cha Hanoi (Northern-style grilled pork with vermicelli).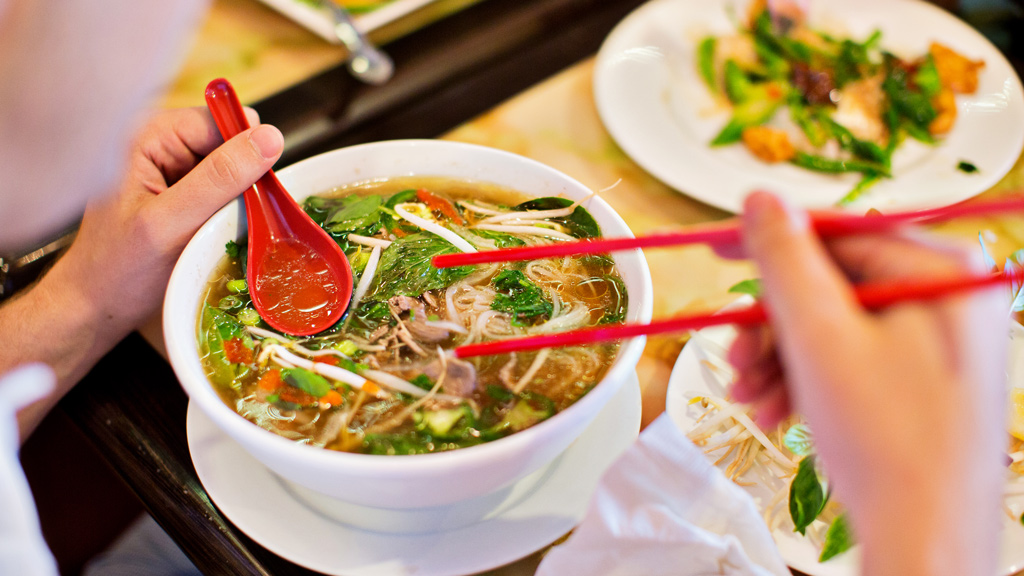 6785 Wilson Blvd., Falls Church; 703-538-7110
Diners crowd around the tables at this Eden Center storefront, even on weekdays. The reason? It's a place that does many things well—and the menu goes on for pages. Bánh xèo, the oversize crepe laced with shrimp and pork, is crispy and light. The lineup of caramelized meat, seafood, and poultry casseroles—we especially like the versions with pork and black pepper and with chicken, lemongrass, and chilies—doesn't lean too sugary. And we could linger for hours over the soups, whether a spicy Hue-style beef brew or a sweet-sour tureen of catfish in a tamarind-infused broth. House-made lemon soda is the drink of choice, and Vietnamese iced coffee, with its dollop of sweetened condensed milk, easily doubles as dessert.
Also good: Lotus-root salad with shrimp and pork; spring rolls; grilled pork over vermicelli; beef-stuffed grape leaves with peanut sauce.
2407 University Blvd. W., Wheaton; 301-929-2822
In this era of abbreviated communications, here's one to remember: M9. That's the designation on the menu at this quick Vietnamese cafe for a gigantic bowl of egg-noodle soup. Don't bother with the thin strips of beef massed near the top—this is not about the meat. It's not even about the tangle of egg noodles, which have great spring. It's about the broth, a tongue-coatingly rich extraction of beef fortified with dried shrimp. Voilà—surf and turf in liquid form! Mi La Cay is no one-hit wonder. You'll also find the best bánh mì outside of Falls Church and a slew of small, simple plates that deliver unexpectedly big flavor—lacquered quail with lime dip, say, or tightly bundled grape leaves packed with beef, onions, and black pepper and plucked hot from the grill.
Also good: Cold-cut bánh mì; egg noodles Phnom Penh with soup on the side; bun bo Hue (spicy beef noodle soup); iced Vietnamese coffee.
6757 Wilson Blvd., Falls Church; 703-534-1657
Hidden along a dim hallway in the maze-like Eden Center, this folksy Vietnamese cafe is worth taking the time to seek out. The kitchen excels across the board. Bánh xèo, the seafood-and-sprout-studded crepe, is lighter and crisper than most. Summer rolls of barbecue or shredded pork come overstuffed with mint and lettuce. Rice and rice-noodle dishes sport a variety of savory toppers such as lacquered quail and sweet-salty marinated pork. Soups are heady bowls—try the hu tieu with shrimp, barbecue pork, and egg noodles. To drink, there's fresh-squeezed lime soda—we like to get it unsweetened and add just a bit of sugar. When you're done, the herbal-medicine shop across the way makes for a fun detour. You can stock up on items like licorice root, said to be good for digestion.
Also good: Baby clams with rice crackers; young-lotus-root salad; vermicelli with pork-stuffed grape leaves.
10478 Baltimore Ave., Beltsville; 301-931-8128
If you haven't eaten a lot of pho, the broth in a bowl of the Vietnamese soup might appear to be not so different from place to place. It's a subtle thing, but take a closer taste and you'll see that some broths are watery or thinly extracted, some are strong with hits of cinnamon and star anise, some are almost consommé-like in their lightness. This one's rich—the most fortified and full-bodied we've come across, testament both to the quality of the oxtails that give up their flavor and fat and to the care of the kitchen in tending the elixir over the many hours it takes to simmer on the stove. It's an addicting bowl, no matter what meats, garnishes, or condiments you customize it with.
Also good: Pho with gau (fatty brisket) and gan (tendon); pho with chin (well-done steak) and nam (flank).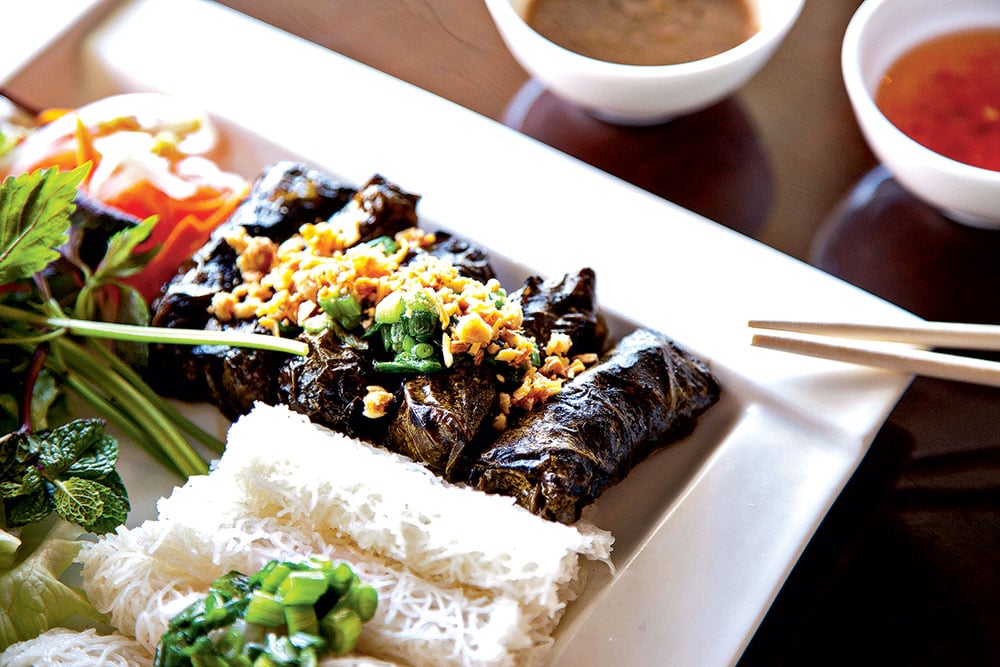 6775 Wilson Blvd., Falls Church; 703-538-3888
The truth is you could stand blindfolded in the Eden Center—a restaurant-rich shopping mall that amounts to a Little Vietnam for the region—point in any direction, and probably get a good meal. There are shops specializing in pho, bánh mì, bánh cuon, mock meat, bánh xèo, and bun bo Hue, to name just some of the staple dishes that define the extraordinarily diverse culinary culture of a country smaller than some US states. One of the great pleasures of Rice Paper is that it's a kind of mini–Eden Center, bringing together all those tastes under one attractive roof as well as an encyclopedic range of dishes from northern, southern, and central Vietnam. It's not just volume and breadth, though, that make the place great. It's the consistency of the cooking and the quality across the board—the bright, popping salads; the delicate, crunchy crepes; and the clay pots of meats and fishes that somehow manage to hit every pleasure center of your brain at once.
Also good: Bánh xèo (pork-and-shrimp-stuffed crepe); bun cha (grilled pork with rice noodles); caramel pork; grape leaves with rice paper; clam-and-pork hash with sesame crackers; jackfruit smoothie.
See what other restaurants made our 2016 Cheap Eats list. This article appears in our May 2016 issue of Washingtonian.