305 N. Washington St., Rockville; 301-251-6652
It tells you something that on a menu encompassing dim sum; dumplings (there's a special window to watch the cooks stretch and roll the dough); and Cantonese, Szechuan, and Taiwanese dishes, one of the most winning items is the simplest: a plate of snow-pea leaves. They hit the table tender and crunchy, the slight vegetal bitterness leavened by generous spoonfuls of fortified cooking liquid. When it's on—and lately it has been very on—Bob's delivers this degree of effortless excellence across the board, in teeming bowls of delicately wrought soups that are best shared with a group, in the tender soup dumplings known as XLB (pierce the top and slurp the hot broth inside before eating), and in stir-fries without even a smidge of excess oil.
Also good: Pan-fried pork buns; shrimp in chili sauce; spicy beef tendon; sour-cabbage-with-pork-belly pot; shredded pork with Chinese celery; shredded pork with green-mustard soup.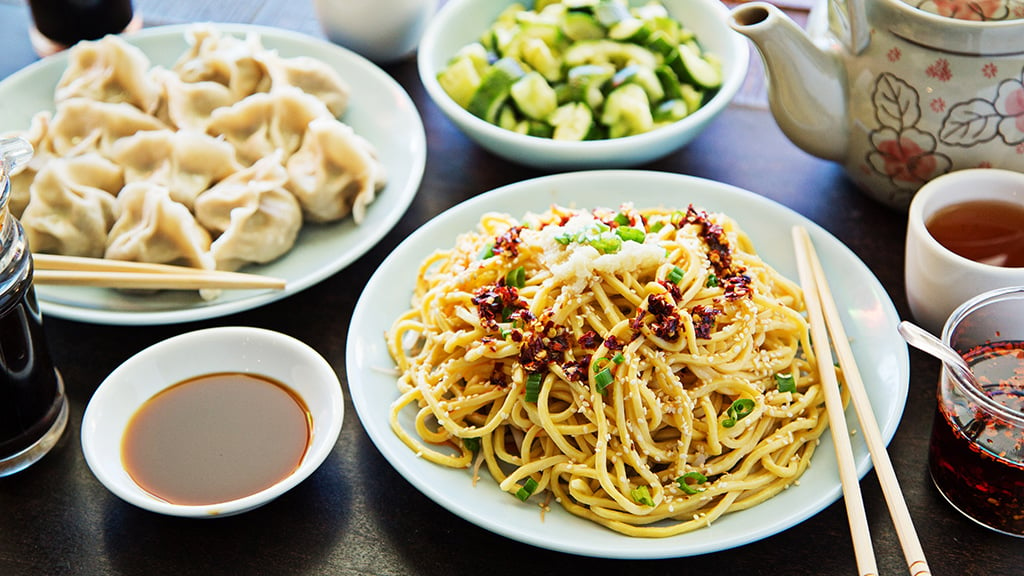 755 Hungerford Dr., Rockville; 301-294-0808
China Bistro is the English name—the Mandarin characters on the sign out front mean "Mama's Dumplings." Not that you should expect Mama herself in the back, toiling over floured balls of dough: The name refers not to a maternal guru of the age-old craft but to the home-style character of the dumpling-making, which eschews elegance and lightness in favor of heartiness and chew. The wrappers are plenty supple, the fillings always fresh and light even when they make use of meat (we gravitate to shrimp-and-chive and beef-and-celery). To maximize the experience, ask for a portion of chili sauce, mix a little into your soy-based dumpling sauce, and dip away.
Also good: Pork-and-chive dumplings; garlic cucumbers; cold sesame noodles; Singapore noodles.
16805 Crabbs Branch Way, Rockville; 301-963-1570
The menu at this no-frills restaurant is voluminous, covering Cantonese and Szechuan cuisines along with Chinese-American standards (think crab Rangoon) and more arcane finds (bullfrog with yellow chives—far more delicious than it sounds). But the dishes that keep us coming back are the chili-stoked Szechuan preparations: thin-skinned dumplings with a slick of fiery oil, chili-flecked green beans stir-fried with bits of pork, jerky-like strips of spice-rubbed dried beef, and mapo tofu, a fragrant tureen of pork and silky bean curd with a torrent of peppers. Tamer plates such as snow-pea leaves with garlic, bacon with smothered leeks, and salt-and-pepper fried fish are worthy—and for many of us, necessary—counterpoints to all the heat.
Also good: Kung Pao chicken; shrimp-dumpling soup; scallion pancake.
9600-G Main St., Fairfax; 703-323-8822
This strip-mall mainstay has the feel of an old-time Chinatown restaurant, with families gathering around steaming tureens and platters and a menu that goes on for pages. Though all the greatest hits of neighborhood Chinese carryouts are here, there's much more to the place. Focus on the Szechuan dishes, perked up with the likes of garlic, chili, ginger, and peppercorns. That means wontons in broth with a flotilla of chili oil, or salty-sour green beans with pork, or a delicious plate of fried eggplant studded with slivers of ginger. Don't miss the puffy scallion pancake, which is lighter than most and makes a nice accompaniment to the spicy stuff.
Also good: Szechuan chili chicken; sautéed flounder with tofu and chili sauce; cumin lamb; mapo tofu.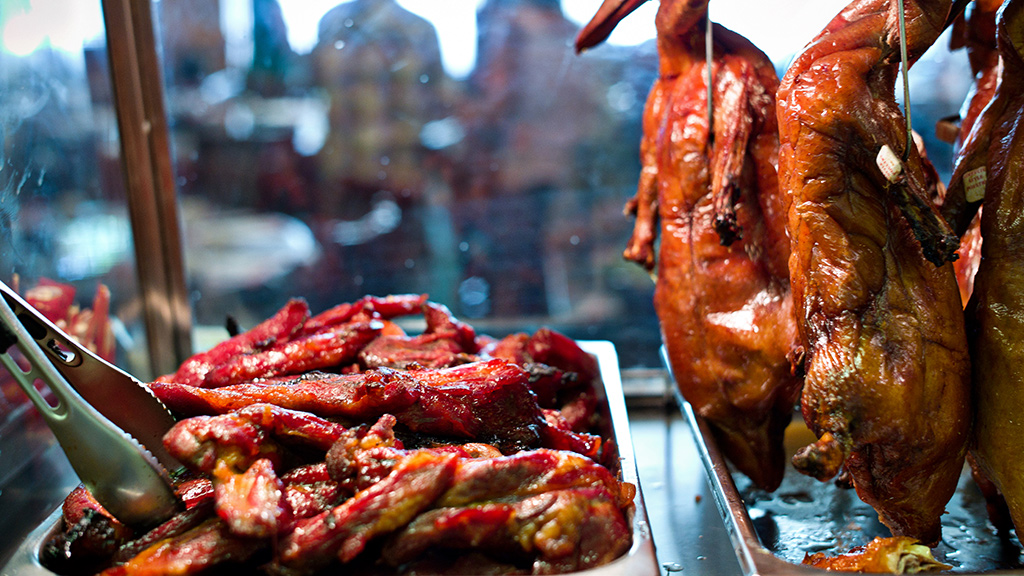 2227 University Blvd., Wheaton; 301-933-8388
Regulars know that the soy-sauce chicken, roast duck, and roast pork that hang enticingly in the glass case here sell out fast on weekends, so it's best to call ahead to reserve orders to eat in or take out. But all is not lost if you don't snag a taste of those delicacies—the long menu at this snug Chinese dining room has other lures. A flavorful Cantonese-style soup bobs with marvelous dumplings stuffed with bits of shrimp, pork, tree-ear mushrooms, and white pepper. And the kitchen has a way with greens. Depending on the season, you might find stir-fried snow-pea leaves, watercress, or Chinese spinach.
Also good: Beef-with-black-pepper casserole; soy-sauce noodles; salt-and-pepper shrimp; clams in black-bean sauce.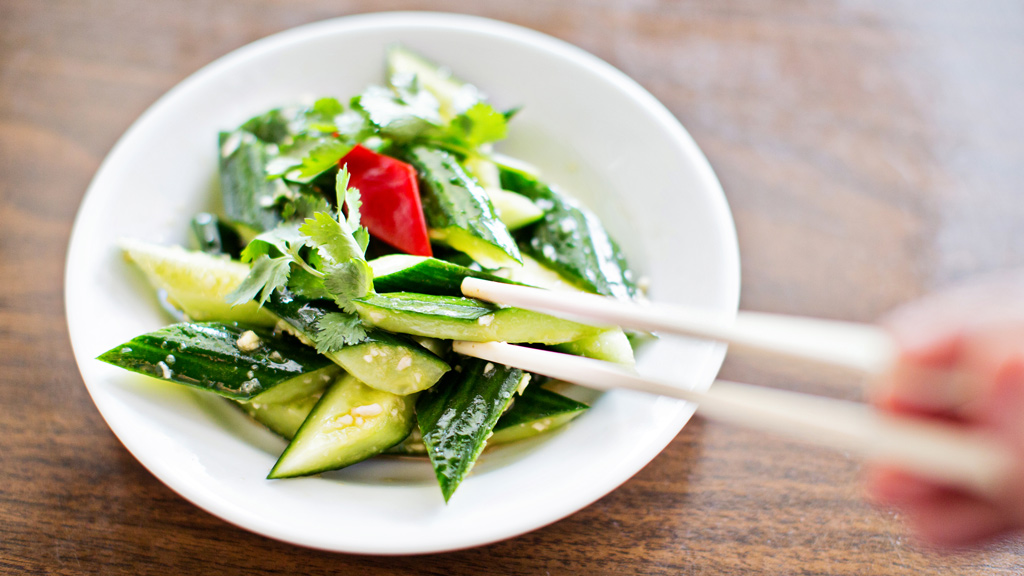 6387 Seven Corners Center, Falls Church; 703-532-0940
Restaurateur Liu Chaosheng (also behind Uncle Liu's and China Jade) continues to build his Szechuan empire—a high-end Tysons venture is expected this year—but we keep returning to this reminder of his humble beginnings. Little has changed in the plain strip-mall dining room, where plates of cumin lamb and dried chili-fried chicken remain bountiful—even by family-style standards—and specials are handwritten in Mandarin on the wall (ask the waitstaff to translate, for tasty results). Though dishes arrive in a haphazard order, don't miss appetizers such as wontons in fiery chili oil.
Also good: Mapo tofu; Chengdu salt-and-pepper shrimp; sesame balls; green-bean leaves with garlic.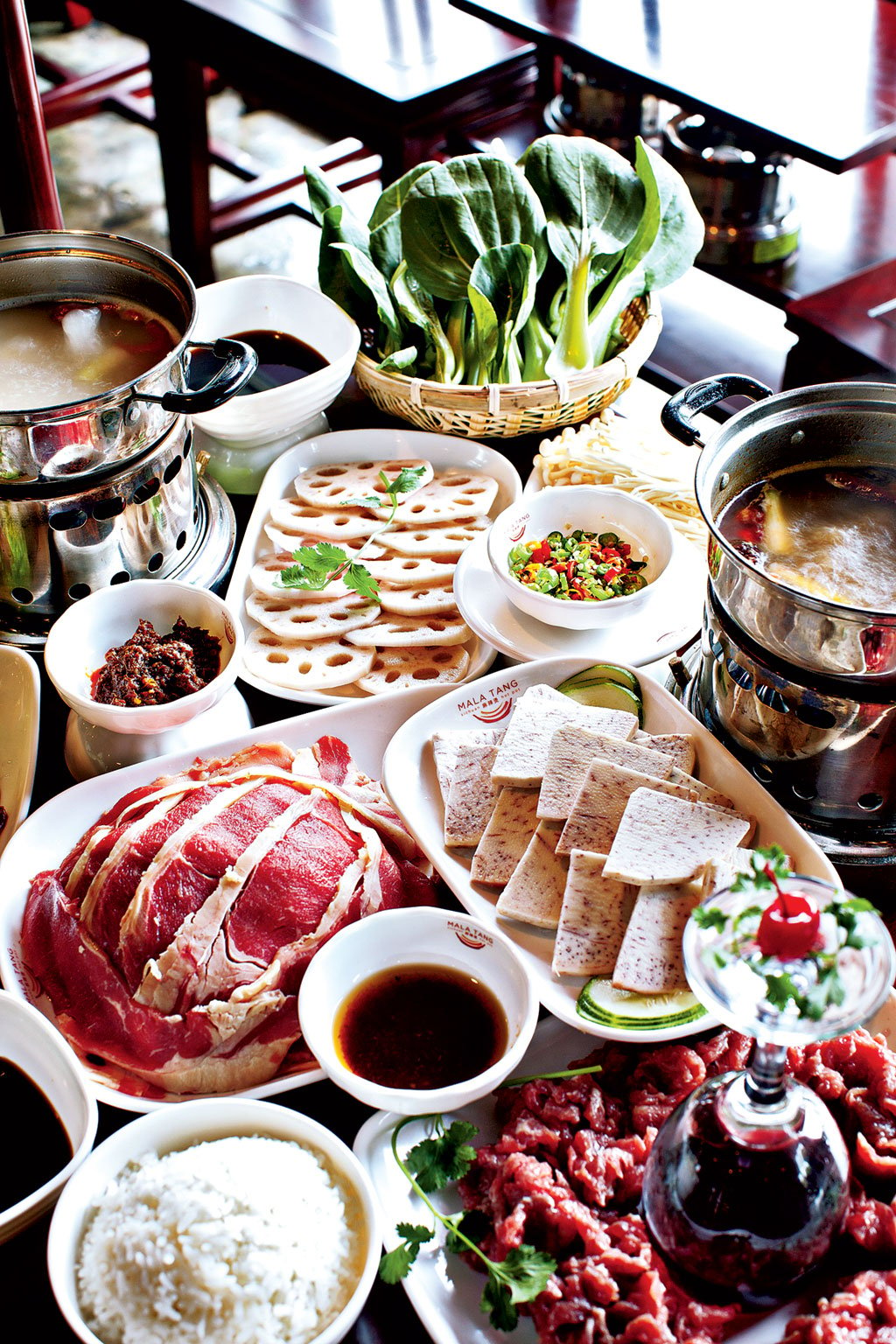 3434 Washington Blvd., Arlington; 703-243-2381
You'll eat to the tune of bubbling hot pots at this Virginia Square dining room. The waitstaff urges a cauldron per person, filled with simmering stock in which diners can cook an à la carte array of meats, seafood, and vegetables—we found that a single order for two to three people works perfectly well, and you'll have more room to sample from the expansive Szechuan menu. The fare is both spicy and drink-friendly—large-format beers are offered for a reason. Opt for the "Mala (spicy)" broth, and round out the meal with garlicky dan-dan noodles, tender wontons in chili oil, and crisp-edged scallion pancakes.
Also good: Pork buns; mapo tofu; hot pot with wine-marinated beef, lobster balls, and mushrooms.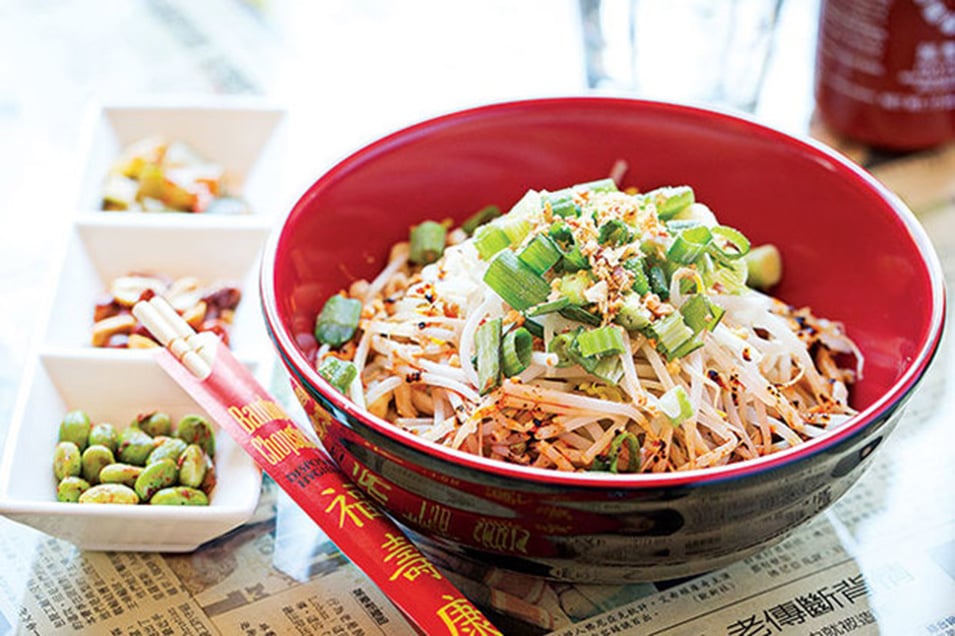 1200 East-West Hwy., Silver Spring; 301-585-6678
This zippy noodle parlor takes a pan-Asian approach to bao, those pillowy steamed buns that keep popping up all over town. Beyond the usual pork-belly and duck fillings (both done with flair), there are rave-worthy takes such as seared teriyaki Spam with mango salsa. The kitchen is even better with noodles. The Streets of Taipei bowl brings together hand-rolled strands with five-spice beef brisket, mustard greens, crispy garlic, and bok choy in a spicy beef broth. And pai gow—a tangle of noodles, ground pork, sprouts, and scallions tossed with soy sauce and chili oil—is lovely.
Also good: Chinese-sausage-and-garlic skewers; soba-noodle salad with nori, edamame, and ginger-wasabi dressing; bao with crispy chicken and Sriracha mayo.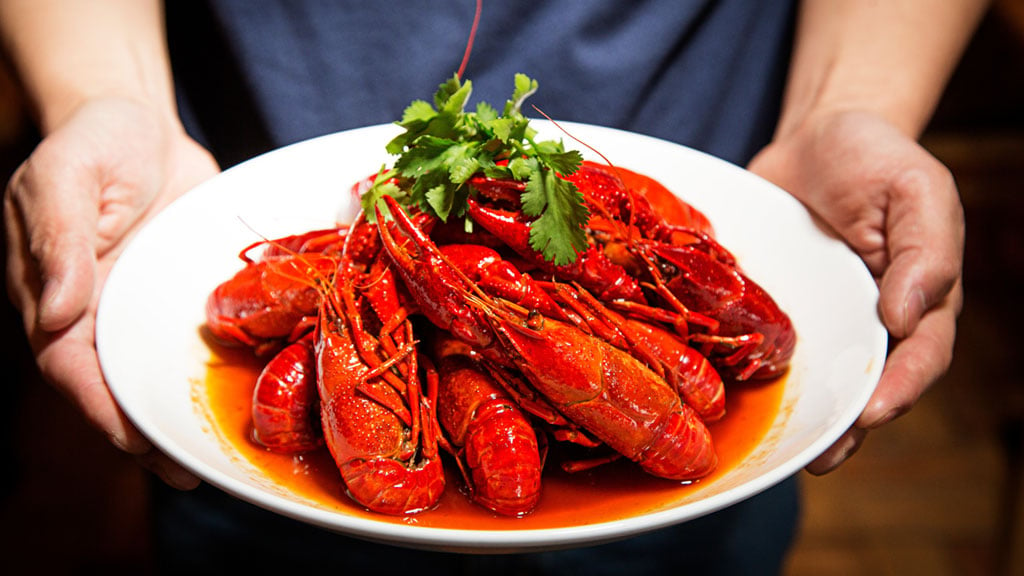 11213 Lee Hwy., Fairfax; 703-385-8686
If you're not familiar with Jiangsu cuisine, don't worry—this bright restaurant offers a delicious introduction (and a pictorial menu for easy ordering). Start with salted duck, a delicacy of the region—it's not "salty" at all but lightly cured to emphasize the bird's meaty flavor, and served in fat slices. Groups can splurge for one of the kitchen's head-turners: a whole "flower fish," scored crosswise and fried so it resembles a pinecone glazed in a sweet-sour sauce. Still, don't overlook humbler offerings like spicy cucumbers. The julienned slices arrive in a bright toss of garlic, chilies, and cilantro—a dish that makes you wonder why there aren't more Jiangsu restaurants around.
Also good: Spicy wonton soup; pork with hot garlic sauce; stir-fried string beans; fish in hot-pepper broth.
7313 Baltimore Ave., College Park; 240-714-4473
It's well established that there are legions of eaters who chase spicy food as if it were on the black market. Chili-heads, they're sometimes called, for their pursuit of the addictive high found in scorching renditions of Thai, Indian, or Szechuan cooking. To fully appreciate Hua Wang's little thing of a place, you need to be a tang-head. You need, that is, to love vinegar—specifically the complex depth of Shaanxi vinegar, a dark, earthy, faintly smoky liquid that punches up, for instance, her sour soup with tiny pork dumplings (a marvel, and only $6) as well as her "cold skin noodles," a plate of noodles, cucumbers, peanuts, and tofu that's so much more than just its core elements. For those who can't take that much brightness, there are also excellent burgers (with ground meats stuffed inside house-made rice-flour buns) and big, rewarding hand-cut-noodle bowls.
Also good: Boiled peanuts; spicy potato noodles; stewed pork burger; spicy lamb burger.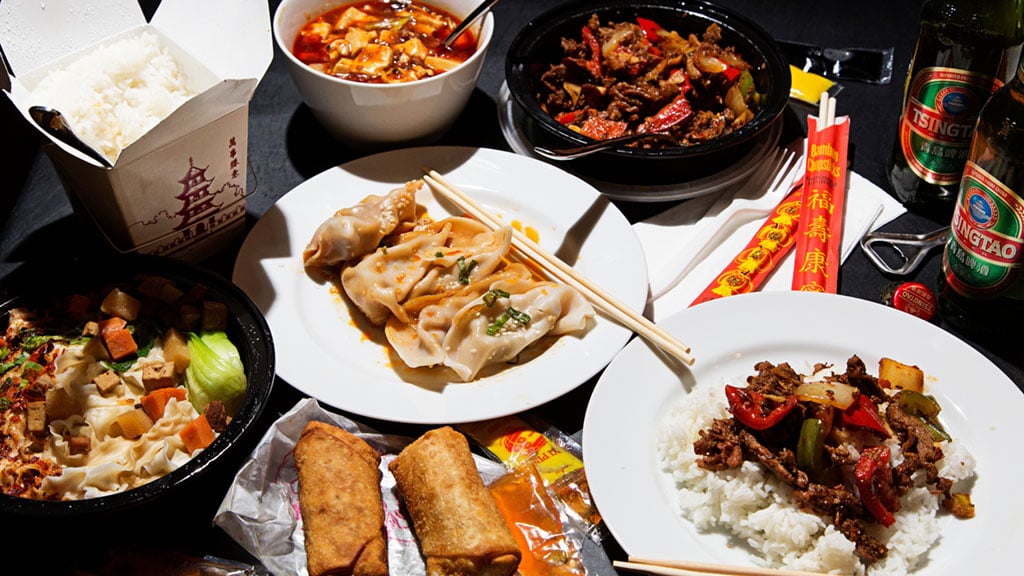 2700 New York Ave., NE; 202-534-1620
It's in a dingy-looking motel in Northeast DC, and the service—at best!—approaches a sort of gruff efficiency. But you're not here for niceties; you're here for the superlative Szechuan cooking, which has a power and zing that none of the remaining restaurants in Chinatown can touch. The whiffs of cumin when you walk in should guide you—to the skewers of lamb that crunch with the fried, fragrant seeds or to an aromatic stir-fry of cumin lamb. Szechuan isn't one big lip-scorcher—the cuisine has a wide variety of moves, including burgers (sandwiched in crisp rice-flour buns) and noodle bowls—but many of the greatest rewards are in those dishes swimming in vats of red-chili oil, from a starter of pork dumplings to a mouth-numbing tureen of soft tofu and fish that could feed four.
Also good: Mapo tofu; biang biang noodles; cold-steamed noodles; dan-dan noodles; "fiery pot."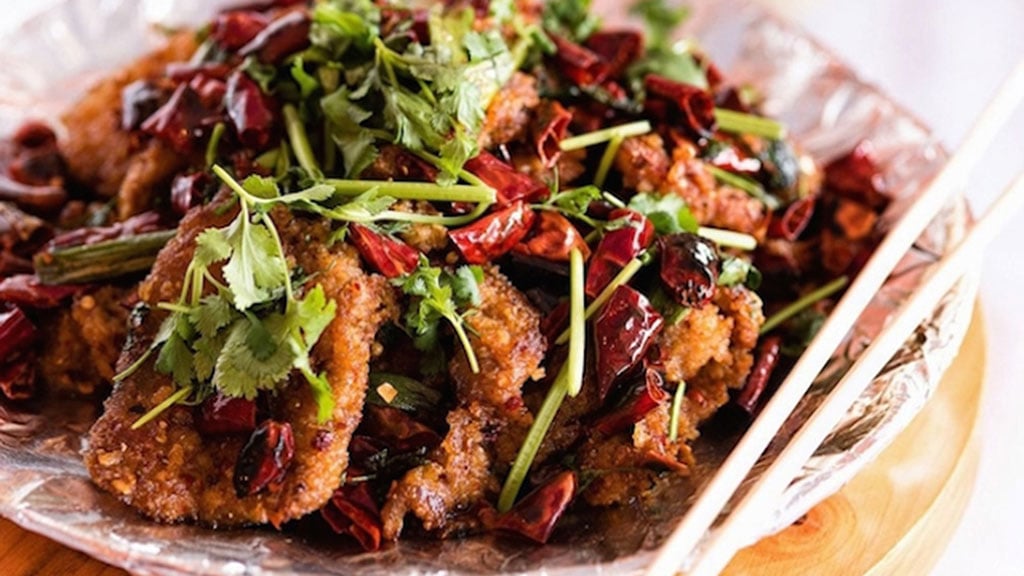 2503-E N. Harrison St., Arlington, 703-538-6688; 20-A Maryland Ave., Rockville, 301-838-9188
In the food world, Peter Chang has become the equivalent of Waldo, with devotees of the chef's sometimes magical cooking wondering, on any given night, which of his seven restaurant kitchens (from Richmond to Rockville) he's commanding. Here's one way to tell: Order the scallion bubble pancakes, which on a recent night at his Arlington outpost were every bit the showstopper they had been in his pre-expansion heyday—big and round and puffy as lanterns, without even a trace of grease. One misstep aside (an unremarkable duck special), the meal hummed along at that high level. There were stellar renditions of Chang's greatest hits—crispy cilantro fish rolls with fingers of lightly fried, cumin-dusted flounder plus a perfect mapo tofu that, even as the fiery pool of chili oil made our heart race, couldn't stop us from eating.
Also good: Grandma's Noodles; dry-fried eggplant; wood-ear mushrooms with Thai chili sauce; hot and numbing flounder in clay pot with tofu.
See what other restaurants made our 2016 Cheap Eats list. This article appears in our May 2016 issue of Washingtonian.