There are plenty of ways that Komi, the tiny, tasting-menu-only restaurant in Dupont Circle, stands out as an anomaly. It's been number one on our list of 100 Very Best Restaurants more than any other place. Owner Johnny Monis dropped out of culinary school and somehow parlayed a stint at Chef Geoff's into a career as one of the country's top chefs. Komi's service, polished and crisp while still laid-back and friendly, is the best in the city.
But here's the odd thing I've noticed after eating there year after year: I always see the same servers.
In a city perpetually sprouting new restaurants, and in an industry not known for loyalty, this is rare—servers and other staff tend to bounce around like gnats. Just not if they work at Komi or its sister restaurant, the Thai-focused Little Serow. Take the owners behind Tail Up Goat, in Adams Morgan: beverage director Bill Jensen (nine years at Komi and Little Serow), chef Jon Sybert (8½ years in the kitchen at Komi), and service director Jill Tyler (nearly four years at Serow). Of course, they eventually left Monis. But their solo effort shows that he didn't leave them.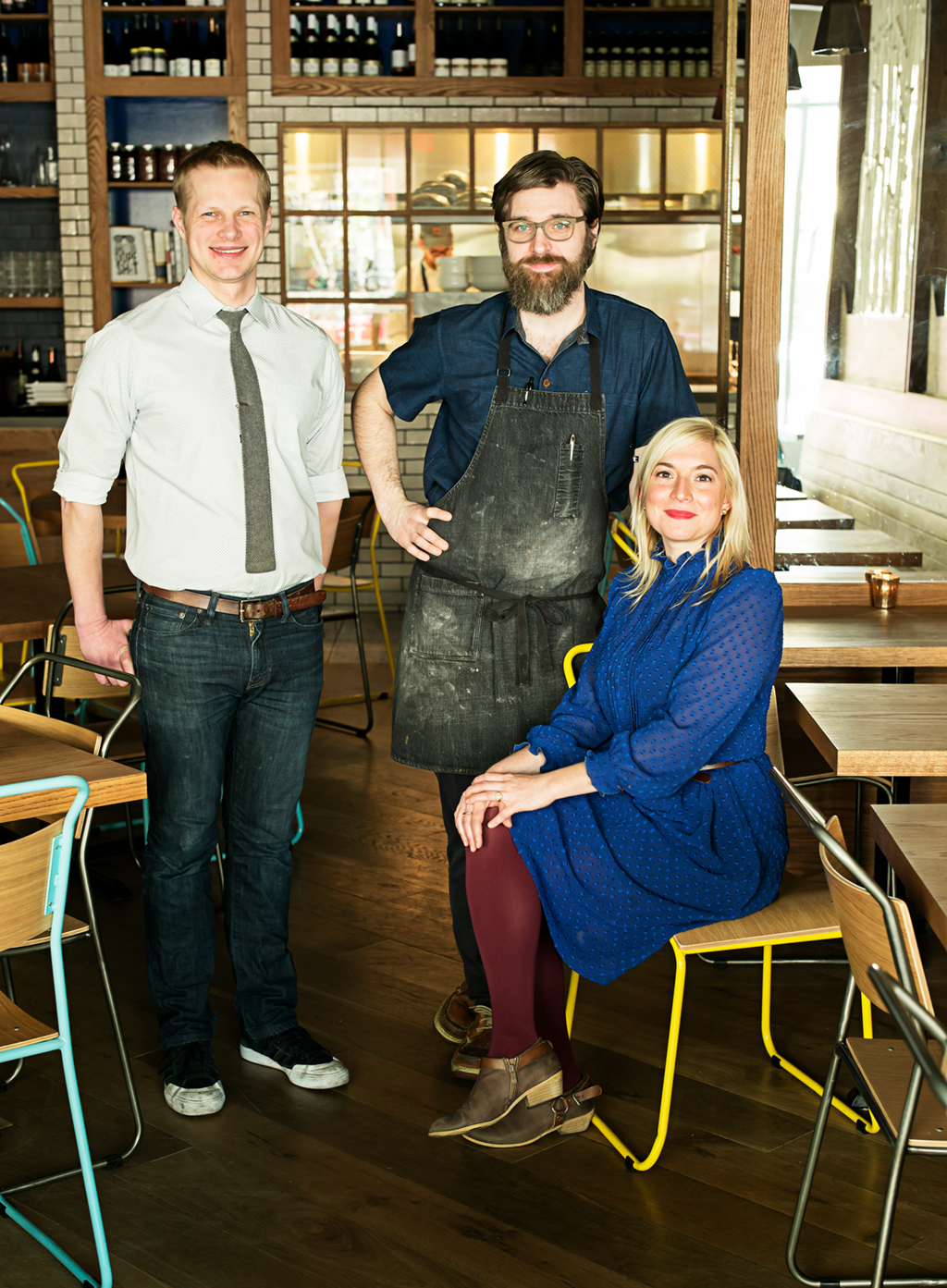 There are a few winking allusions to the owners' alma maters—the pale-blue walls recall the pool-hued Little Serow; an abundant heap of shareable lamb ribs conjures the generosity and communal spirit of the platter of baby goat at Komi—but mostly what has carried over are larger lessons: smart, warm service; thoughtful cooking with roots in the Mediterranean; and a dedication to the craft of making breads, pastas, even crème fraîche.
Each meal kicks off with a palate-priming shrub—a nonalcoholic, vinegary drink made by Jensen that comes in flavors such as apple-rhubarb and celery. (The latter gives Cel-Ray soda, the Jewish-deli staple, serious competition. I wound up ordering a full-size.)
The menu ditches appetizers and entrées in favor of a leisurely assemblage of snacks, pastas, and for-two plates of meats and fish. The shareable nibbles, many presented on blue-and-white grandmother plates, look fit for a cocktail party straight out of the matte pages of Kinfolk magazine. And in most cases, their flavors live up to their presentation.
Tiny, raw spring radishes are hollowed out, topped with tarragon-flecked Greek yogurt, and finished with crumbled gingerbread. I was tempted to hoard all six. A tepee of skewers spear nubs of rabbit-and-pork sausage and leaves of bracingly acidic marinated radicchio. ("We use whatever citrus is lying around the bar," Sybert says.) Finishing it off is a swipe of piquant fennel mostarda—Sybert cooks the fennel down for five days. My favorite, though, is something you won't want to share—a slider-size brioche holding house-made mortadella and tangy preserved-lemon aïoli. It's the best sandwich I've eaten all year.
A small section of the menu is dedicated to breads, the passion project of sous chef Jared Dalby. Chocolate and rye are two flavors Sybert had in a cookie years ago, and he and Dalby set about recreating them in loaf form. There's nothing sweet—or really, all that chocolaty—about the crusty charred chocolate rye that resulted, and it makes a terrific base for the fat, salt-baked sardines that arrive with it. Slather the bread with soft butter, layer it with pickled beets, then top it off with hunks of the surprisingly unfishy fish. The chefs get even more creative with the accompaniments for silky-textured brown-rice bread, which comes with fermented and raw turnips and hazelnut picada, a condiment made from garlic, spices, and mint. Each bite is by turns earthy and electric. Less successful: a seaweed sourdough with a thick cap of ciccioli, a fatty, bland pork spread.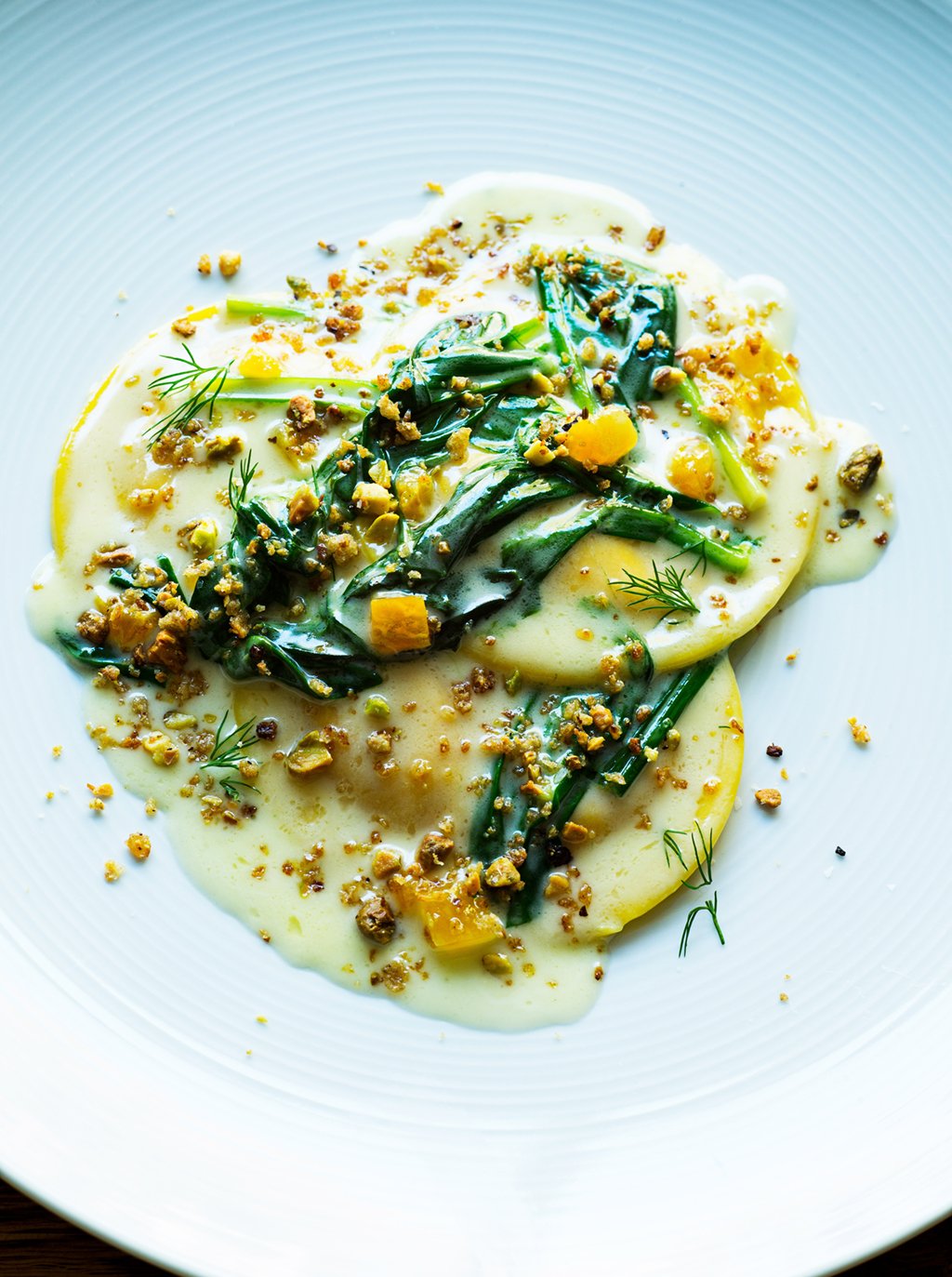 The kitchen lets no bread go to waste—it's the southern Mediterranean way—so you'll see it turn up on the latter half of the menu, too. An entrée of smoky hen-of-the-woods mushrooms is finished with a slightly bitter burnt-bread sauce. Toasty crumbles add subtle crunch to pastas such as a strapping goat lasagna or a beautifully sweet ravioli filled with carrot and mascarpone and strewn with ramps. Both are better bets than the server-hyped maltagliati, rags of pasta drenched in what tastes like a cupful of butter.
Many dishes are not to miss on Sybert's menu. But if there's one you really, really can't skip, it's those lamb ribs, served on a platter for two (though it could actually feed three or four). Sybert calls the dish "a little ballsy; it's a pretty fatty cut." His co-owners convinced him it was worth putting on the menu—now good luck ever taking it off. Sybert mitigates the ribs' fattiness by cooking them in the oven, then giving them a crispy finish on the grill. The ribs are piled on a plate with handfuls of mint, parsley, and dill and maybe fava beans or beets. Every bite catches something different—a fragrant herb or a sumac-marinated onion. It feels tossed off, the kind of thing you might happen upon during a boozy lunch along the Adriatic (then dream about long after vacation ends), but every ingredient is there for a well-considered reason.
Like Tail Up Goat itself, the dish is generous, fascinating, and soul-satisfying all at once. That's the kind of magic that happens with experience, not by accident.
This article appears in our June 2016 issue of Washingtonian.
---