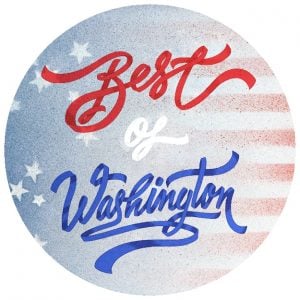 Best for Competing With Yourself
Before working out, participants strap on heart-rate monitors; height, weight, and age are used to calculate each person's target heart rate. Screens then allow class-goers to check their "zone"—green for a comfortable pace, orange for more challenge, red for full throttle—as they're taken through a series of interval workouts using treadmills, rowing machines, and strength-training equipment. The drive to stay in the orange zone—and even push yourself to red—can be addicting. Prices vary; one session costs $30 at the DC studio. Multiple area locations.
Best for Competing Against Others
You may not think stationary bikes can race, but that's exactly what they do in Flywheel's indoor cycling classes. A leaderboard shows the top ten women and top ten men, rankings derived from the resistance and rotations per minute on each bike. If you've got an ounce of competitiveness in you, you can forget about focusing on the music—all your attention will be absorbed in getting on the leaderboard and, once you've made it, climbing to the top with each labored push of the pedals. A class costs $28 (less when part of a package). 1927 Florida Ave., NW; 202-830-0755.
Best for Being Geeky About Your Fitness
While knowing your VO2 max, body composition, and metabolic rate might not be necessary for the average Jane who just wants to shed a few pounds, this gym's BLAST Profile testing (which starts at $195) will be catnip to elite athletes and exercise obsessives. BLAST—for Balanced Level of Aerobic/Anaerobic and Strength Training—also offers nutrition coaching as well as a full-body workout that mixes cardio and strength training in an exhausting 60-minute interval training session. A class is $34 (less when part of a package); first class is free. 2311 M St., NW; 202-733-3762.
For more of the best people, places, and things to do around DC, take a look at our annual Best of Washington list. 
This article appears in our June 2016 issue of Washingtonian.