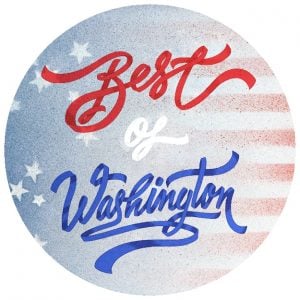 Kitchen Gadgets
A poke through the piles of cast-iron pans and grill tongs can turn up real finds, such as heavily discounted Le Creuset and Oxo tools. Multiple Maryland and Virginia locations.
Carrot peelers and roasting pans? Not so much. But at this chic shop, we kitted out a "dinner party" as a bridal-shower gift, from a chalkboard table runner to Laguiole cheese knives. 1309 Fifth St., NE, 202-556-1866; 1401 S St., NW, 202-621-6647.
Wallpaper
Bright and mad-cap, with such motifs as swinging trapeze artists and sliced avocados, Kathryn Zaremba's wallpaper trends young and whimsical, with a hint of California color.
Known for its rich, soothing palette of paints, Farrow & Ball brings English classicism to traditional homes with its nature-inspired wallpaper prints in restrained hues. 5221 Wisconsin Ave., NW; 202-479-6780.
Tile
This is the place we'd run to for a budget bathroom reno. Offerings start at less than $5 a square foot, and showroom vignettes will spur you beyond subway tile. Multiple Maryland and Virginia locations.
Not Quite as Cheap: Ann Sacks
Reached saturation point with floors that look as if they belong in a retro pharmacy? The new branch of Ann Sacks offers an astonishing array of graphic and modern tile. 1629 14th St., NW; 202-299-0014.
Lighting
Your guests will never guess that the chandelier kicking your dining room's style up cost less than $400. Lamps start at less than $100. 1728 14th St., NW, 202-986-2165; Tysons Corner Center, 571-633-0227.
For classic collections from prominent names such as Barbara Barry and Ralph Lauren, homeowners and interior designers alike head to this Georgetown show-room. 3323 Cady's Alley, NW; 202-342-1300.
For more of the best people, places, and things to do around DC, take a look at our annual Best of Washington list. 
This article appears in our June 2016 issue of Washingtonian.