"Those children are creepy," a plain-clothed man wielding a styrofoam shield says. He's standing in a crowded exhibit hall at the Washington Convention Center, pointing to a pair of young boys who are both dressed up in matching outfits as Alex, the brutal gang leader from A Clockwork Orange.
Plain-clothes looks like he's about add something, when Khal Drogo steps in the way. He is followed by Daenerys Targaryen—Rightful Queen of the Andals and the First Men, Queen of Meereen, Khaleesi of the Great Grass Sea, the Unburnt, the Breaker of Chains, and Mother of Dragons—in a long blonde wig and glasses. Across the aisle, a vendor picks up a conch shell and blows it like a battle horn, the sound reverberating through the 18,000 square-foot exhibit hall. A mechanical R2-D2 rolls by beeping and whirring. This is Awesome Con.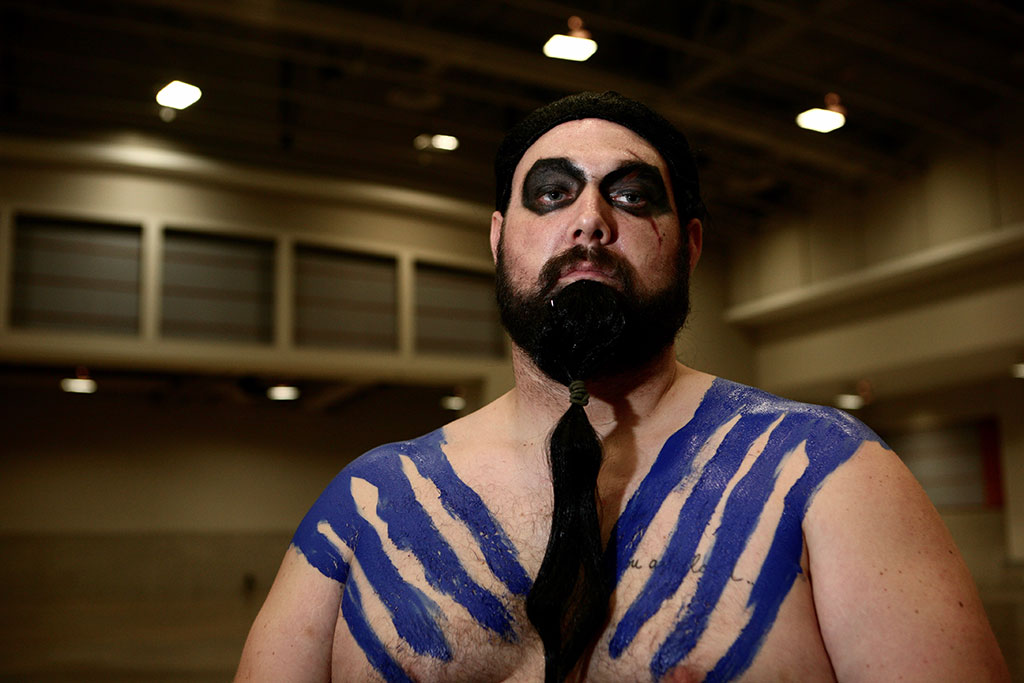 Held annually at the Walter E. Washington Convention Center since 2013, Awesome Con began as the District's first major comic convention. Tens of thousands attended this year's three-day event last weekend, lining up to listen to pop-culture lectures and panels, show off their costumes, and meet their favorite actors, writers, and gamers.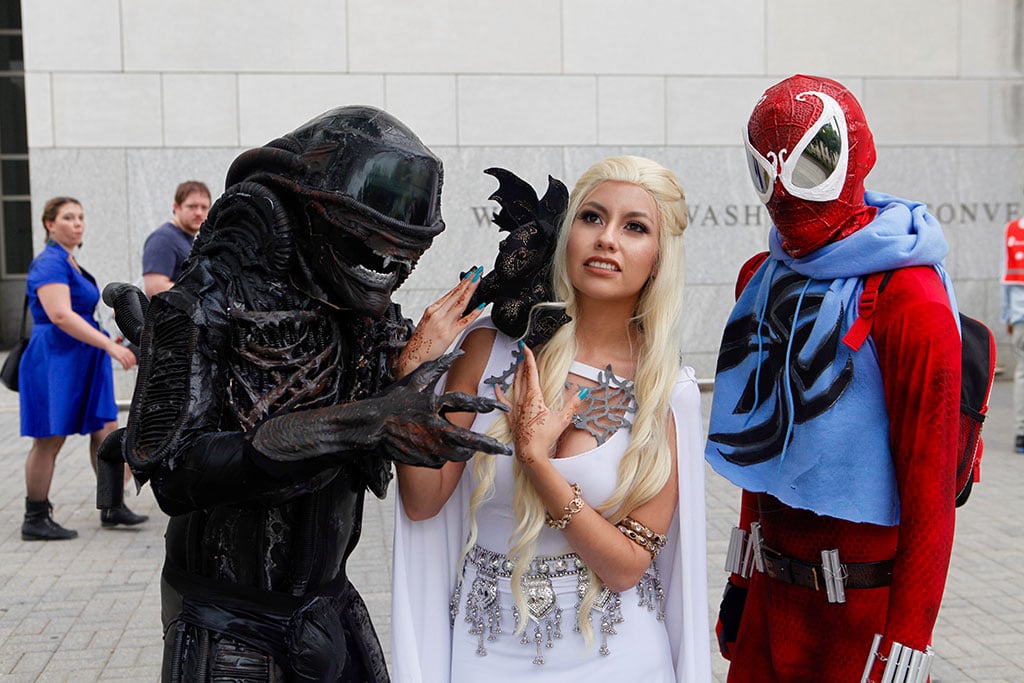 The event is broadly inclusive: J.R.R. Tolkien enthusiasts watch swordplay demos next to Ren & Stimpy fans and Batman diehards. Budding comic-book writers chat with cosplay makeup artists. Parents come with strollers and children, while couples attend as burlesque versions of their favorite TV characters. There is no "correct" way to do a con, besides attending.
Gwyn Hanley is a soft-spoken Knight Elf character from the popular game World of Warcraft. Talking about her character excites her, and she goes from camera-shy to a passionate advocate of her character's class in the span of a short conversation. She holds up a journal she that has been decorated to match her outfit.
"There is so much lore, but for Shadow Priests their story isn't really being represented," she explains, "I'm here to create my own story."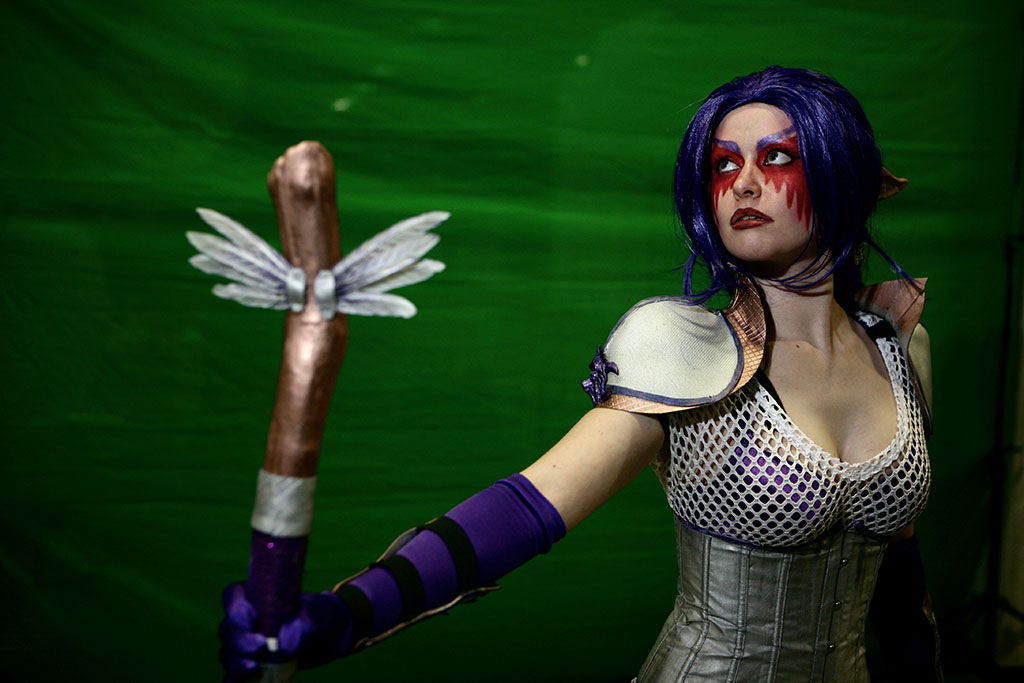 That seems to be the tie uniting most of the attendees here: a passion for expressing themselves through a fictional world and a fascination with storytelling. At a modern mythology panel discussion on Star Wars, Star Trek, and Lord of the Rings, for example, a discussion of why Star Wars has a stronger mythological quality than Star Trek evolves into a conversation on the Hero's Journey archetype.
The conversation turns serious. There are discussions of race, religion, and politics but everyone stays calm and open-minded. It's a respectful conversation, and one that might not be so easy outside. But here, nothing gets too serious and people speak freely. These are fictional realms we are talking about, after all.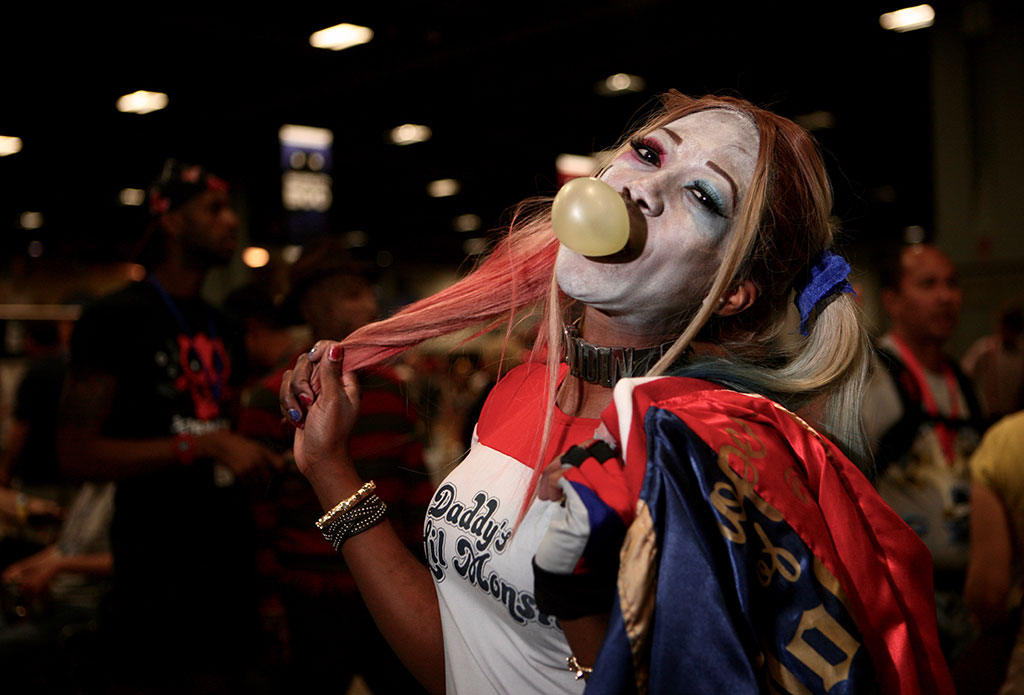 Down in the exhibit hall, a sea of vendors  are organized into rows, peddling fan illustrations, posters, prop weapons and accessories, figurines, T-shirts, gaming equipment, and comic books. There is a "backlot" with movie props (you could snap a picture in Iron Man's mangled 1967 Shelby Cobra for $5), a free arcade, a science fair presented by the Science Channel, and the "artist alley" where fans can meet with celebrities.
This year's headliners included Kevin Smith, Matthew Lewis, Michael Rooker, Adam West, Georgina Haig, and Karl Urban, among many others, all of whom guests could get autographs or pose with (for an additional fee, which noticeably varied in accordance with the celeb's star power).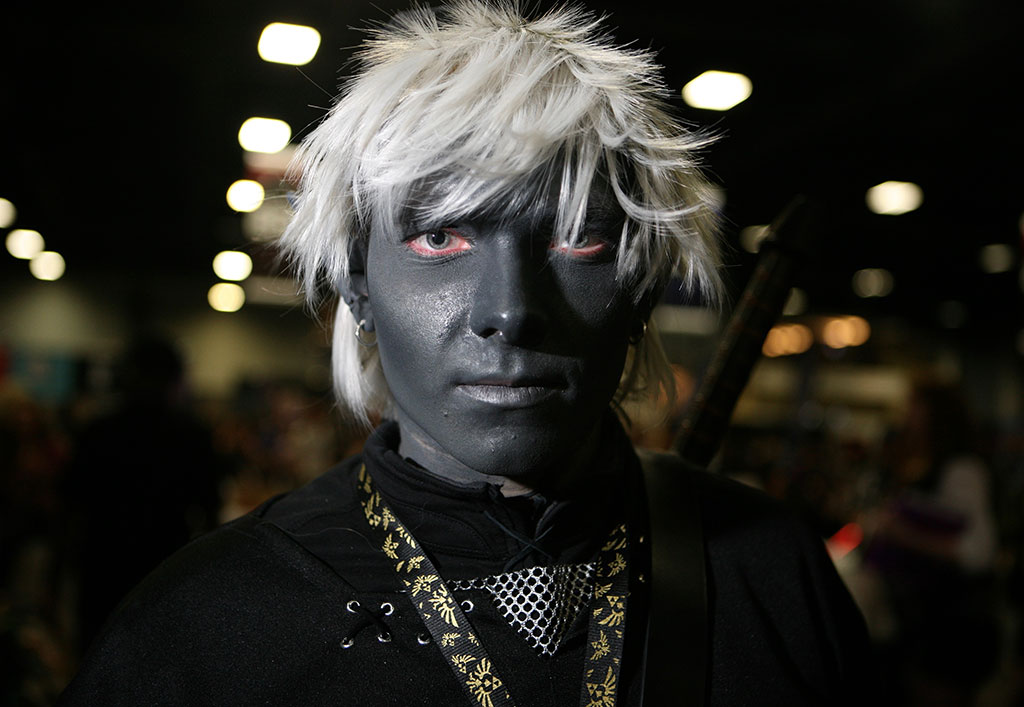 But despite the fee, the interactions with the celebrities are relaxed, positive affairs. For many actors and writers, events such as Awesome Con offer a rare chance to meet the people who connect with their characters one-on-one. Haig, who plays Elsa in ABC's popular television series Once Upon a Time, has added a "let it go" box to her booth ('Let It Go' is her character's theme song). She invites fans to drop in concerns, fears, and things they would like to release from their lives.
"I haven't decided what I'll do with them yet," she says. "I'm thinking of climbing a mountain and burning them, or casting them out to sea on a pyre." She touches a silver pendant of a snowflake at her neck, a gift from one of her fans. "It's really nice to speak to fans face-to-face. Whether it's cosplay or voice actors or gamers–it's not like theatre where you have the audience right there. This really is a unique opportunity."
See more faces from this year's Awesome Con below.