The opening party for RPM Italian, which debuted in the former NPR building in late June, was, at least by Washington standards, a starry one. Michael Wilbon showed up, along with Fox News's Bret Baier. And of course, there were the restaurant's co-owners, Giuliana and Bill Rancic—she of E! Oscar-night red carpets and Fashion Police, he of The Apprentice, both of the reality show Giuliana and Bill—busily snapping selfies with locals. Not invited? You could read all about it the next day in the Washington Post's Reliable Source.
A couple of months later, RPM is perhaps the only restaurant in the area that features a sign warning customers they might be filmed when they walk inside. But while tables in the dining room are hard to come by unless you want to dine at 5 or 10 (there are plenty of walk-in high tops around the bar), the crowd is less boldface. Mostly, it seems made up of tourists who drift over from the nearby convention center and surrounding hotels. One night in the sexily lit dining room—the bulbs are meant to anoint diners with a tan-like glow—a middle-aged man interrupted the Miami Beach hotel-lobby soundtrack by bellowing "Ben's Chili Bowl!" into his Siri app.
RPM Italian isn't the first restaurant with out-of-town roots—it's owned by the Chicago group behind Joe's Seafood, Prime Steak & Stone Crab—to charge onto the scene with intentions to glam up staid old DC. (See also STK or the defunct Buddha Bar.) Nor is it the first local restaurant with reality-TV ties. In Clarendon, Real Housewife of Potomac Ashley Darby opened the Aussie-focused Oz and The Bachelor's Chris Bukowski unveiled a sports bar. What it is, though, is the first of either genre to actually serve some pretty good food.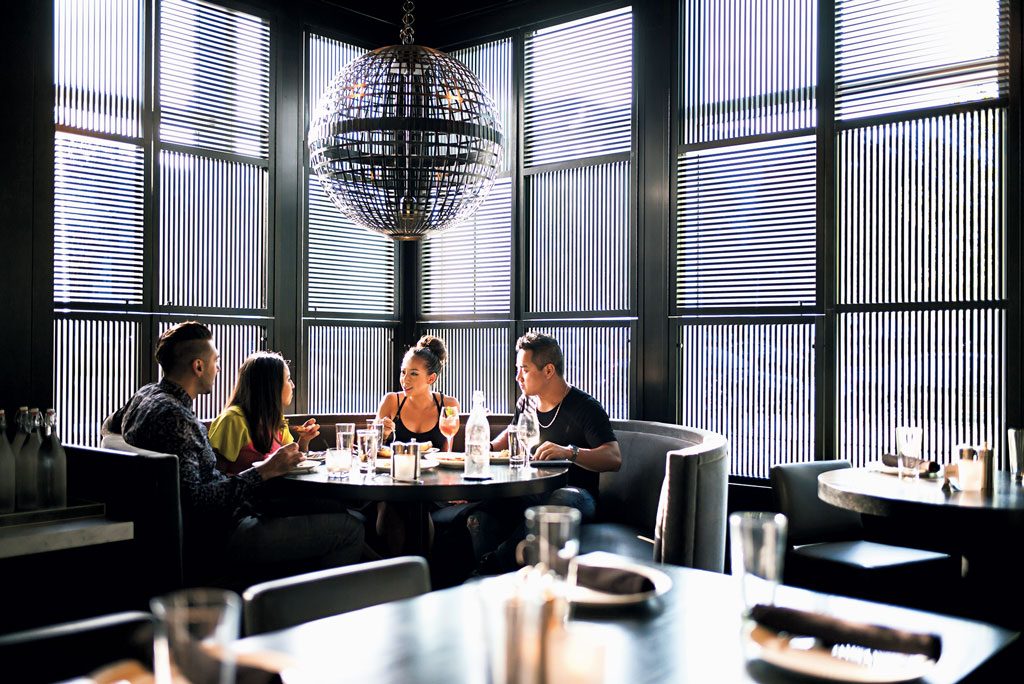 Overseeing the culinary operations at RPM here and in Chicago is Doug Psaltis, an accomplished chef who came up in Manhattan under David Bouley and Alain Ducasse and went on to earn a Michelin star for the restaurant Country. His deputy in Washington is another well-known name in New York food circles—Gabe Thompson, who ran the kitchens at the West Village's Dell'Anima and L'Artusi. Here, the menu is nearly identical to the Chicago location's. "No dishes are mine," Thompson says, though he doesn't seem to mind. "There's no egos." The chef was happy to escape NYC and find a stable gig after the birth of his second child, even if it was a little corporate.
Thanks to their team, what comes out of the kitchen is consistent, generously portioned, and often very satisfying—especially the menu's Italian-American side. Don't forgo the Caesar salad, spiffed up with breakfast radishes, crumbly egg yolks, and polenta croutons. Or two of the breads: ciabatta with house-made ricotta and a baguette slathered with garlic confit and wild garlic, then dipped in Parmesan and baked. The latter arrives as a starter but makes a perfect mop for any dishes that show up later, whether a huge plate of chicken Parm draped in melty fontina or a winningly zesty lobster fra diavolo over angel hair. Not worth your time: the clumsily sauced chicken piccata with peas, which tasted like something you might find in an airplane's first-class cabin.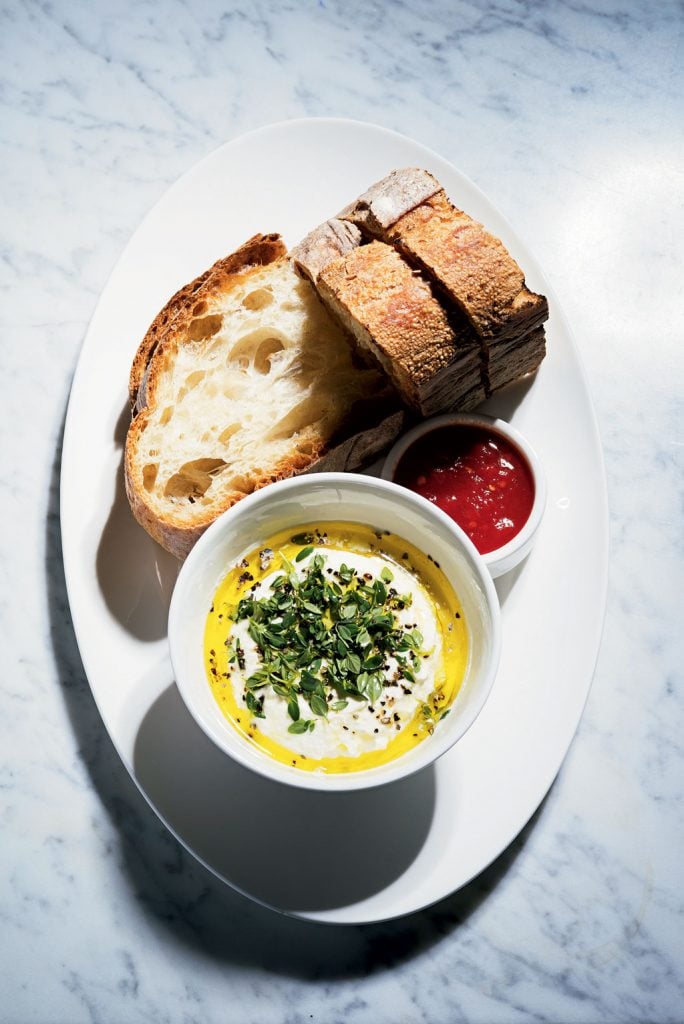 As for the house-made pastas, I could graze on them all night. A $14 bucatini pomodoro—made from a recipe provided by Giuliana Rancic's mother—is the cheap-est entrée and also my favorite. (The terrific pomodoro sauce, according to Thompson, goes into about a quarter of the recipes.) Nearly as delicious: a tangle of squid-ink-tinted spaghetti, king crab, and Fresno chilies held together by a lusciously buttery lobster-stock reduction. Or nubs of nicely chewy cavatelli spooned with a deeply flavorful "Sunday gravy" and finished with a dollop of smoky ricotta. Only a Bolognese wasn't quite as hearty as it could have been.
One of the most successful larger plates—which can function as shareable entrées—was the most straightforward: big, sweet prawns brushed with olive oil, broiled, and splashed with lots of lemon, oregano, and parsley. But the skin of a chicken cooked under a brick didn't have nearly the crispness it should have, and it wasn't saved by a ho-hum tomato sauce. Some sloppiness pervades starters: A $20 lobster caprese salad was undone by salty tail meat and slightly sour buffalo mozzarella. Fried coins of zucchini were very abundant but very bland. And focaccia, the one bread made in-house, was paired with an unappealingly flat lardo spread.
You'll likely be stuffed by the time dessert rolls around, which isn't necessarily a bummer. If you manage to bust through the rock-hard shell of the tiny cannoli, you'll be rewarded with stiff, pasty filling. A sauce that soaked a baba au rhum was more sugary than boozy. The two sweets I'd order a second time: the Kit Kat–inspired chocolate torta and a miniature cake cloaked in meringue, doused with rum, and set ablaze at the table.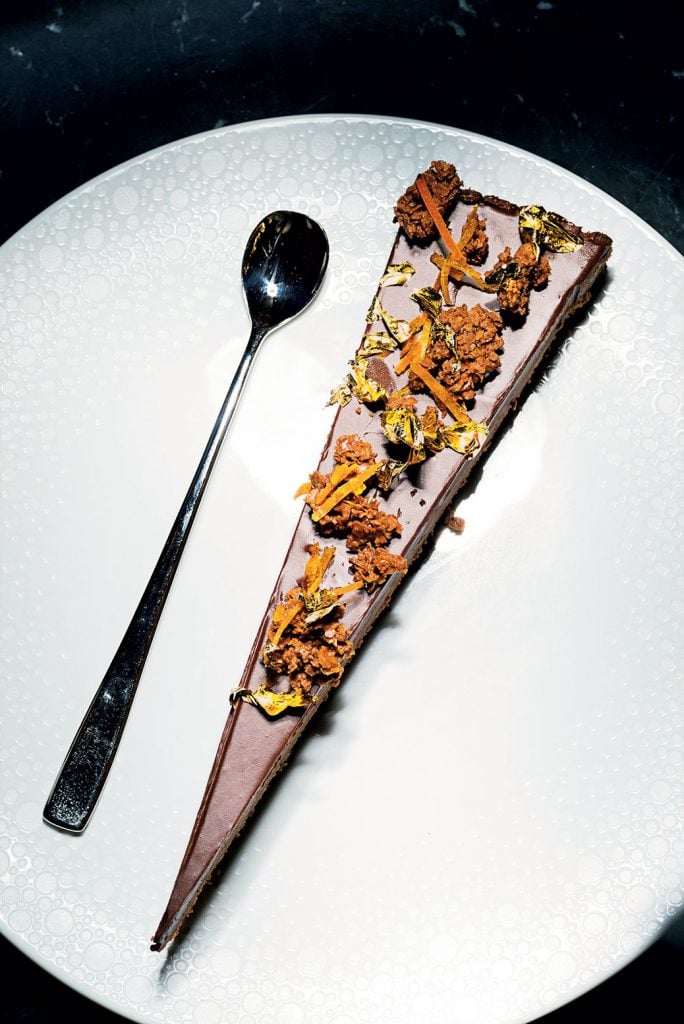 Service—despite what seems like nearly as many nattily suited (and earpieced) staffers as diners—ranges from genial but scripted to sweet but befuddled. One night, I asked a server about the cut of the "RPM steak grigliata."
"It can be medium, medium well, however you want it," she said.
"No—what cut of meat is it?"
"It can be thick-cut or thin-cut."
"I mean is it like a strip steak? Or a rib eye?"
"It can be whatever cut you want."
Finally, at my nudging, she asked the kitchen. (It was a short rib, she reported.) This was not an out-of-the-ordinary exchange.
Despite its glitz factor, parts of RPM aren't quite ready for prime time. But lovers of Italian-American fare—an underrepresented art in these parts—might be surprised that there's not a beloved grandma toiling away in the kitchen, well out of view of the cream-leather banquettes.
This article appears in our September 2016 issue of Washingtonian.
---