Picture this: You grab your ticket at the counter, walk about 200 feet to a small waiting room, order a cocktail, sit back, and relax. Soon, the doors close. The room disengages from the terminal and starts moving . . . all the way to your plane, then attaches itself to the jet's doors. You stroll to your seat, cocktail in hand. Dulles architect Eero Saarinen built his airport of the future around this very thing: the "mobile lounge," a waiting room on wheels designed to cut the distance between ticket counter and plane.
Apart from the drink service—which never happened—mobile lounges were a function of the Dulles travel experience for decades, with about 50 of the vehicles in operation. Then came jet bridges, TSA checkpoints, and the AeroTrain. When that opened in 2010, Saarinen's mobile lounges mostly became relics.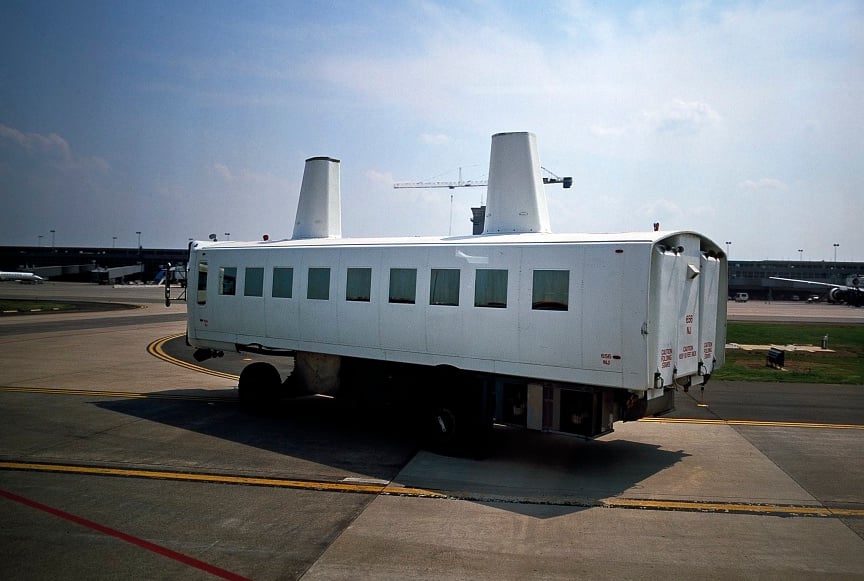 But you still might get a ride in one. The airport keeps 36 rolling today, mostly at Concourse D, which doesn't have an AeroTrain station. And a few times a day, a mobile lounge will take passengers directly onto or off of a plane—such as when weather or mechanical problems prevent access to a gate. In the next year or so, the old lounges will even get new interiors and TVs, then further off, wi-fi.
Yeah, they might not be the luxurious parlors imagined a half century ago, but it's hard not to get at least a little giddy staring out the window as your waiting room weaves across the tarmac, past control towers, and alongside 747s, toward the next stop in your journey.

This article appears in the November 2016 issue of Washingtonian.