Ron and Sara Bonjean's annual Christmas party has achieved near-mythic status on the cut-throat DC holiday circuit despite not being the fanciest, the most expensive, the most fashionable, the most popular, the most likely to succeed or any other senior superlative that can also be applied to holiday parties. It's held in a modest split-level home built into a hill on Monticello Boulevard in Alexandria. Most of the furniture is pushed against the walls, and the door to the room where people in houses everywhere store the stuff they don't know where else to put (old trophies, framed diplomas, the dining room chairs) is left disarmingly ajar.
Which is not to say it's a simple affair. There's a tent and heaters and a signature whiskey punch. This year, there's a Queen of England impersonator and a stone-faced Queen's Guard paid to stalk Brian Walsh, Ron's business partner. There are two mostly naked showgirls and 1,000 red and green Jell-o shots in circulation. There are speakers that also blow snow, there are color-changing cups that warn you when your drink is low, and a Santa Claus ice sculpture-slash-booze luge. There is a B-list celebrity guest—a generous classification—posted up in the den and trying to recapture his A-list days, taking photos with guests in front of a sparsely decorated tree and an under-stuffed brown sectional familiar from finished basements nationwide.
The Bonjeans have been throwing this bash since 2003, five years before Sara was even a Bonjean. Once a one-keg party for their closest friends, the guest list has swelled to a few hundred, just like that rager you threw in high school when your parents went out of town. If holiday season was in fact senior year, the couple would win Most Bitchin' House Party.
Thirteen years now they've hosted this gathering, which bills itself as being in DC, but not of DC, while simultaneously reassuring anxious partygoers that by virtue of being invited, they are, in fact, of DC. Here, Ron, a Republican consultant, tells us what it takes to attain the brawniest "party muscle memory."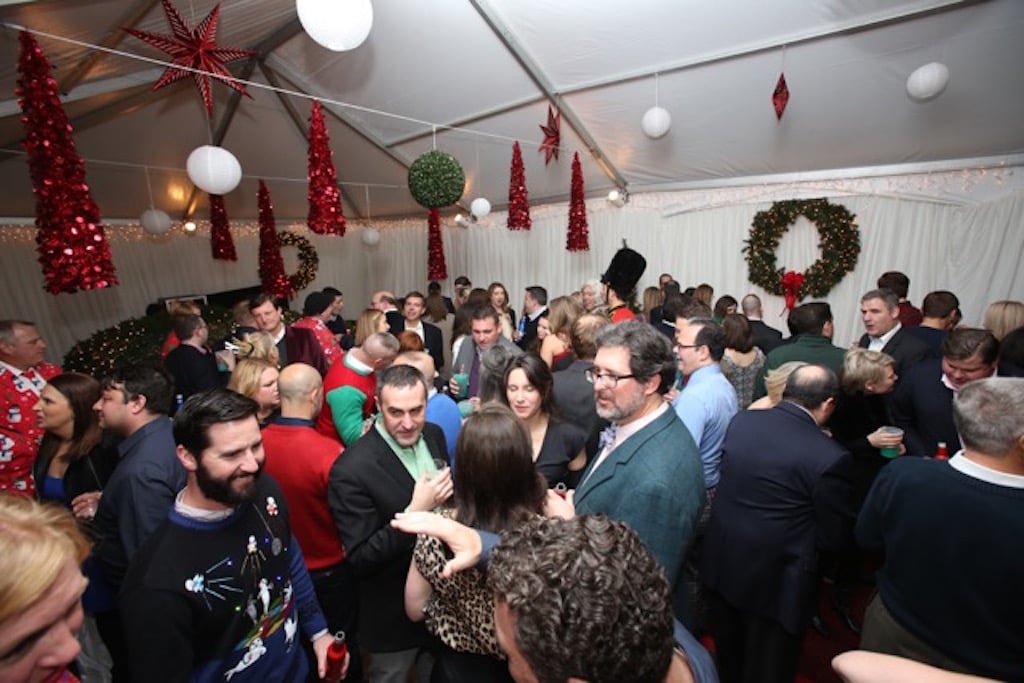 Be original
"Slide away from the formulaic party scene," Ron advises. No cold, corporate, airy venues like galleries or museums—homes are ideal for their "warmth," he says. As far as DC fêtes go, the guest list may not be incredibly original—journalists, operatives, Sean Spicer—but the personal touches are. This year, he and Sara spent five hours creating a gingerbread house with a greater square-footage than the average DC apartment. He had his tailor, who goes by Mr. Schwartz, fashion him a dinner jacket in a crimson holiday brocade. Sara had her seamstress sew a matching party dress.
Also, be more than original. Be "consistently" original: give your guests something to look forward to next year. For example, a celebrity guest.
Get an agent
The first time Ron decided to up the stakes with a VIP meet-and-greet, he landed everyone's fave school principal, Saved By the Bell's Mr. Richard Belding–the actor Dennis Haskins. The idea to invite Mr. Belding came during a Styx concert, as is traditional.
It was instantly clear that every year would now demand a bigger, better, badder has-been, so Ron played by Hollywood's rules and got himself some representation. Since then, his agent has helped him book guests like the "demanding" Gary Busey, Erik Estrada, Screech (Dustin Diamond from Saved By the Bell), The Karate Kid (Ralph Macchio from the Republican National Convention), Norm from Cheers (George Wendt), and, this year, the impeccable Flavor Flav, first made famous for taking them to the chorus in Public Enemy, then made re-famous by VH1's Flavor of Love.
In 2010, Belding handed out autographed headshots. Now, selfies are the new autographs and the fading-star-selfie has become a Bonjean party staple, a shorthand for communicating to your Instagram followers exactly where you were last night when a Playbook mention doesn't come through.
Keep them guessing
Leading up to the night, the Bonjeans plant clues in the Hill about which celeb they've lured from LA with the promise of a sterno-warmed lasagna buffet, a stay at the Hotel Monaco, and an undisclosed fee. "In this town, information is power," Ron reminds us. It's also party bait.
And while Ron discourages shoptalk amongst guests, a number of whom are reporters, there are still secrets to uncover. It was at the Bonjeans' that Gary Busey endorsed Newt Gingrich, a fact that made it onto Chelsea Lately.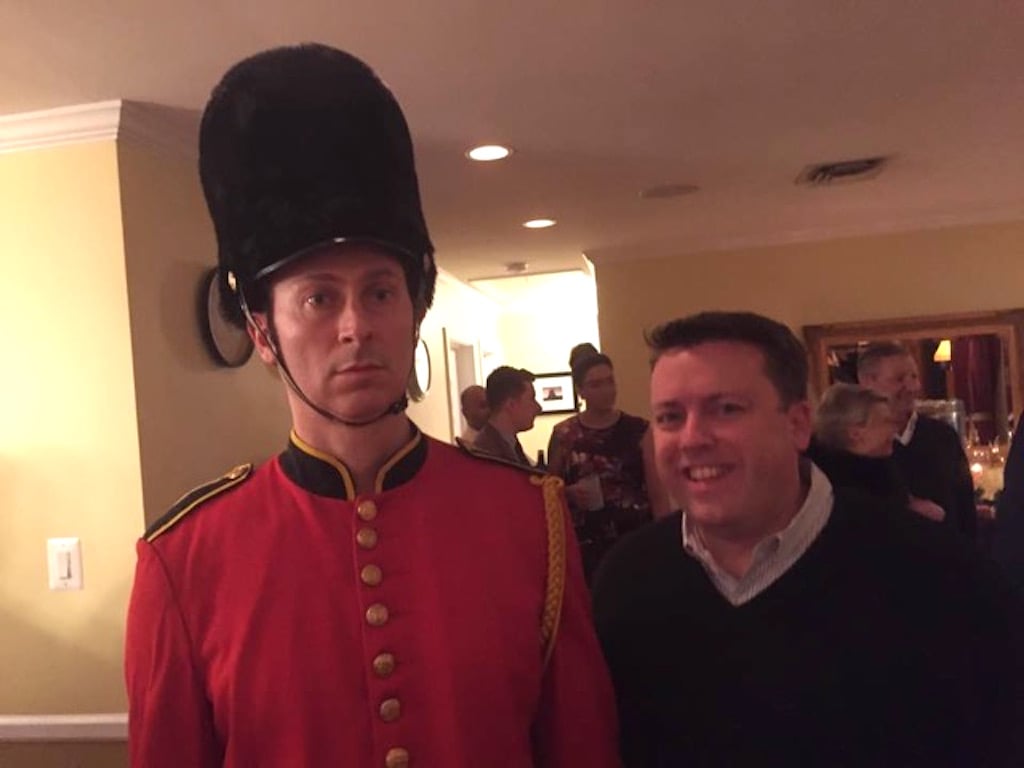 Plan ahead
The key to being a consummate host, Ron says, is completing the party checklist well before the party itself. (Do that, and you, consummate host, have his permission to get drunk after midnight.)
For the Bonjeans, Christmas begins in June. That's when they open talks with their agent. There's contracts for the coat check guy, the caterers, bartenders, the tent. All of which requires, of course, a budget. Ron won't disclose exactly how much they spend on the party, but does say that "the price of fun is sometimes not cheap." He pauses. "And that's okay."
Overthrow the host committee
Before Ron and Sara got married, they planned the party alongside a host committee of their friends, with in-kind donations, mostly of alcohol. After they got married, they wrested back control. Pro tip: making your party great again need not involve the peaceful transfer of power. Bonus pro tip: the greatest parties include a hype man.