What to Do in Logan Circle and Shaw
No tickets for the National Museum of African American History & Culture? Stop by this smaller museum dedicated to the little-told story of the United States Colored Troops, who fought in the Civil War to defend their freedom from slavery and whose names are memorialized here on a Wall of Honor. The museum also has an exhibit about Michelle Obama's ancestors, who were among the troops. 1925 Vermont Ave., NW; 202-667-2667.
The theater—just over a year old—plays blockbusters, but in an upscale setting more akin to an indie arthouse. Reserve seats when you buy tickets in advance, so no need to line up early. You can enjoy appetizers and specialty cocktails during the show. 807 V St., NW; 202-534-1965.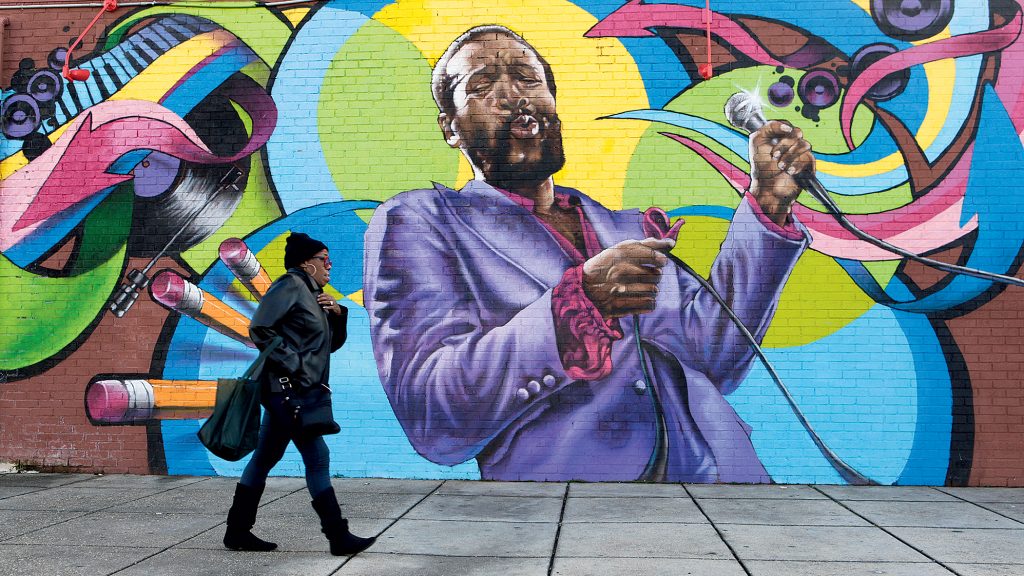 In any given week, you might catch hardcore punk, underground, and alternative groups here. The venue also hosts theme nights, such as "Fresh to Death" '90s dance parties, and has a room with pinball machines and other old-school arcade games. 1811 14th St., NW; 202-667-4490.
Three bars plus a schedule packed with deejays, bands, karaoke nights, and dance parties make this one of Shaw's top entertainment destinations. Bonus: The roof deck is heated, so you don't have to wait till summer to partake in that favorite Washington pastime of rooftop imbibing. 1940 Ninth St., NW; 202-483-5000.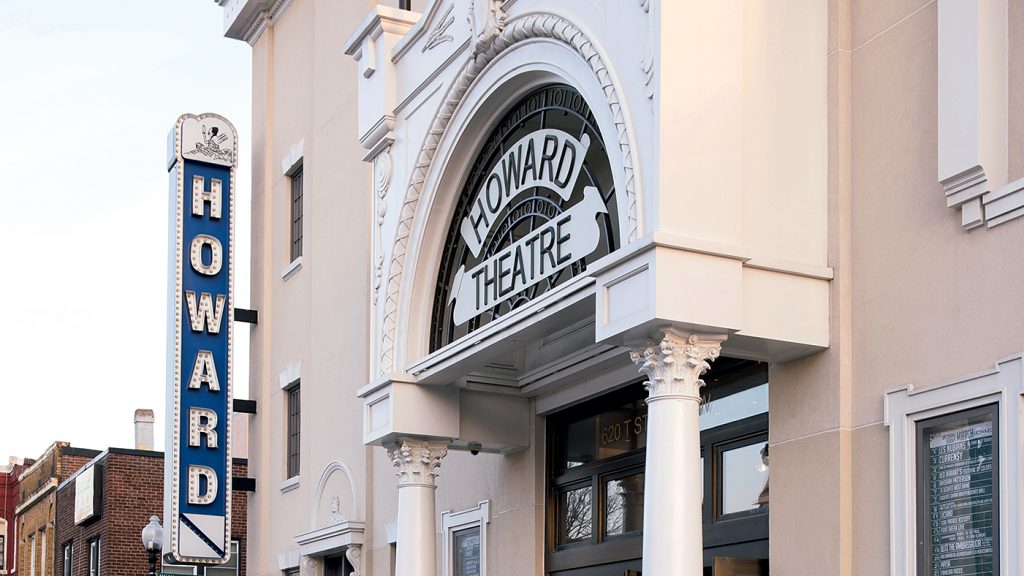 The Howard opened in 1910 as one of the nation's largest venues for people of color. Almost every major black artist from the 20th century has performed on its stage, including Aretha Franklin, James Brown, Ella Fitzgerald, Louis Armstrong, and Duke Ellington. This month, catch the Harlem Gospel Choir or George Clinton and Parliament Funkadelic. 620 T St., NW; 202-803-2899.
Since opening a decade ago, Long View has evolved from a small showcase for local artists into the largest contemporary-art gallery in the city, with pieces from all over the world rotating through its 9,000-square-foot space. February exhibits include Takefumi Hori, who paints with real gold. 1234 Ninth St., NW; 202-232-4788.
Long before trendy shops like Warby Parker and Kit and Ace showed up in the area where Shaw meets the U Street corridor, the 9:30 Club made the spot a destination. Since moving in 1996 from its original location near Metro Center, it's arguably grown into the city's best concert spot, thanks to an intimate 1,200-person capacity coupled with a lineup ranging from up-and-coming bands to acts that could sell out the Verizon Center. 815 V St., NW; 202-265-0930.
There's a decent chance you've walked by this place without realizing it. The entrance, between Ghibellina and Pearl Dive Oyster Palace, is unmarked—as any speakeasy's should be. Head downstairs to find delicious food and drink, plus live jazz or reggae almost every night. 1610 14th St., NW; 202-545-3459.
Studio was a forerunner of Logan's revitalization—yes, before Whole Foods. It showcases work by contemporary playwrights, though it reboots a classic occasionally. February includes The Hard Problem, about a scientist who tries to pinpoint consciousness, and I Wanna F—ing Tear You Apart, about a love/hate friendship between roommates. 1501 14th St., NW; 202-332-3300.
This nonprofit's main goal is to help local artists by showcasing their work in its Logan gallery. Some events are interactive—a recent exhibit involved guests using more than 6,000 erasers to do away with the artist's writings on the walls. February 4 through March 11, Arlington artist Marissa Long and District photographer Chandi Kelley have a joint exhibit. 1404 P St., NW; 202-483-1102.
***
Where to Shop in Logan Circle and Shaw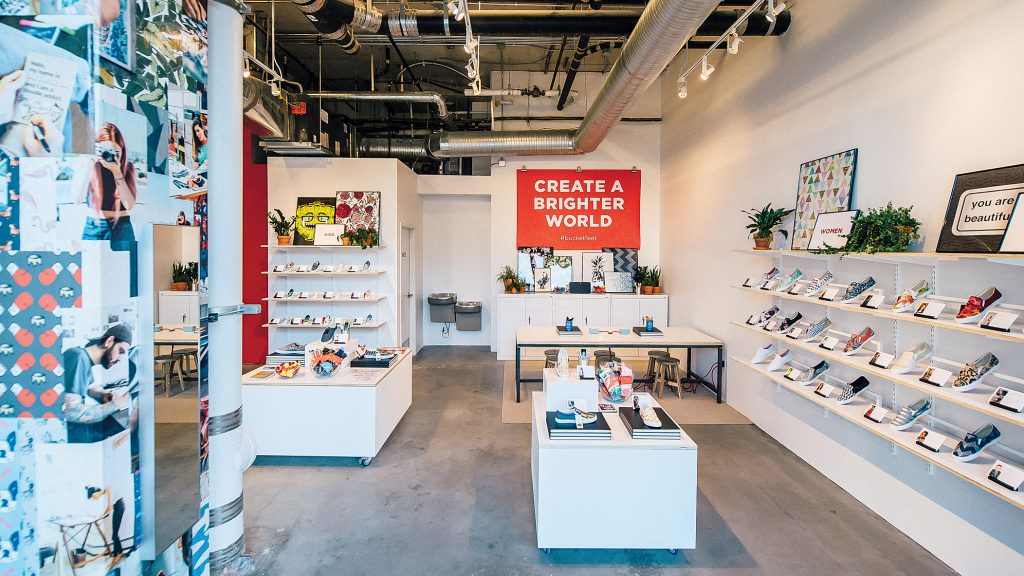 There's a story behind every patterned pair of sneakers at this new-to-Washington shoe store. The funky designs are the result of partnerships with more than 40,000 artists—including DC's own No Kings Collective. For every pair sold, the artist responsible for the look gets a commission. The storefront in Shaw also incorporates a mural by Arlington street artist MasPaz. 1924 Eighth St., NW.; 202-847-3294.
The Seattle brand, with men's and some women's apparel, brought its century-old, rugged style to 14th Street in 2015. Go for field jackets in hunter green and khaki, an abundance of leather goods, and flannel shirts that'll make any lumbersexual happy. Part of the same parent company as Shinola, Filson also sells watches made in the same factory as the Detroit timepieces. 1534 14th St., NW; 202-759-9570.
Any guy who needs to look sharp for the office can practically close his eyes, walk in here, and come out with an armload of looks. The shop sells patterned collared shirts, footwear staples such as Puma sneakers and Red Wing boots, and skinny denim. It even has a barber chair that, starting in the next few months, it plans to use for in-store cuts and shaves. 1924 Eighth St., NW; 202-499-1458.
This clothing store is the DC professional's answer to not looking like a sweaty mess every day of a swampy summer. With suits so breathable you could run a half marathon in one—which, by the way, one of the founders has done—along with a recently launched women's line that includes silk-like blouses, the brand's technical business apparel will keep you cool whether you're trapped in a Metro #hotcar or a tense meeting. 1924 Eighth St., NW; 202-851-4942.
Owned by a St. Albans grad turned preppy-menswear designer, this shop outfits guys with clothes that are a little more thoughtful than your mass-market button-downs and ties. Custom shirts are hand-sewn in New Jersey, and suits are tailored to be fitted without looking uncomfortably tight. Plus there's cold beer on tap and a Ping-Pong table. 1921 Eighth St., NW; 202-733-1913.
Ready to upgrade to a sofa you can call an investment piece? Or a dining table that might actually be worth passing down to your kids? You'll find what you're after in this four-story showroom of mostly American-made, modern (but not too modern) furniture. Take advantage of the free design services, not just for help selecting pieces but also for paint-color and furniture-placement tips. 1840 14th St., NW; 202-729-8300.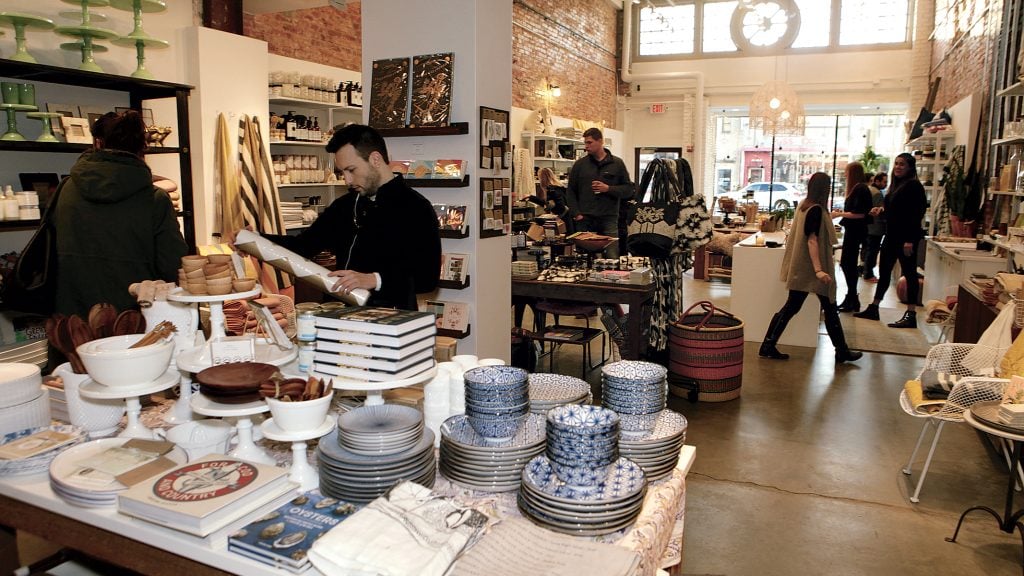 There's lots to covet among Salt & Sundry's selection of home decor, tabletop accoutrements, and cocktail accessories. We're not the only ones who think so: As sales increased, it outgrew its original Logan Circle location. So in December, owner Amanda McClements moved it to a nearby spot twice the size (1625 14th St., NW; 202-621-6647) and created the plants-and-paper-goods shop Little Leaf to fill her smaller storefront (1401 S St.; NW; 202-506-2131).
Though best known for watches, the Detroit company also makes stunning bicycles and leather goods. Not only are the products pretty, but the flagship on 14th Street—a remodeled Studebaker showroom—is worth a visit just to kick back on the leather couch and stare at the ornate vintage ceilings. 1631 14th St., NW; 202-470-0200.
The New York designer has a wide selection of products that hit the sweet spot between fashion-forward and classic. Wool- and cashmere-blend sweaters and sleek leather boots for men and women make for chic but casual workwear. The home collection offers small decor upgrades, such as lamps and ceramics. 1924 Eighth St., NW; 202-827-8671.
The two-story Logan Circle outpost of this chain has everything to deck out your urban apartment—affordable modern furniture, colorful rugs, barware that Don Draper would mistake for the real midcentury deal. Aside from the assortment of goods, we love West Elm for its collaborations with local artisans, so you can shop small even while visiting a Williams-Sonoma–owned retailer. 1728 14th St., NW; 202-986-2165.
***
Where to Drink/Eat in Logan Circle and Shaw
Our list of 100 Very Best Restaurants includes even more favorite spots to dine out in Logan Circle and Shaw.
The team behind pork-centric the Pig has turned its attention to poultry with this new restaurant. The menu includes a dozen-plus preparations of poultry, from fried chicken to duck meatballs. More adventurous? Try the tartare of ostrich, a lean red meat that tastes like beef. A daily "early bird" happy hour features aperitifs with complimentary bites. 1337 11th St., NW; 202-518-3609.
DC's first distillery pub produces whiskey, gin, rum, and vodka on the first floor, then mixes them into cocktails in the second-floor dining room and bar. The comfort-food menu includes fried-oyster buns among the bar snacks, plus entrées such as crisp-skinned suckling pig. Pick up a bottle in the shop on your way out, or come back for a distillery tour. 1414–1418 U St., NW; 202-629-3787.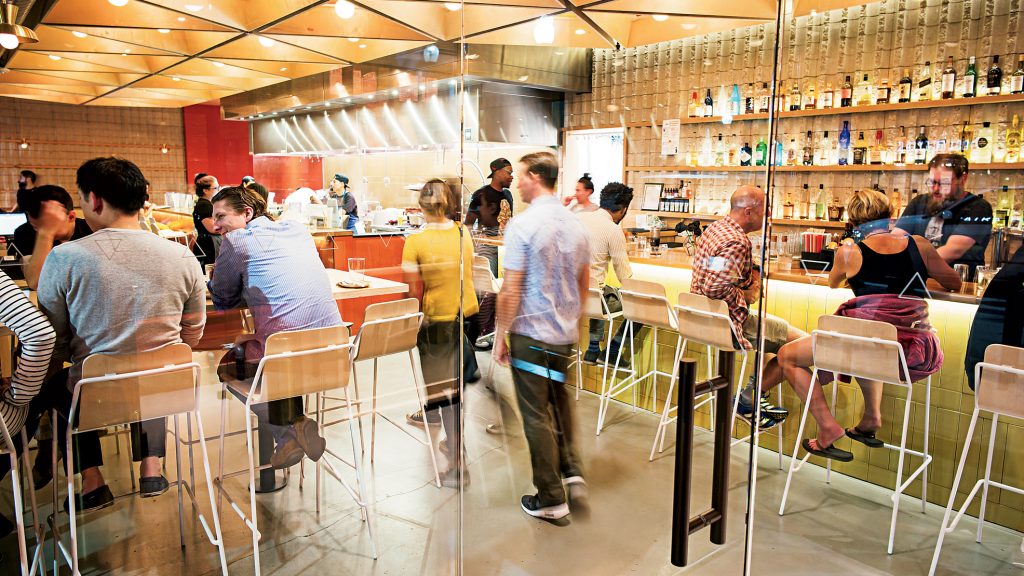 The ramen masters responsible for Chinatown's Daikaya and Bantam King opened their biggest noodle shop yet in the Atlantic Plumbing building. Sapporo-style soups are the focus of the 60-seat restaurant; we're fans of the spicy miso and hearty vegetarian. In nice weather, a roomy patio is the place to perch for sochu cocktails and small plates such as Japanese deviled eggs topped with trout roe and crab rangoons. 805 V St., NW; 202-299-1000.
The 14th Street strip lacks little in restaurant and cocktail bars. But no-frills spots for a cold brew? That's a drier story. Hence the popularity of this subterranean bar, which specializes in cans of beer and wine (yes, that's a thing), free baskets of popcorn, board games, and daily happy hour. Those looking for a little more jazz can try $10 classic cocktails and beer-and-a-shot combos—or just load up the jukebox. 1414 14th St., NW; 202-750-6600.
It took a homesick Parisian to bring Shaw this chic French wine bar. The list of about 40 bottles—half available by the glass—features tasting notes and a French geography lesson. French cheese and European charcuterie boards are already curated—just pick the size, or opt for a baguette sandwich. 1550 Seventh St., NW; 202-627-2988.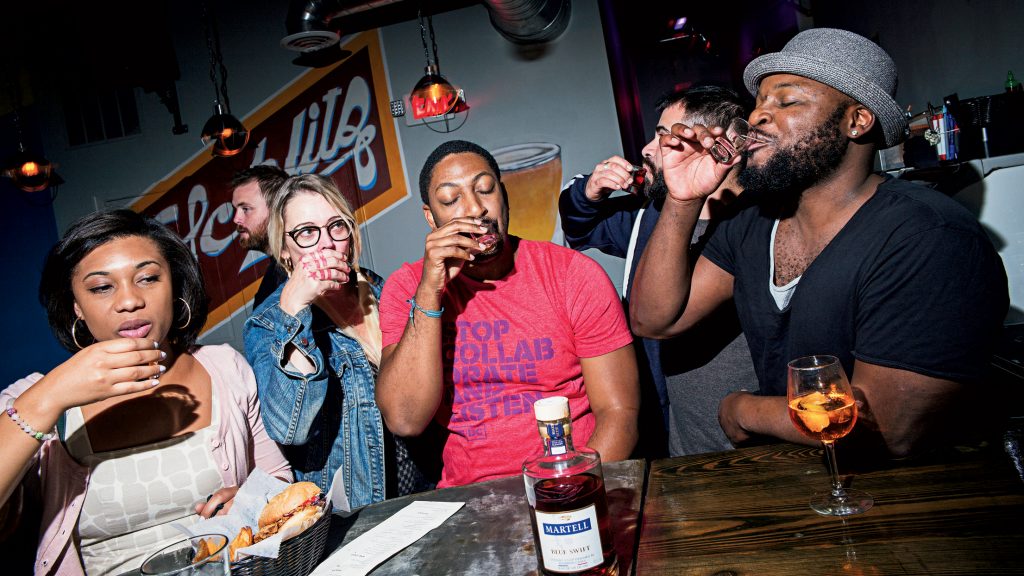 Tom Brown revived his beloved Shaw bar just blocks from the original, keeping the laid-back crowd, terrific cocktails, live-band karaoke nights, and hearty bar fare and brunch for soaking up the booze—trust us, the pork-cheek nachos work wonders. The new digs offer more space over two floors; a roof deck is planned for later this year. 1539 Seventh St., NW; 202-853-3588.
This eclectic cocktail spot has one of the more user-friendly menus around. Drinks are broken down by spirit, with little symbols indicating what's blended, mostly alcohol, spicy, and more. The bar also pours "hyper-seasonal" cocktails and $7 classics, while the kitchen turns out fried chicken, including tenders in a waffle cone. 928 U St., NW; 202-462-7232.
Chef Marjorie Meek-Bradley's sandwich shop near the convention center is a must for pastrami fans—and sandwich lovers in general. The breakfast/lunch spot does a few things and does them exceptionally well: smoked-and-spiced brisket or chicken (plus portobellos for vegetarians); house-made milk-bread buns; and a variety of fresh slaws, krauts, and sauces for stacking. In the morning, put DC pride aside and grab a New Yorker with pastrami, a fried egg, melty Comté, and hot-pepper jelly. 1239 Ninth St., NW; 202-465-4822.
***
Logan Circle and Shaw by the Numbers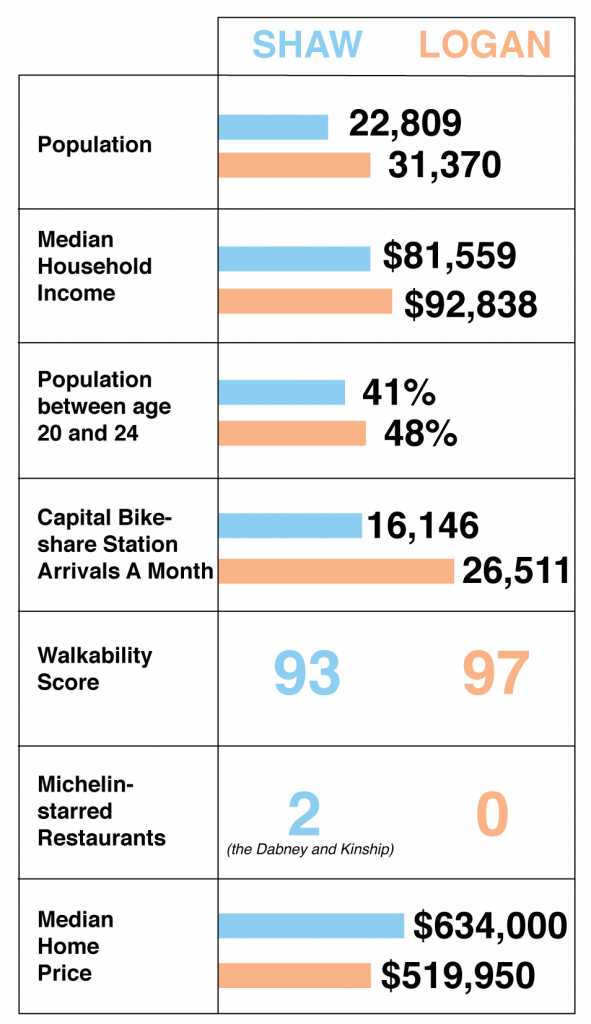 ***
The Short History of Logan Circle and Shaw
1860s

The park now called Logan Circle housed a gallows for hanging Civil War defectors.

1915

The American Federation of Labor, then the most powerful union in the country, opened its headquarters in Shaw.

1930

Logan Circle was named after Civil War general John A. Logan, who lived on the circle while serving in the House of Representatives

1966

Shaw was named after Shaw Middle School, honoring Colonel Robert Gould Shaw, who commanded one of the first all-black regiments in the Civil War.

1968

Riots broke out after the assassination of Martin Luther King Jr., leaving much of Shaw and Logan Circle in ruins.

1987

Whitman-Walker Clinic moved to Logan Circle to care for the gay community affected by the AIDS crisis.

2000

The P Street Whole Foods opened in Logan Circle.

2016

Thrillist named Shaw DC's best neighborhood for eating.
Graphics by Manyun ZouThis article originally appeared in the February 2017 issue of Washingtonian.