Carla Torres and Carlos Rodriguez were married on a snowy day in January. But cold weather didn't stop them from venturing outdoors: the couple used the snow-covered backyard of their private Maryland home for a gorgeous woodland photoshoot, shot by Alicia Wiley Photography.
Follow B&G on Instagram | Like B&G on Facebook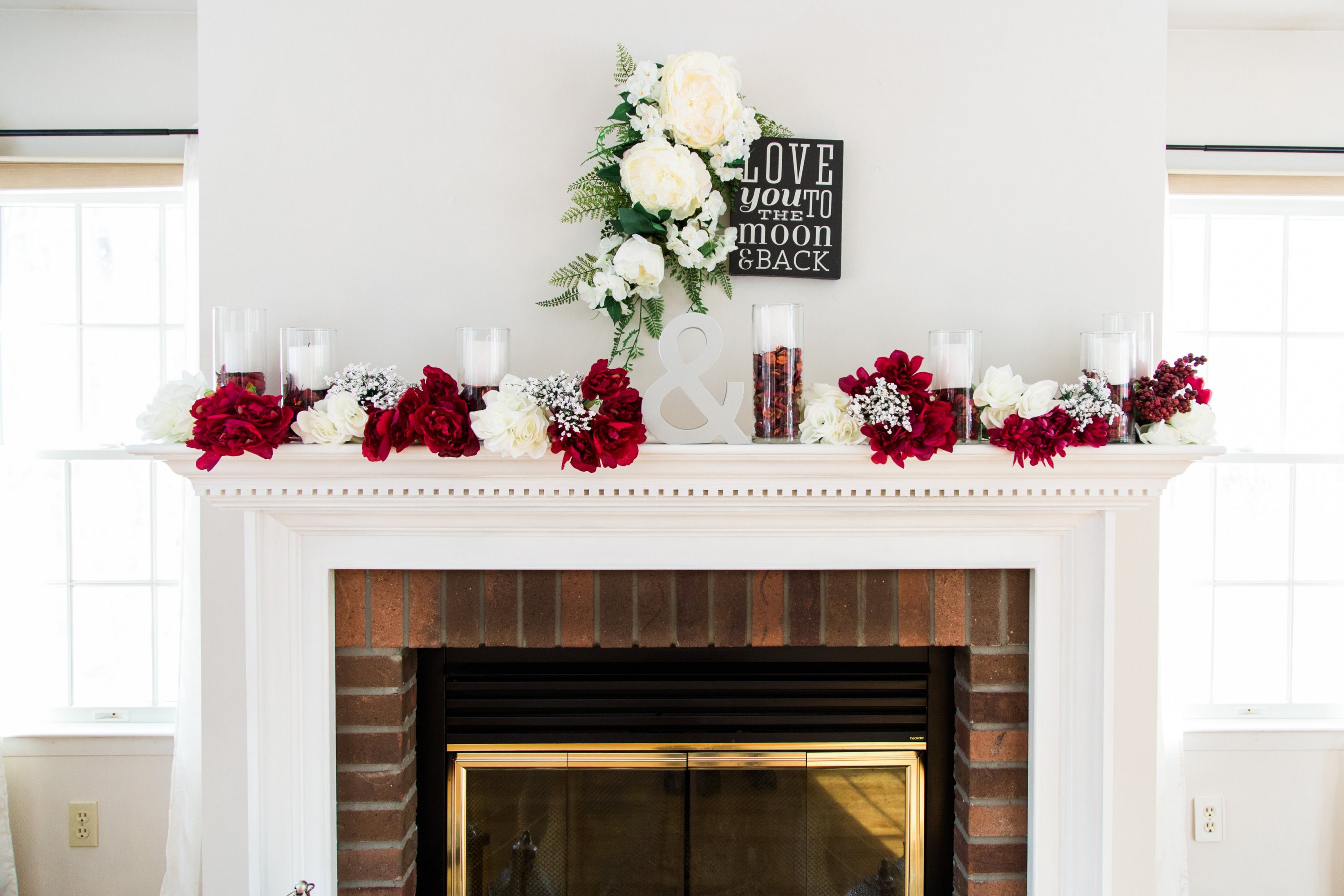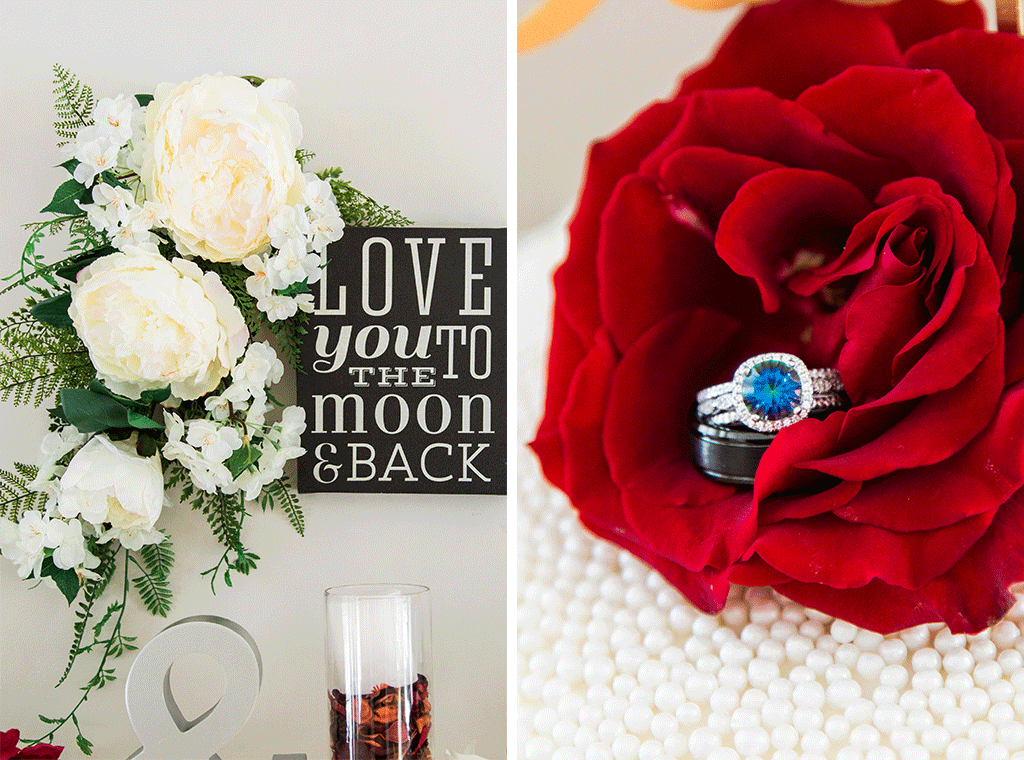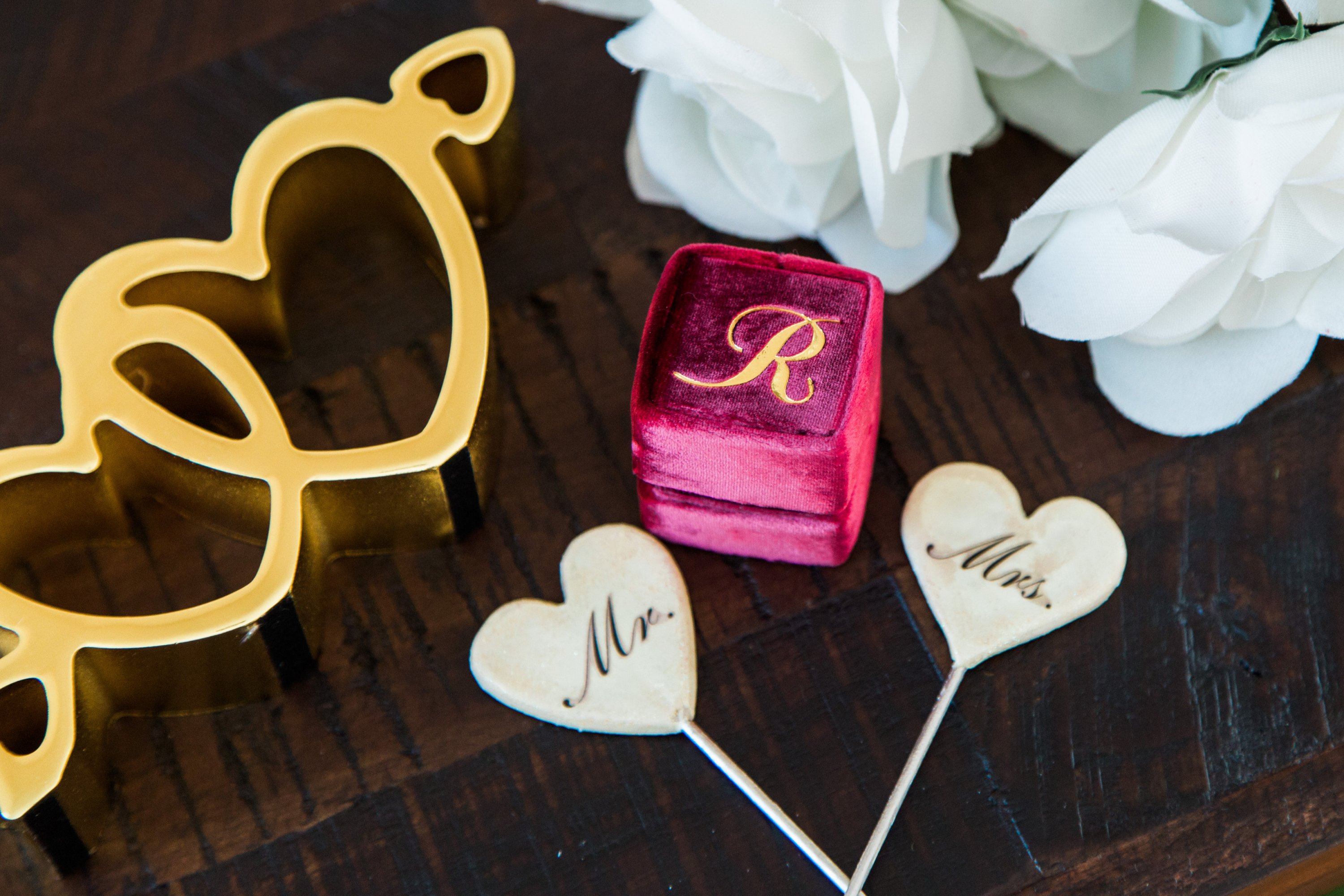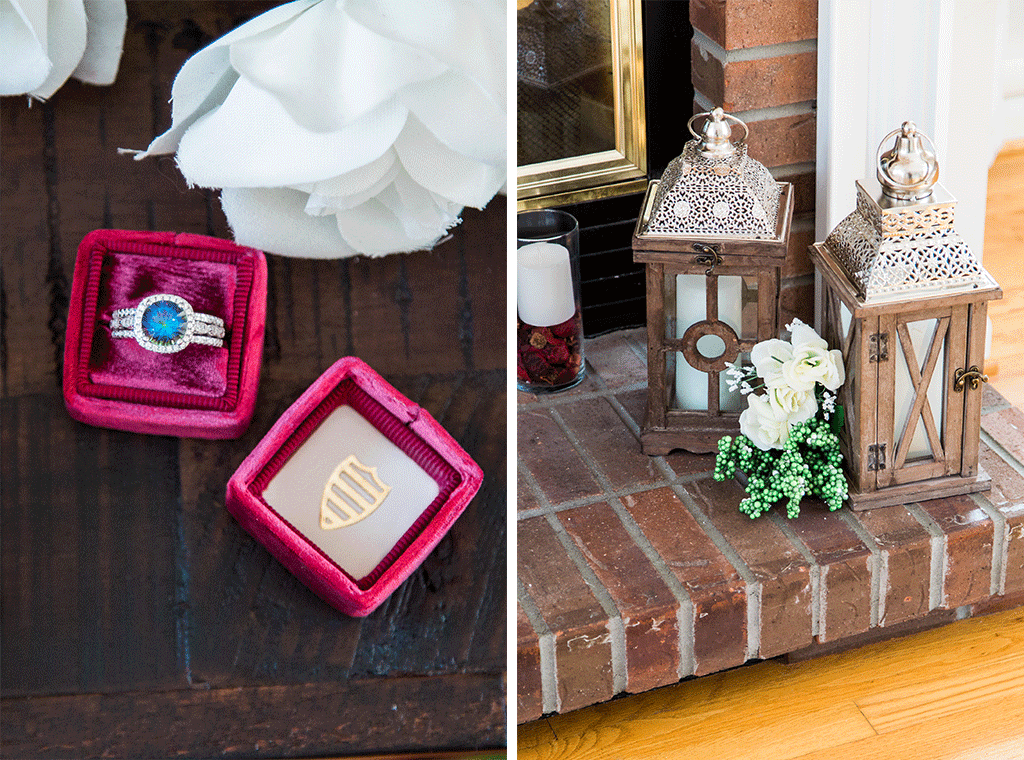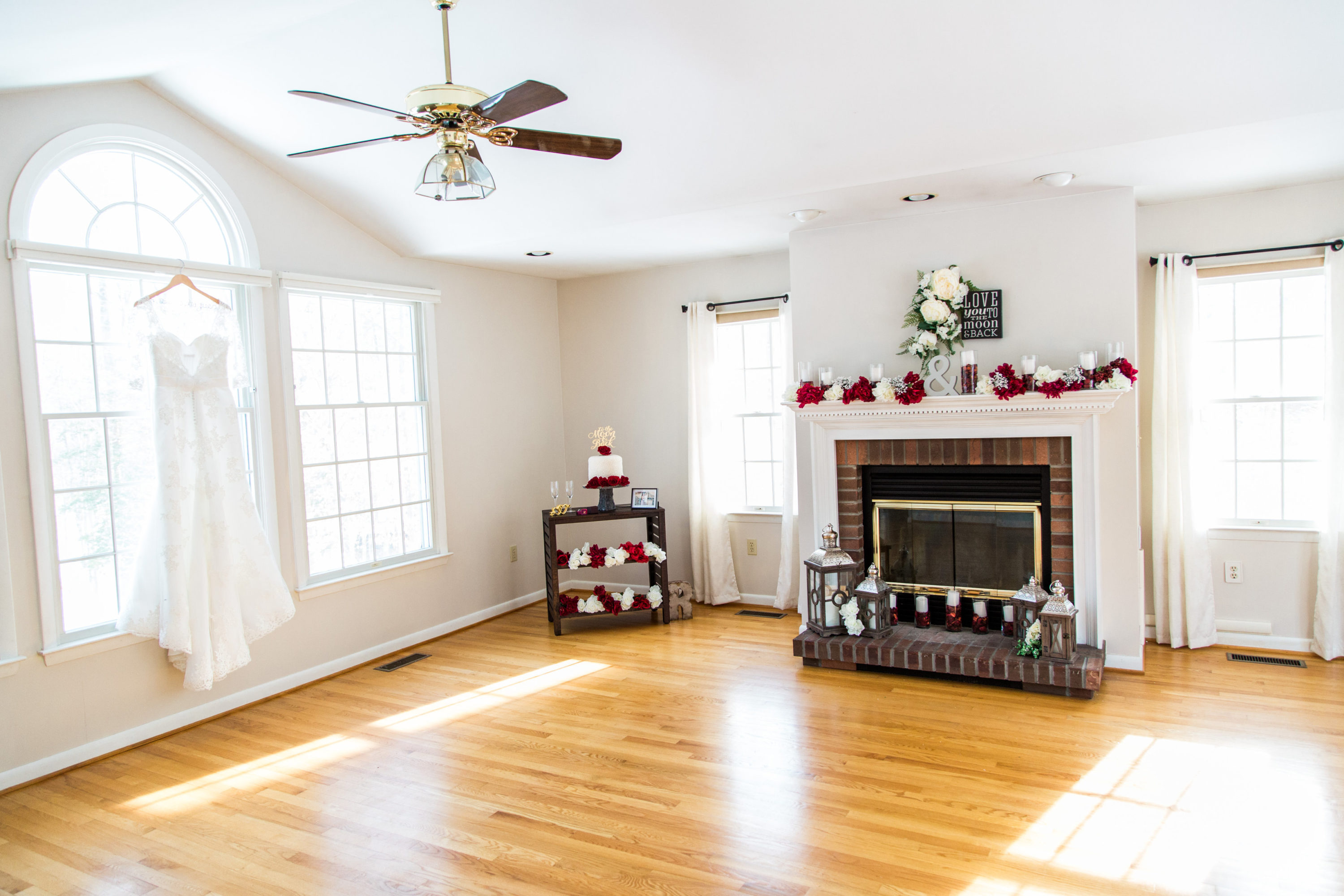 Carla Torres and Carlos Rodriguez met in college through the ROTC program. Both from Puerto Rico, the two spent their first date walking along the National Mall. Carlos proposed in the kitchen of their shared apartment. He had been out shopping for groceries with their two year old son, Gio, when a package arrived at the house. He told Carla not to open it until he came back home. Once he got home, they put Gio to bed, and Carlos opened the package and immediately got down on one knee: inside was her wedding ring.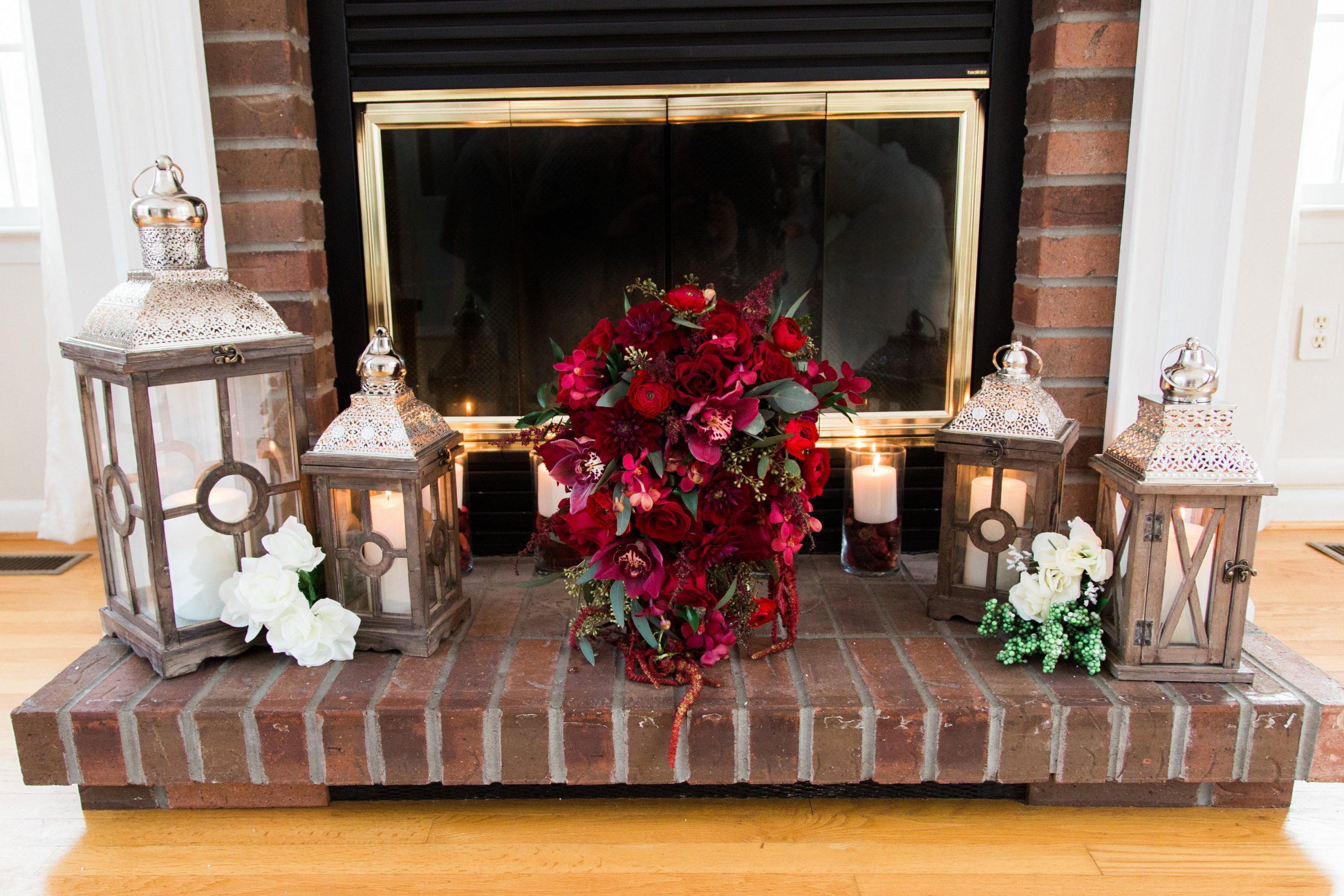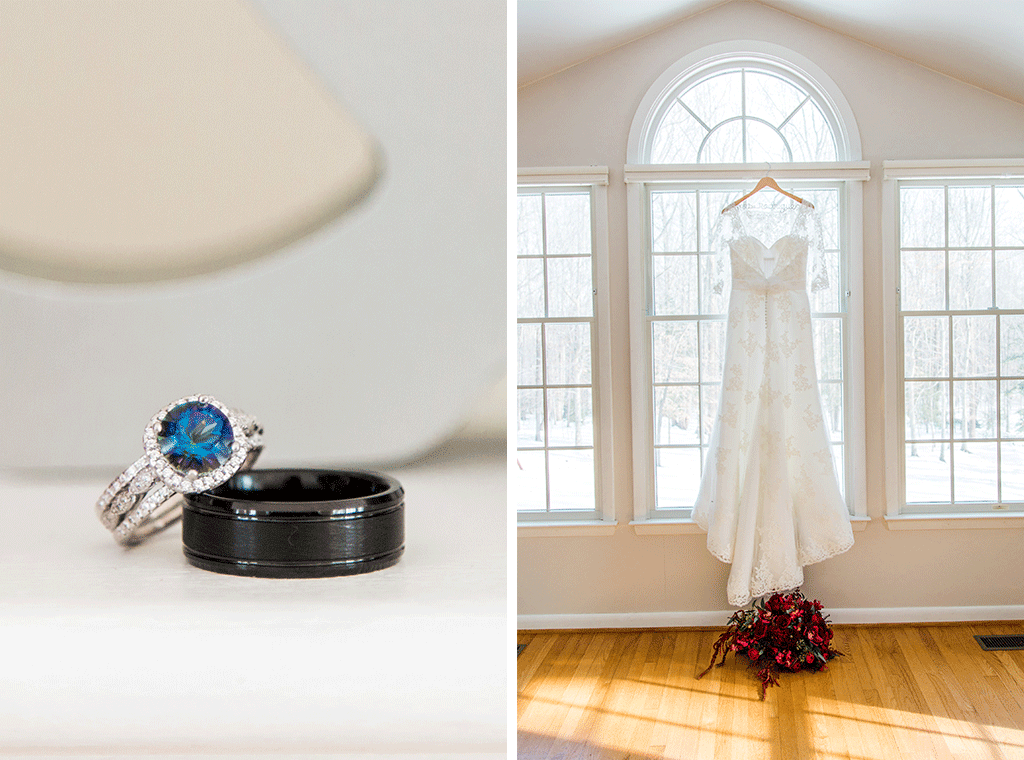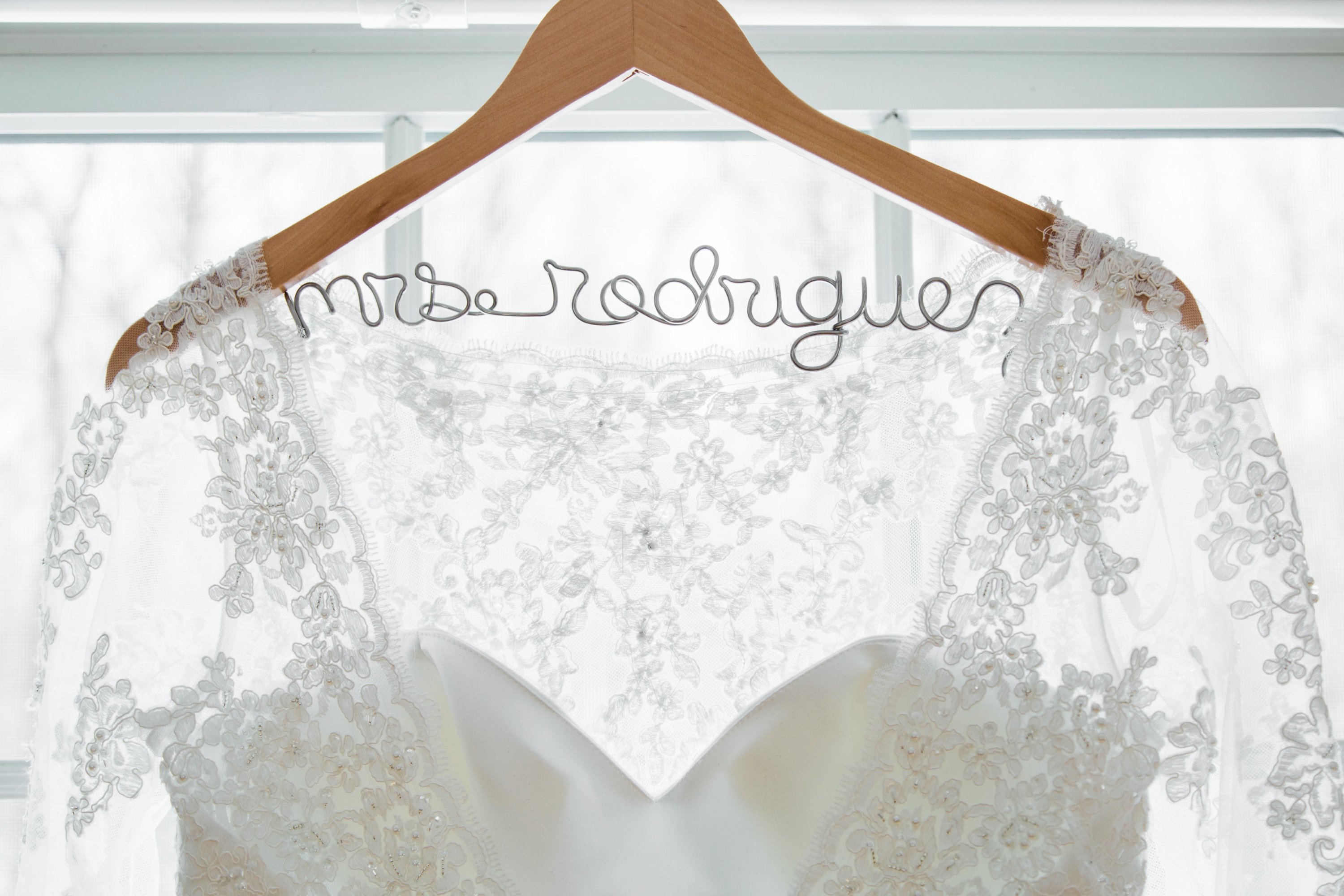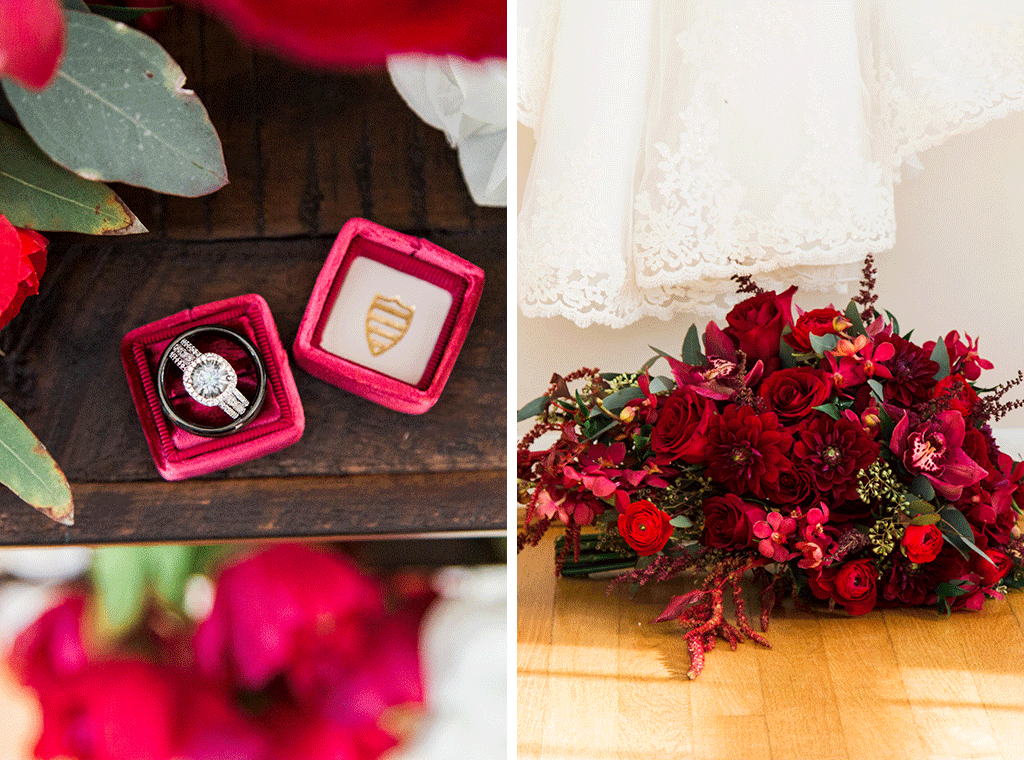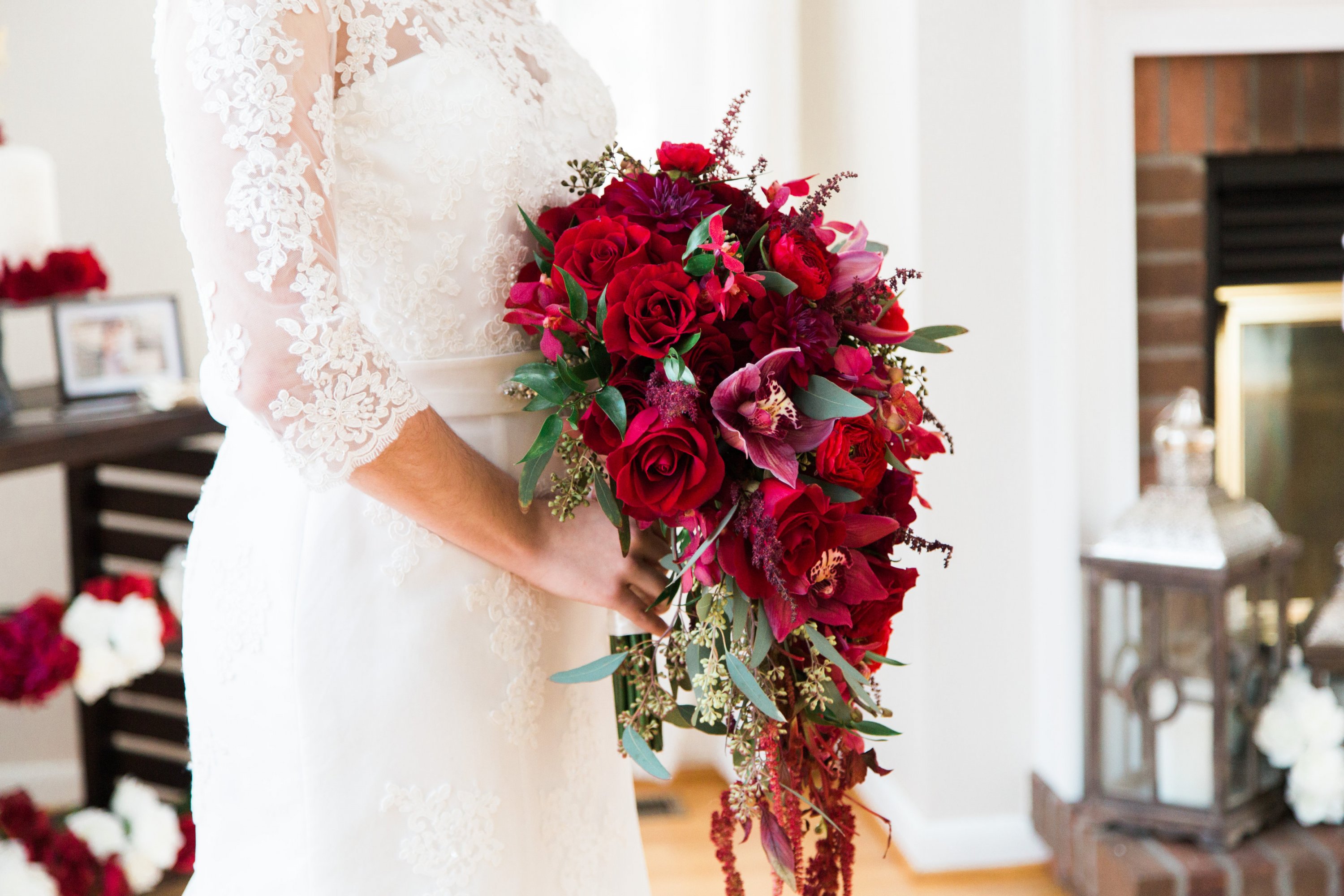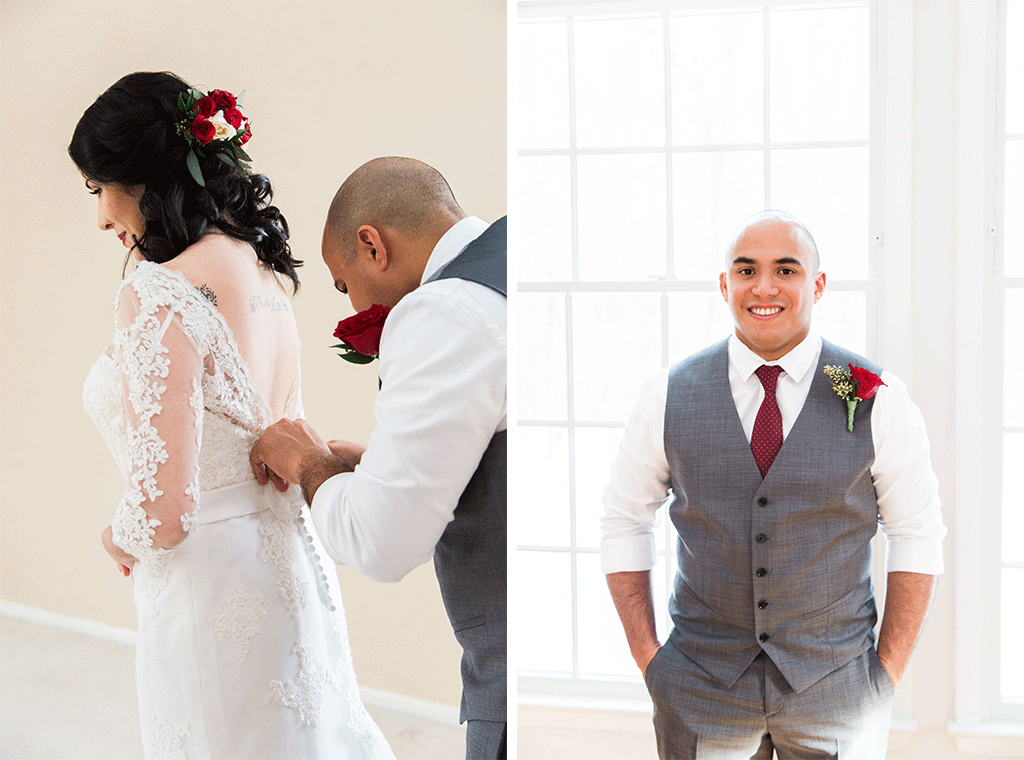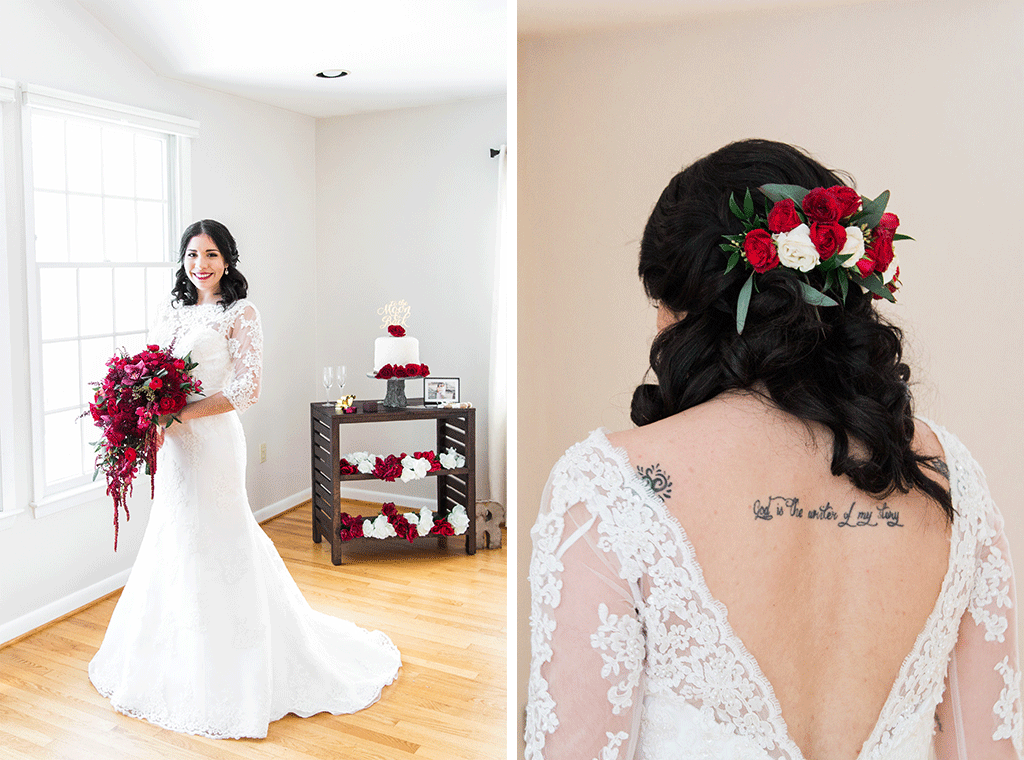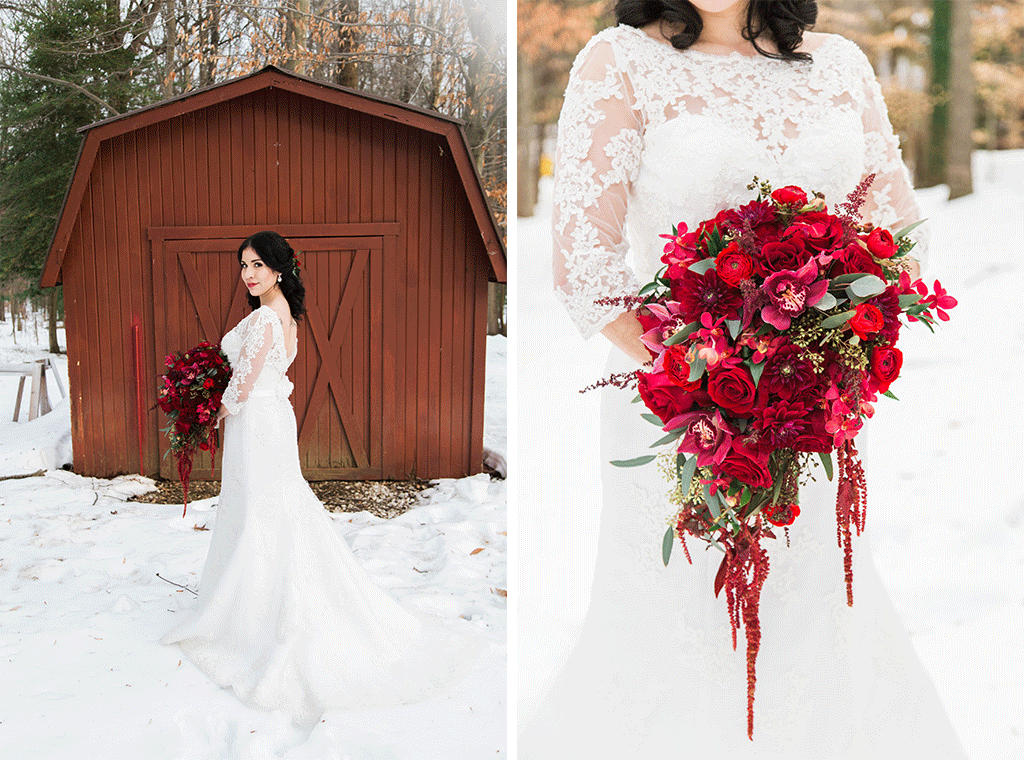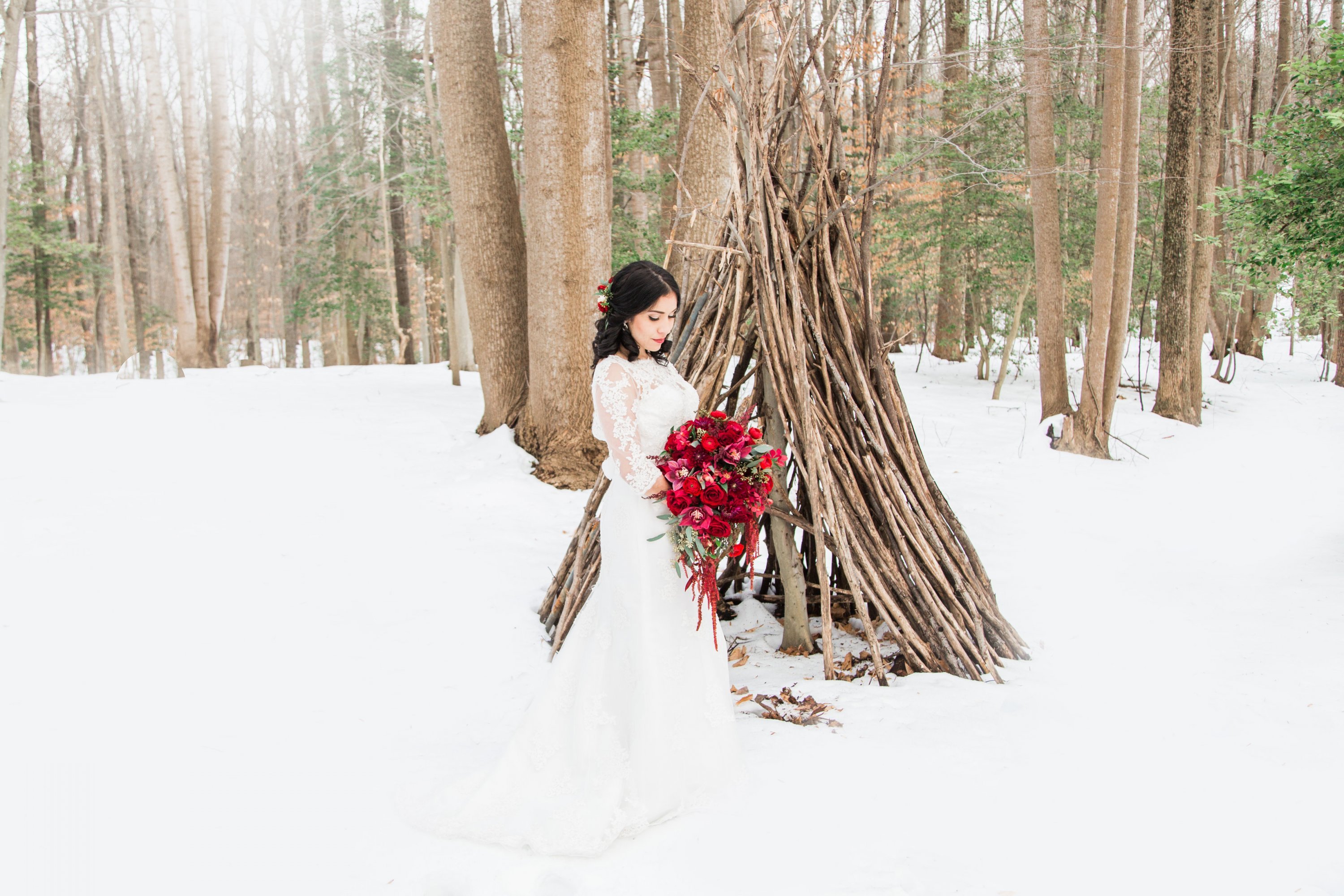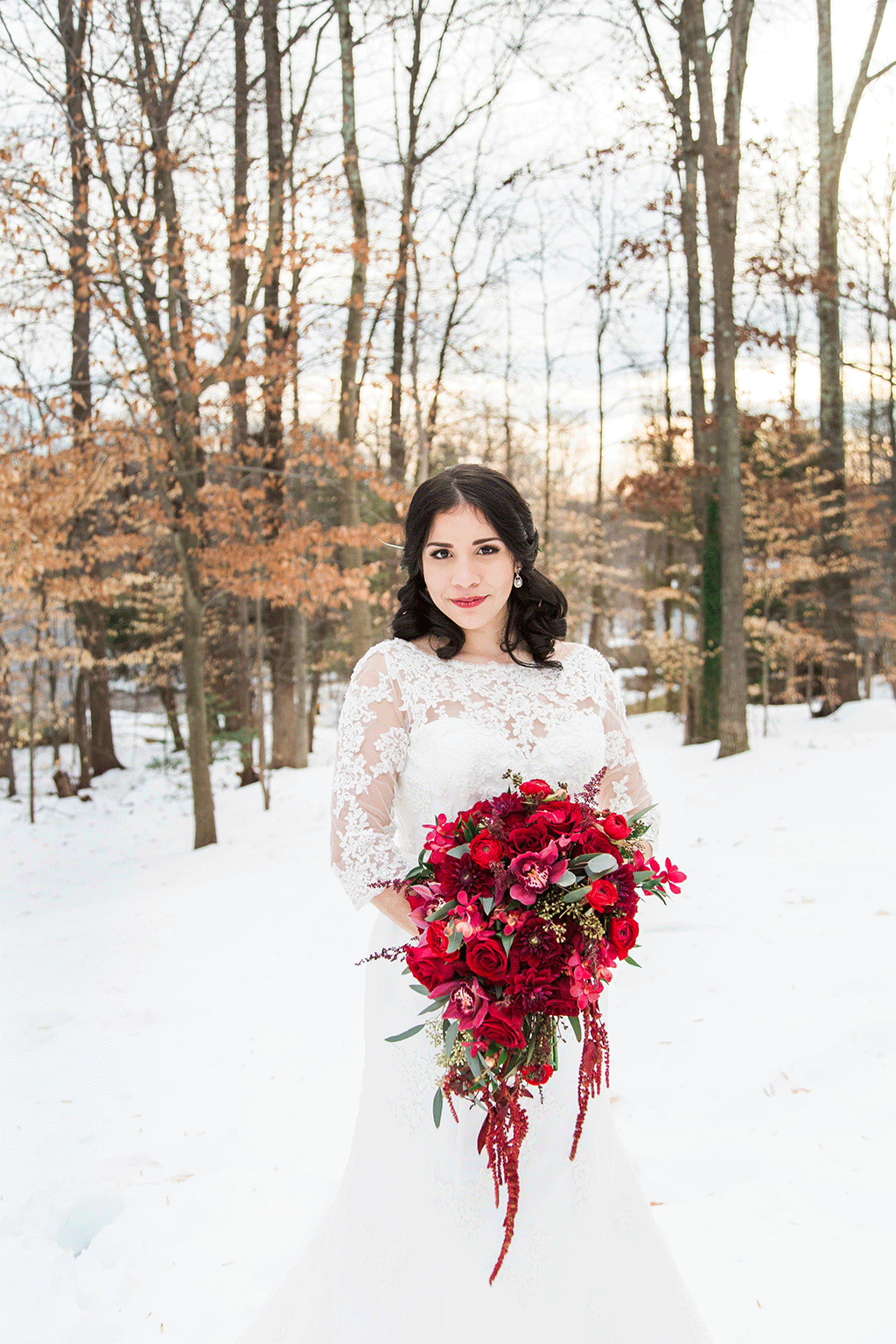 For their nuptials, Carla and Carlos decided to keep things simple and hold the ceremony at their private home in Gambrills, Maryland. Carla wore an open-backed dress with a sweetheart neckline, and lace, three-quarter length sleeves and carried an oversized bouquet of bright red flowers from DaVinici Florist, complete with roses, daylilies, ranunculus, and silver dollar eucalyptus.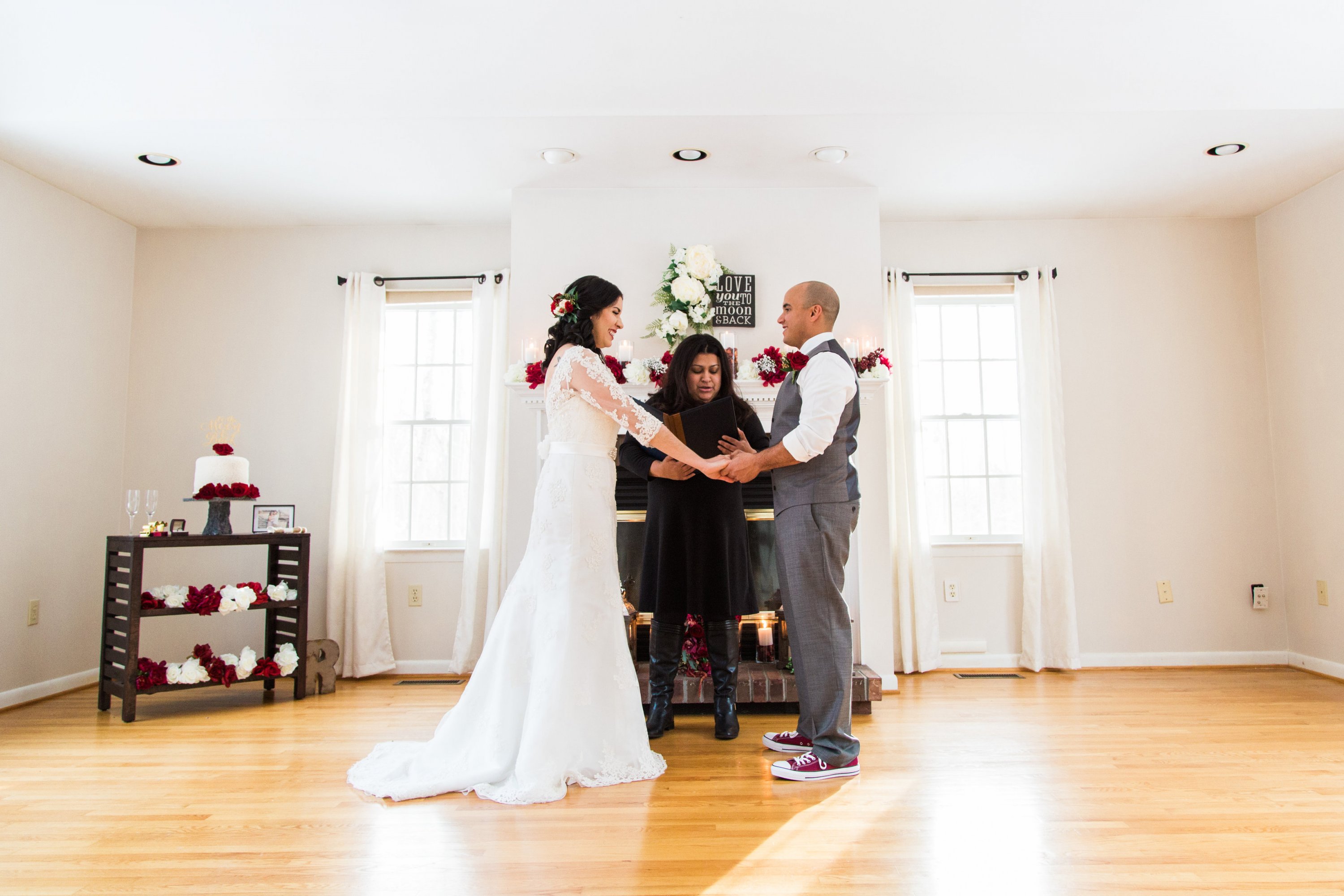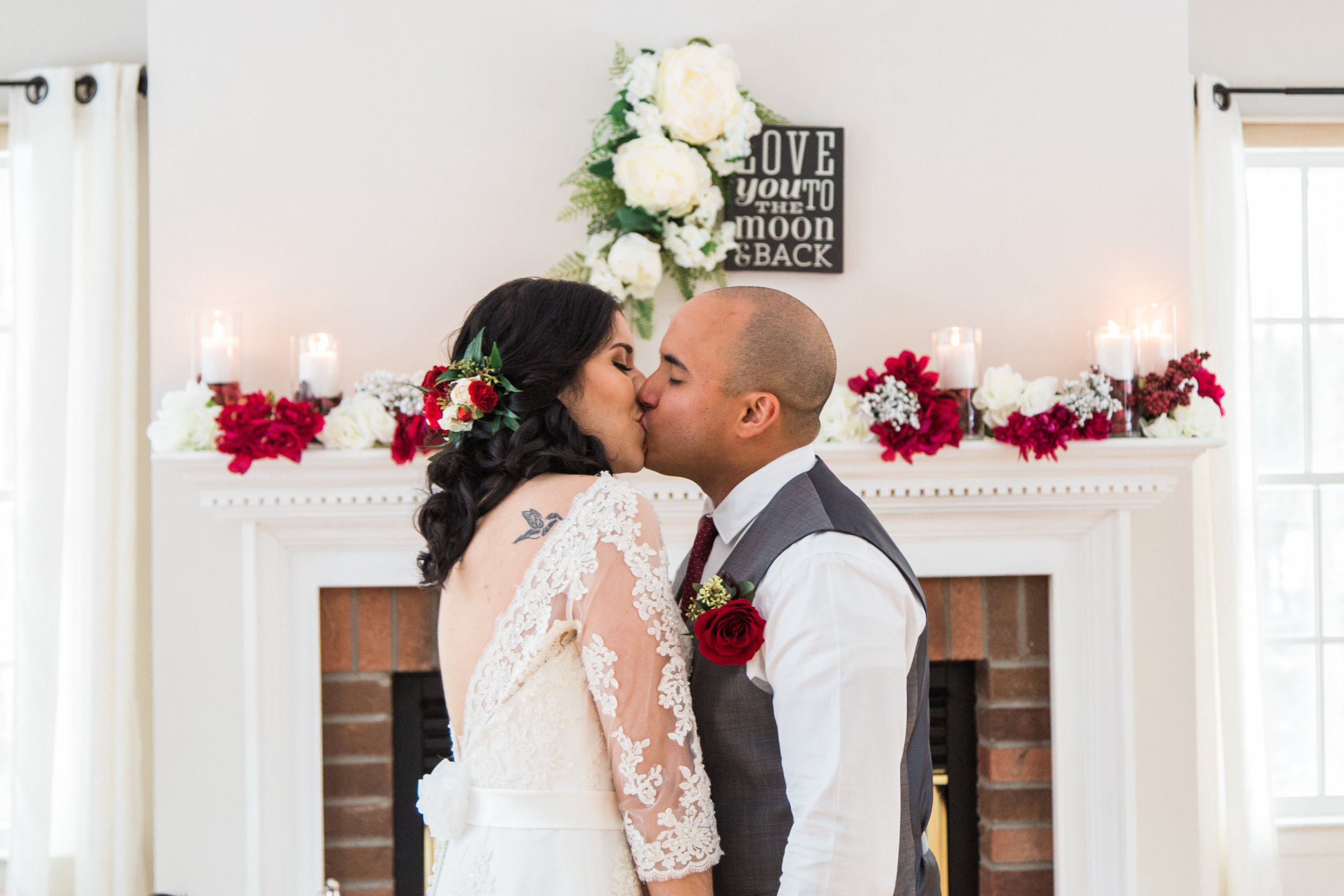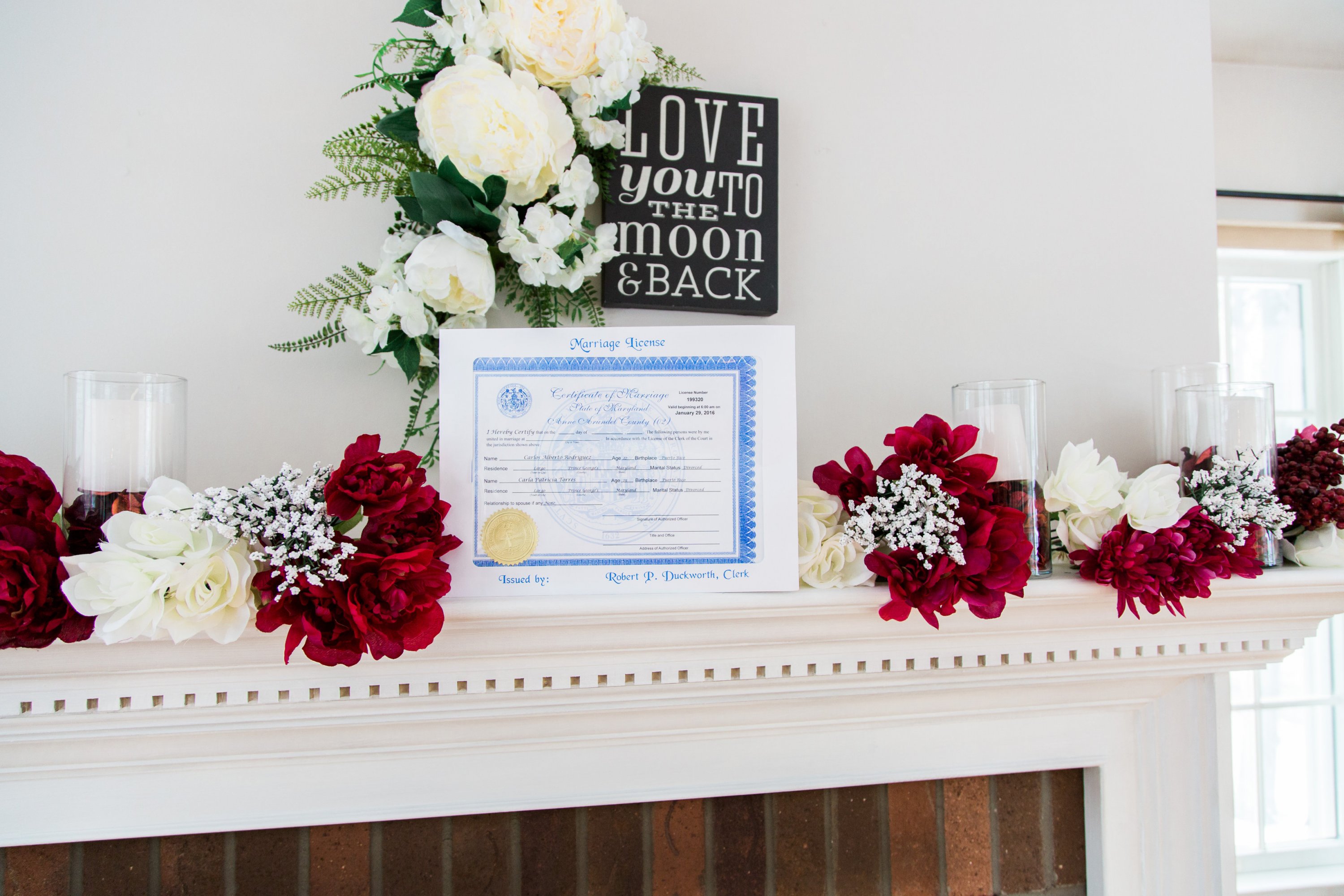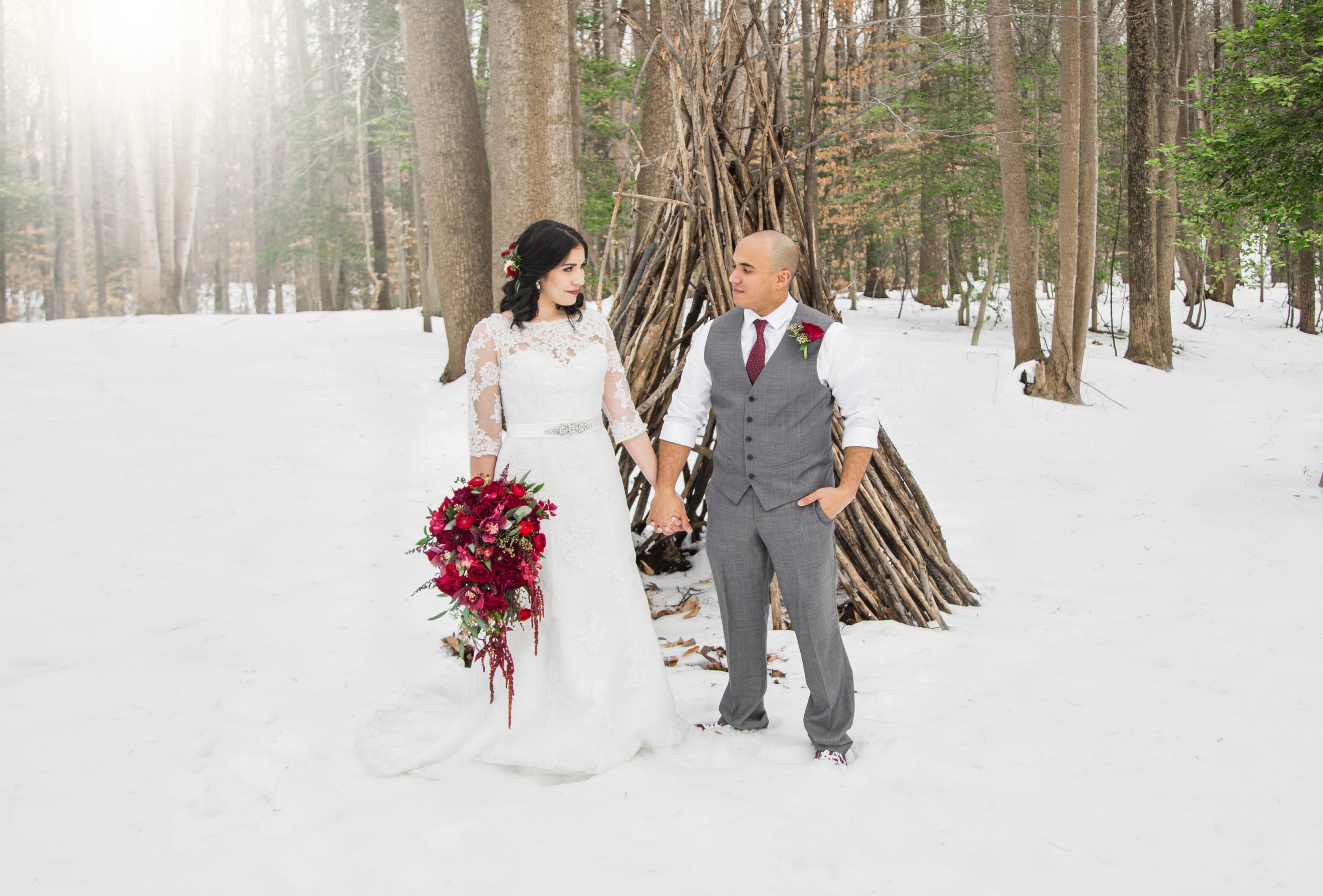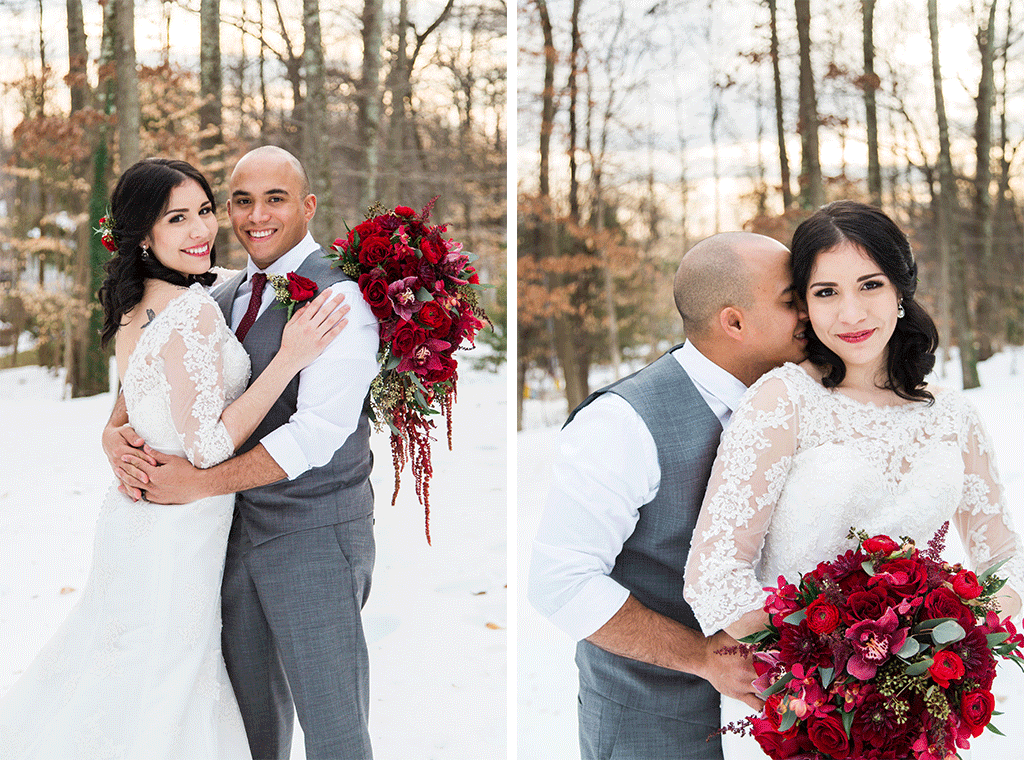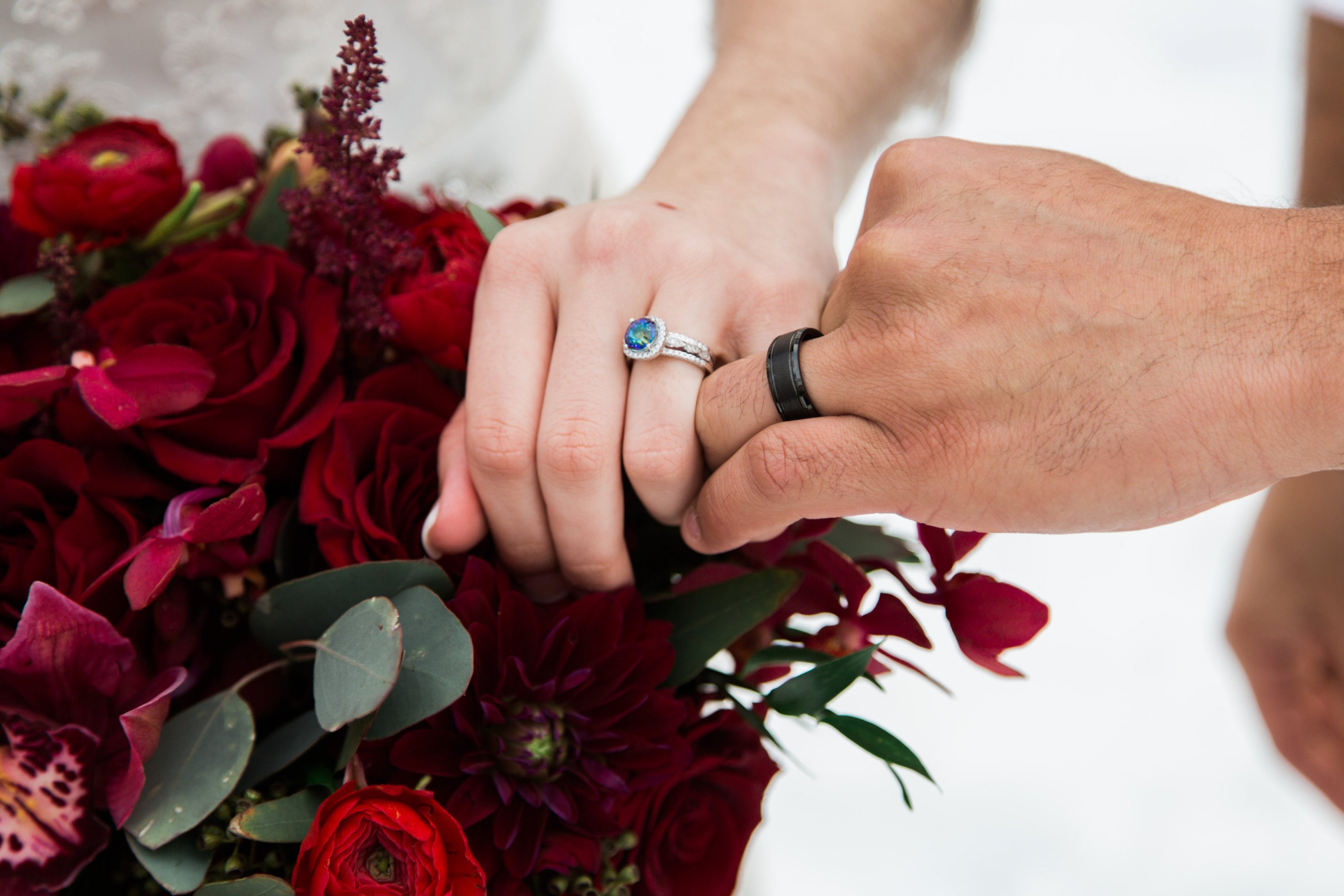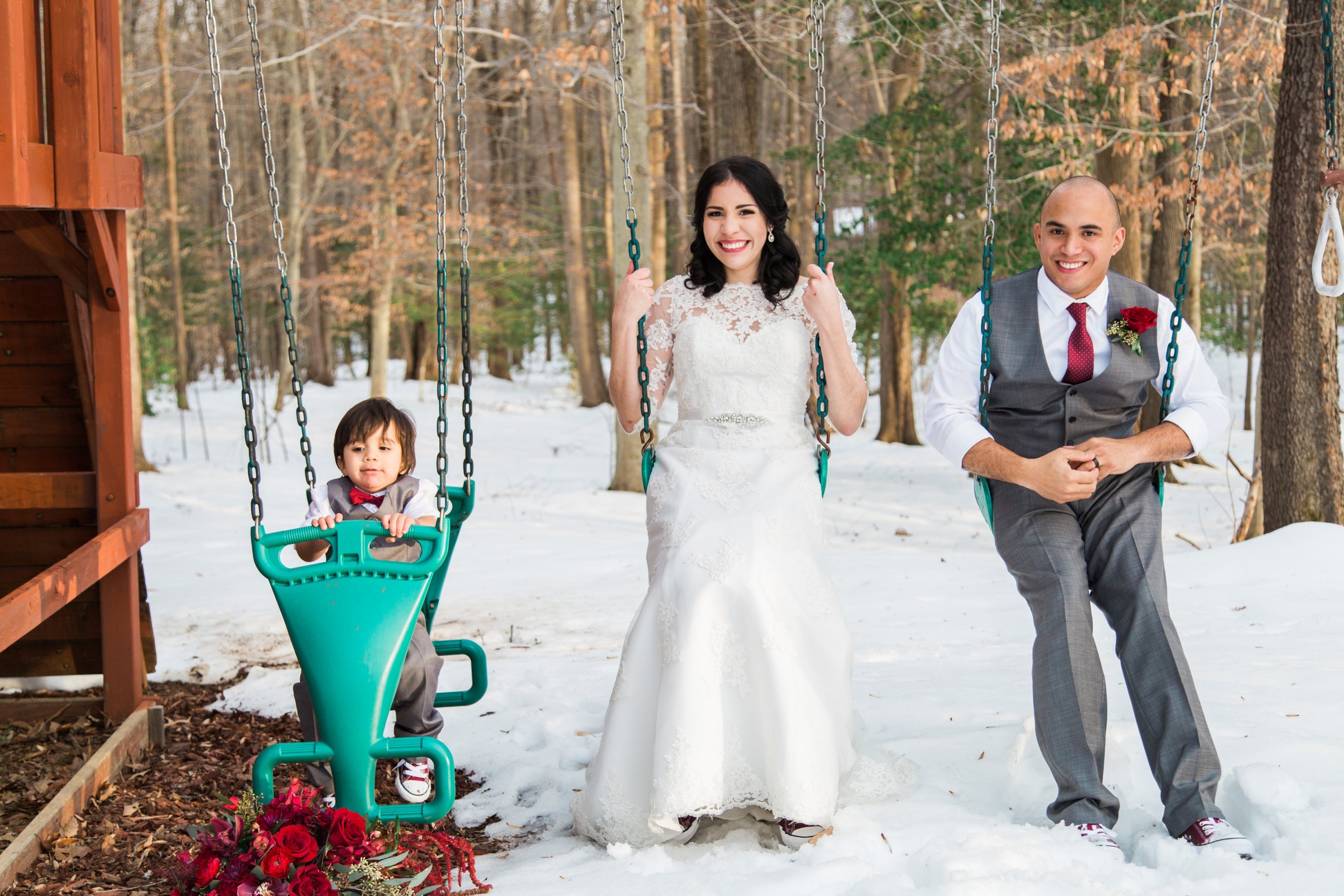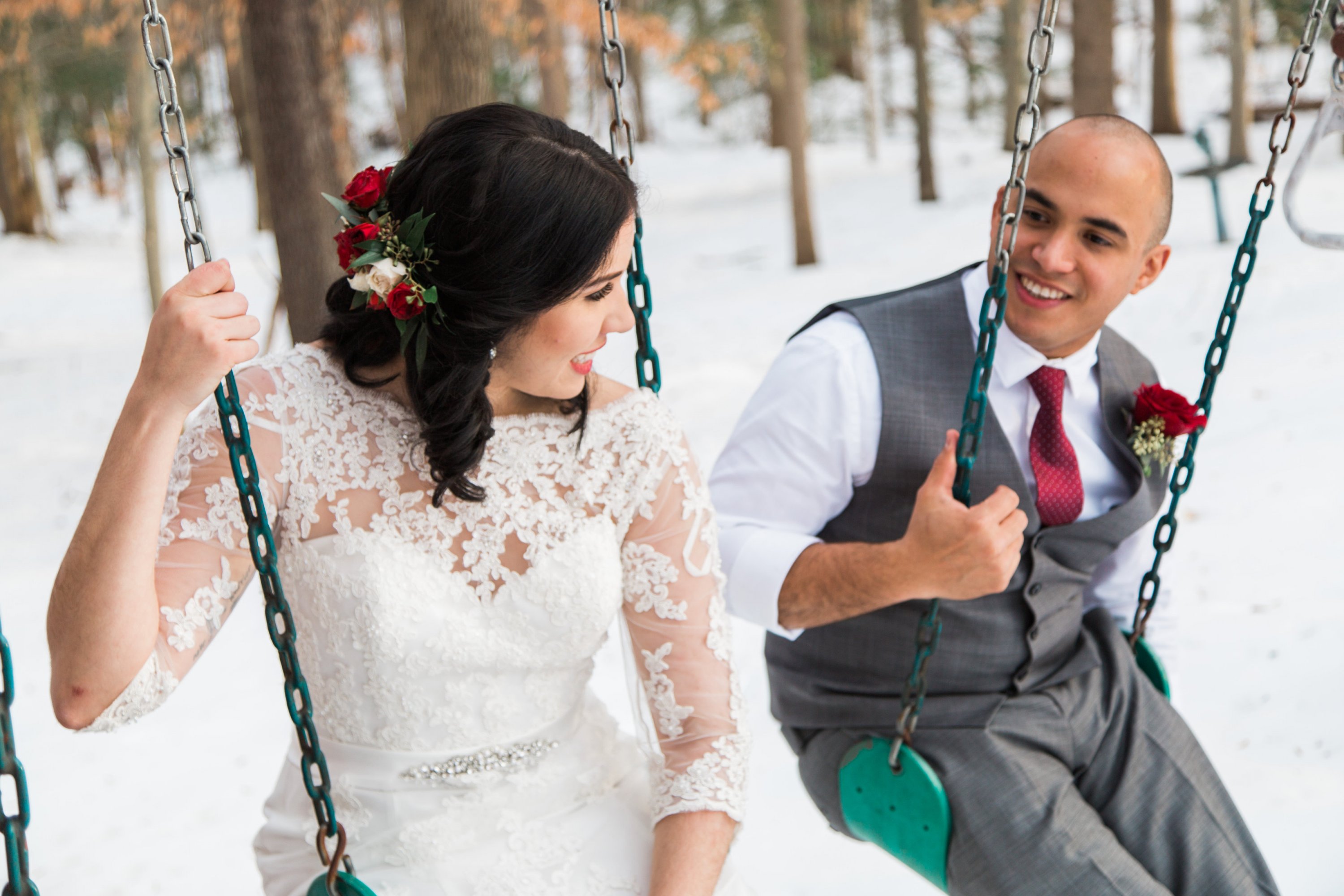 Outside, their yard was covered in a light layer of winter white from the previous night's snowfall. But the sun was out and the weather had warmed up a bit, making it the perfect setting for some truly beautiful wedding photos. Carlos and Carla posed together in front of a handmade wooden tepee, out by their toolshed, and playing on their son's swing set, all against the backdrop of a quiet wintery forest landscape.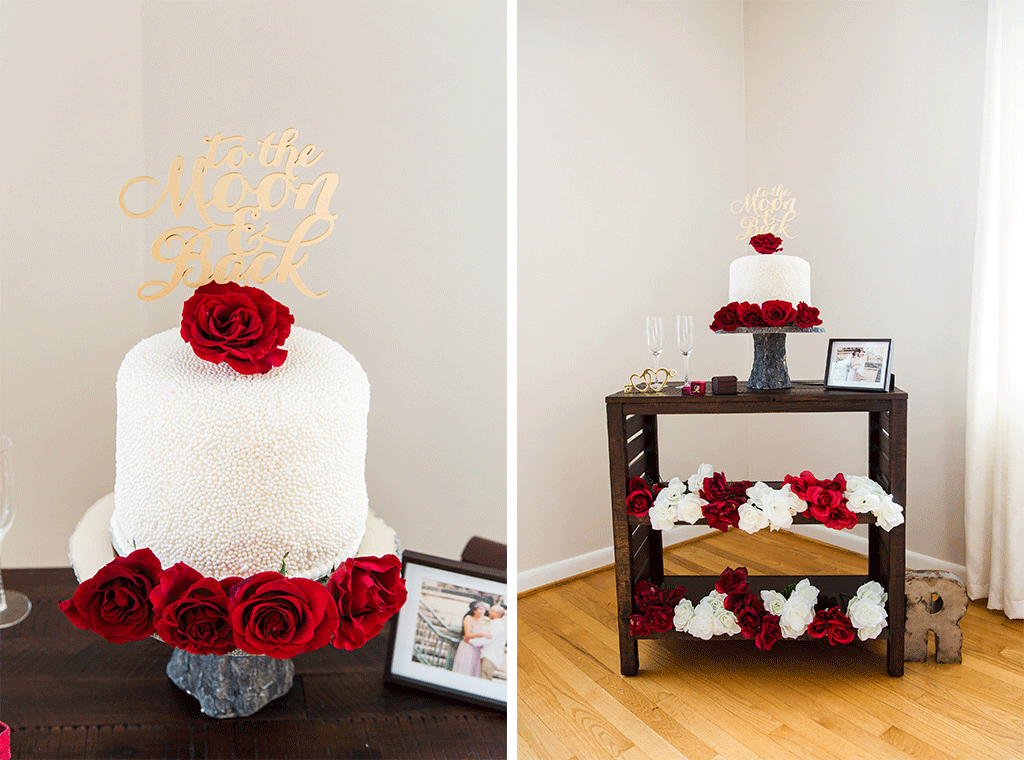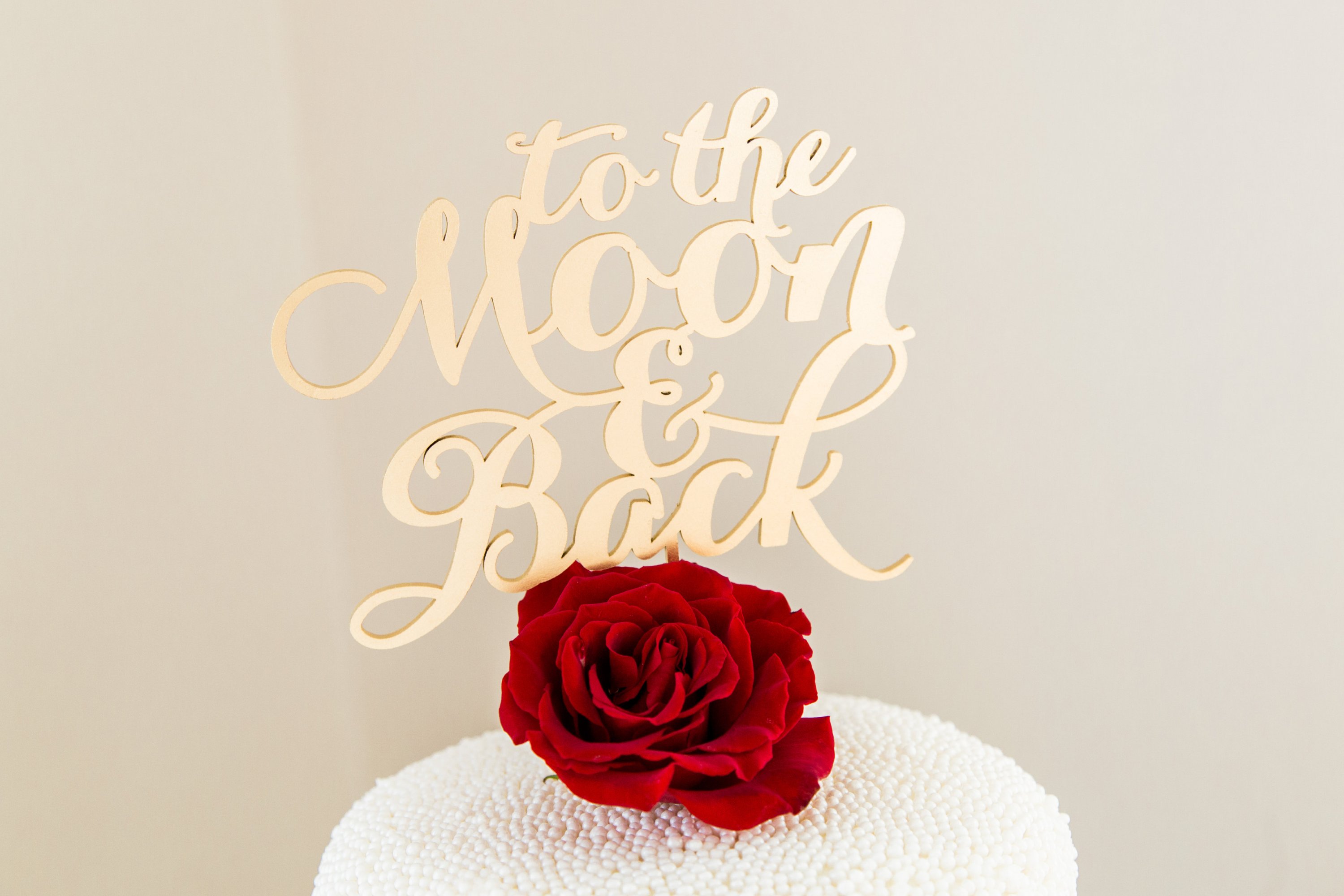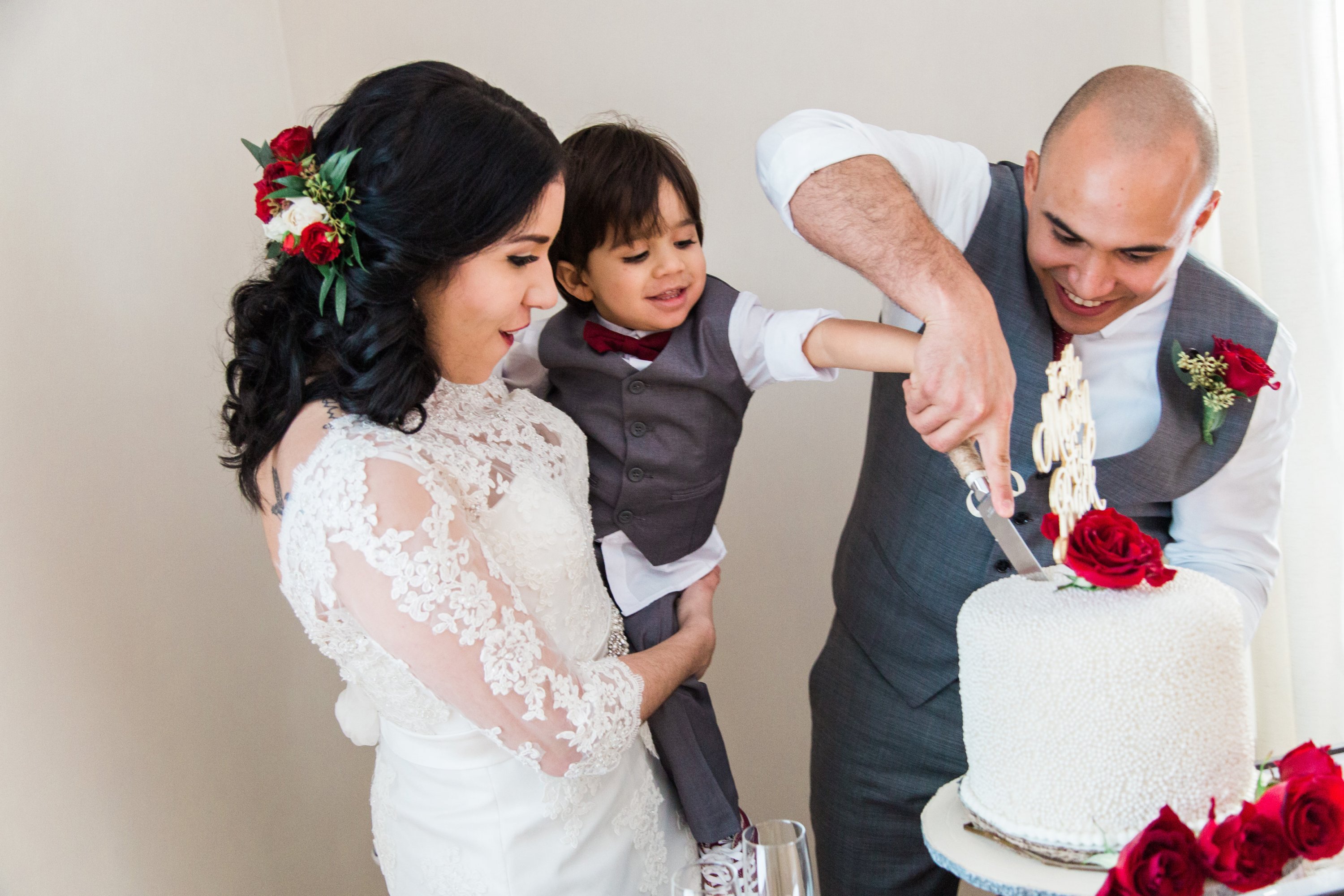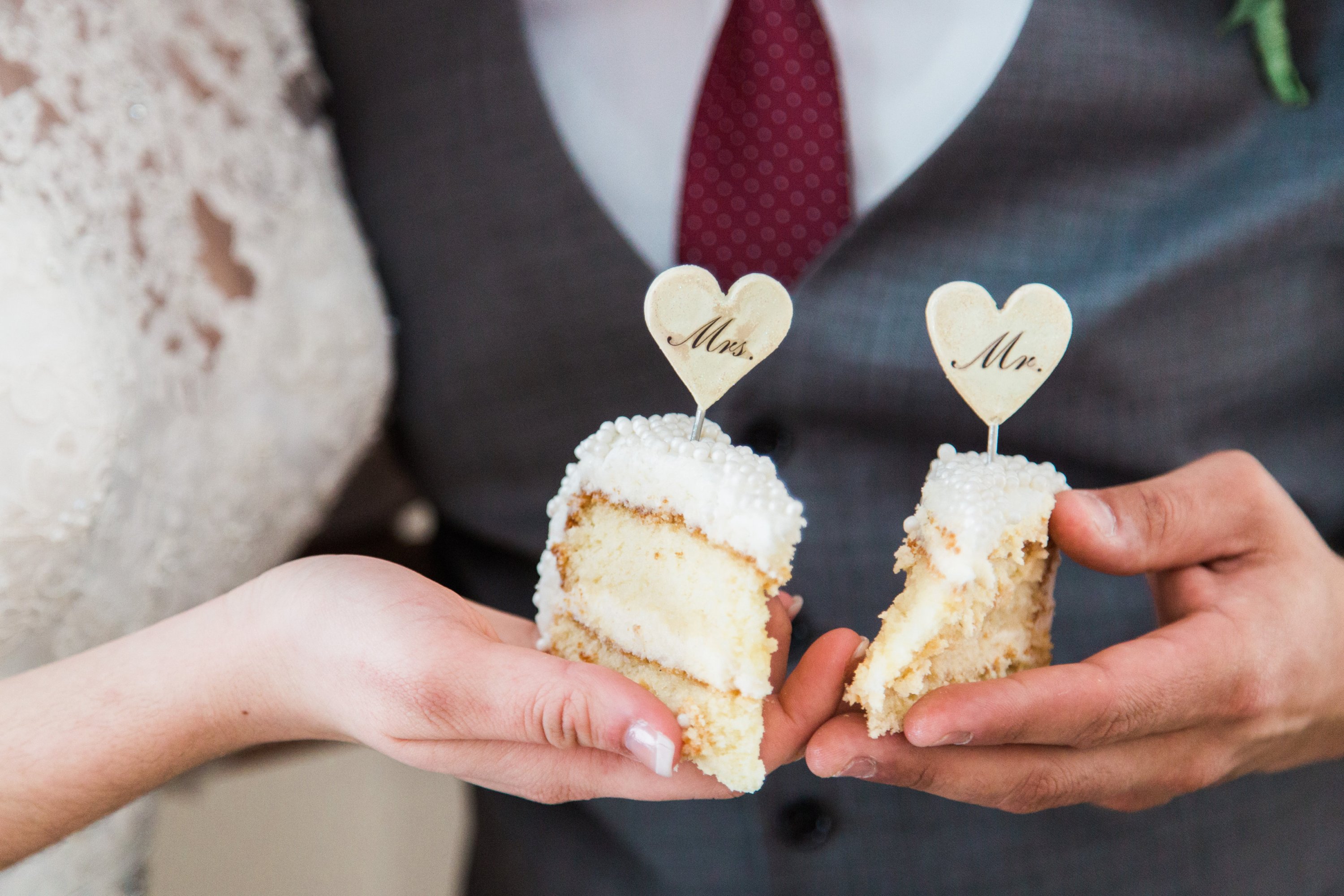 The couple said their vows in front of a decorated fireplace mantle, and split a cake with a wedding topper that read "Over the Moon," the theme for their special day. All three of them—Carla, Carlos, and Gio—were decked out in matching maroon Converse sneakers for the ceremony. Afterwards Carlos and Carla toasted with a winter warmer of Johnny Walker Blue Label in lieu of champagne. As the light waned, they headed out for pizza with friends at DRP Belle Haven in Alexandria for their reception.
VENDORS
Photographer: Alicia Wiley Photography | Florist: DaVinci Florist | Bride's Gown: Occasions House of Bridal | Groom's Tux: Express | Bride's Hair: Caitlin Gibbons of Pretty Weird Beauty | Bride's Makeup: Ashley Alana of Red, White & Beautiful | Cake: Gistero Cakes | Cake Topper: Better off Wed | Reception Venue: DRP Belle Haven