Brent Kroll became interested in wine before he was even legally allowed to drink it. As he waited tables to get through community college in his home state of Michigan, he realized he was getting the worst sections and making the least money without some wine knowledge. So, he started reading wine books in his free time and paying fellow servers to buy bottles so he could go home and take tasting notes.
The month he turned 21, he took his first sommelier exam. By 22, he landed his first head sommelier gig.
In the years since he moved to DC, Kroll, now 31, has built a name for himself overseeing the wine programs at Oval Room, Adour, and Neighborhood Restaurant Group. Most recently, he's been the general manager at Proof.
All that experience will culminate with Maxwell Park, a wine bar Kroll is opening at 9th and O in Shaw in mid-April. [UPDATE: It opens June 26.] It replaces Piassa EthioCuisine & Cafe.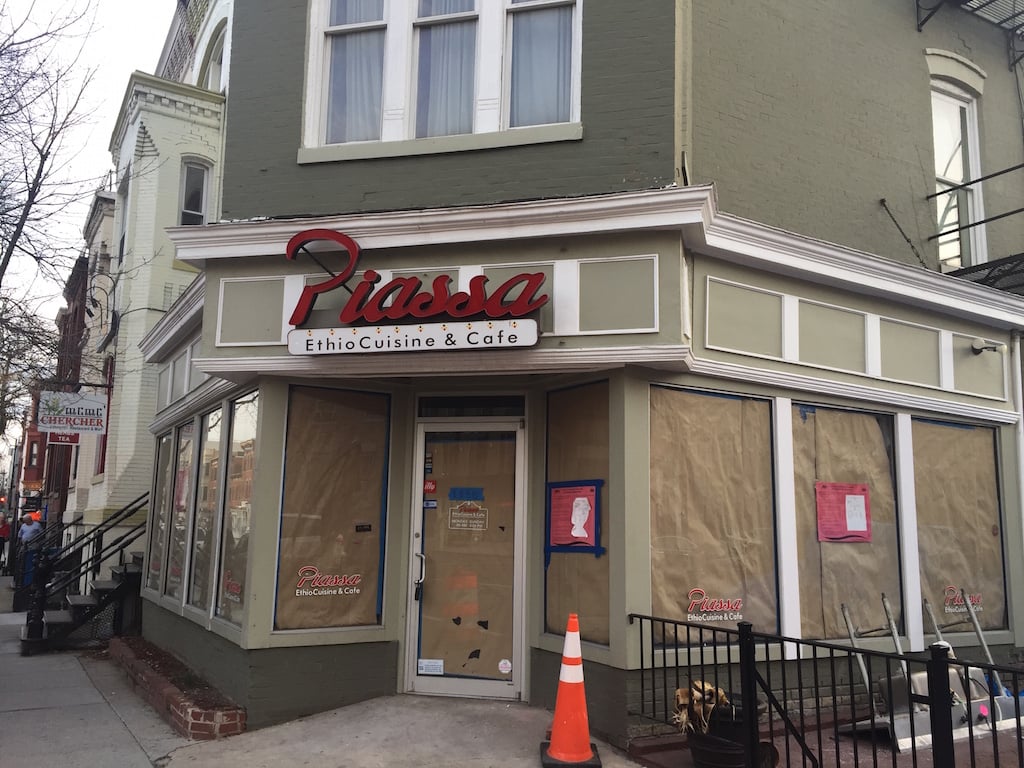 Kroll hopes to make his wine bar stand out from the pack with a rotation of offbeat themes. One month, half of the 5o wines by the glass (or half-glass) may all come from islands. Another month, he might feature wines from volcanic soil or "ABPG" (Anything But Pinot Grigio) indigenous white grapes from Italy.
The rest of the list will be a mix of classics, natural wines, and other more esoteric picks. "I'm really not limiting it to anything," Kroll says. He'll list them on the menu in a progression from light and elegant to heavy and powerful.
Maxwell Park gets its name for a park in Detroit, where Kroll grew up. As a child of divorce, he says one of the highlights of his day would be going to this wooden playground by the railroad tracks. For a business he's worked his whole life for, he felt it would be more fitting than another cheesy wine pun.
"I wanted to go with something really sentimental," he says.
Kroll will store wine in four different temperature zones using dual-zone digitally controlled fridges. "The way you pay attention to temperature really affects how you taste the wine, and very few people get that," Kroll says. "If it's a Chablis or a California Chardonnay, they're not meant to be in the white wine cooler and have the same temperature."
Kroll plans to be a full-time bartender at his bar, but he also wants guests to have the same expertise no matter who is serving them. That's why he's offered two local rising star sommeliers partnership stakes in the wine bar: Daniel Runnerstrom, Kroll's right-hand man at Iron Gate, and Niki Lang, who's recently worked at Voltaggio Brothers Steak House.
"It's something I wished my entire career someone would have done for me," Kroll says. "I don't want them to feel like they're working at my bar. I want them to feel like they're working at our bar."
In addition to wine, Maxwell Park will serve some bottled cocktails, half of which will be savory. (Kroll has an idea for a salted peanut-infused aged rum drink with dill and lemon.) The bar will also have bottles and cans of beer, including several funky and sour varieties that are wine-like.
Inferno Pizzeria Napoletana chef and owner Tony Conte, who previously worked with Kroll at Oval Room, is putting together the food menu. Conte doesn't usually attach his name to restaurants besides his own, but he made an exception for Kroll: "I would never do it for anybody else."
Kroll doesn't want to have just another wine bar serving cheese and charcuterie (although you'll find those too). He also wants some healthier, lighter options, including some seasonal vegetable dishes and possibly a sampling of crudos. Although the menu is still in development, Conte is looking to offer some steamed shrimp and foie gras dumplings or other Asian-accented bites reminiscent of his style at Oval Room. The complexity of the menu will depend on who's executing it on a daily basis and how the kitchen is ultimately setup.
The 33-seat space (plus 20-seat patio) will be mostly clad in exposed brick, tile, and wood with high-top tables and a big booth for up to six. The 12-seat bar will be made out of slate—inspired by cheese boards found at many restaurants. The surface material will also allow the staff to write in chalk on the bar to help customers identify wine samplings in front of them. While the space is relatively small, it does have a basement that Kroll says will provide more wine storage than most fine dining restaurants.
Maxwell Park. 1336 9th St., NW.