Ever since Bethesda native Elena Hutchinson was a young girl she's been fascinated by all things medieval. Growing up, she was first interested in dinosaurs before moving on to dragons and fantasy creatures via her brother's Dungeons and Dragons manuals. "My brother was definitely formative in my life as a geek," Hutchinson says.
Today, Hutchinson, 25, works as a graphic designer and art director at a local advertising agency. But by night, she's been developing a different project: a line of leggings inspired by, as the website states, "armor, history, and geekery." She launched a Kickstarter for the brand, dubbed Lorica, at the end of February with a goal of raising $10,000. As of 8 AM Wednesday, Hutchinson's raised $170,000, and could hit $200,000 by the time the fundraising closes at 3:30 PM.
"It is a daily frustration that it isn't socially acceptable to wear pauldrons to the store," says Hutchinson, a self-described "lifelong geek" with bleach-blonde dyed hair. The leggings were her solution. Printed with bold patterns, they mimic with surprising historical accuracy the material, pattern, and colors of medieval gear, except they are made for, you know, yoga rather than sword-fighting.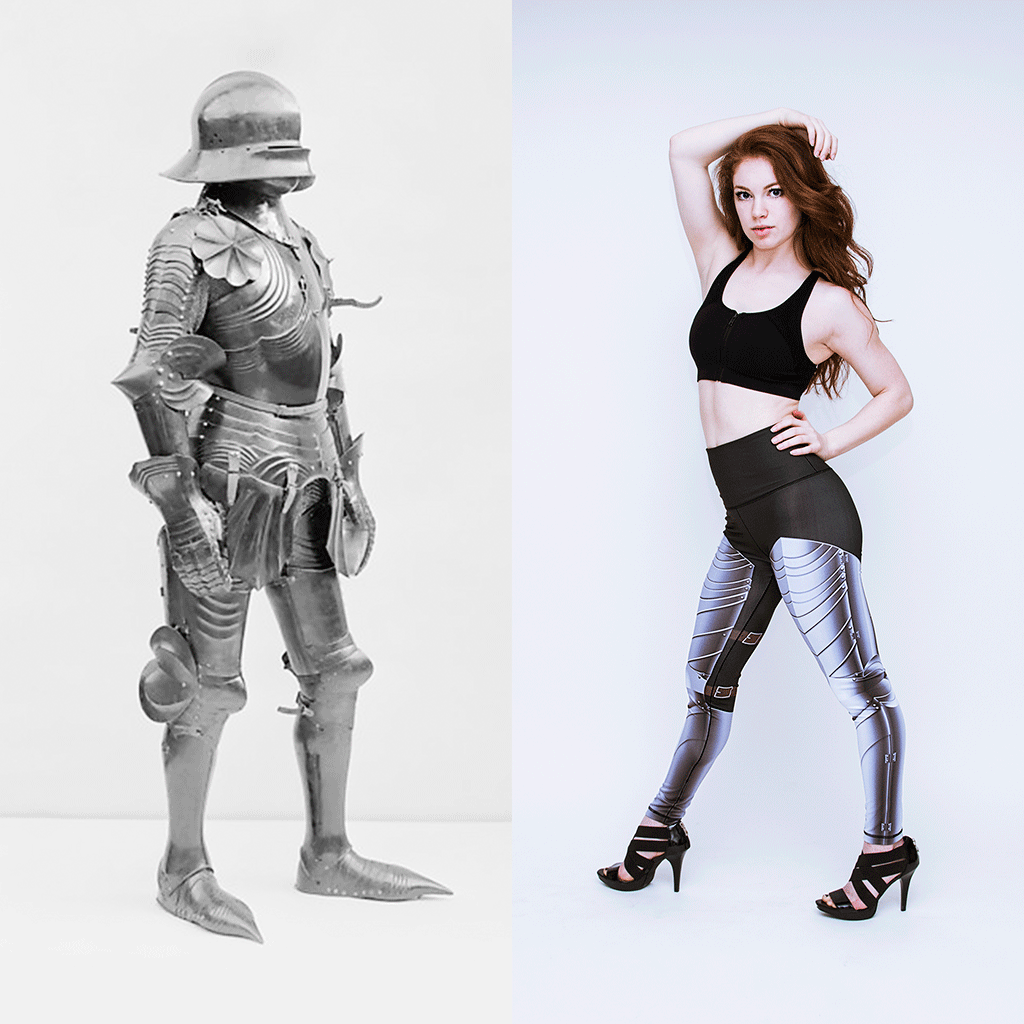 The name Lorica is Latin for body armor, specifically a hauberk or breastplate. In Christian monastic tradition, a lorica can also be a prayer of protection, and indeed, Hutchinson's brand seems to be operating under some kind of spell of good fortune. When she launched her Kickstarter back on February 27 she set a modest fundraising goal of $10,000, which she figured would help cover her first round of production costs. "But if we get even further, I have so many dreams for where this brand could go," the Kickstarter page reads. "You with me?"
Readers and prospective customers definitely were. Overwhelmingly so. For the first two weeks, the fundraising came in slowly but steadily. "In the beginning most traffic to the campaign was family and friends, I hadn't really gotten tapped into my main audience yet." But after she tipped off the fashion blog Fashionably Geek, the cash poured in.
"It was like an explosion," she explains, "we weren't even [fully] funded, it was around $7,000 and then shot up to $40,000 in a day." That day happened to be when she was in Boston for the PAX East video-gaming conference. Hutchinson checked Kickstarter on her phone only to find that Lorica had brought in $1,000 in just a few hours, a number that normally took at least three days to accrue. She dismissed it as a fluke. A half hour later, it was up to $5,000. "I was like 'what is happening?'" she recalls.
As the cash rolled in, Hutchinson found Lorica was meeting more and more of its "reach goals," or the targets Kickstarter projects set after hitting their main fundraising goals. As Lorica hit marks like $20,000, $40,000, and eventually $90,000, items like bodysuits, reversible hoodies, plus-size gear, and chainmail-printed T-shirts for men were added to the production lineup. Already, the production schedule has been adjusted, and orders set to be shipped in June have been pushed back until September.
"A lot of a Kickstarter's success is how well you market, how good you make the product look, so it's been invaluable to have that skillset," Hutchinson says. "But this is my first rodeo as far as being a CEO and managing manufacturing and negotiating costs, so that has been a huge learning process."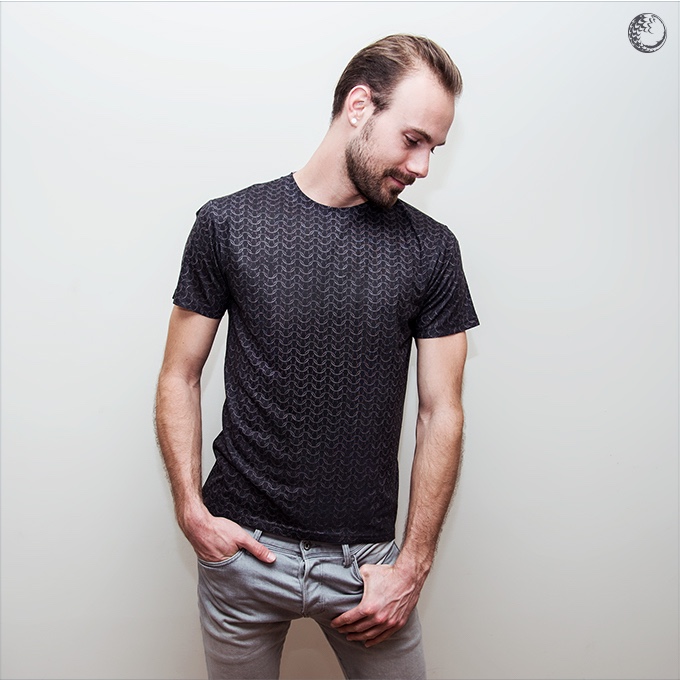 The spike in popularity came not only from blogs like Fashionably Geek that picked up on Lorica, but from almost frantic interest from a wide range of niche groups. Among her biggest supporters, Hutchinson counts gamers, the live-action role-playing community, the Society for Creative Anachronism, professional period re-enactors, and a particularly fervent historical European martial arts club that practices traditional fencing and longsword methods.
In the meantime, Hutchinson, who studied design and advertising at the University of Southern California, has been fighting tooth and nail to get her project off the ground. She designed the art for the leggings, found a manufacturer, and shot all the photography and video for the Kickstarter herself. She runs the brand's social media, which launched about a month before the Kickstarter campaign to drum up interest. She also produced the promotional video in collaboration with Mere Hermann, a local dancer and choreographer, who reached out to students at her alma mater, the George Mason School of Dance, to find talent for the clip.
Lorica's leggings come in styles with names  like the 'Henry VIII,' the 'Scudamore,' and the 'Augsburg,' all based on suits of armor currently on display at the Metropolitan Museum of Art in New York. The leggings are also made out of recycled materials (each set of armored leggings utilizes about 20 recycled bottles) and produced by a women-owned manufacturer on the West Coast. Hutchinson favors the Henry VIII design, though the name has received some flack.
"I get some feedback like 'Your brand is all about girl power and then you have this design that is inspired by the guy who beheaded half his wives… how do you reconcile that?'" she says. "But it was just a cool design, that's all there is to it. There's a breadth to the line (I mean, they are all loud by normal people standards) but the Henry VIII is, to me, just super-classy and sleek."
While her fundraising closes today, Hutchinson is already ecstatic with the response Lorica has received. "For the next 24 hours I'm just lucky to be where I am," she says, "It's really taken on a life of it's own."