Renata Briggman was tired of the hassle of looking into her closet each morning and making decisions about what to wear before heading day at the office filled with even more decision-making. With two young kids, she also felt it was unfair to be spending what little time she had in the morning fussing over her look. Much as she enjoyed shopping, she felt she never made practical decisions about what to buy. Each morning she'd look into her brimming closet and think, "I have nothing to wear."
Cleaning out the closet didn't feel like enough. Briggman wanted to do something definitive that would put an end to any dilemma over dressing. So she took a drastic step: she adopted a style uniform. 
"I didn't care that I was wearing the latest the greatest, the new, the different," Briggman says. "I just wanted to look good and professional, and especially with what I do in real estate, I need to consistently look about the same to be dependable."
Briggman's uniform is simple: she wears black slacks, black shoes, a grey blazer and a white shirt. Every. Single. Day. She has one necklace. When she feels like accessorizing, she'll add a muted red leather belt. Her attitude toward dressing isn't militant: on weekends she'll wear black jeans instead of slacks, and in the winter she'll slip into black boots instead of pumps. But everyday, her look is essentially the same. She's been going strong for over a year, and she says the decision has changed her life.
Briggman, who lives in Arlington, works in a real-estate office where she is expected to appear polished and professional when she meets with clients. She's always leaned favored more classic, modern looks over trend-driven styles. But with a tight work schedule, even the daily ritual of putting together something classic was wearing on her.
The solution came in January 2015 when she read about a female marketing executive who adopted a style uniform. "I knew that Steve Jobs and Gary Keller wore a uniform, but they were male," Briggman says, "I thought 'Okay, but they can get away with it right? They could wear the same suit and nobody would notice.'" But the image of a powerful working woman adopting such a uniform appealed to her.
While the idea of dressing in uniform isn't new, the practice has undergone a renaissance of sorts in recent years. Leandra Medine of the fashion blog Man Repeller dubbed the phenomenon "the nirvana of style" last year after exploring the trend among industry leaders like Karl Lagerfeld and Michael Kors. And with the rising popularity of luxury basics lines like Everlane and MM.LaFleur, or startups like Cladwell, an app that helps users refine their wardrobes down to 30 items, brands are starting to accommodate a "quality over quantity" approach to dressing. But, where is a gal to turn to when she's looking to commit herself to a single look? Briggman reached out to DC Style Factory founder Rosana Vollmerhausen, who started by pulling together three prospective looks after knocking down Briggman's idea of wearing jeans everyday.
From there, they narrowed it down to just one look, taking into consideration Briggman's body type and daily routine, and limitations like seasonal trends. They briefly considered an animal-printed pump shoe, but decided that because each pair would wear out quickly from everyday wear, it would be hard to find a consistent pattern season to season. Once they finalized the look, they purchased a few iterations of each garment, sticking to simple, unembellished pieces by quality designers.
Vollmerhausen calls Briggman's resulting wardrobe "classic American."
"Think Carolyn Bissette Kennedy: luminous, polished and always put together in her Ralph Lauren," Vollmerhausen says. "This meant the pieces we wanted for her would be tailored and timeless, but still of-the-moment and stylish. We settled on a blouse, trousers, low-heel pumps and blazer. To start, I recommended five tops, two jackets, three pairs of trousers, two pairs of pumps and one belt. She would then gradually add to total ten tops, six pairs of trousers, four jackets, three pairs of pumps and two belts."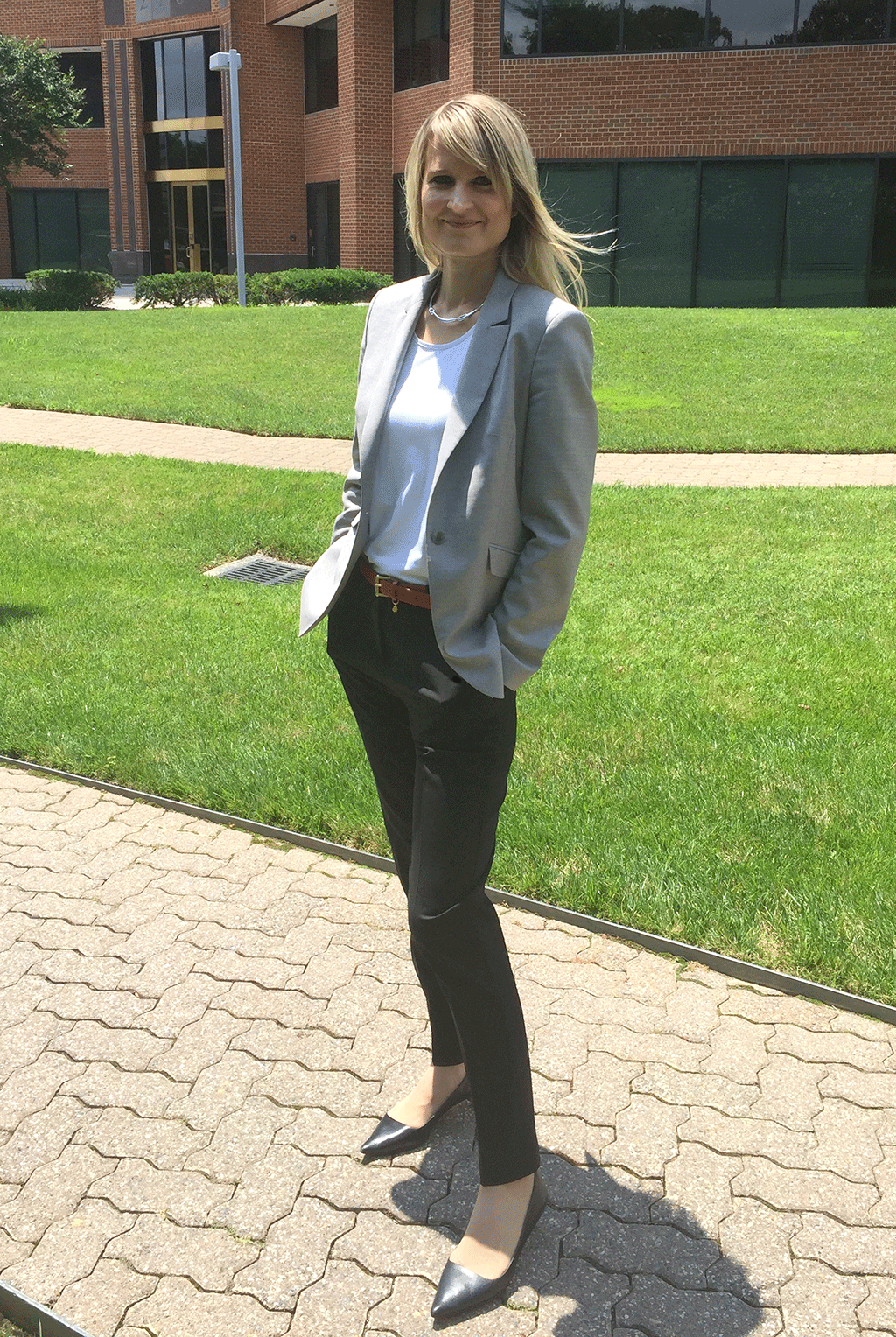 More than a year later, Briggman has no intention of changing it up. For her, the results have proven totally transformative. Among the benefits she listed were a huge influx of time, a drastic cut in stress, a boost in confidence, and more mental clarity to focus on better serving her clients. "It's saved me hours," she says. "Maybe a whole work week last year of not having to think of what to wear."
She also says she's received an unusual number of compliments about her wardrobe, which surprised her given that it's exactly the same every day. In fact, she says hardly anyone noticed the change.
"Nobody noticed," Briggman says. "One person noticed that I wear a red belt all the time. One of my coworkers was like 'You are the only person who knows how to wear a red belt with different outfits all the time,'" Briggman says. "I thought 'Are you sure that's true? Because I wear the same thing every day.'"
Briggman's uniformity has also been a relief to her personal finances and time spent shopping, as she knows exactly what it is she's looking for. But it may not be a permanent look—Briggman says she could see changing it up in about five years, or possibly when she's retired and has more time.