1320 H St., NE
Sally's second-floor deck is an oasis off H Street. The serene space was open for a limited time last year, and was recently revamped with more dining seats and communal tables for around 30 guests. Diners can browse the oft-changing chalkboard menus during brunch and dinner—we love the fried chicken special on Wednesday—though drinkers are also welcome anytime (no food order necessary).
3813 Georgia Ave., NW
Drinks go for just $3 in the Garden Bar during happy hour, where you'll find three-buck Sapporo drafts, a select cocktail, and wines (Monday through Friday, 5 to 7 pm). The Asian bar/cafe from the Hilton brothers, (formerly Chez Billy) partnered with Kyirisan chef Tim Ma for a menu of soup dumplings, bao buns, and more.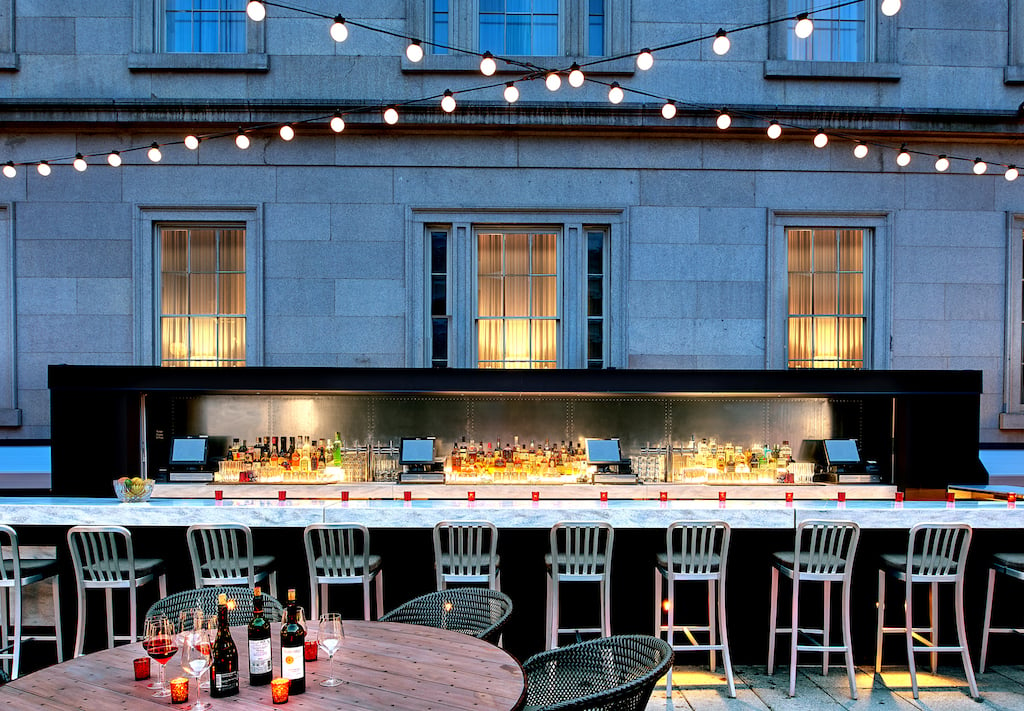 700 F St., NW
The interior of the Monaco Hotel restaurant (formerly Poste) may be moody, but the new courtyard—which encompasses an entire city block—is all sunshine. New lounge couches and chairs, fire pits, and a dedicated bar make for a comfortable setting. Snack on ceviche and dumplings alongside seasonal cocktails—which include a house gin and tonic for two.
Courtyard Garden at the Fairmont Georgetown 
2401 M St., NW
Fresh off a $27 million renovation, this high-end hotel boasts a new garden courtyard with lounge furniture, fire pits, and tables for lunch and dinner. A "shaken and stirred" happy hour brings $9 rotating cocktails—or a trio of seasonal libations for $12—plus $5 beers and $7 wines (Monday through Friday, 5 to 7 pm).
1337 Eleventh St., NW 
There's plenty of outdoor space to perch at Logan Circle's new avian-themed restaurant. A sidewalk patio seats 50 while the terrace adds another 30 above. Both serve a new spring menu with categories like "pecking" (Korean-style wings, emu tartare) and "big bird" entrees. Sunshine calls for a Rockin' Robin cocktail with vodka, blanc vermouth, raspberry, mint, and lemon.
3714 14th St., NW
The array of tacos and mezcals is quite dazzling at Alfredo and Jessica Solis's new Columbia Heights eatery (not to mention a bounty of Mexican dishes). The front patio, by comparison, is cozy—less than 20 seats, all under the watchful eye of a colorful rooster statue. Get there early.