Along North Carolina's coast, a 200-mile sliver of land elbows into the Atlantic, creating the Outer Banks. Once an expanse of wetlands and windblown sand punctuated by the occasional hunting club, the area has quietly matured into a destination for many Washingtonians. Towns such as Southern Shores, Duck, and Corolla are now home to "beach castle" properties that line the relaxed, dog-friendly coastline. Don't mistake laid-back charm for sleepy. The pirate lore, tales of a ship-devouring sea, and nature preserves and parks make it as easy to connect with your inner adventurer as to nap on the beach.
Along the Way
Halfway There
National Geographic named Pierce's Pitt Bar-B-Que (447 E. Rochambeau Dr., Williamsburg, Va.; 757-565-2955) one of America's ten best barbecue joints. About 150 miles into the trip, it's been serving pulled pork, ribs, and chicken since 1971. To avoid the line, call to order 15 to 30 minutes before arrival. Doors open at 10, making it easy to pick up a to-go quart. Eating there? You'll find both indoor and pet-friendly outdoor seating.
Instead of continuing on to hit gridlocked beach traffic, consider a few hours in Colonial Williamsburg. Though you need tickets to get into the 18th-century buildings as well as the museums and gardens, ticketless visitors can wander the cobbled streets, mingling with costumed colonists reenacting life in Revolutionary America.
Nearly There
For the ultimate pit stop, cool your tires in Poplar Branch, North Carolina, the working garage for the Grave Digger monster truck, one of the most decorated Monster Jam contenders on the circuit (5650 Caratoke Hwy.; 252-453-4121). Free admission gives a look into the beastly mechanics of the vehicle's modified suspension and crushing tires. Clamber onto a $5 dirt-track monster-truck ride, Friday through Sunday. While there, you can refuel the crew at Digger's Diner.
Things to Do
Visit the windy peak that launched Orville and Wilbur into flight, at Wright Brothers National Memorial (1000 N. Croatan Hwy., Kill Devil Hills; 252-473-2111; indoor visitor center due to reopen in fall 2018).
Five miles south, you can step into the otherworldly dunescape of Jockey's Ridge State Park (300 W. Carolista Dr., Nags Head; 252-441-7132), the tallest natural sand-dune system in the eastern US. Feel like flinging yourself off the dune? Kitty Hawk Kites runs the largest hang-gliding school in the world, at Jockey's Ridge (252-441-2426). The toy store/adventure outfitter offers other lessons, including kiteboarding and standup paddleboarding.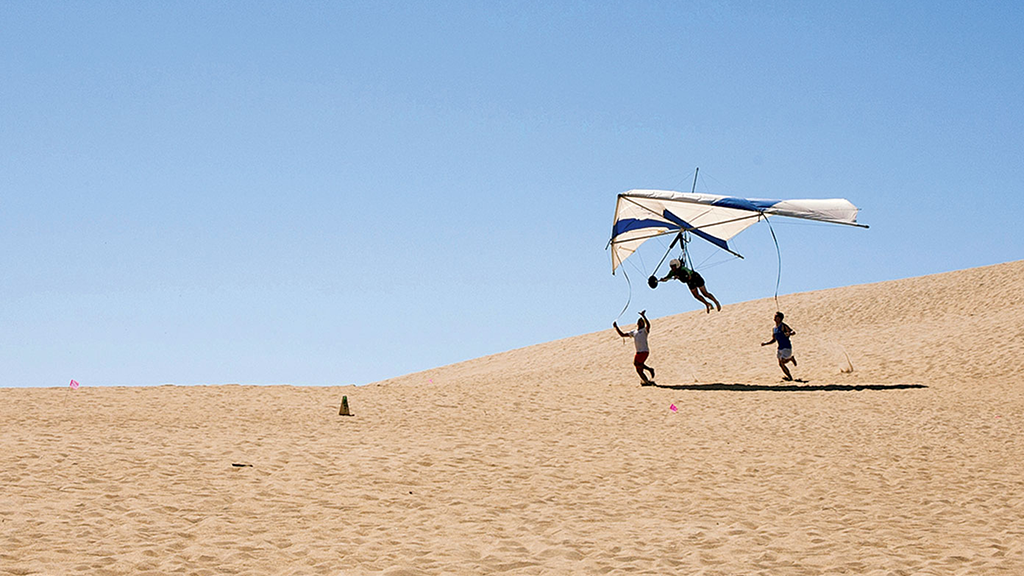 Coastal Kayak Touring Company (1240 Duck Rd., Duck; 252-441-3393) leads trips through coastal habitats such as the pristine marsh mazes of Pine Island Audubon Sanctuary, where participants have witnessed a bald eagle trying to wrangle a fish from an osprey and gotten a "talking-to" from a mama river otter protecting her young. Wild Horse Adventure Tours (610 Currituck Clubhouse Dr., Corolla; 800-460-4136) organizes excursions through the Carova outback, where you might glimpse the petite yet hardy Banker horse, said to have descended from Spanish mustangs that may have been left here by Spanish explorers or that swam here after a shipwreck.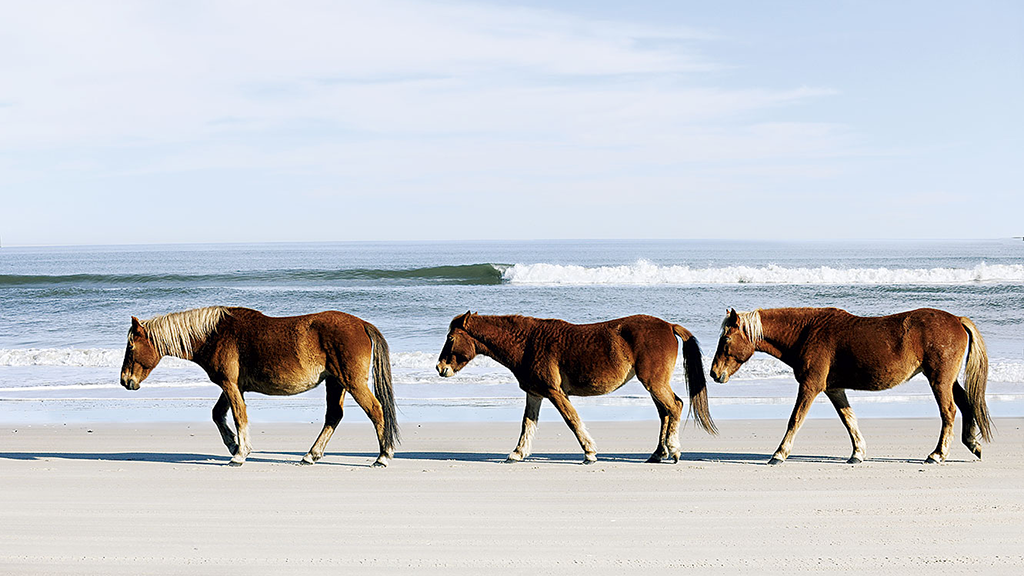 Or let out some air from your four-wheel-drive tires and go off-road through Currituck National Wildlife Refuge. Visitors must drive on the beach to reach this protected area, created not only for horses but also for 300 bird species (off NC 12, about a mile north of Corolla; 252-429-3100).
For manmade adventure, H2OBX Waterpark (8526 Caratoke Hwy., Powells Point; 252-491-3000) opens for its inaugural season this summer. You might want to call ahead to reserve tickets to this $46-million park, where rides will include the Midnight Marauder, a seven-story water slide.
For a tamer outing, pack a picnic to enjoy after climbing the red-brick Currituck Beach Lighthouse (1101 Corolla Village Rd., Corolla; 252-453-4939). While there, tour the impeccably restored 1920s Art Nouveau–style Whalehead mansion (1100 Club Rd., Corolla; 252-453-9040).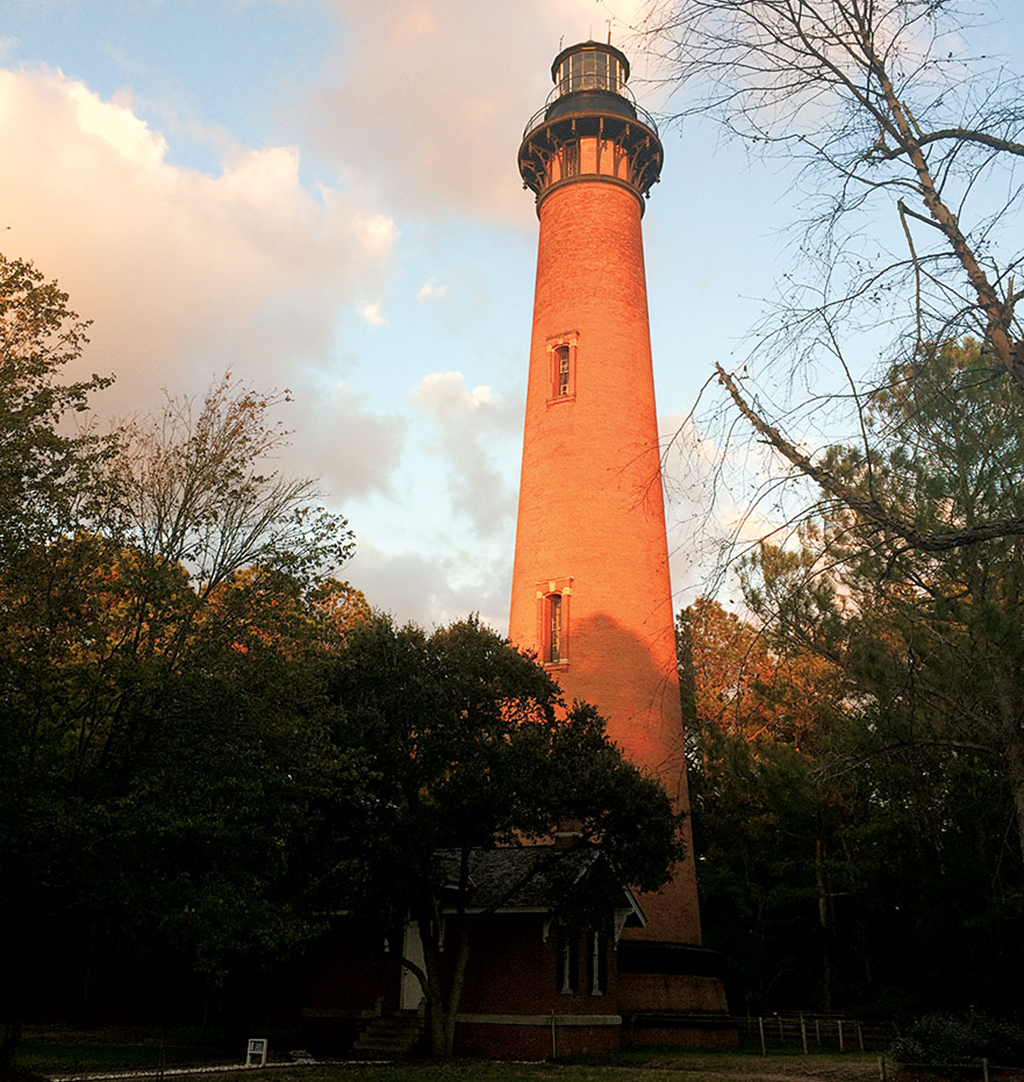 Places to Eat
Longtime visitors to the Outer Banks—or OBX, as the oval bumper stickers say—may recall when the main food options were overpriced beach marts and mediocre restaurants. Those days are gone.
Dan Lewis and Scott Foster, former head chefs for Sutton Place Gourmet and Balducci's, offer a trio of excellent eateries along Route 12, including Coastal Provisions Oyster Bar & Wine Café (1 Ocean Blvd., Southern Shores; 252-480-0023). In Duck, catch sunset over the sound with margaritas at their Coastal Cantina (1236 Duck Rd.; 252-480-0024). Or do like Guy Fieri, of Food Network's Diners, Drive-Ins & Dives, and head to Dan and Scott's quirky, high-end drive-through/beer garden, Cravings Steak & Seafood (1209 Duck Rd.; 252-480-0032).
Also worth a try in Duck, Red Sky Cafe (1197 Duck Rd.; 252-261-8646) serves what its chef, Wes Stepp, calls "tastefully fit" food. His "chefs on call" service offers an at-home dining option.
Don't let the strip-mall location of Corolla's four-year-old Urban Kitchen (603-B Currituck Clubhouse Dr.; 252-453-4453) discourage you—the chef's seasonal plates have earned loyal fans for a reason.
For a casual bite, try Duck Deli BBQ Restaurant (1223 Duck Rd., Kitty Hawk; 252 261-3354) or Cosmo's Pizzeria (5591 N. Croatan Hwy., Southern Shores; 252-261-8388). If you're a fan of Duck Donuts, pay homage to the made-to-order creations at its original location or the bayside store (5230 N. Virginia Dare Trail, Kitty Hawk, 252-261-3312; 1190 Duck Rd., Duck, 252-480-3304).
All ages, in flip-flops, are welcome for 15-cent peel-and-eat shrimp, 35-cent wings, and $1 tacos during happy hour at Hurricane Mo's (120 E. Kitty Hawk Rd., Kitty Hawk; 252-255-0215). Daily, 3 to 5, in season.
Prefer eating in? To hook some fresh catch, check out Carawan Seafood Co. (5424 N. Croatian Hwy., Kitty Hawk; 252-261-2120) and Dockside 'N Duck (1216 Duck Rd., Duck; 252-261-8687).
Places to Stay
While vanishing colonists and buried treasure created an alluring mystique to the Outer Banks, bottleneck traffic caused by the narrow geography and two-lane road can spin a dismal tale for summer visitors.
You can shorten your time on the main road, NC 12—which can be bumper-to-bumper on Saturdays, when rentals turn over—by staying in Southern Shores, the first town after you cross the causeway from the mainland. Hilton Garden Inn (5353 N. Virginia Dare Trail, Kitty Hawk; 252-261-1290) offers beachfront rooms.
Visitors to Duck can cut down on driving while there; most private rentals are walking distance to the town's heart. Four miles north—an easy bike ride to town—sits the upscale Sanderling Resort (1461 Duck Rd.; 855-412-7866).
Corolla's development boom in the past few decades produced a bevy of accommodations, including the reliable Hampton Inn & Suites (333 Audubon Dr.; 252-453-6565), just south of the town center. To be walking distance to town center, try the Inn at Corolla Light (1066 Ocean Trail; 800-215-0772), part of the 240-acre collection of homes and condos at Corolla Light Resort Village (252-453-2455).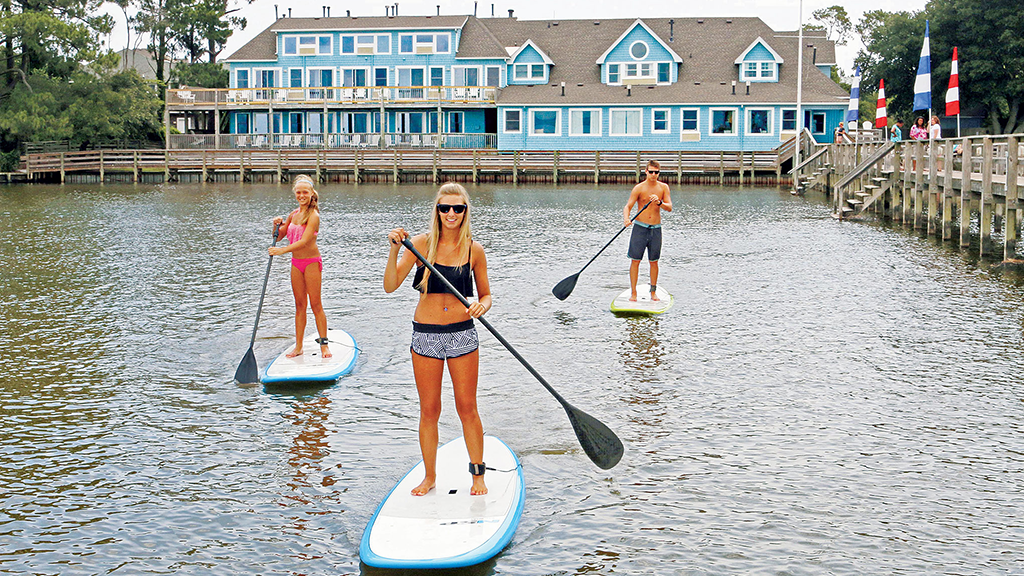 VRBO and Airbnb feature a range of rentals, as do agencies such as Southern Shores Realty (800-334-1000), Twiddy (866-457-1190), Joe Lamb, Jr. & Associates (800-532-6257), and SunRealty (800-786-8431). Disrupting the market is Kees Vacations (866-316-1843), which eliminates the seven-day minimum on certain rentals and allows any-day check-in.