You don't need a beach house—or even a car—to dig into a delicious crab feast this summer. In addition to DC-area crab houses, we've found fun new pop-ups and markets selling live and steamed crustaceans to keep you cracking all summer long. 
Newcomers and Summertime Pop-Ups
The Tavern at Ivy City Smokehouse
1356 Okie St., NE
This Ivy City seafood market/restaurant dishes up hot steamed crabs that can be eaten indoors, or on a spacious outdoor patio lit by fire pits at night. Customers can pick between local or Gulf crabs in various sizes, or opt for an all-you-can-eat feast; we love rounding out a meal with a platter of house-smoked fish or sides like mac n' cheese. Note: the market also sells live and steamed crabs to-go (call 202-529-3300 for sizes and prices). 
The Crab Shack at Fish by José Andrés
101 MGM National Ave., Oxon Hill, MD
Andrés ups the crab game at his MGM National Harbor restaurant, transforming the outdoor patio into a summertime seafood shack (opening date TBA). Customers can order buckets of local crabs, clams, and Chesapeake seafood boils. Wash it down with cocktails or Spanish cider—this is José's place, after all. 
1817 Columbia Rd., NW
Sundays at Pop's are all about crabs, with two slots available for feasting on the cozy outdoor patio: 12:30 PM and 4 PM (limit 6 to 10 guests). The meal includes freshly-steamed blues, corn, and slaw for $40 per person; buckets of Natty Boh are $15. Email [email protected] with "I want crabs" in the subject line for reservations, which are mandatory.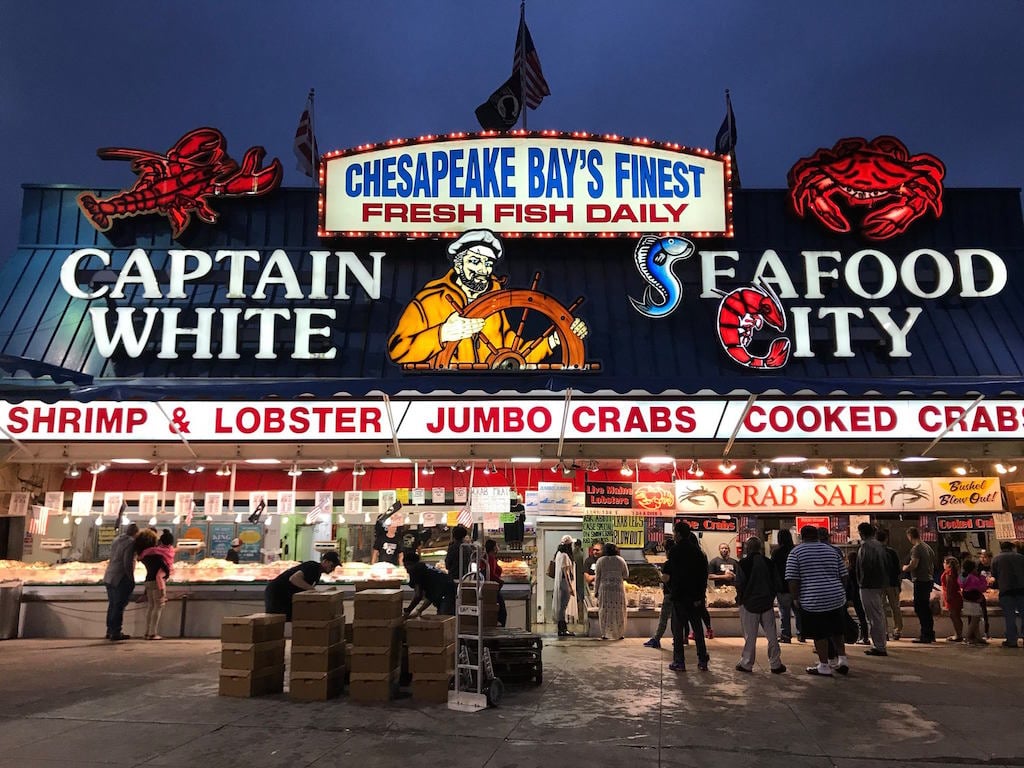 Washington Classics
1100 Maine Ave., SW
A staple of the Maine Avenue Fish Market, Captain White's sells live and steamed-to-order crabs, by the bushel and half-bushel, all year round (so not always local, but from the Bay when possible). Shoppers can also grab Chesapeake oysters for shucking, clams, shrimp, etc. The place gets busy on weekends, so pre-order by calling 202-484-2722.
1743 King St., Alexandria
This Alexandria seafood shack near the King Street Metro is a true throwback with Formica tables, whicker chairs, and over 70 years under its belt. Current owner James Mao added sides of kimchee from his native Korea, but you'll still find the classics: hushpuppies, local oysters, and plenty of Maryland-style steamed crabs (including all-you-can-eat for $41).
1200 N Fort Meyer Dr., Arlington
Arlington's stalwart seafood restaurant has been serving steamed crabs—as well as a variety of "land and sea" entrees—for over 30 years. Summers bring local Chesapeake blues, which you can thwack on the outdoor patio alongside cold beers. Reservations are a good idea, especially on weekends.
2902 Minnesota Ave., SE
This storefront near the Anacostia River specializes in fried and steamed seafood. Guests can order live or steamed crabs, or try the house specialty: Mo's garlic-butter crab. The latter comes cracked into easy-eat sections, and doused in buttery sauce.
4958 Bethesda Ave., Bethesda
Bethesdians have been cracking crabs here since 1961. The casual indoor/outdoor seafood shack dishes up a variety of sizes, and offers all-you-can-eat small and medium crabs with corn and slaw (market price). Round out a meal with fried oysters and key lime pie.
10195 Fairfax Blvd., Fairfax
It's not hard to find a table at this sprawling seafood spot in Fairfax, which steams crabs year-round. Male and female crustaceans can be ordered by the dozen, or in an all-you-can-eat feast set at $48.
This post has been updated.