Hiking all 2,190 miles of the Appalachian Trail has its place on a lot of bucket lists, but who besides nomadic college grads and unusually fit retirees can schedule the five months or so required to do it?
For a taste of the AT—without having to quit your job—the 41 miles of trail through Maryland can be done in a long weekend. This section, which runs from Pen Mar Park in the north to Harpers Ferry, West Virginia, in the south, happens to be one of the easier segments. (Crazy hikers attempt the route in just one day, a feat known as the Maryland Challenge.) It's also one of the most interesting, full of historic sites and panoramic views.
As you make your way along the white-blazed path—which mostly hugs the spine of South Mountain—you'll hit Civil War battle sites, the first monument erected to honor George Washington, and Gathland State Park, with its War Correspondents Arch, the nation's only such monument honoring journalists who perished in battle.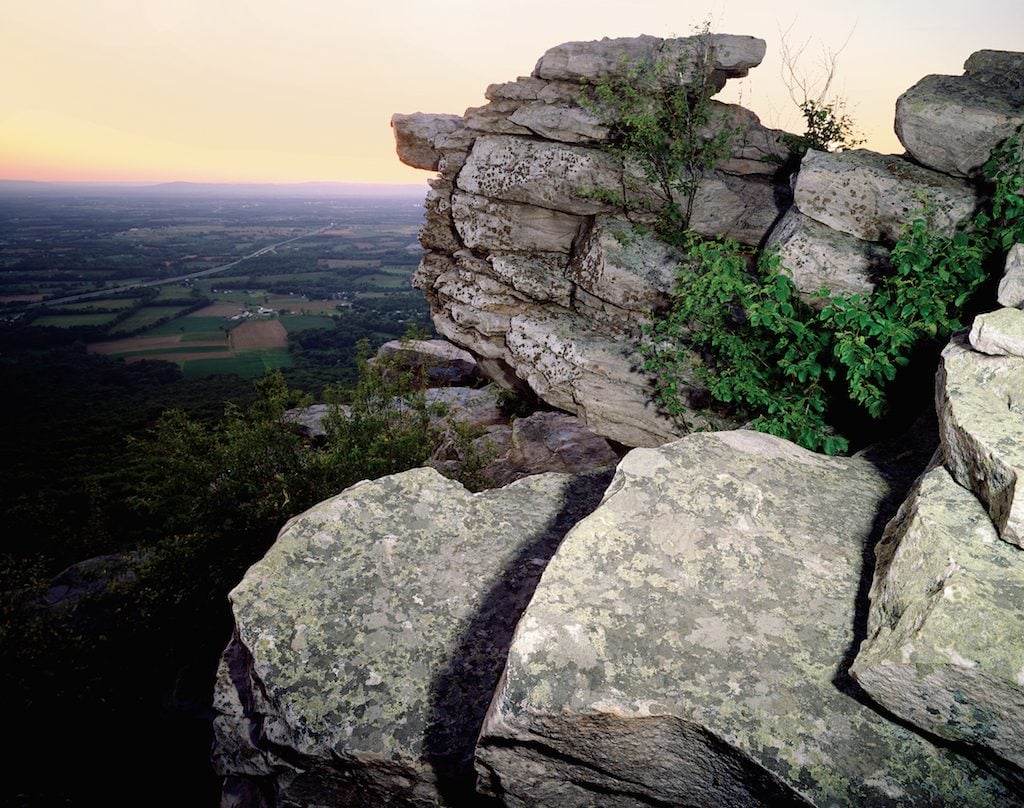 The best views come at graffiti-covered High Rock—the greatest elevation change along this section of trail—and at Annapolis Rock, with sweeping vistas over the Cumberland Valley. There's also the spectacular scene overlooking the Potomac River from Weverton Cliffs, with Harpers Ferry poking out to the west.
Along the way, you can bunk in three-walled, wooden AT shelters or pitch your tent at designated camp-sites while sharing freeze-dried food and stories of the day's hike with fellow backpackers. When you're through, you'll be nursing bug bites and blisters but also reveling in a sense of accomplishment as you proudly post on Facebook: "I just walked across Maryland."
Make arrangements to leave your car at the trail's northern terminus, Pen Mar Park, or at its southern point in Harpers Ferry. For a list of drivers for hire who can shuttle you between locations, see thetrek.co/appalachian-trail. More information about the trail is at appalachiantrail.org.
Three other fun experiences
Adventures on the Gorge
A rafting trip through the wild New River Gorge intersperses roller-coaster rapids with calm spots for swimming. After, relax at the woodsy resort or get another adrenaline rush at its adventure park. 219 Chestnutburg Rd., Lansing, W. Va.; 855-379-8738. Two-night packages, including two meals, start at $154 a person to camp, $389 in a deluxe cabin.
Great Allegheny Passage
The 150-mile rail-to-trail bike path between Pittsburgh and Cumberland, Maryland, affords life-affirming views, forgiving terrain, and access to quaint towns. Wilderness Voyageurs offers inn-to-inn rides—it maps the route, changes any flats, and transfers luggage. 103 Garrett St., Ohiopyle, Pa.; 800-272-4141. Four-day rides with meals: $995 a person.
Wisp Resort
Raft on a manmade whitewater course, or try archery or rock climbing. There's also paddleboarding, kayaking, mountain biking, ziplining, and, yes, mountain Segway tours. 296 Marsh Hill Rd., McHenry, Md.; 301-859-3159. Rooms from $109 a night.