1. Why don't we have poke?
Way, way back in 2015, there was nary a cube of raw tuna in sight—except at the area's sole, just-opened Hawaiian restaurant. Some jerk made a desperate plea for someone to open up a poke shop here.
2. It shows up on one menu!
Guys, it's all happening now. Remember when District Fishwife put poke bowls on its menu? Simpler times.
3. Someone does a pop-up.
Because, duh. And it's called… Poke Pop. Later, the chef of said pop-up goes on to open a wildly popular restaurant which Bon Appetit names one of the 50 best new places to dine in America.
4. There are enough poke dishes around town that food writers start publishing trend pieces.
Classic headline: "Pokemon is everywhere—and so is the Hawaiian dish of a similar name." From then on, we can't escape the Pokemon puns.
5. The first full restaurant arrives.
It's called Poké Papa. Naturally, the owner comes from the frozen yogurt biz.
6. Within a week, another restaurant opens.
This one is from an actual Hawaiian!
7. Poke shops start throwing shade at each other.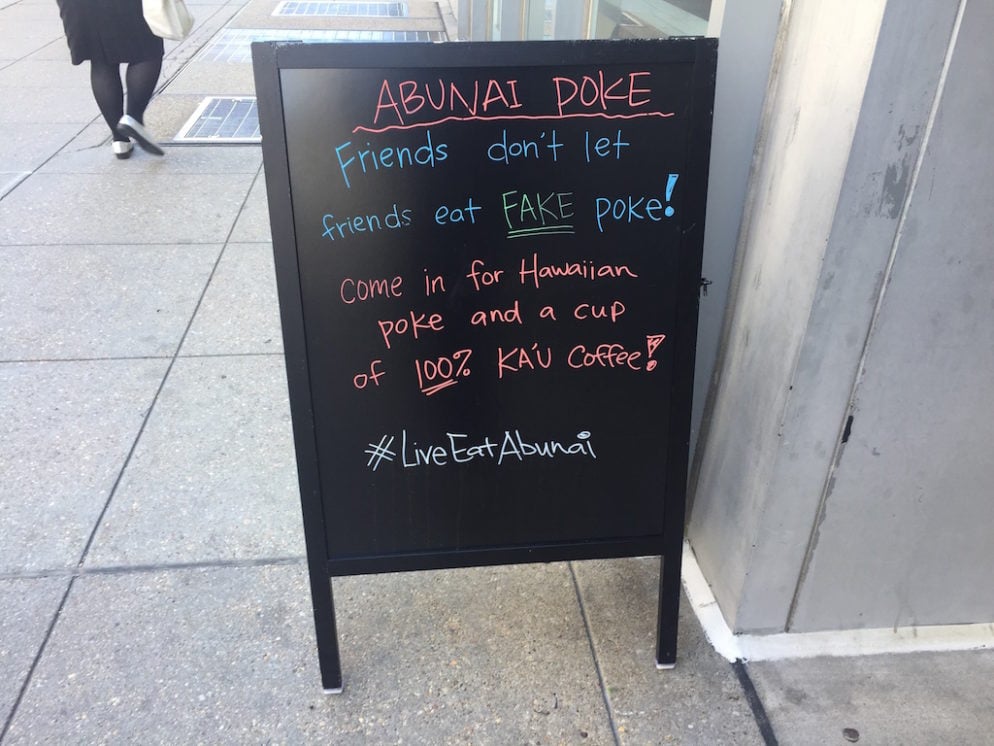 "'Mainland poke' ruining our culture," Abunai owner Akina Harada writes on Twitter. She posts the sign above outside her restaurant. The poke wars have begun.
8. The real onslaught starts. 
Honeyfish Poke. Aloha Poké Co. Poki District. How do you spell poke anyway? It's getting confusing.
9. Poke becomes the beet and goat cheese salad of restaurant menus.
Everyone is cashing in on the trend. Why is tuna poke on the menu of the Smith between the burrata and mac and cheese? What's up with the salmon poke on the Southern menu of Marcus at MGM National Harbor? Of course, Founding Farmers has had it from its inception, too.
10. A trend dies: poke nachos.
This story was updated to reflect that Founding Farmers has had poke since its opening.