The two-to three-hour lines at the Game of Thrones pop-up bar were pretty scary. But Drink Company is going for something a little more overtly frightening for its next venture in Shaw: PUB Dread, a horror-themed pop-up leading up to Halloween. There's even a trailer for it, and we're legit terrified:
Bar owner Derek Brown says they've been mulling the idea ever since they ended their very first pop-up bar, the Christmas-themed Miracle on Seventh Street. (Which, by the way, will be returning for its third year this holiday season.) And while he and partners Angie and JP Fetherston get tons of pitches for themed bars, a lot of the ideas don't lend themselves to a whole environment.
"Halloween is perfect because there's a million different things you can do. You have this wonderful mix of camp, sci-fi, and horror that just make it really fun," Brown says.
Running from October 1st through 31st, the bar—encompassing the former homes of Mockingbird Hill, Southern Efficiency, and Eat the Rich—will have different themes in different rooms. Drink Company's special projects team Matt Fox and Adriana Salame Aspiazu surveyed the staff about their deepest fears and incorporated them into the design.
Patrons will enter through the haunted forest, where the weirwood tree from the Game of Thrones pop-up has been converted into something more menacing. "It definitely feels like you're being watched," Fox says. "There's a whole assortment of things that are going to be looking at you."
In the back of the room sits the crypt, which features tombstones with cheeky epitaphs for the bar's staff and friends. (Fox's grave reads: "This bar killed me.")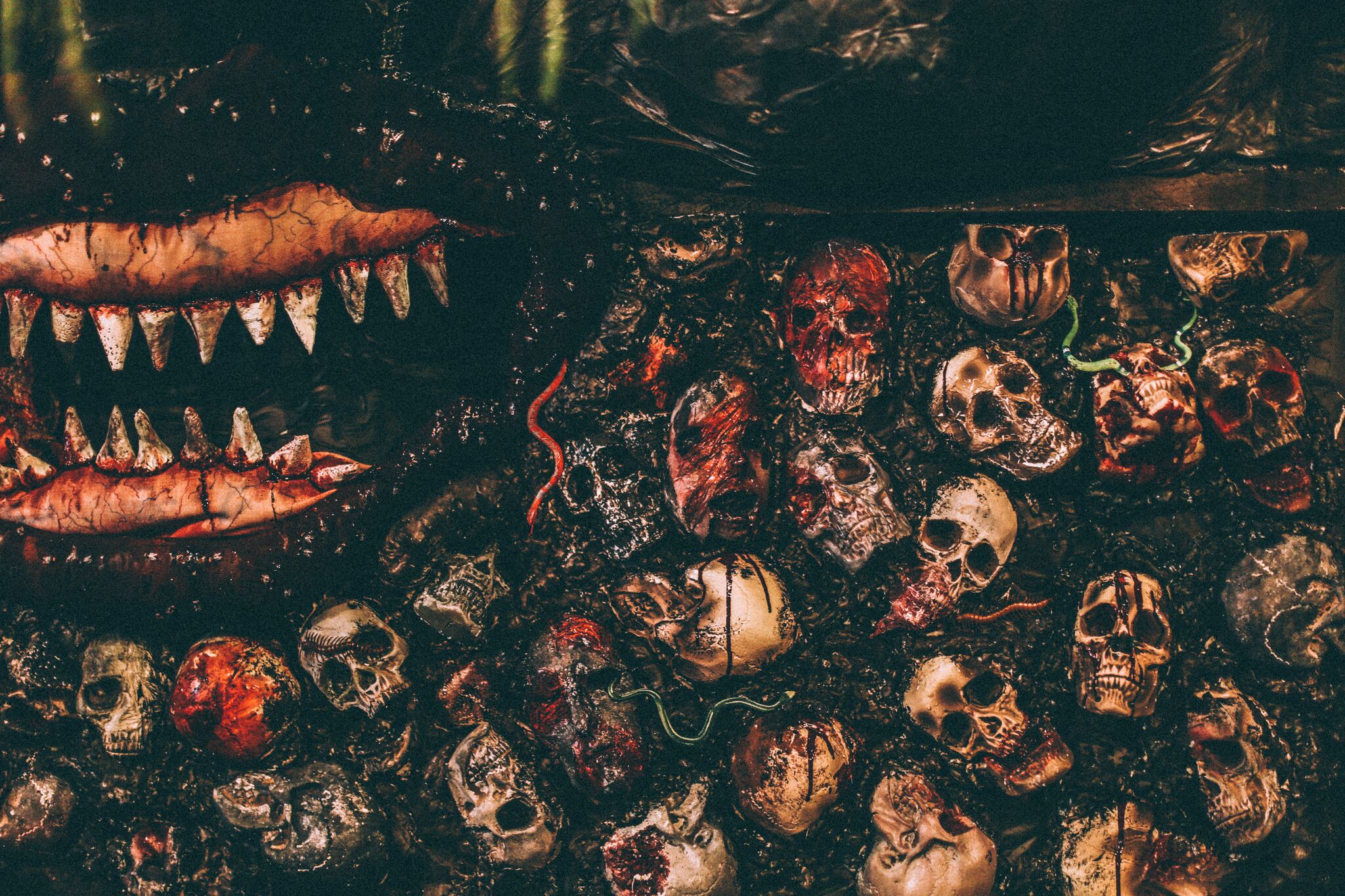 Another room is outfitted like grandma's parlor—if your grandma had a really large creepy doll collection. Fox says they've gathered enough dolls to fill his entire car, including the trunk, and then some. "Craigslist is a great way to find creepy stuff," he says. He also got a lot of looks rolling up the checkout of a thrift store with a cart full of dolls.
Last but not least is the "Spacebar." Brown won't reveal what that entails just yet, saying only, "What do you think about all these movies where people are just floating out in space? That's fucking scary, man."
Oh, and there are robots. "That one is part of the reveal," Brown says. "You'll see."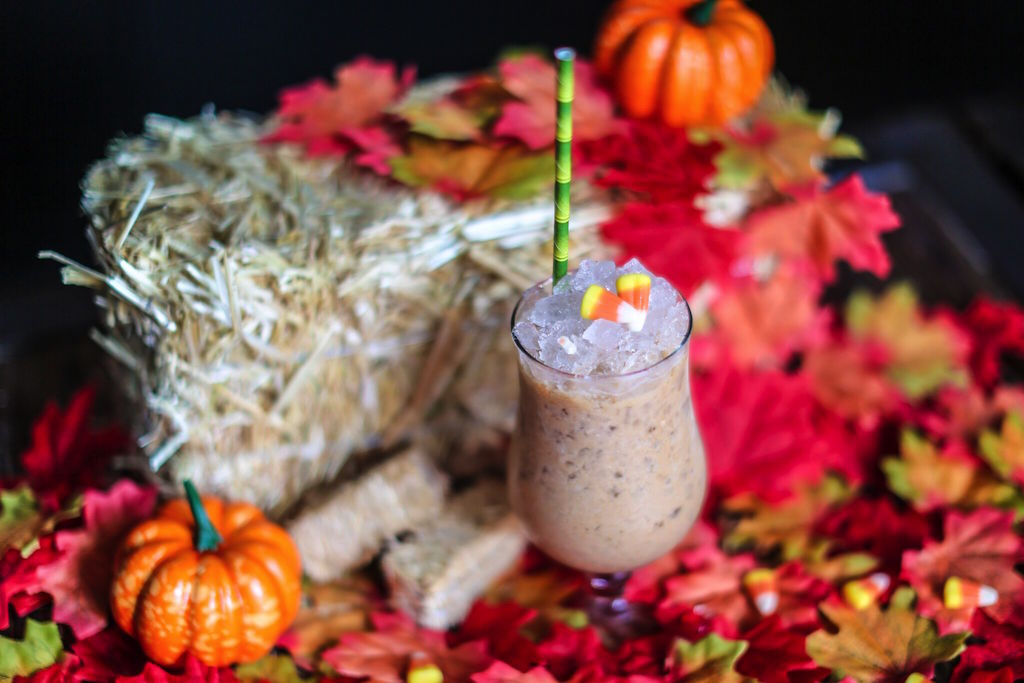 Bartenders in costume will serve themed cocktails, of course. Senior bar manager Paul Taylor's drinks incorporate fall ingredients like apple cider and pumpkin, as well as some Halloween treats. One of the cocktails incorporates Twizzler soda, and a drink dubbed "Brains!" is topped with candy brains.
As for the tricks, PUB Dread isn't looking to scare people like a haunted house. If nothing else, the owners don't want them to jump up and drop those nice skull-shaped glasses.
Still, the team did try to sell us on the idea that the place might actually be haunted by a life-like doll they've named Cordelia. As soon as the doll arrived at the bar, partner Angie Fetherston's phone stopped working except for the drawing words function.
"We would get random texts and emails from her phone that were just gibberish," Fox says. "She would even open up your phone and pull up a text message, and it would just start typing without her touching the phone. We're pretty sure Cordelia possessed her phone."
So, there's that.
Take a look at the full cocktail menu below:
DAVID S. PUMPKINS
Aged Rum, Two James Dr. Bird Jamaican Rum, Martell VS Cognac, Sherry Blend, Allspice Dram, Coconut, Pumpkin, Any Questions?
"ITS PRONOUNCED FRONKENSTEEN"
Belle Meade Bourbon, Salted Cucumber, Semi Dry Cider, Apple Cider
BEETLEJUICE, BEETLEJUICE, BEETLEJUICE!
Aperol, Campari, Spanish Vermouth, Twizzler Soda
"WANNA PLAY A GAME"
Dark Rum, St. George Terroir, Giffard Vanilla, Root Beer Concentrate, lemon, Clarified Milk
"WHAT ARE YOU AFRAID OF?"
Catoctin Creek Rye, Madeira, Manzanilla, Salted Maple, Lemon, Allspice Dram
"I SEE DEAD PEOPLE"
Gin, Fino, Fig, Cinnamon, Lemon, Bitters, Soda
"THE DEAD WILL WALK THE EARTH."
Tequila + Charred Pineapple Tonic
BRAINS!
Alexandro Sherry Blend, Brandy De Jerez, Luxardo Maraschino,Cinnamon Grapefruit, Fig, Lime
"WE ALL FLOAT DOWN HERE"
Peaty Scotch, Rye, Sweet Vermouth, Cream Sherry, Creme de Cacao, Bitters
"DO YOU LIKE SCARY MOVIES?"
Vodka, Aperol, Cointreau, Americano Vermouth, Orange, Bitters, Blood Orange Soda
PUB Dread. 1839-1843 7th St., NW. Open October 1 through 31, Monday through Thursday from 5 PM to 12:30 AM, Friday and Saturday from 5 PM to 1:30 AM, and Sunday from 1 PM to 12:30 AM. 
Video by brightlightmedia.co.