Like so many good things, the relationship of Kaitlin Reinert and Benjamin Simmons began over pizza. An engagement followed (also after pizza) and eventually, a wedding: a family-affair where the theme was simply having a good time. Read on for the story of Kaitlin and Benjamin, with photographs by Megan Chase.
Like B&G on Facebook | Follow B&G on Instagram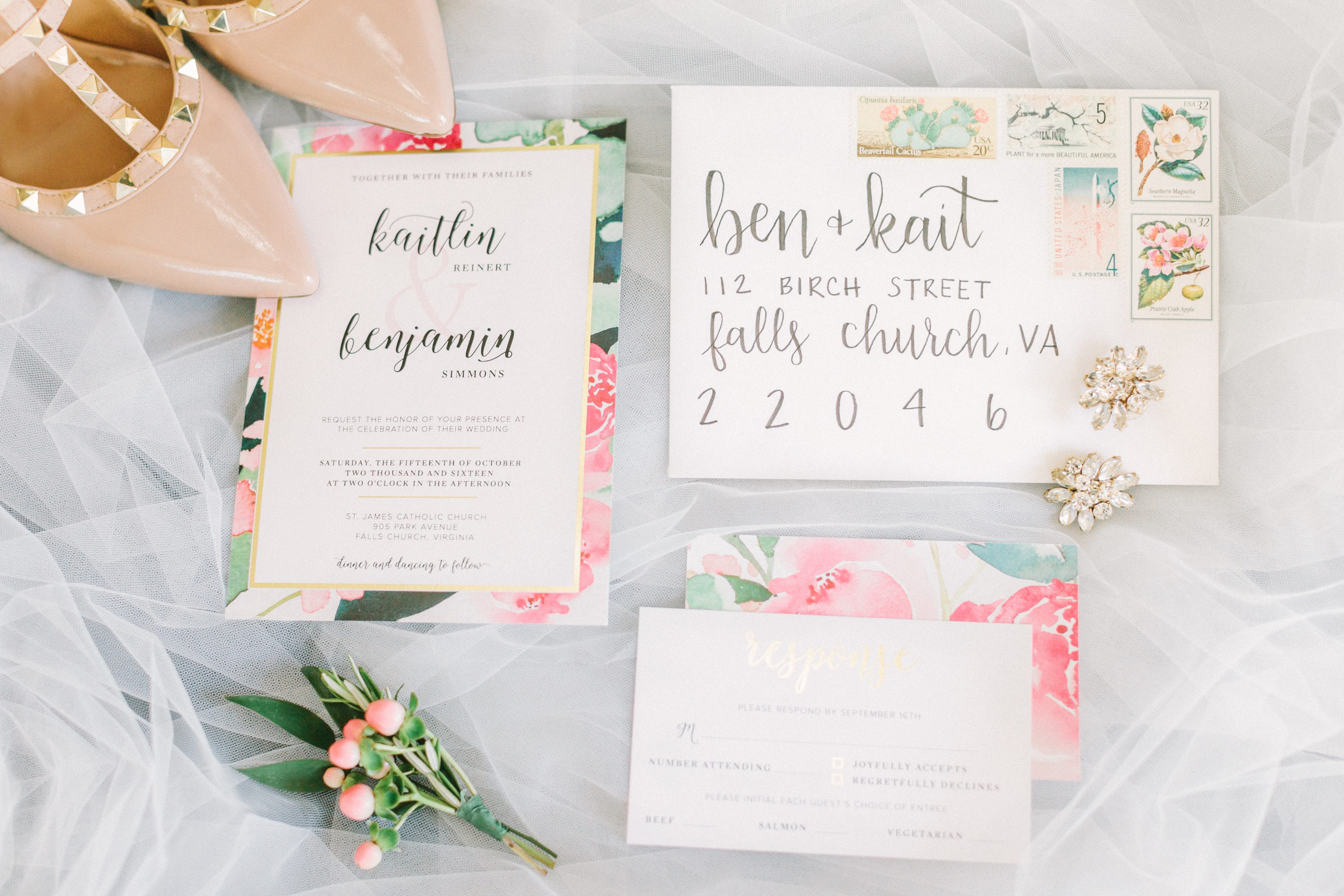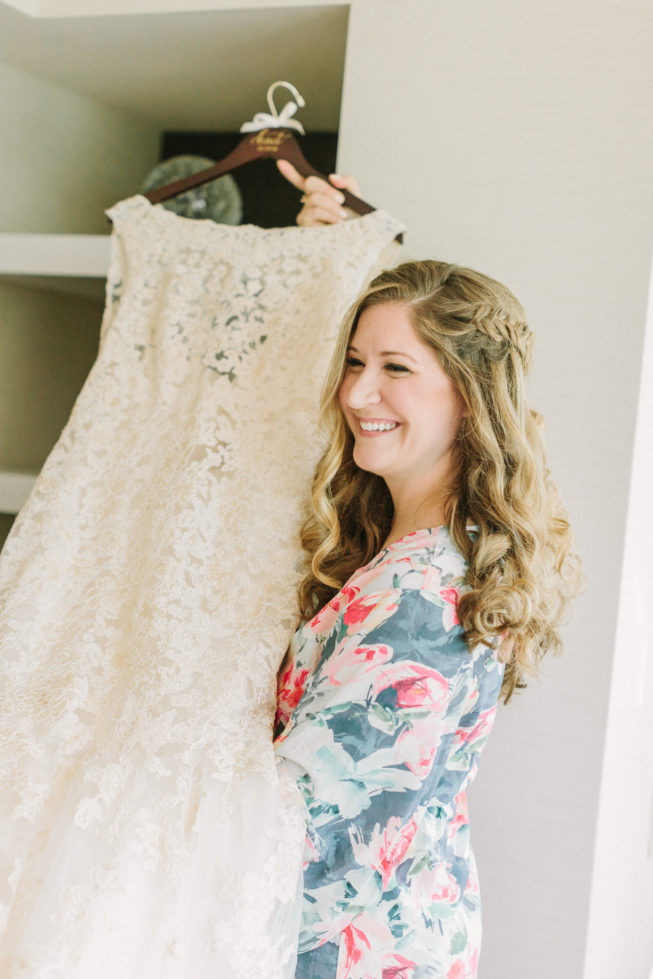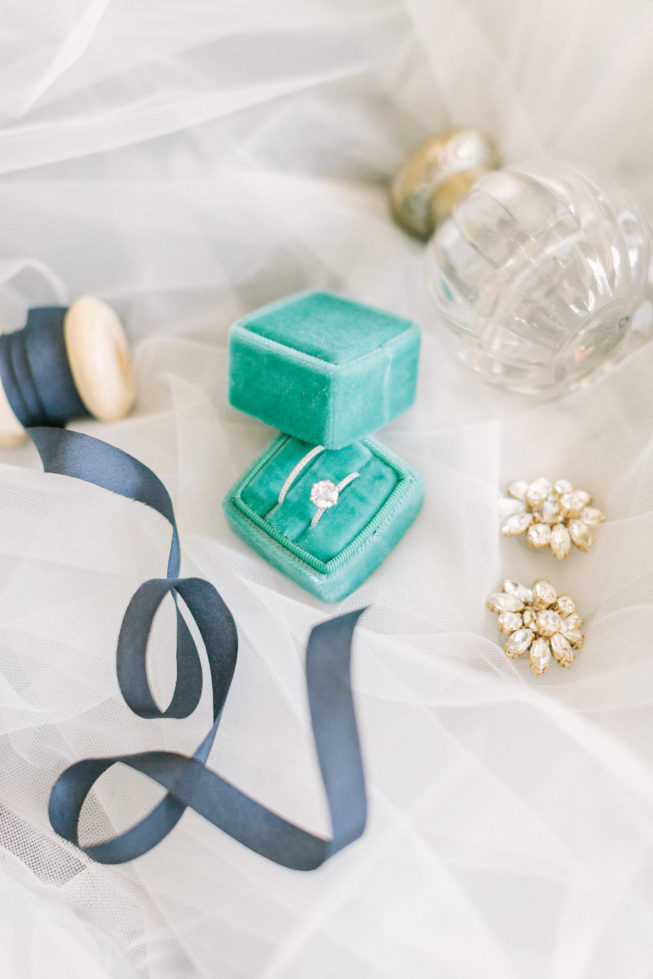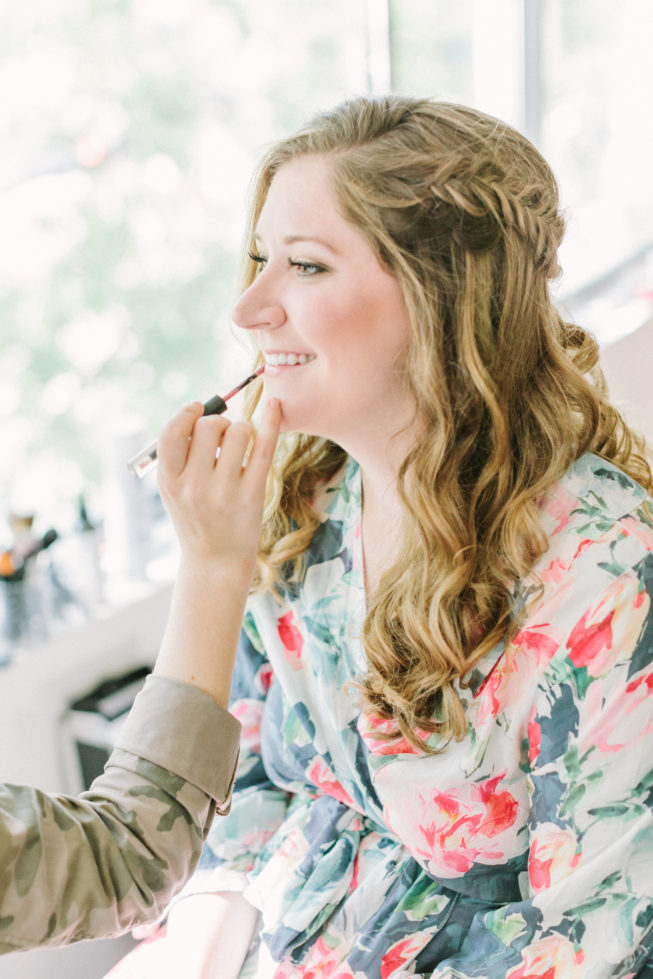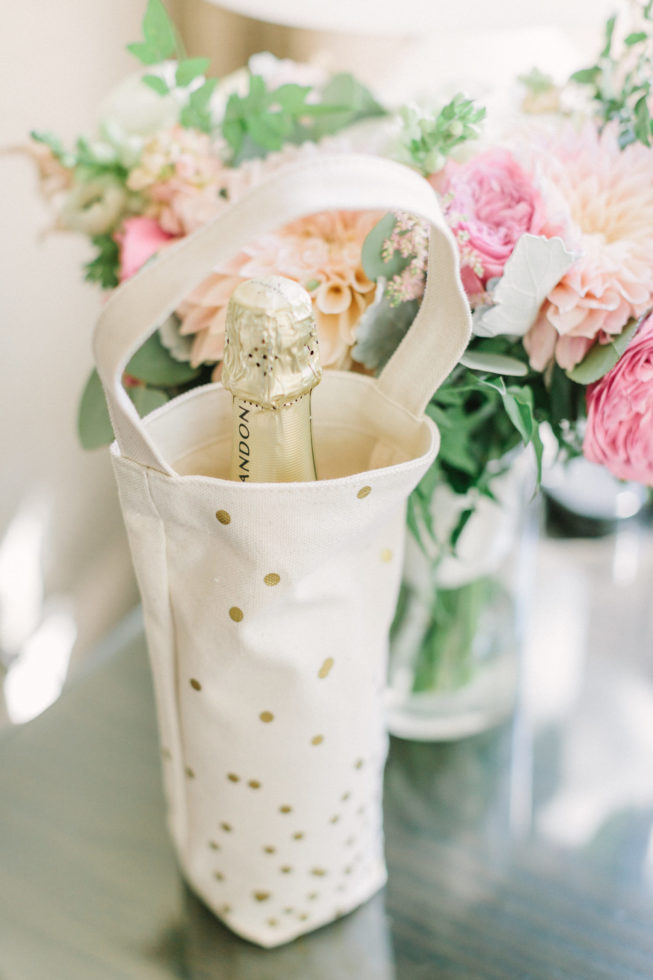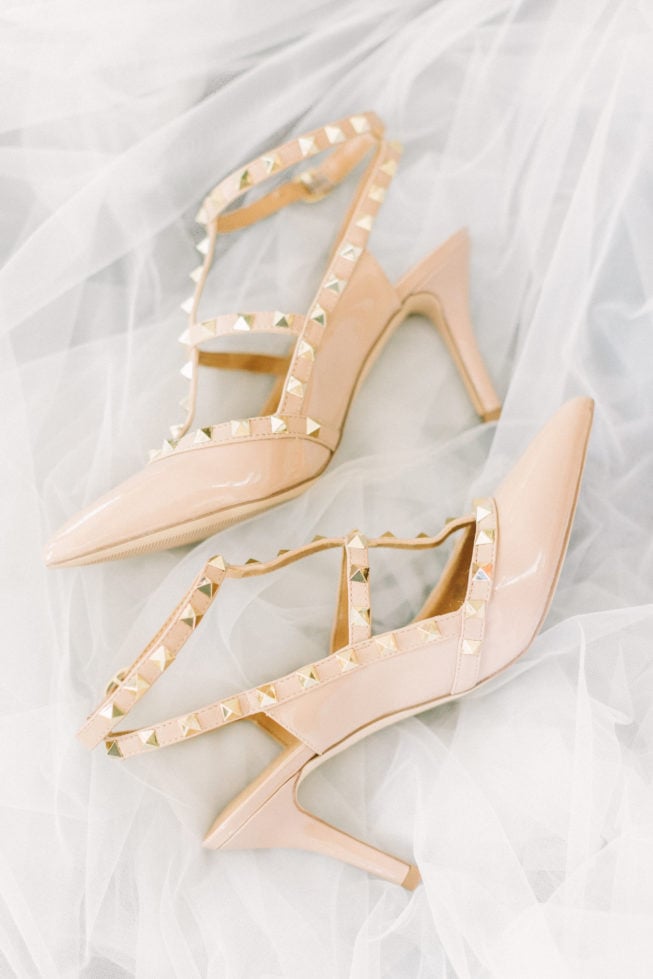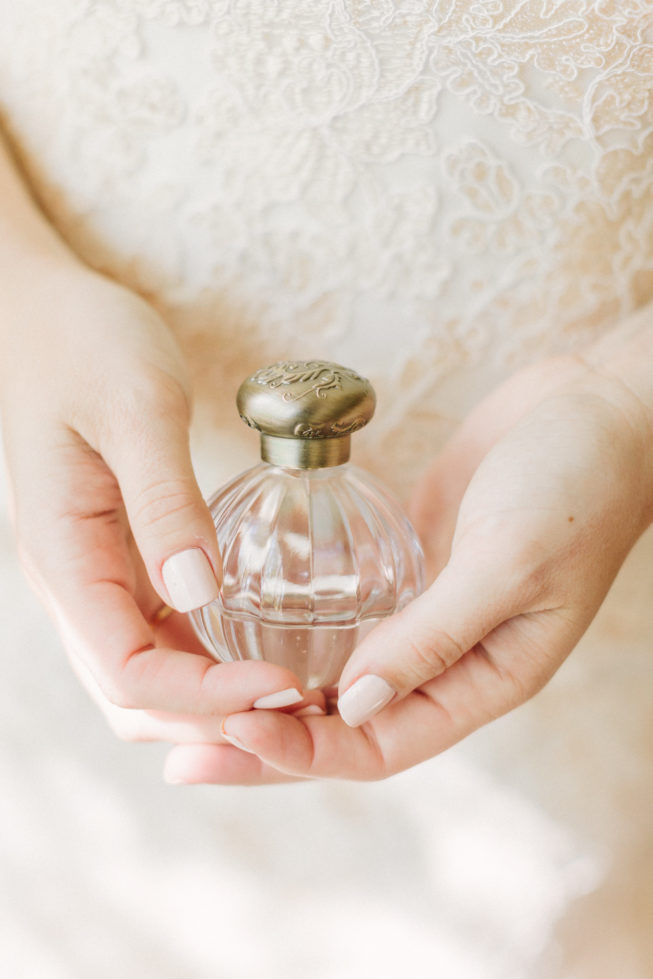 Kaitlyn (who goes by Kait) and Benjamin (Ben) both attended Penn State for college and George Washington University for graduate school, but ran in different circles. After meeting in DC through their Penn State alumni group, they became friends. 
"It was so easy to talk to Ben," Kait says. "He was such a goofball and we had the same taste in humor and music, so the conversations were never dull! Also, he is such a tall, lanky string bean which is hard not to love."
The "lanky string bean" himself felt the same. When talking with Kait, Ben says, he'd lose track of time.
"We stayed up way too late on weeknights cracking jokes and getting to know each other," Ben recalls. "I loved that her family was very important to her."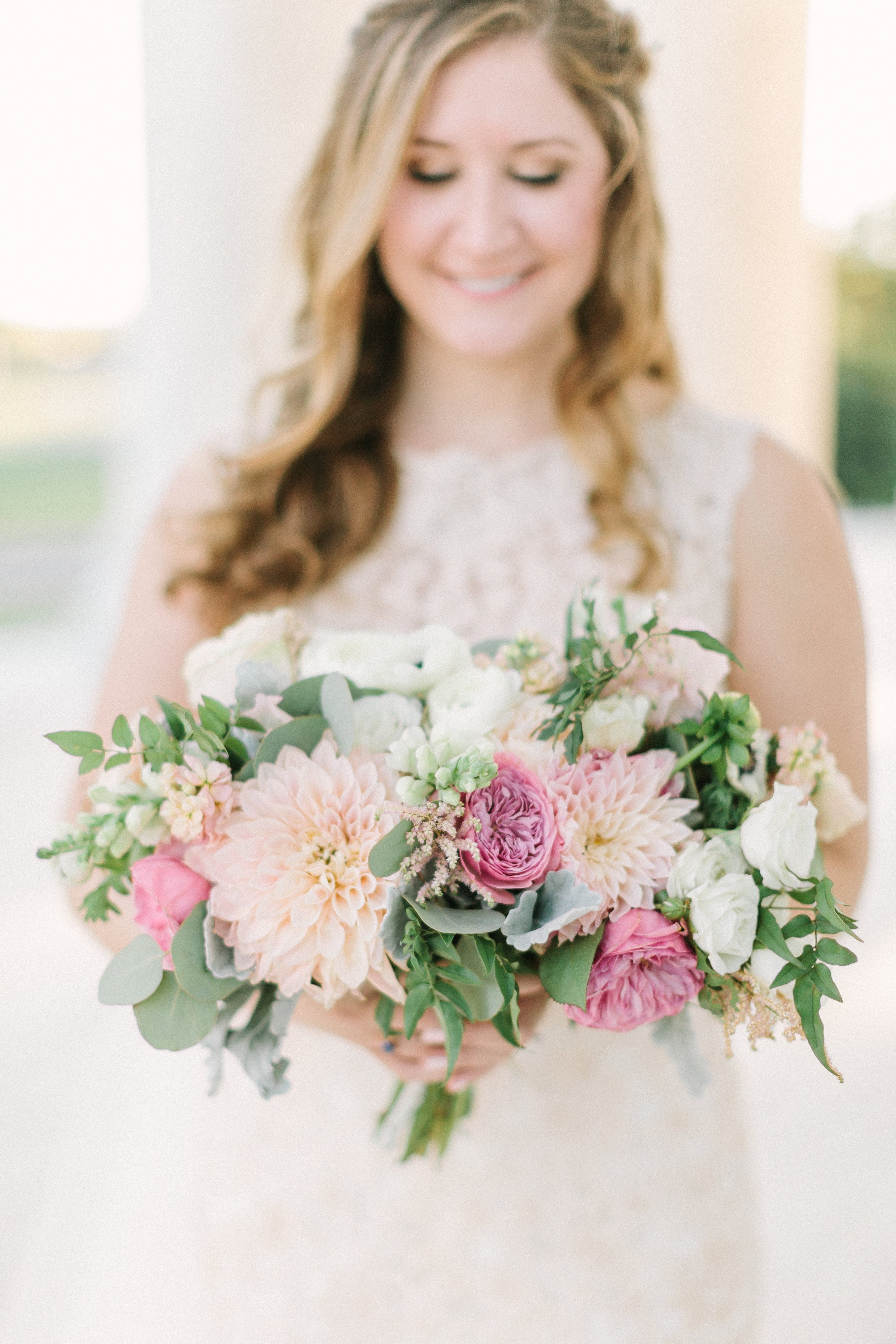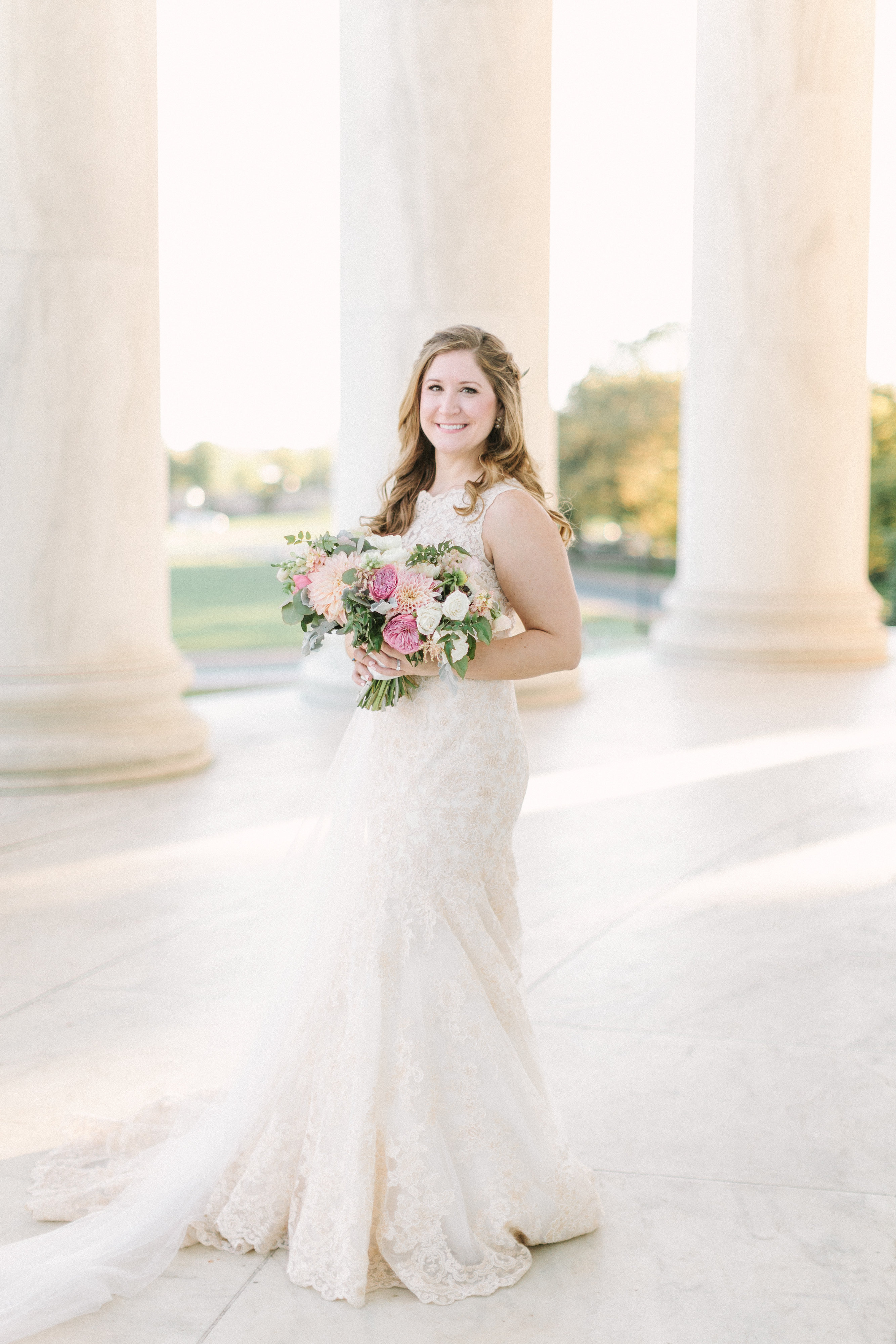 The couple had their first official date in Georgetown, and yes, it was over pizza. But at first, Kait didn't even realize it was a date.
Despite her wise friends insisting otherwise, Kait firmly believed Ben's invitation to see the Muppet movie and grab dinner afterwards was not a date. (Spoiler: it very much was.) After a dose of muppets, several slices of quattro formaggi pizza, and a first kiss to round the night out, Kait was convinced, to say the least.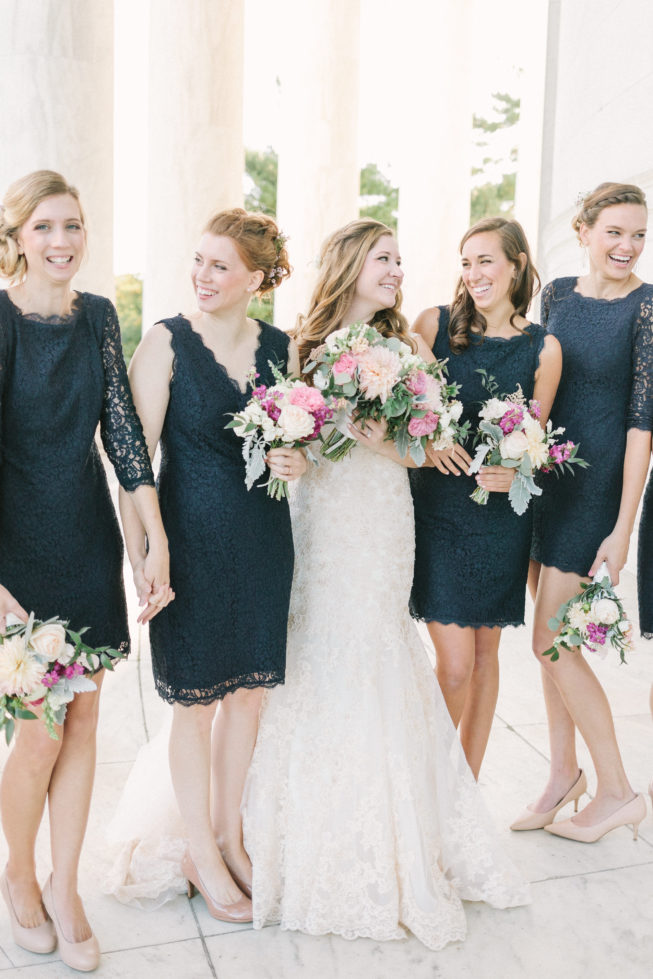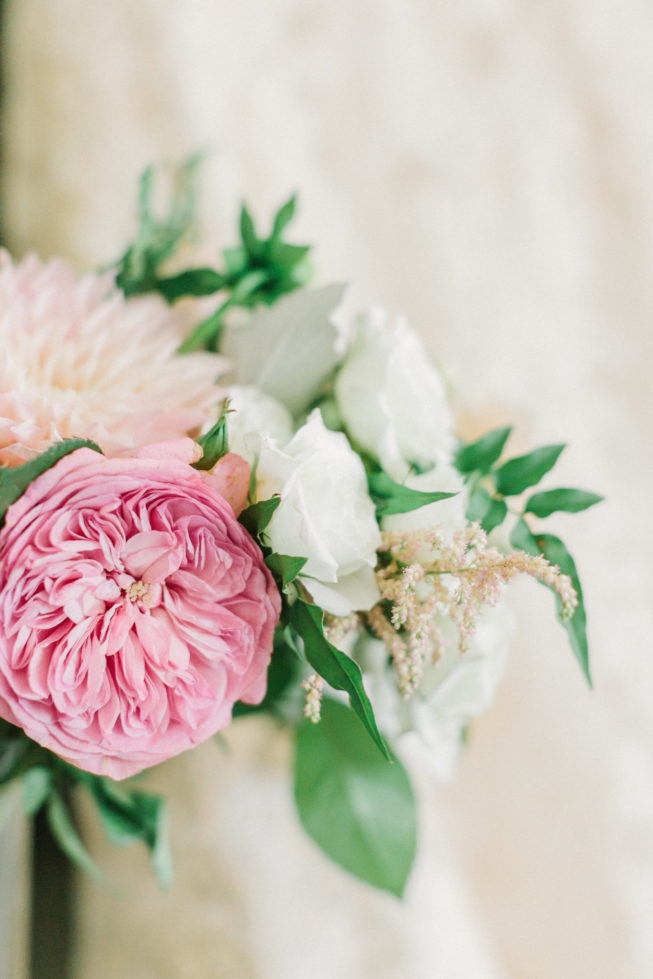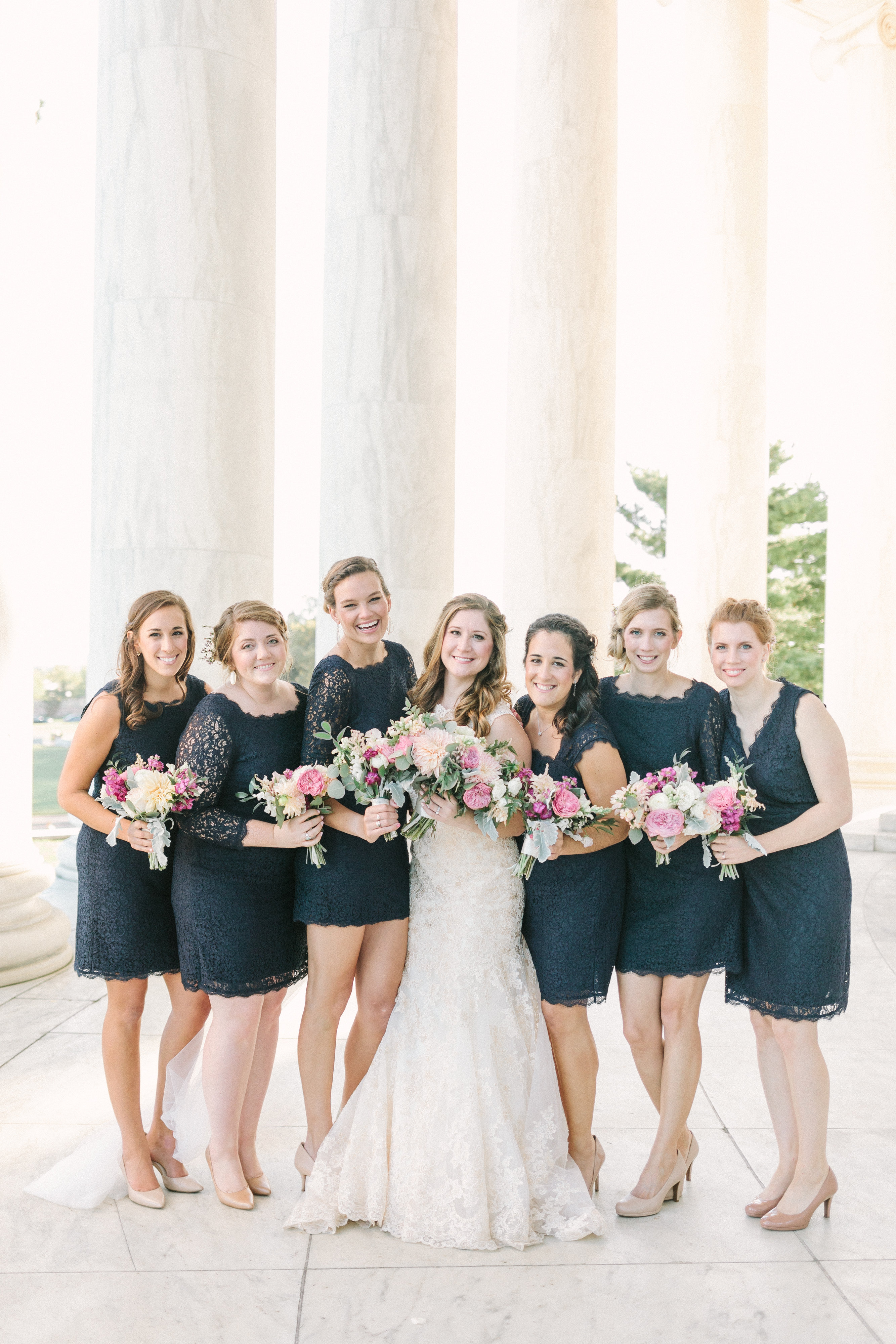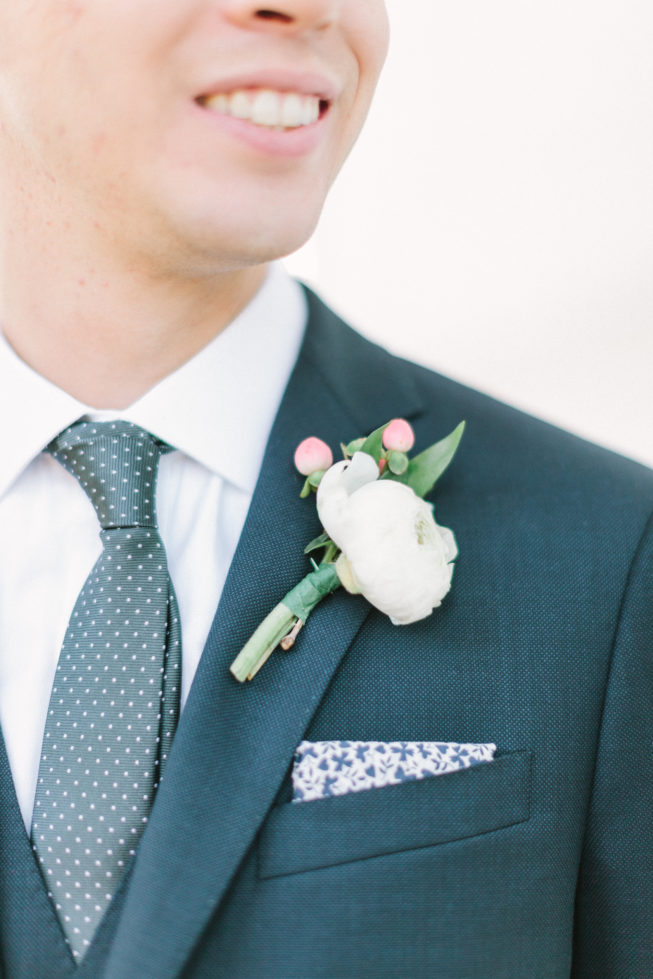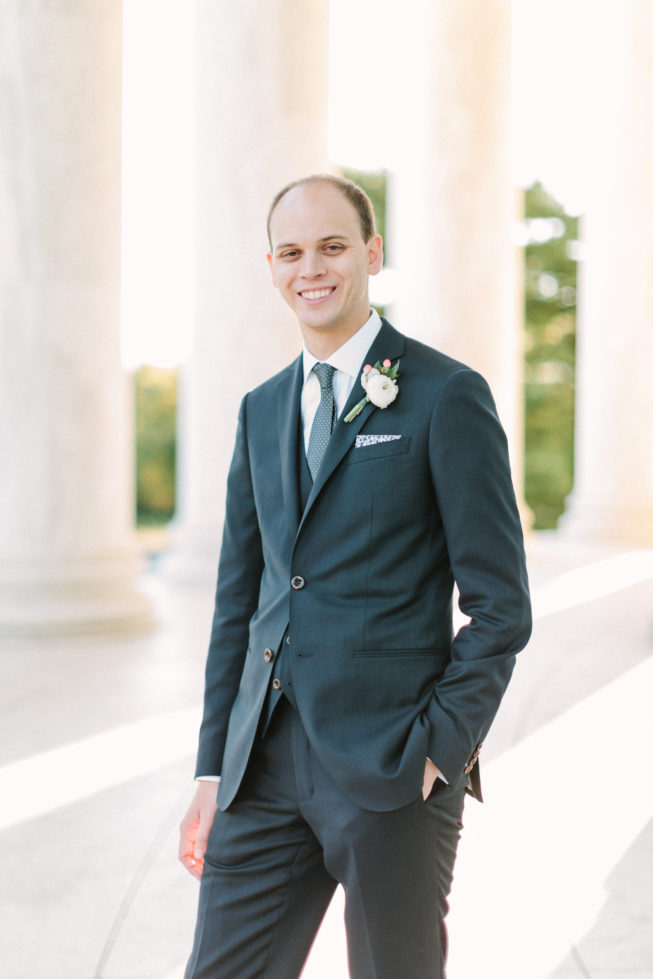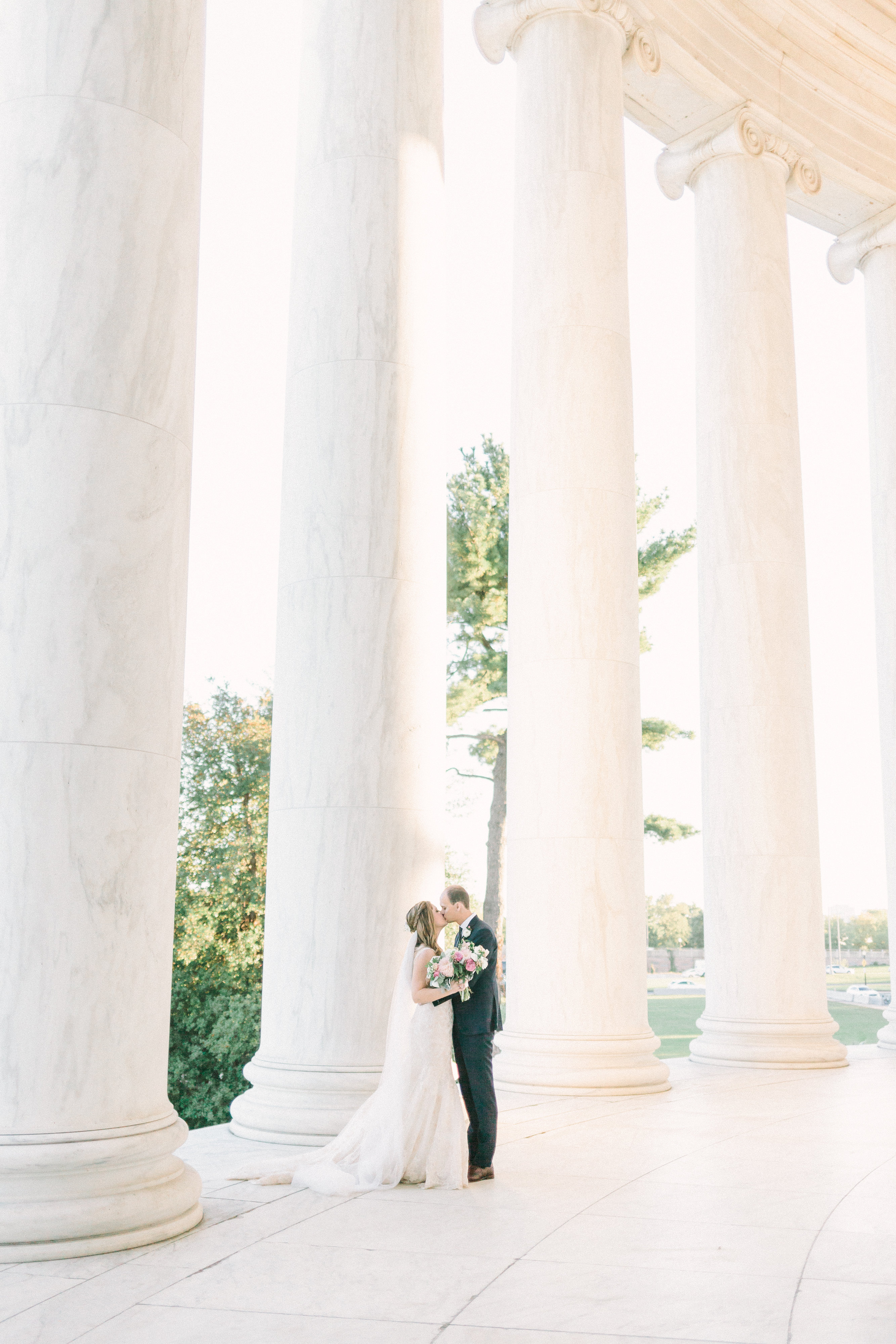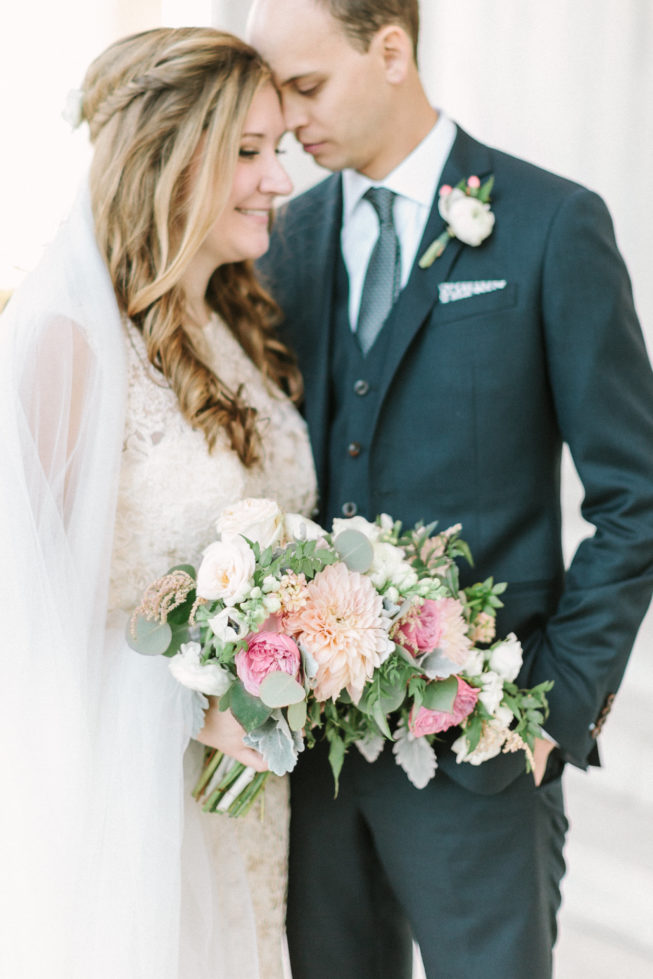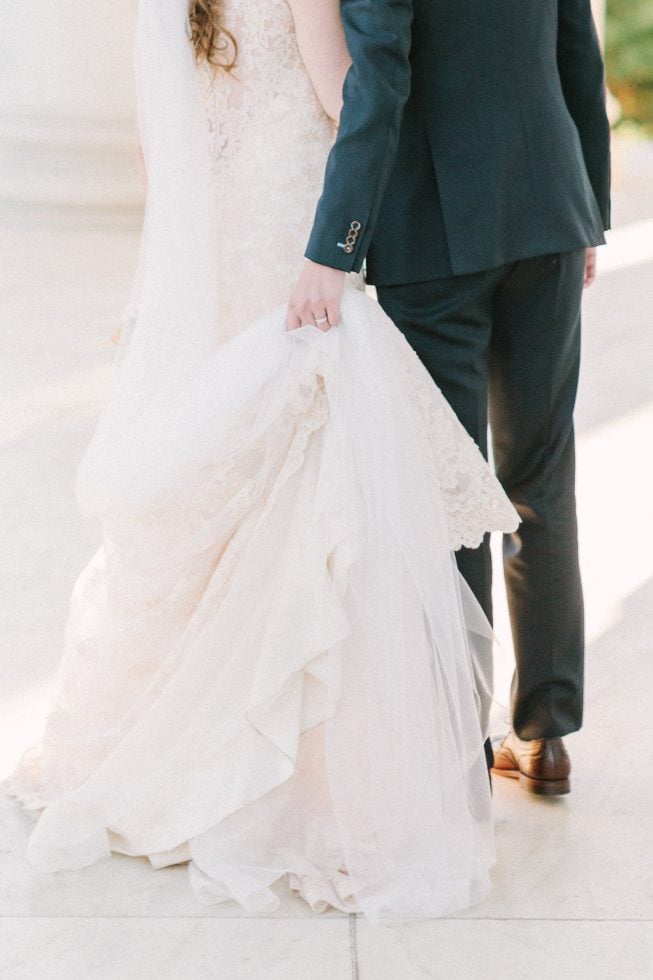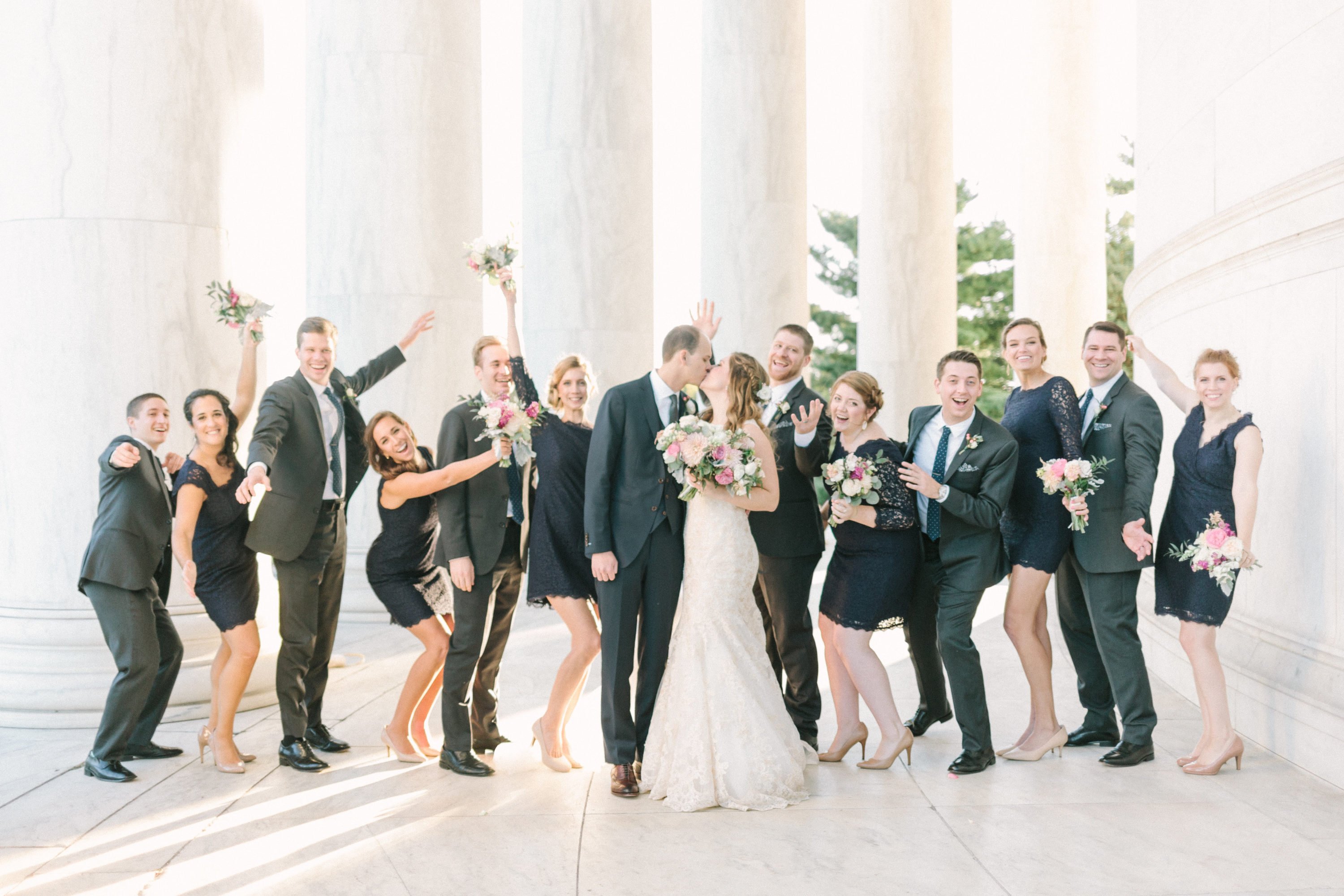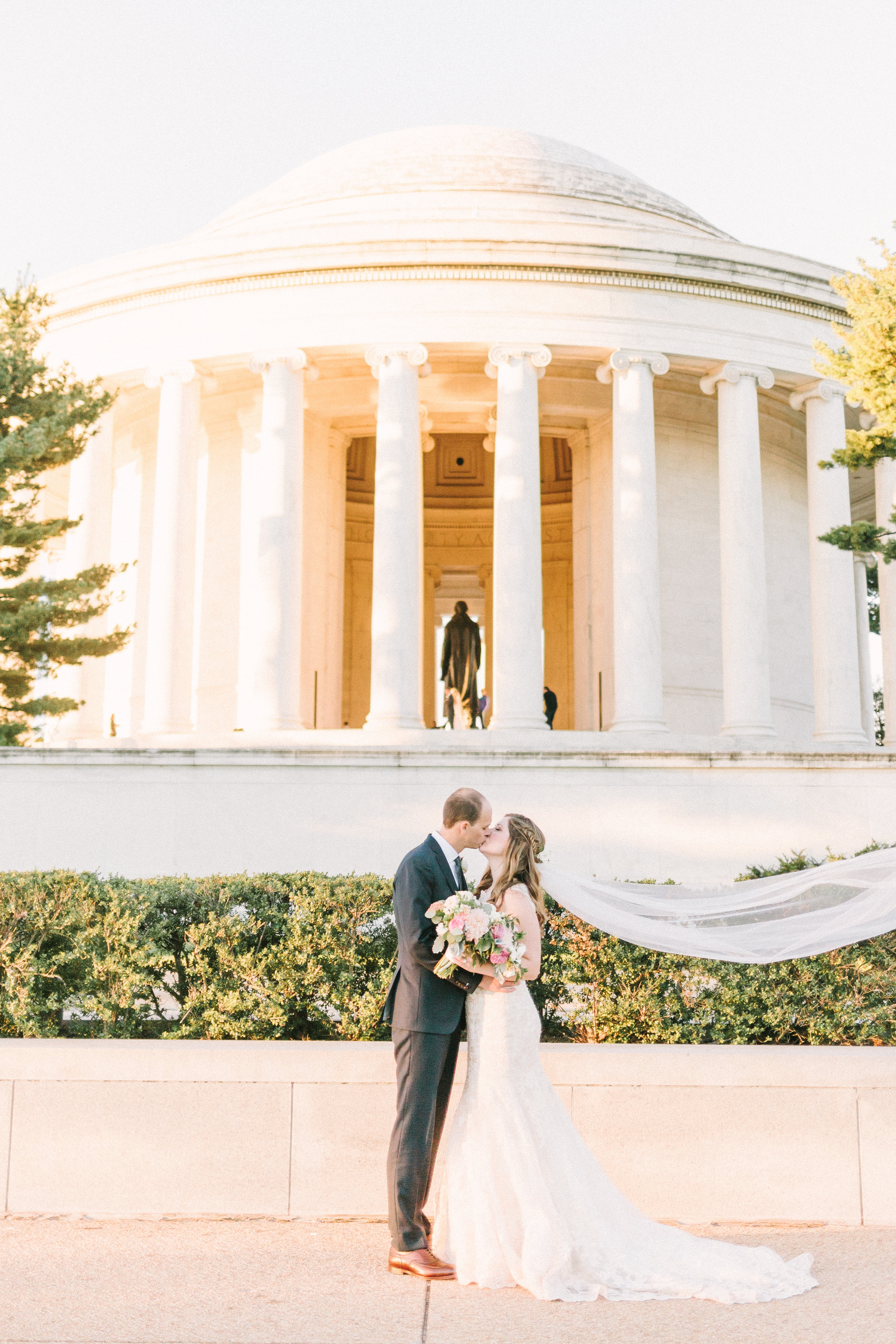 Three and a half years later, Ben brought Kait back to the scene of the crime: Pizza Paradiso in Georgetown, on the pretense of "reminiscing." Despite the casual set-up, Kait made sure to do her nails. Post-pizza, Ben suggested a walk along the waterfront. As they strolled, he shared his favorite pictures from their adventures over the last few years. The last photograph was the most important: it was a ring. (The ring!)
Ben got down on one knee and set aside the photo for the real thing — and of course, Kait said yes.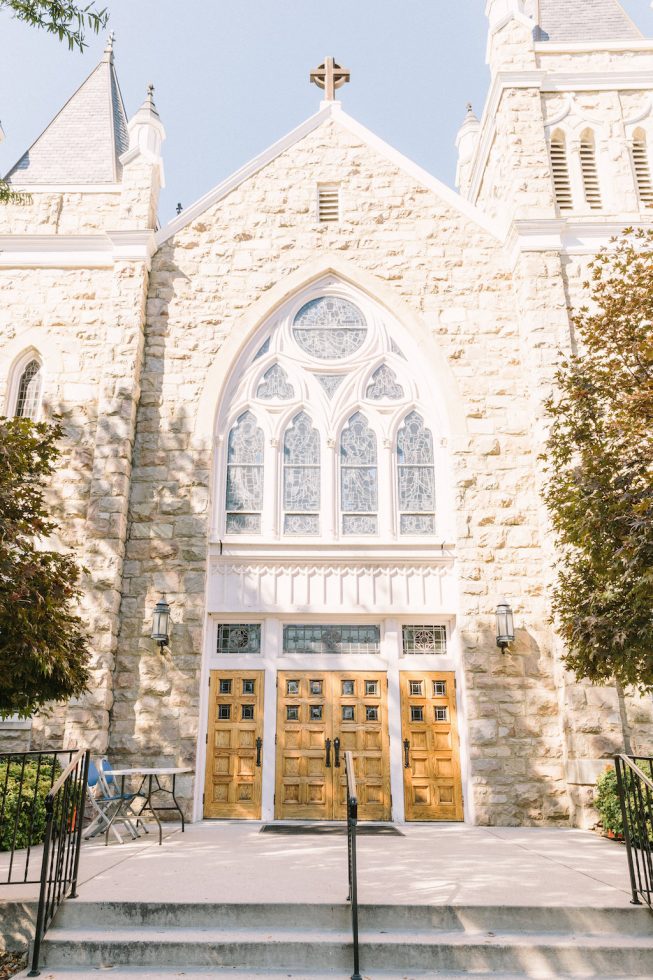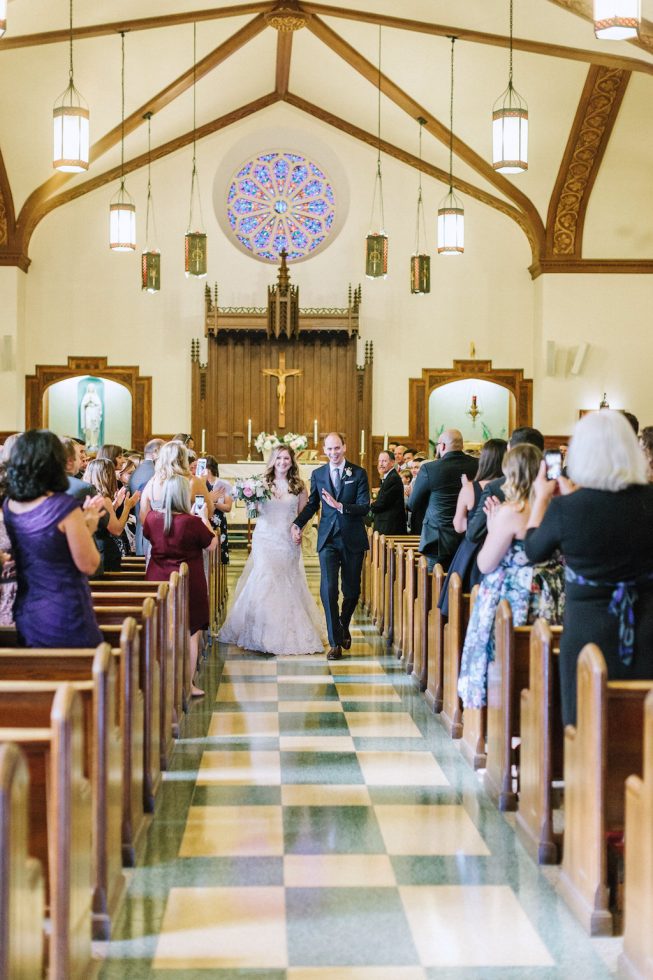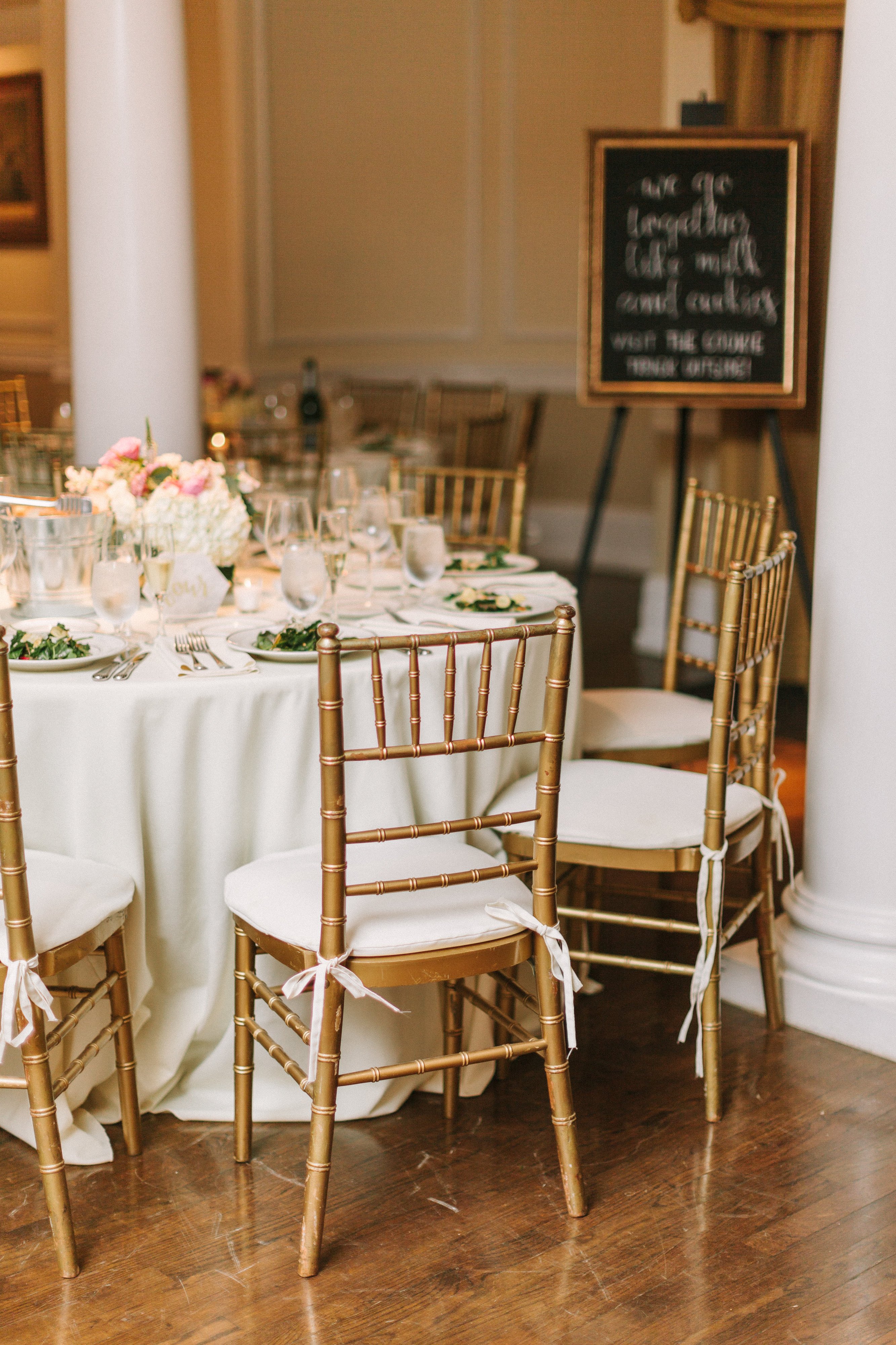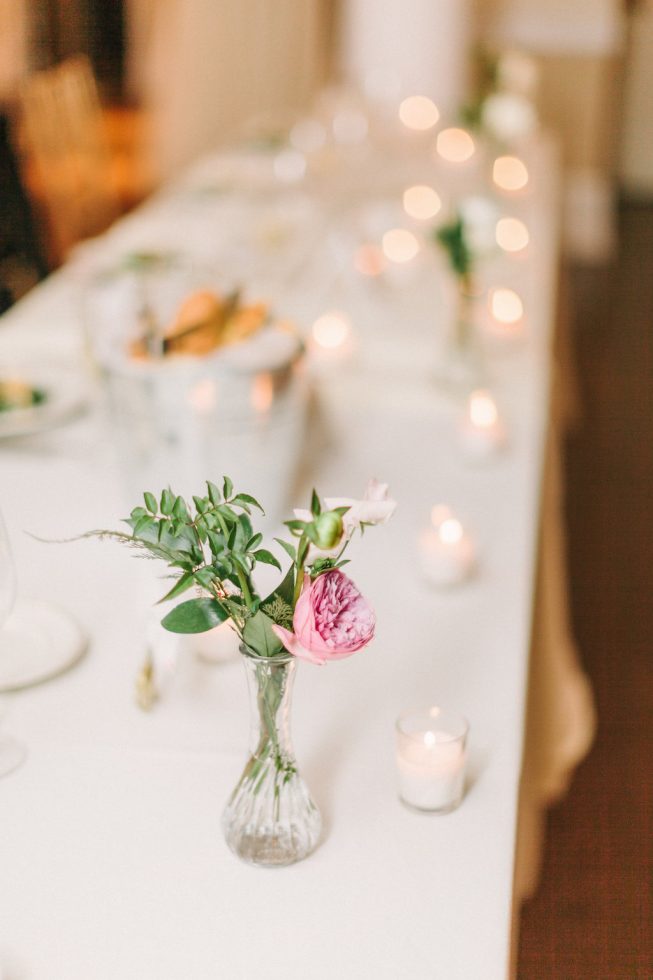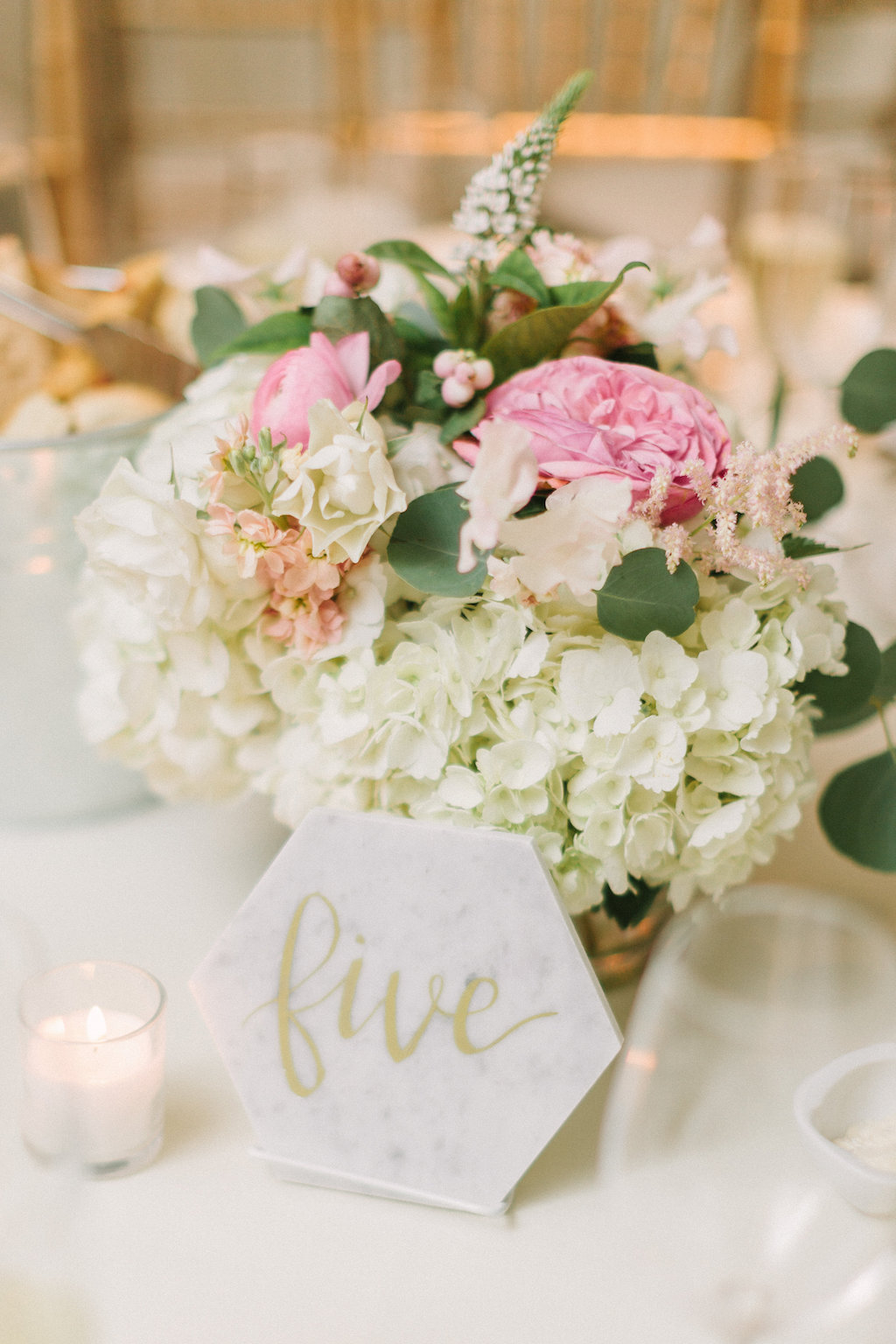 The couple didn't bother with a single wedding theme, deciding instead that they just wanted their guests to have a good time. Involving their nieces and nephew (seven total) was important to the couple, so in lieu of a flower girl, they had a "flower party." A touching ceremony centered around the importance of family followed the adorable entourage.
"[Our priest] had noticed how much our family meant to us, and how involved they were in our wedding ceremony, and used that theme to deliver a great message about how Kait and I were starting our marriage on such a strong foundation, surrounded by love," Ben says. It was his favorite part of the wedding.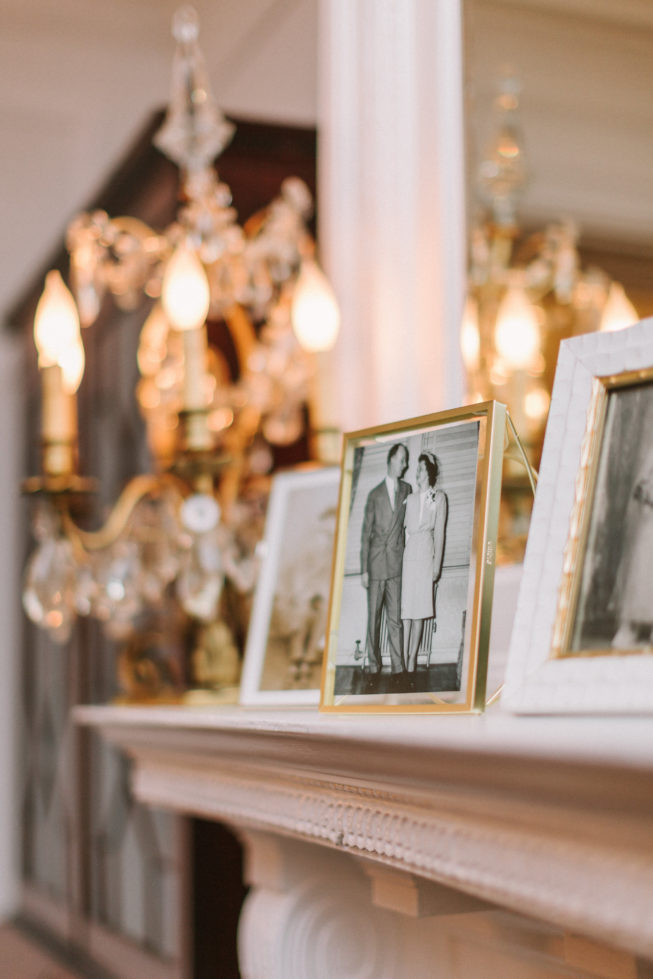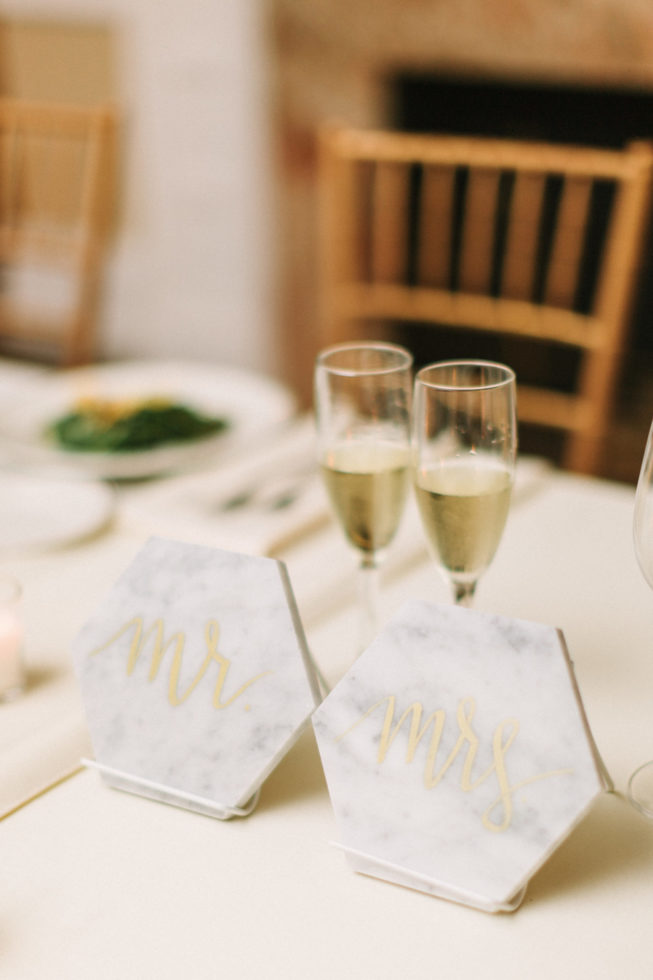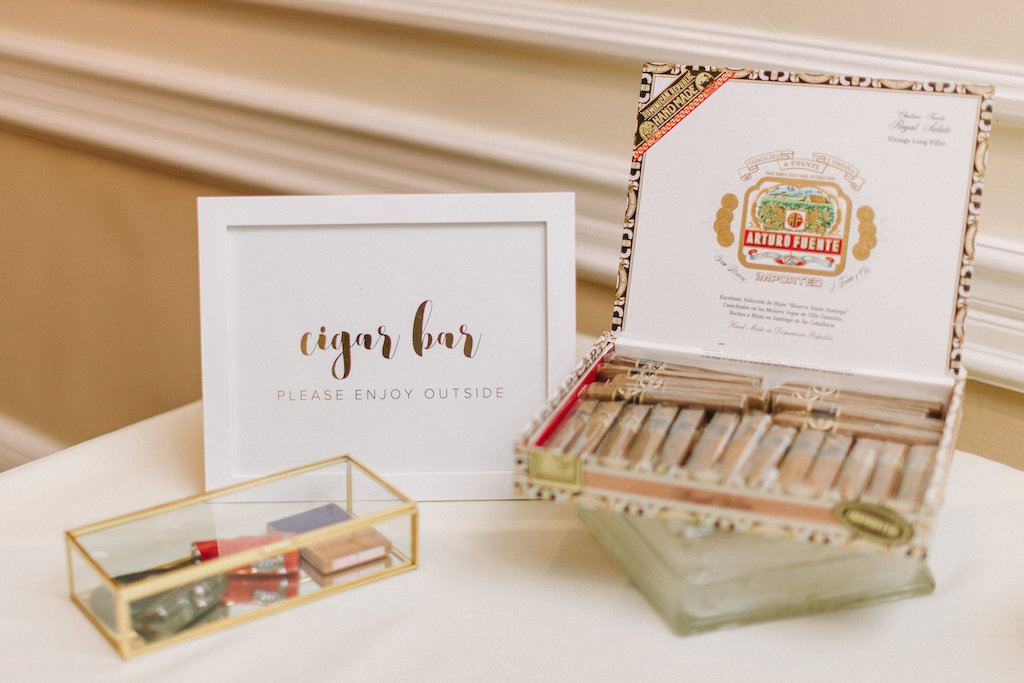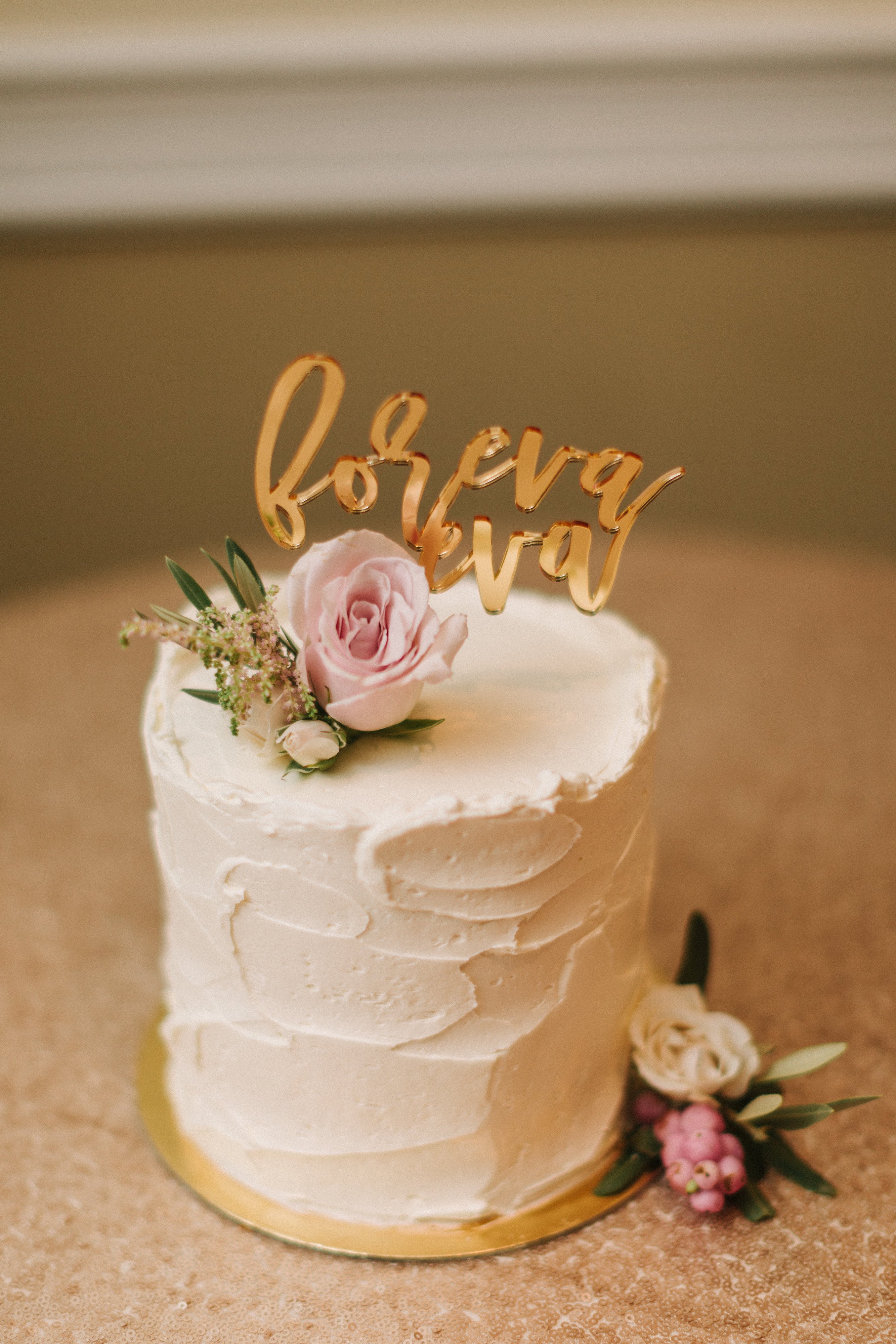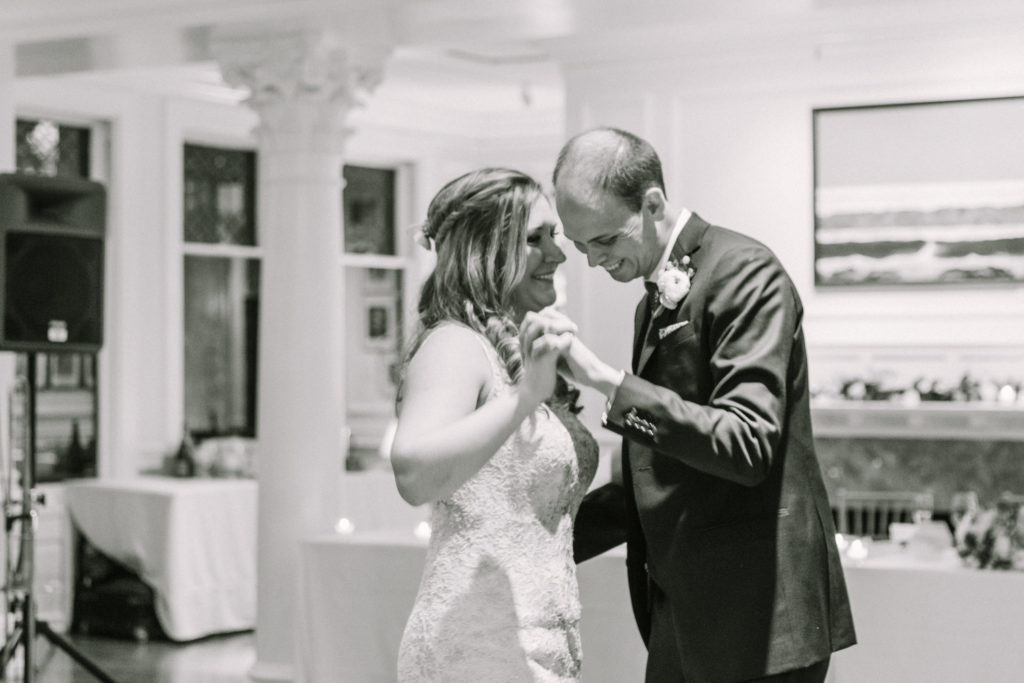 The reception included a surprise cigar bar, dancing, and sing-alongs. Wedding photographs of their parents, grandparents, and great-grandparents decorated the reception space, while blush and white florals created a romantic atmosphere. A cookie dough and Oreo buttercream wedding cake paired with an actual cookie food truck kept things fun and sweet.
Finally peeling away from the dance floor at the end of the night, the couple set off for a two-week long Hawaiian honeymoon exploring the Big Island and Maui.
VENDORS
Photographer:  Megan Chase | Wedding Reception and Venue: St. James Catholic Church & The Whittemore House | Florist: Floral & Bloom Designs| Catering: Heirloom Catering| Cake: Buttercream Bakeshop | Cookie Truck: Captain Cookie and the Milkman | Bride's Gown: Eddy K for BHLDN | Hair & Makeup: Ali Wear | Groom's Tux: Enzo Custom | Bridesmaid Dresses: Adrianna Papell | Groomsmen Suits: The Black Tux | Ceremony Music: Bachelor Boys Band | Cake Topper: The Roc Shop