It's the biggest development in Washington, more than a decade in the making. There's been an unbelievable amount of anticipation, spurred on by a countdown clock that's been mounted to the Wharf's front entrance for a year. Even as many of its restaurants scrambled to get up and running in time, the Wharf's grand opening finally hit on Thursday. After following the development for years—including touring the construction site several times—I eagerly joined the opening night festivities. Here's what went down.
I. Like One Degree from Kevin Bacon, and Forbidden Cocktails
My Lyft dropped me off on Maine Avenue at about 5:30 p.m. It was chilly, steadily misting, and the doors to the Anthem weren't scheduled to open for at least an hour, but the line to get into Foo Fighters already snaked along the sidewalk and down one of the Wharf's piers.
A much easier show to get into? The free Kevin Bacon concert underway out on the water. The Bacon Brothers—literally Kevin and his sibling, Michael—were about a half-hour into their set, but it wasn't hard to get close enough to the stage to snap a clear pic of Ren McCormack from Footloose.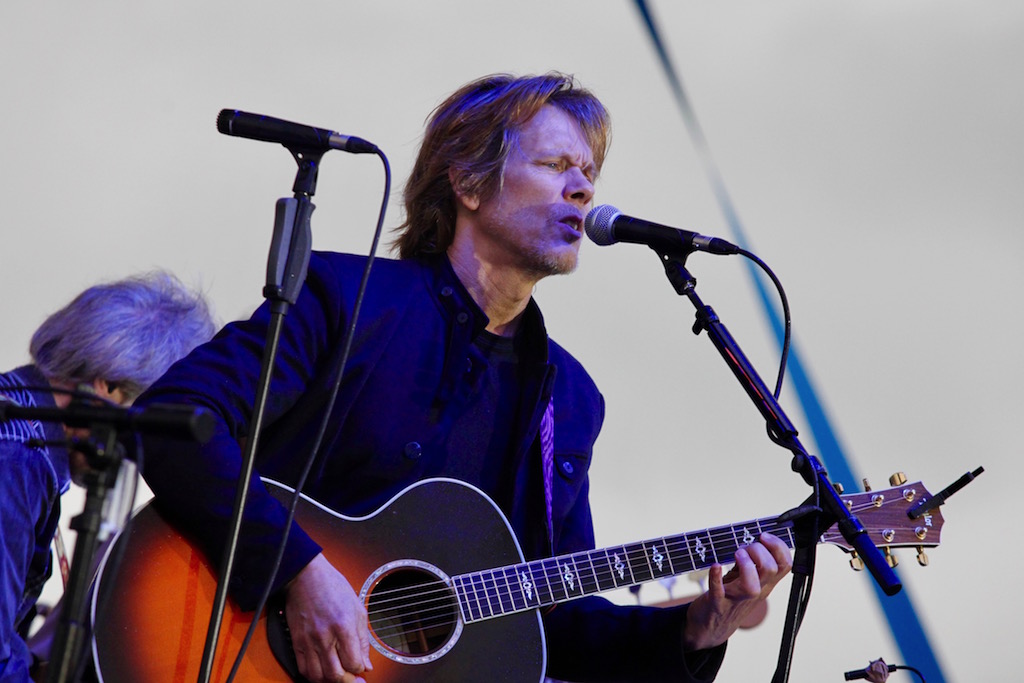 I texted it to my husband. His reply: "You're like one degree from him." Yep. Time to move on.
I headed to the Brighton, the two-story pub from the Hilton brothers. The first floor was bustling and lively, but not unbearably packed. The vibe is industrial, with glass garage doors that open the full length of the bar to the street outside. For the first time in my life, I encountered a bathroom line that was entirely male—a half-dozen guys waited for their designated throne, while I breezed right into the ladies'. Score one against the Patriarchy! Then I realized the toilet didn't work.
Also not operational at the Brighton last night: the cocktail menu. I climbed a set of still-under-construction stairs to the second-level bar and bellied up to order a drink. The sheet on the counter advertised a number of "Opening Menu" concoctions.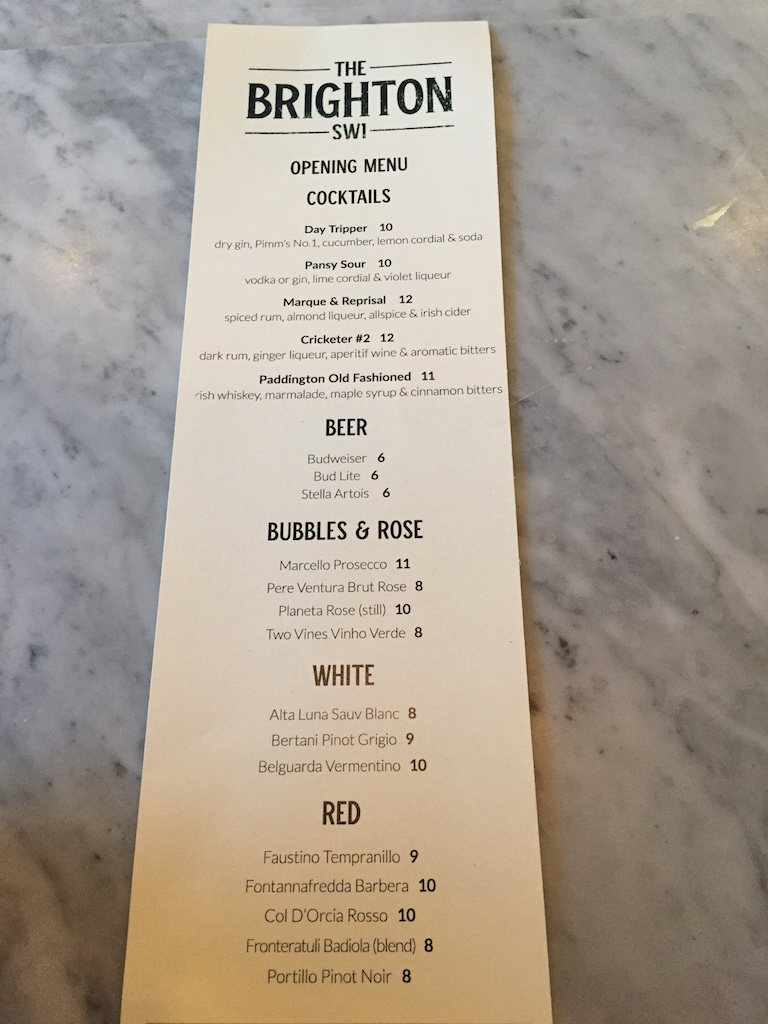 I asked for the "Paddington Old Fashioned" because I like dark liquor and animals in coats. "Actually we're not making any of those," the bartender told me.
I settled for a whiskey and ginger and took it out to the balcony, where Wharf publicists mingled with members of the media. Even on a dreary, damp evening, the view was great.  We took in a fireworks display, then our group headed to Del Mar—Fabio Trabocchi's fancy new Spanish place—for a media dinner.
II. A Business Casual Dress Code and Sean Spicer
Before we could even make it to Del Mar's host stand, we were stopped by a bouncer. There was a dress code, a business casual one—and we weren't meeting it. What exactly is business casual? many of us wondered. One woman, in an off-the-shoulder dress and sandals with heels, asked if her ensemble counted. The bouncer's assessment: "Trendy, but not business casual." I stared down at my Nikes, then offered, "I wore this in my office today."
The cadre of Wharf publicists who'd led us to the restaurant worked out with the staff that we were all invited guests and should be allowed in. Crisis averted. But seriously? A dress code seems a pretty bold choice in a city with scores of other cool restaurants that won't make you feel judged.
Once we were let in, Del Mar was lovely. It is stunningly beautiful—maybe the most beautiful restaurant I've been to in Washington—with velvet and botanical-print upholstery, patterned tile floors, vintage artwork, and lighting that casts a champagne-hued glow over everything.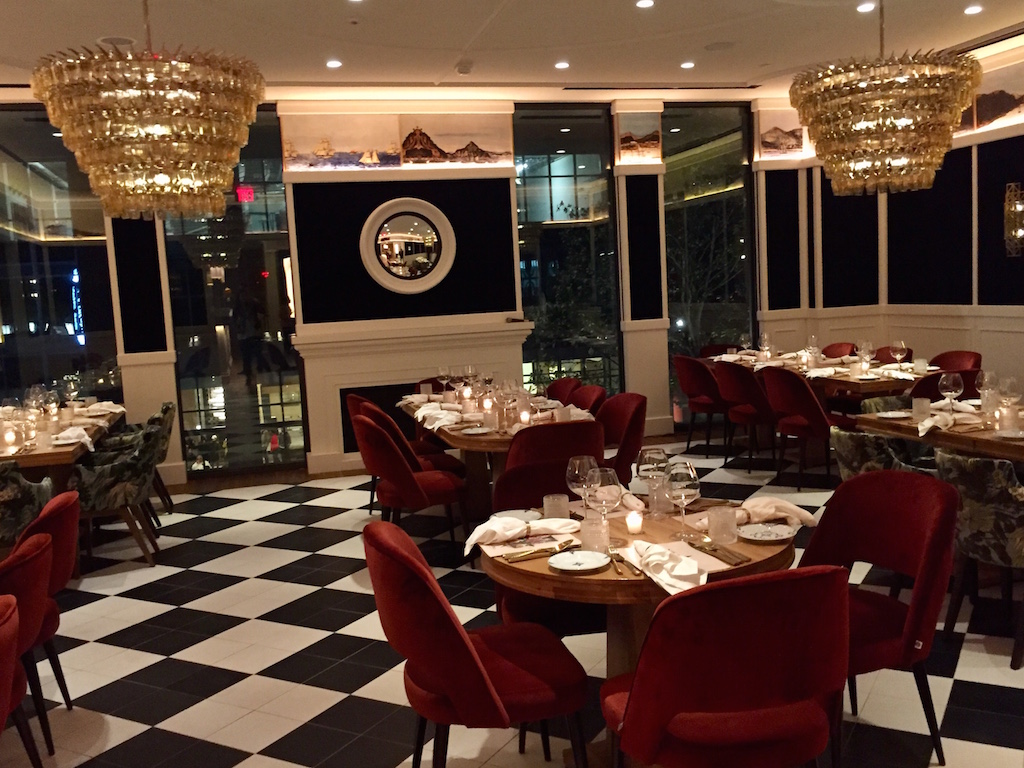 It's also gigantic. During a tour, we got a look at multiple private dining areas on the second level. "Are these for when the Obamas stop by?" I asked. Our tour guide smiled and told us that, actually, the Obamas recently celebrated their anniversary at another of the Trabocchis' restaurants.
Another member of our group noted that she spotted Sean Spicer Wednesday night at the Booker T. Jones concert at the Wharf's Pearl Street Warehouse. The news elicited a lot of groans.
Dinner was delicious, but I'll leave the details of the food to our critics when the time comes to review Del Mar.
III. The Anthem
Finally, it was time to enter the Wharf's piece de resistance: Seth Hurwitz's 6,000-person concert venue, the Anthem.
This place—truly unlike any other venue in the city—is worth every bit of hype. Its size is just about perfect—grand enough to feel like a big, exciting rock show, but small enough that there's really not a bad seat in the house. And, most importantly, the sound is immaculate.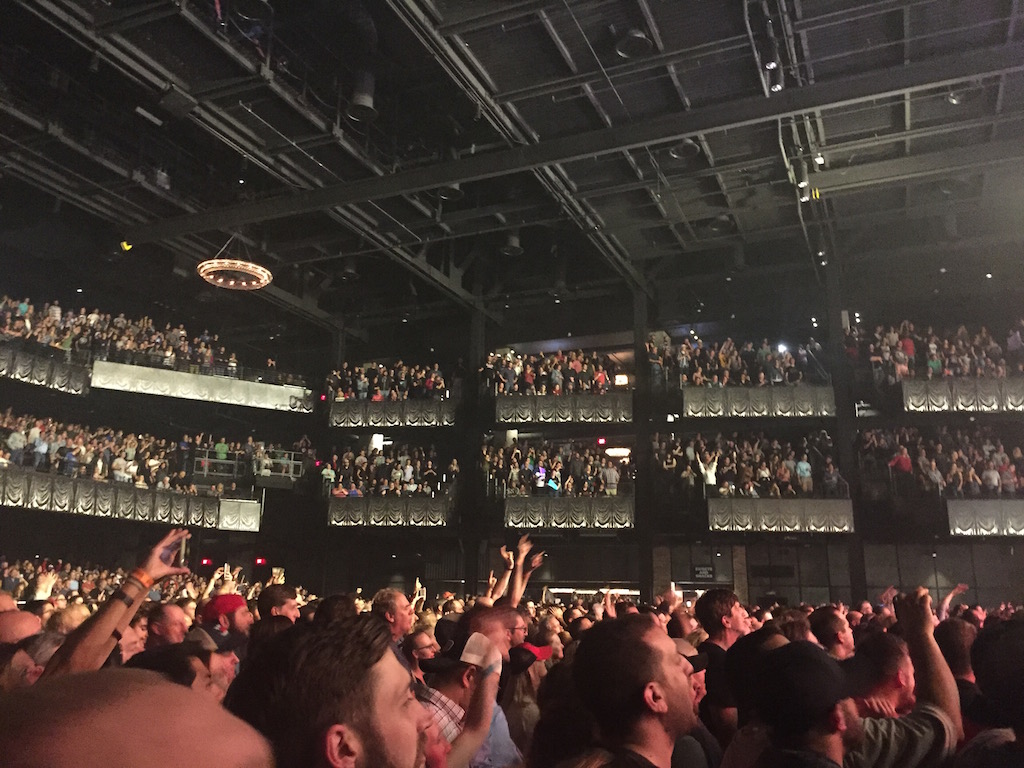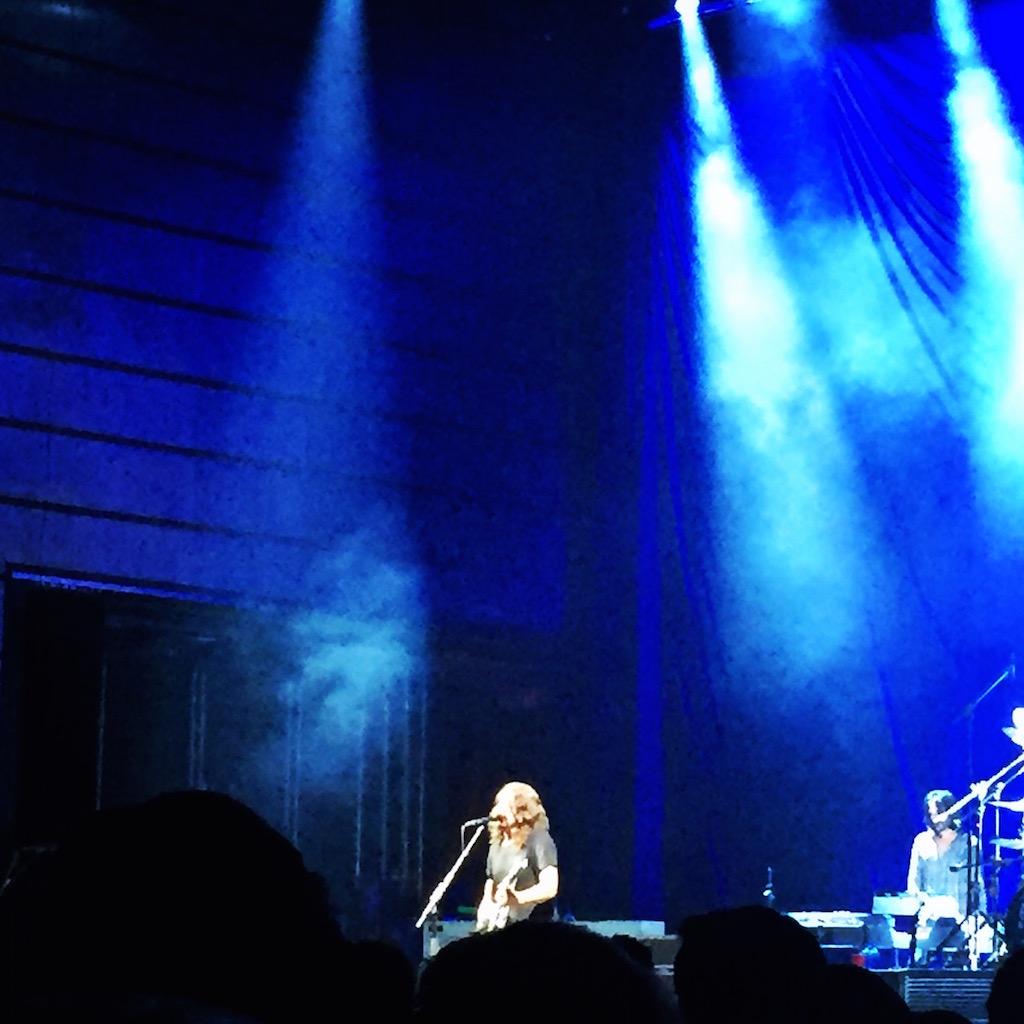 Foo Fighters' frontman Dave Grohl, who grew up in Springfield, gave plenty of hometown shout-outs last night. He reminisced about listening to DC101 and coming down to the Southwest waterfront as a kid to visit the Maine Avenue fish market. "One of the first things I asked Seth— this club is cool but what happens in August when it starts smelling like dead crabs?" he told the audience.
The crowd last night had kind of a 9:30-Club-But-With-One-Percenters vibe. Among college bros and fans in Foo Fighters gear, there were older guys in khakis and button-downs (business casual!). Perhaps sensing this, Grohl also gave a shout-out to Honda Odysseys, saying the minivan is the best car he's ever owned.
A while back, the Wharf's developer Monty Hoffman told me he'd been trying to sell Grohl a condo at the development's luxury building, the VIO. "I emailed him back and forth a few times," said Hoffman.
The rock star did seem to be having a pretty great time last night. Who knows? Maybe he'll move in.