The best part about living in Logan Circle? For Paula HuYoung, 28, it's all about location. "I'd give it a 10/10 for walkability," she says. "There's a Whole Foods, CVS, and so many restaurants, bars, and shops outside my front door." Plus her commute can't be beat—her office, where she works as a meeting coordinator, is just around the corner. Didn't think it got any better? HuYoung chose the building because the unit is part of DC's Inclusionary Zoning Program—which requires eight to 10 percent of a residential floor area be set aside for affordable rental or for-sale units in new buildings with ten or more units.  Says HuYoung, who pays income-based rent, "I got extremely lucky and 'won' the brand-new unit through the housing lottery." Let's just say we're only slightly jealous.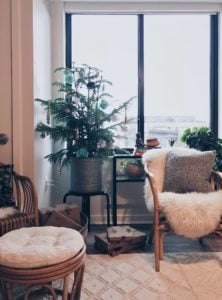 Who lives there: Paula HuYoung, sans roommates
Neighborhood: Logan Circle
Approximate sq ft: 600
# beds: 1
# baths: 1
How long she's lived there: Three months at this address, but has lived in Logan Circle for four years.
Fave piece of furniture: West Elm Finn Sofa in eucalyptus
Fave home interior store: West Elm
Fave DIY: The dresser beside her bed: "It was a thrift-store find that I've had since college. I painted it pewter grey, leaving the original white around the edges, and changed the hardware on the bottom two drawers."
Splurge: West Elm Variegated Knot Rug in ivory
Steal: "My look-a-like Marcel Breuer Cesca Chair that I bought at a thrift store for $5. I think it's a reproduction, but who knows—it could be an original and worth hundreds!"
Design advice: "Don't be afraid to mix texture and color into your décor for a cozy, warm home that's a reflection of you," she says, adding that the best way to do this is by starting with a modern base. She recommends furniture and statement pieces with clean lines, to which you can add "layers" with pillows, plants, art, and knick-knacks from travels.