Back in January, I wrote that the impending dreadfulness of Donald Trump's presidency would not be the end of Washington. Eleven months and a few weeks later, we're still—barring a few "why I'm leaving DC" essays—here, if a bit more frazzled and worn-out. Surely, this has been a rough and unpredictable year. The abbreviated timeline Washingtonian published on the one-year anniversary of the 2016 election recalled some 250 events over the previous 365 days that caused DC to often feel like it was losing its mind.
That timeline, seemingly exhaustive, featured only about 250 entries. The larger list of incidents from which it was compiled nearly reached 1,000. And yet, that figure still seems like it barely represents the past year's dizziness. From 12:01 PM on January 20 onward, people in Washington marched, made signs, worried about the sturdiness of democratic institutions, and pulled out their hair every five minutes, probably over some stupid junk on Twitter. At least one person showed his bare ass to the President's motorcade. Democracy dies in darkness, or maybe dumbness. For all its ugliness, at least 2017 was never uninteresting.
But it frequently turned out to be a harder year than what we thought 2016 should have steeled us for. The year closes with legacies of violence, protests, bad policy, drink specials toasting fallen administration figures, and a never-ending firehose of controversies. Yet even if it was all bad, it wasn't cumulatively bad. Some months, filled with chaos, were worse than others dominated by palace intrigue and stupid tweets. And some of the more challenging periods were also some of the most rewarding.
Here is the definitive ranking—okay, my definitive ranking—of the months of 2017.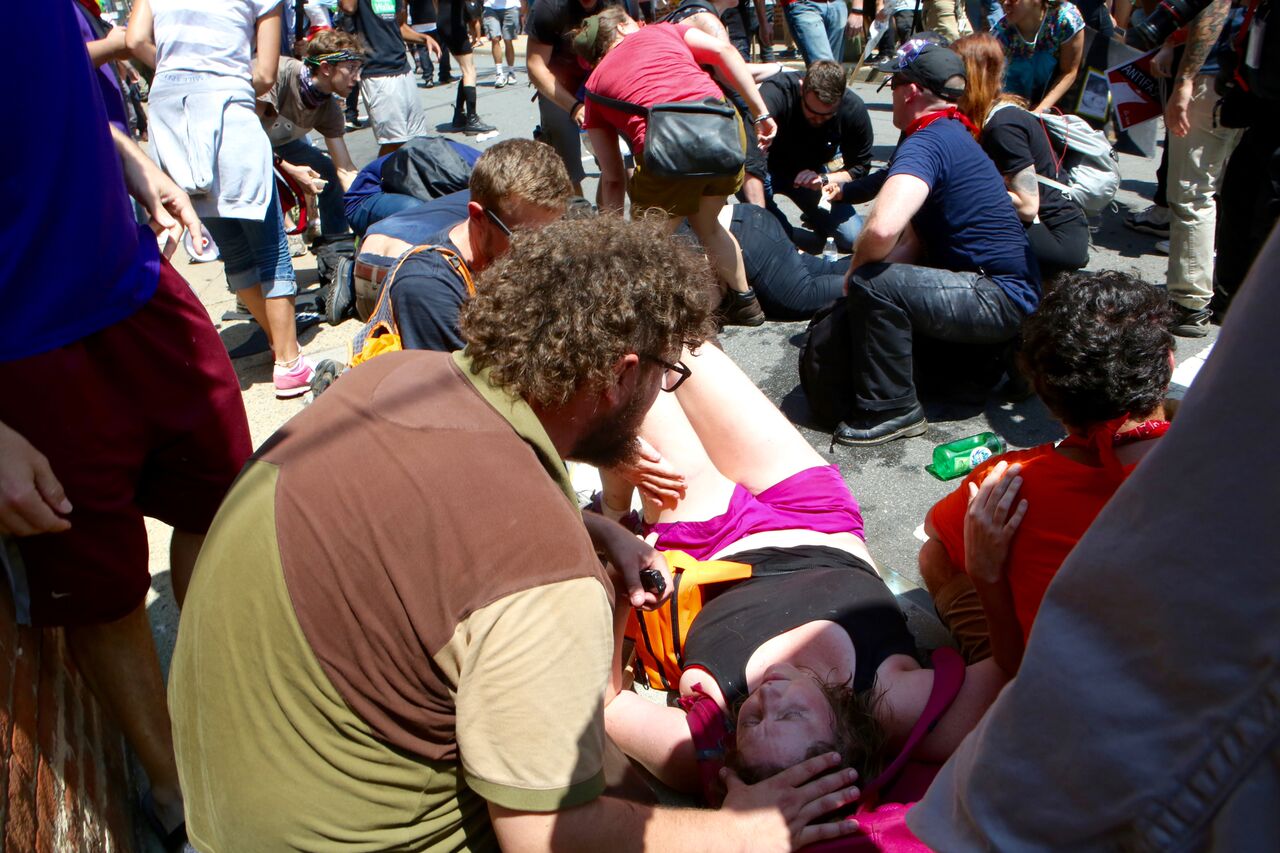 12. August
In a year of garbage months, this was the most disgusting, punctuated, obviously, by the white-supremacist rally in Charlottesville on August 12 that culminated in one participant allegedly driving his car at a high speed through a group of anti-racist demonstrators, killing one and injuring another 19. But even before Charlottesville—and the President's mealymouthed reactions that appeared to condone the racists' motivation for assembling in the first place—August was off to a pretty trashy start. This was also the month that began with conspiracy theorists staging a "re-enactment" of the death of Democratic National Committee employee Seth Rich, in hopes of advancing their belief that his July 2016 murder was some Russian-linked hit job. It was also the month when White House policy adviser Stephen Miller dismissed the Emma Lazarus poem on the base of the Statue of Liberty as "cosmopolitan bias." Even a rare total solar eclipse—something that should have been universally joyous—was wrecked in Washington by obsessing over Trump's looking directly into the sun and nasty Instagram comments by Louise Linton, the wife of Treasury Secretary Steven Mnuchin. August ended with Hurricane Harvey, the first of three devastating storms to hit the United States, inundating Texas. Not even Capital Bikeshare was safe: the White House removed a station the Obama administration had installed in 2010, suddenly deciding that after seven years, it had become a "security concern." August just sucked.
11. October
October only surpasses August because it's the month former FBI Director Robert Mueller's investigation into the 2016 election finally started getting results, with the indictments of former Trump campaign chairman Paul Manafort and deputy campaign manager Rick Gates, and a guilty plea by one-time campaign adviser George Papadopoulos. Otherwise, this was another universally terrible month, beginning with the worst mass shooting in US history that left 59 dead and more than 500 wounded when a gunman opened fire on a concert in Las Vegas. Against all this global dread, small and local miseries like the Nationals blowing another playoff series seem inconsequential. Even the goofballery—Ivana Trump declaring herself first lady and Sebastian Gorka abandoning his convertible on an Arlington sidewalk—was fairly underwhelming for 2017. One bright spot: when the federal response to Hurricane Maria's devastation of Puerto Rico was lacking, José Andrés started feeding the entire island.
10. June
Here's a month that was full of a several momentary bright spots: DC showed off its inner weirdness with drink specials built around fired FBI Director James Comey's big day on Capitol Hill. A White House reporter went on a viral tirade at Press Secretary Sarah Huckabee Sanders. Spider-man: Homecoming included a somewhat accurate depiction of the Washington Monument's elevator. And yet, it can't overcome the fact that one morning, a gunman approached an Alexandria baseball field and wounded four people practicing for the annual Congressional Baseball Game, including House Majority Whip Steve Scalise.
9. March
Yeah, March wasn't great either. Most of Trump's cabinet settled in, and set about gutting departments and regulations. More tangibly, the Washington area got a big warning shot with the unveiling of the White House's proposed budget, which aims to slash the federal workforce by 20 percent, a cut deep enough that some economists say it would depress DC-area incomes by 3.5 percent and home values by 2 percent. Those cuts haven't happened, but remember, we're still only 11 months in.
8. May
Yes, this is when Trump fired Comey, really setting off those collective worries about the integrity of US institutions. Beyond that, though May was a series of strange and uncomfortable moments. Fox News ran a quickly discredited story about the Seth Rich case; NBC aired an episode of Law & Order: Special Victims Unit inspired by the "Pizzagate" conspiracy theory; a group of bodyguards working for Turkish Prime Minister Recep Erdogan beat up a group of protesters outside Turkey's embassy; a West Virginia reporter was briefly held by police after trying to interview then Health and Human Services Secretary Tom Price and White House adviser Kellyanne Conway. Also, that stupid "covfefe" tweet happened; let us never speak of it again. On the bright side, Representative Jason Chaffetz, the chairman of the House Oversight Committee and DC's self-appointed shadow mayor, announced he would quit Congress early.
7. September
A month dominated by hurricanes and fears of nuclear confrontation, but also the month in which Trump took on the NFL—and later the NBA—when he raged against "son of bitch" players who kneel during the national anthem to protest police brutality. But in doing so, he nationalized an important movement, and got roasted by many prominent athletes. You may remember LeBron James's "U bum" tweet, but in DC, Trump also earned rebukes from Wizards guards John Wall and Bradley Beal, who called the President a "clown," and NFL cornerback Josh Norman, who said Trump is "not welcome in Washington." Still, September gets dragged down by the comeback tour of Sean Spicer, who went from ousted spokesman to star of the Emmy Awards. What a dumb kicker to the month that was.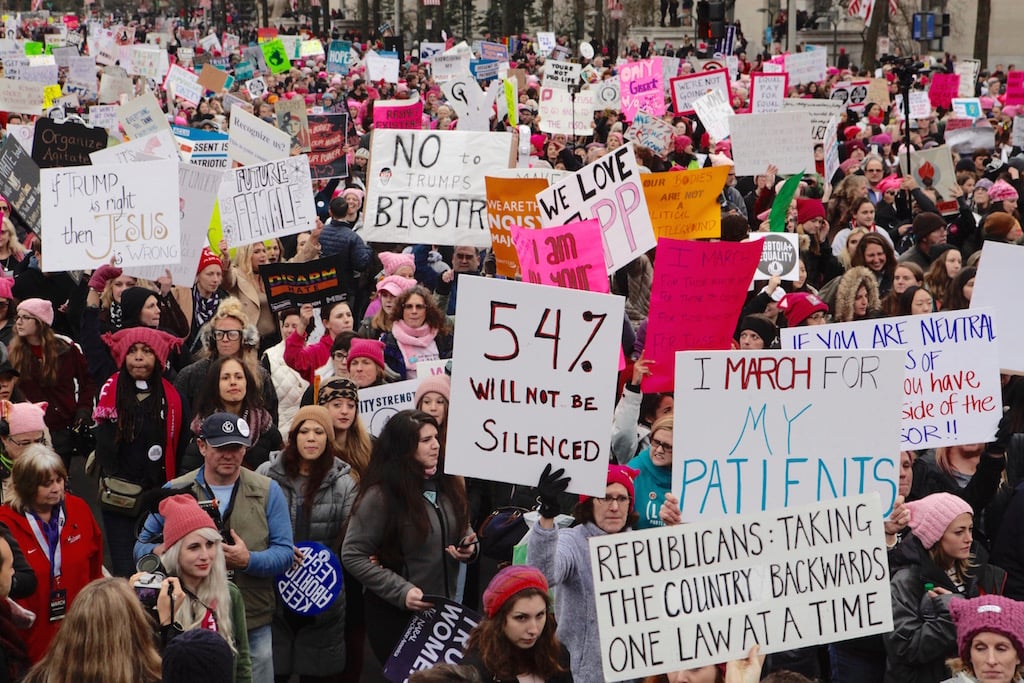 6. January
Yes, this is when Trump was inaugurated and when 200 protesters were arrested and charged with felony rioting and when the White House issued the first travel ban and other early pieces of its agenda. But I'm going to defend January here, because it also gave us the Women's March, which more and more appears to have been the start of a movement more than a one-day demonstration; midnight airport protests against the travel ban; and signs that 2017 would be an epic conflict between the serious and the silly. (Just look at the burning garbage can.)
5. April
The biggest problem with April is that it was a pretty blah month. The DC apartment building that attempted to rehash the 2016 election through balcony flags was kind of fun. But otherwise, the biggest thing to hit Washington that month was, what? Minor panic over the future of the White House Correspondents Dinner because the White House said it would not participate? In the end, Samantha Bee's "Not the WHCD" event still wound up being a sideshow to the main dinner, which went on as it ever does, proving that media ding-dongs don't need the President to celebrate themselves. Let's move on.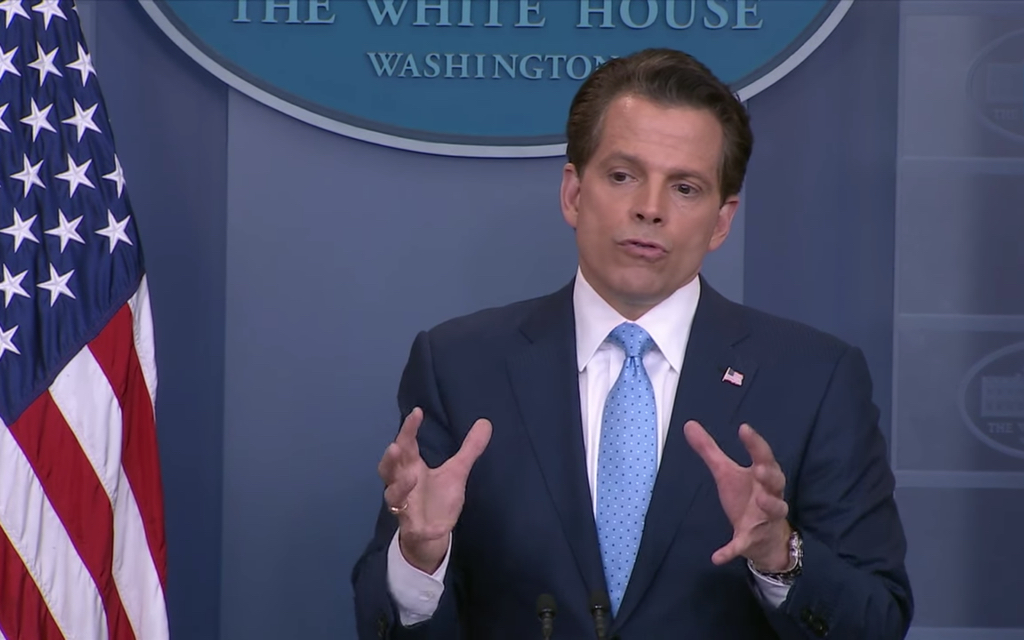 4. July
Some very bad things happened in July: namely, Trump banning—via Twitter—transgender individuals from serving in the military, and a speech in which he encouraged police officers to be rough with criminal suspects. (A transgender man hoping to enlist next month is suing to overturn the ban, which is unlikely to go into effect in the new year.) But the goofball quotient soared, thanks mostly to two people: Donald Trump Jr., revealed as a mastermind who hosted a 2016 Trump Tower meeting with a Kremlin-linked lawyer because he thought he was getting dirt on Hillary Clinton; and Anthony Scaramucci, who set a record as the shortest-tenured but foulest-mouthed White House communications director. The Mooch may go down as a footnote in executive-branch history, but not before giving the world a lasting image of what he believed Steve Bannon really wants to do.
3. December
Outside the mad dash toward tax reform—which is not going to be great for high-revenue jurisdictions like DC, Maryland, and Virginia—December was not terrible. Government shutdowns were avoided, as was the election of an alleged child molester to the US Senate. Biggest demerits of the month go to Metro, or, more specifically, local leaders' ongoing inability to agree on a plan to shore up the struggling transit system's finances. But we also got a guilty plea from Michael Flynn for lying to the FBI.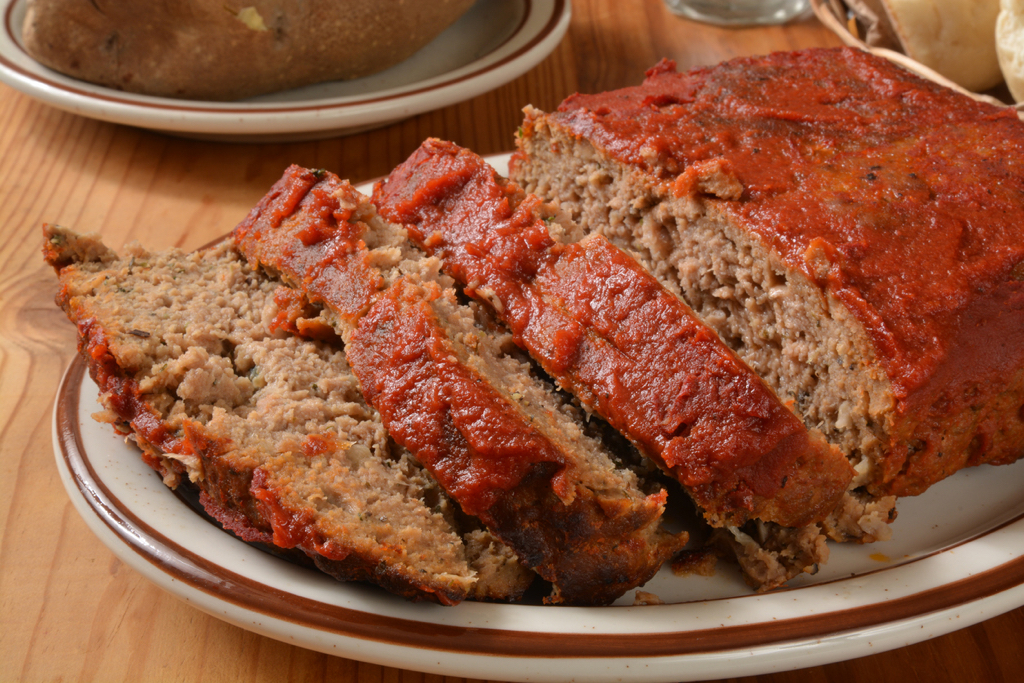 2. February
Being the shortest month of the year certainly helps February's case, but more importantly, this was the month that confirmed a lot of suspicions regarding how the year would proceed. Before 2017, the airing of grievances was a once-a-year occasion. Now it's every day. In just a few weeks' time, we got Trump bashing Arnold Schwarzenegger at the National Prayer Breakfast, Omarosa Manigault getting in a public argument with hecklers at a Nordstrom store in Tysons Corner, that New York Times story about Trump grumbling around the White House in his bathrobe, Chris Christie being ordered to eat meatloaf, Melania Trump suing the Daily Mail and claiming the British tabloid hurt what she saw as an opportunity to use her first-lady status for brand-building, and Melissa McCarthy's Saturday Night Live debut as Spicer. If you are here for the petty, February was your month.
1. November
Virginia was a bright spot on Election Day, especially in Prince William County, where voters sent several barrier-breaking candidates to the statehouse come January. And those who just live for high drama of the Trump era got their dream matchup when the President took on basketball dad LaVar Ball in a round of WWE-worthy taunting. But the real reason November is tops on this list is because it brought people in Washington—and everywhere else—to a reckoning. The wave of prominent men accused of sexual harassment hit DC in late October, with damning revelations about Leon Wieseltier and Mark Halperin. But November cemented the exposés of male behavior as one of 2017's defining story when it reached Congress, ending the careers of Al Franken and John Conyers, and revealing Capitol Hill's opaque and unaccountable process of addressing workplace abuse. It's tough stuff, but necessary and vital, and sure to set the course for 2018.